Benefits of mortgage business process outsourcing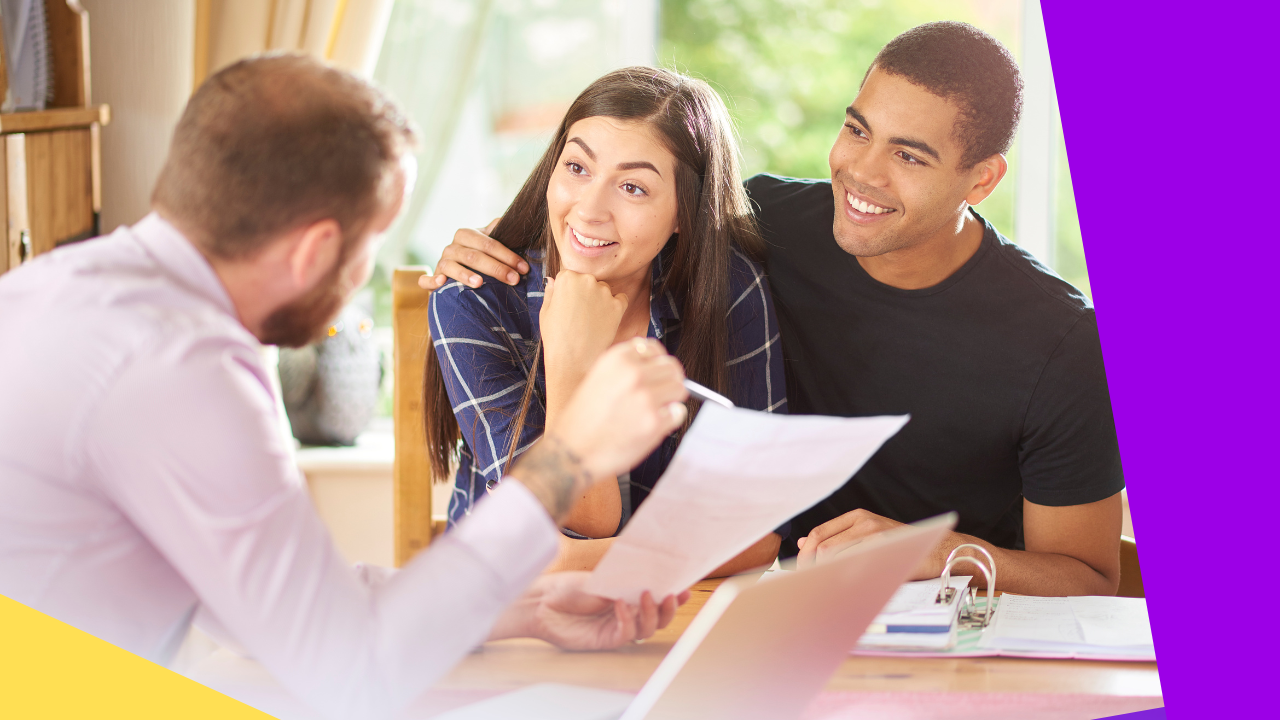 EMAPTA, a leading Philippines outsourcing supplier, shares their insights on mortgage business process outsourcing.
The mortgage business, conducted among financial institutions like banks, and credit unions, have changed in recent years. These financial establishments have faced various challenges, too. It may be adjusting to a new generation of customers or navigating through new banking rules.
Ever since the 2008 economic meltdown in the United States, small financial companies, mortgage firms, and community banks have been struggling. Price wars and the risk involving borrowers only making five percent down payment for their housing purchase.
With these trends, financial organizations have to think about how they can optimally serve their customers to keep themselves profitable.
The key to mortgage process outsourcing
Business success nowadays is reflected by how a firm efficiently manages its enterprise in a highly competitive marketplace. This can be made possible by hiring business process outsourcing companies to manage the everyday routine work.
Mortgage service outsourcing is an innovative strategy that offers myriads of benefits to the financial institutions. Through the assistance offered by mortgage process outsourcing service providers, clients can deliver optimum customer service while attracting home buyers.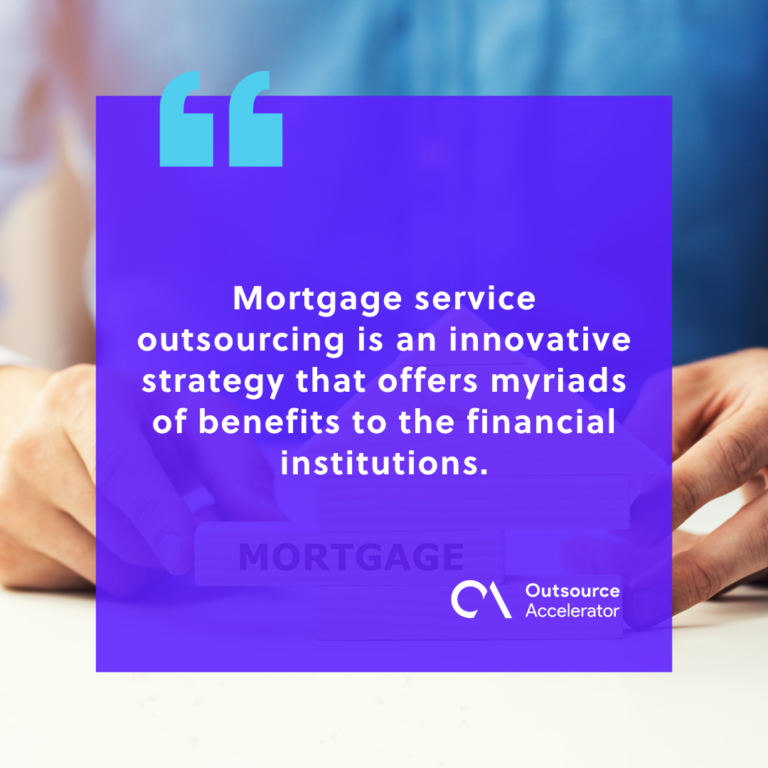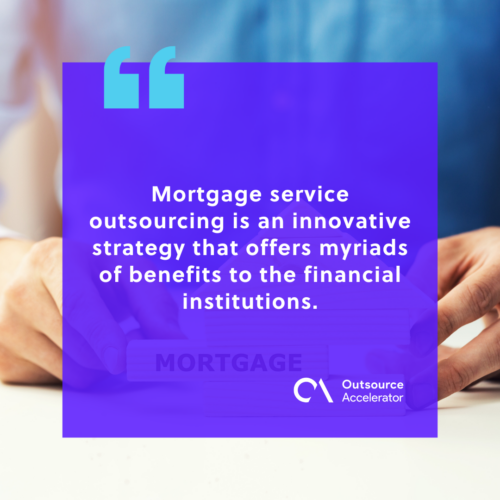 Benefits of mortgage process outsourcing
Apart from the fact that vendors can improve their productivity and diminish their overhead costs, these are the other advantages of mortgage outsourcing:
Elimination of the cost of hiring full-time processors
Banks which resort to managing their loan processing team can find this strategy costly and time-consuming. These full-time loan processors not only require high salaries, but they also need other benefits for workers, and other resources. All of these translate to more expenses for the bank or the client firm.
However, through mortgage process outsourcing, client firms can significantly decrease their outlay. They will benefit from the service of contract loan processors who are usually self-motivated and are focused on closing mortgage loans.
Have trained and knowledgeable processors 
Outsourcing loan processors involve skilled and experienced staff. Financial institutions are auspiciously given access to their accumulative expertise.

As client firms, they receive the support of highly qualified professionals. These outsourced personnel help them originate and fund more housing loans while at the same time facilitating security and stability for their enterprise.
Loans are closed faster and with increased efficiency
Outsourcing back-office loan processors is one of the strategies that an increasing number of mortgage firms have implemented in recent years. This measure has helped them in offsetting any harmful impact of market challenges to their profitability.
The streamlined operations of mortgage service outsourcing firms make their clients' loan businesses more efficient. Thus, loans are closed quickly and on time. 
With an increased efficiency, customer payments are achieved, earning the client a solid reputation and greater competitive advantage.
More time to focus on your core
competencies
Mortgage outsourcing involves the highly skilled team of the service provider adeptly managing excess tasks. This gives relief to mortgage lenders like banks because they are delegating excessive work to another company.
Mortgage service outsourcing firms help maximize their client firm's growth and profitability by effectively handling a high volume of time-consuming work. Among them are tax monitoring, origination-processing, mortgage servicing, subservicing, and loan processing.
Accounting, post-closing, underwriting, examination, and title ordering are no longer a concern for client firms, too. Therefore, they have more time to set their priorities more clearly. 
For instance, they can concentrate more on giving customers better banking experiences, to create new product strategies for compliance risk.
Leverage big data analytics and modeling
Some of today's biggest and most successful businesses in the world like Capital One, Starbucks, Walmart, and T-Mobile depend on big data analytics.
Mortgage service outsourcing enables companies to gain access to big data specialists. Outsourcing mortgage analysts facilitate the employment of the correct tools for their clients.

Big data pertains to vast sets of customer information used for computational analysis. They reveal human interactions and behavioral trends, patterns, and associations. 

Outsourced mortgage specialists deliver the correct type of results based on their clients' targets, expectations, and budget. Therefore, client firms can leverage big data analytics to their optimum benefit.
Accelerate customer satisfaction
Mortgage process outsourcing specialists have helped many banks, mortgage brokers, and lenders to adapt to the new generation of home buyers and their unique demands. 

They concentrate on making the client firms content. They strive to keep an enduring relationship with them, too.

Financial institutions are, thus, able to receive excellent customer ratings and consequently increase customer leads or referrals.
Why outsource mortgage services to the Philippines
It is highly recommended that you avail mortgage process outsourcing services in the Philippines if you are a business owner operating a mortgage firm. Filipinos are highly adept professionals, capable of performing loan processing work cost-effectively.
Also, there are Philippine mortgage service outsourcing firms which have access to state-of-the-art technology in partnership with other dependable firms. Hence, you can convert fixed costs into variable costs to thrive in the volatile mortgage market.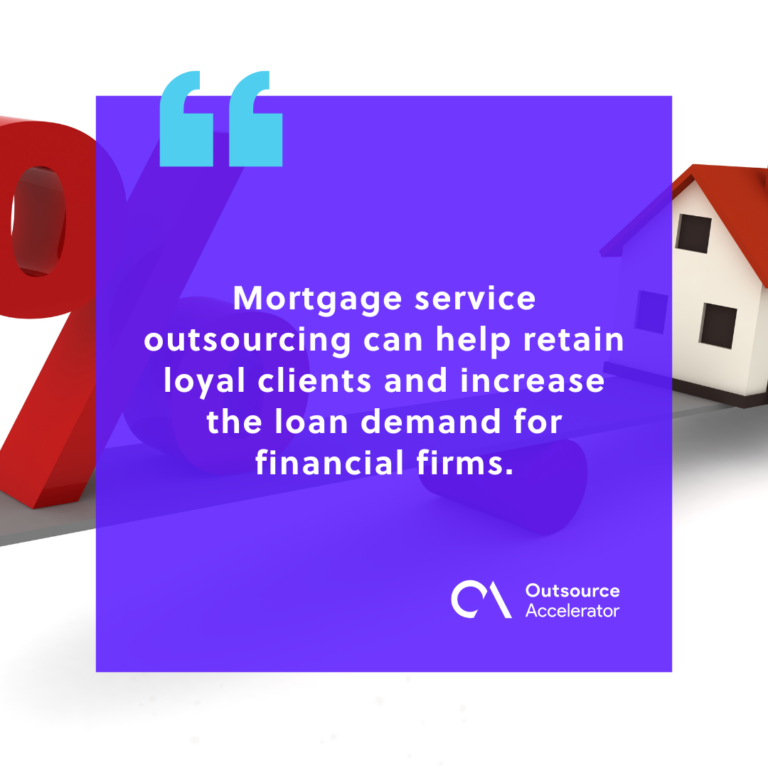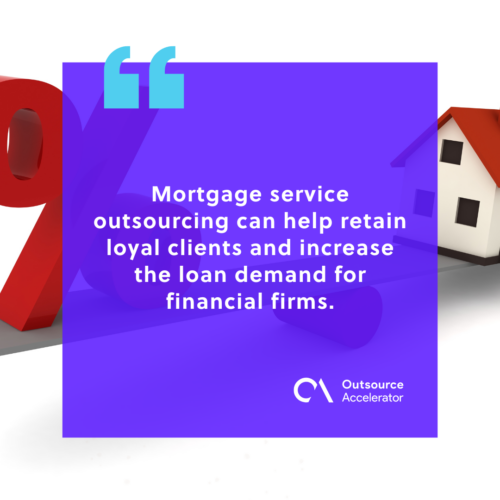 If you are affiliated with the banking sector or are interested in starting a mortgage process outsourcing business, it is highly suggested to study the advantages of mortgage service outsourcing for banks. 
Mortgage service outsourcing can help retain loyal clients and increase the loan demand for financial firms. These benefits also include how bankers can address the challenges they face in a better way.