5 essential skills to look for in mobile app developers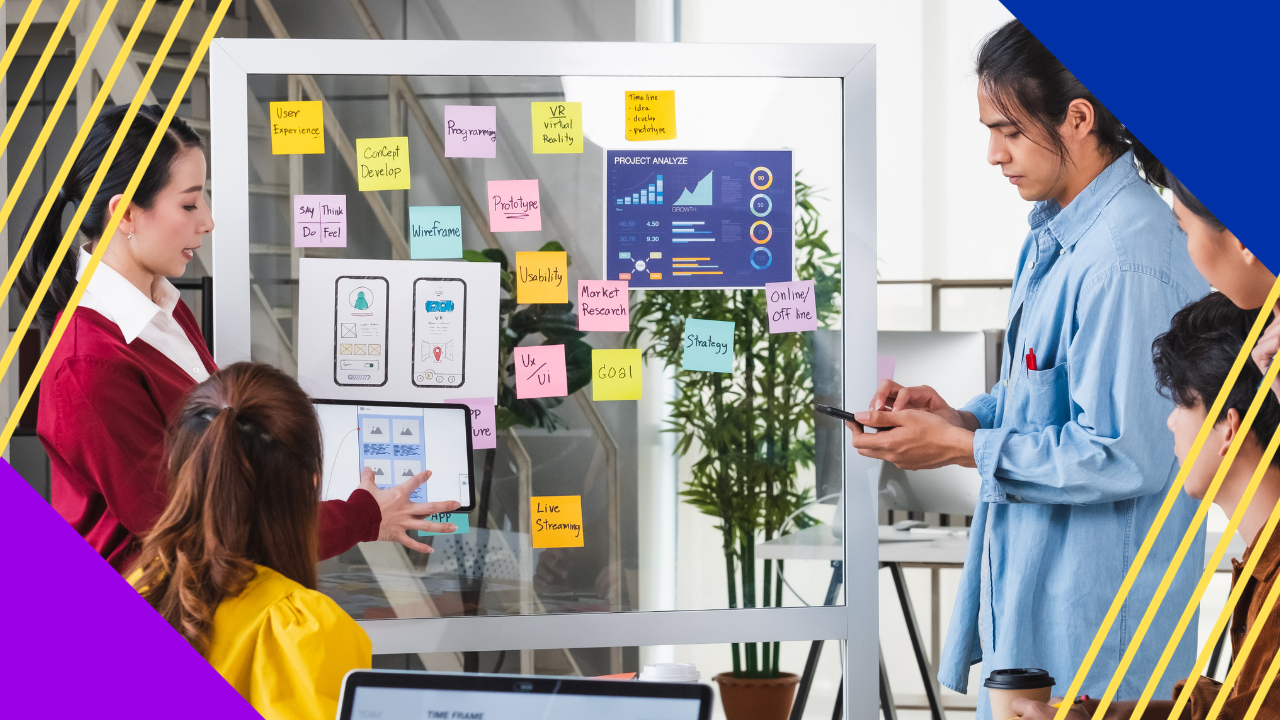 Having your company's mobile application is an essential requirement rather than a mere luxury. But, developing a mobile app requires skills and expertise only proficient developers can provide.
The article explores the essential skills you should look for in mobile app developers, the benefits of hiring them, and why outsourcing to Saigon Technology can be your best choice.
What are mobile app developers?
Mobile app developers are the architects and builders of the digital world's most convenient tools. 
They are the creative minds behind the applications that seamlessly run on our smartphones, making our lives easier and more connected. 
These developers are proficient in various programming languages and possess the skills to transform ideas into user-friendly mobile applications.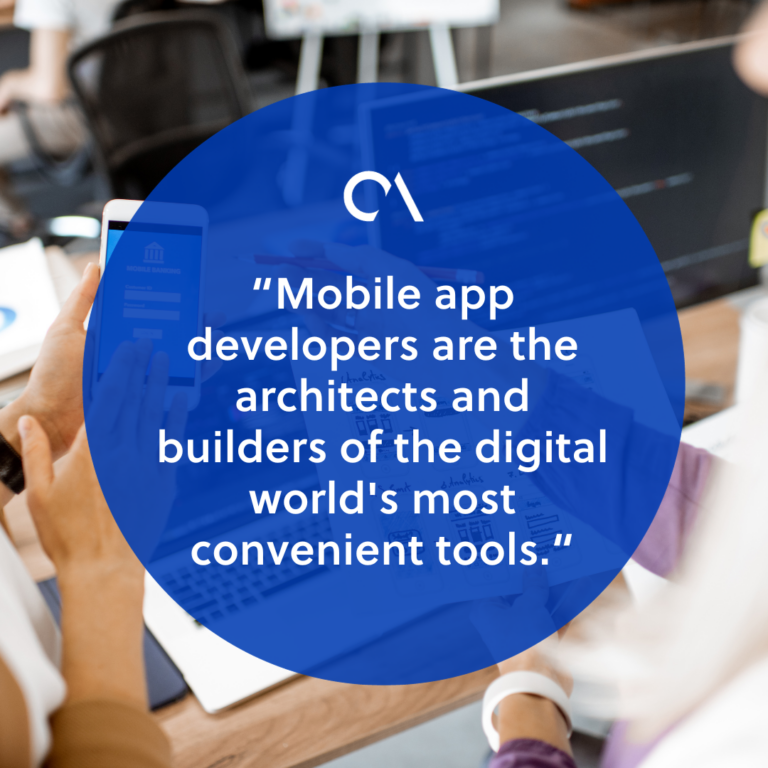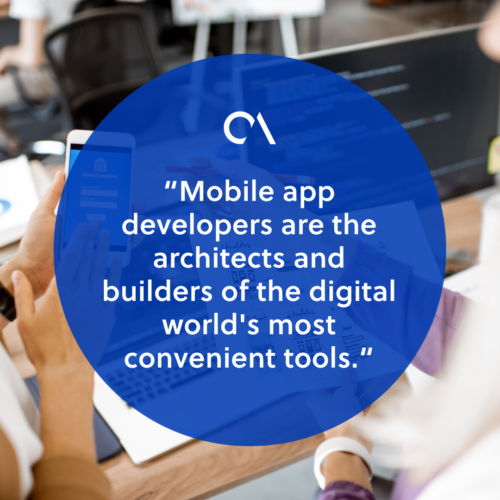 Benefits of hiring mobile app developers
Hiring mobile app developers can offer the following advantages to individuals and businesses:
Technical expertise
When you hire mobile app developers, you gain access to their technical expertise. 
Seasoned developers are well-versed in the intricacies of mobile app development and can easily navigate complex coding challenges. 
These professionals understand the nuances of different mobile operating systems, ensuring your app works flawlessly on Android and iOS.
Customization
Mobile app developers can tailor your app to meet your specific needs. 
They understand the importance of creating a unique user experience. These specialists make sure to build an app that stands out in a crowded marketplace.
Maintenance and updates
Mobile app developers don't just create your app and call it a day. 
Your developers provide ongoing maintenance and updates to warrant compatibility with the latest devices and operating systems. This dedication to keeping your app current is crucial to their service.
Cost-effective
Hiring a team of mobile app developers may seem like a substantial investment, but it's a cost-effective decision in the long run. 
These professionals streamline the development process, reducing the chances of costly errors. Their expertise saves you time, money, and headaches in the long term.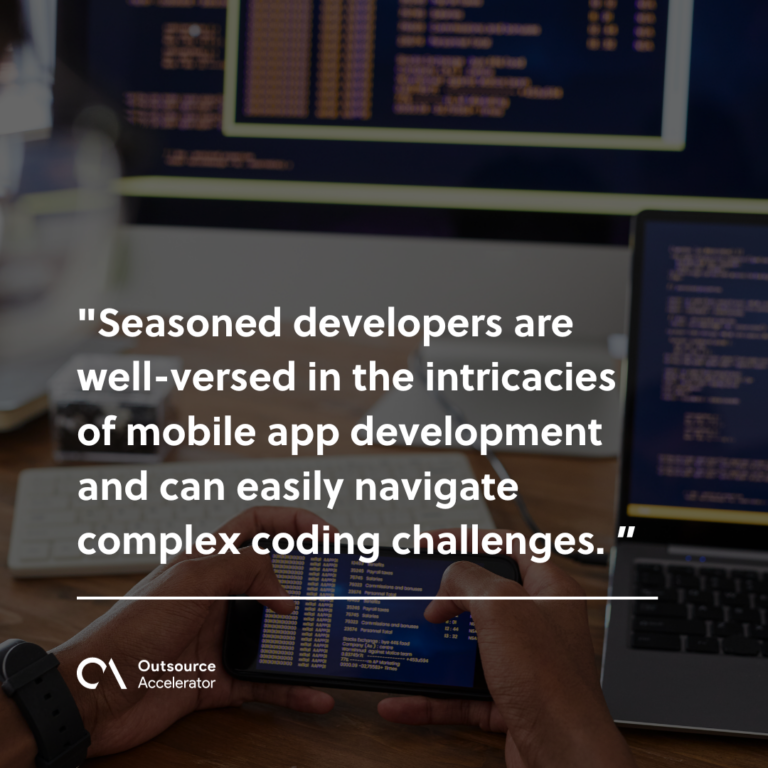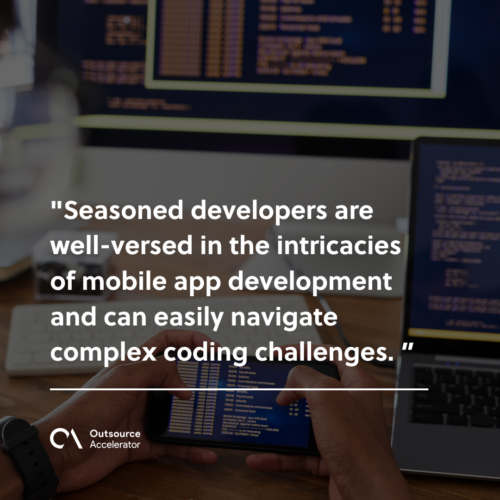 Key competencies to seek in mobile app developers
Here are the specific skills you should look for when choosing the right professionals for your project:
Knowledge of programming languages
Proficiency in programming languages is the backbone of mobile app development. Look for developers who are experts in languages like:
The ability to code in multiple languages is a definite plus, as it ensures versatility in app development.
Familiarity with mobile app frameworks
Mobile app developers should be familiar with popular app development frameworks such as: 
React Native

Flutter

Xamarin
These frameworks expedite the development process by allowing developers to use a single codebase for Android and iOS platforms.
Proficiency in database management
Data is the lifeblood of any mobile app. Developers should be skilled in managing databases, ensuring that your app efficiently stores and retrieves data. 
Proficiency in database technologies like MySQL, SQLite, or MongoDB is essential.
Skilled in cross-platform development tools
Reaching a wider audience, cross-platform compatibility is crucial. Developers should be adept at using tools like Flutter and React Native. 
These software tools allow them to build apps that function seamlessly across different platforms, reducing development time and costs.
Understanding of mobile app security best practices
Security is paramount in the digital world. Mobile app developers must deeply understand security best practices to protect user data and maintain their app's integrity. 
Look for professionals knowledgeable in encryption, authentication, and data protection.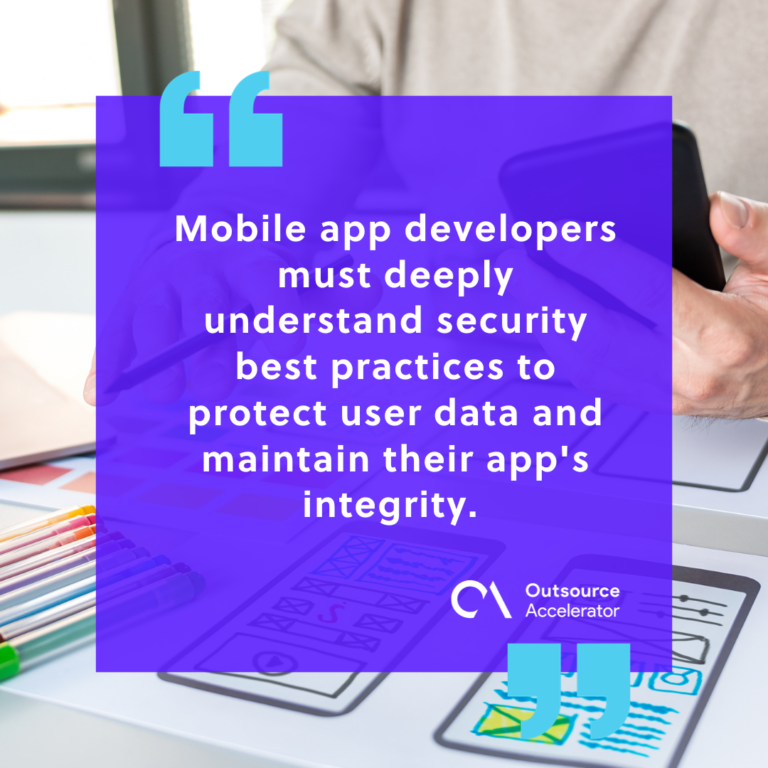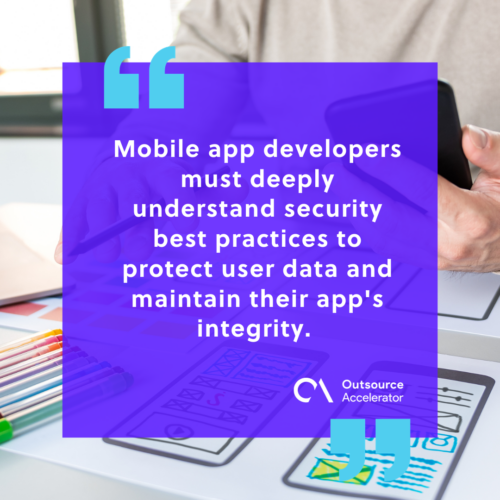 Why should you outsource mobile app developers to Saigon Technology?
Saigon Technology is a well-established mobile app development company with a proven track record. It offers a range of benefits, including.
A team of skilled and experienced mobile app developers

A commitment to staying updated with the latest technologies and trends

A collaborative approach that ensures your ideas are brought to life

Competitive pricing and cost-effective solutions

A history of delivering successful apps for a wide range of clients
Outsourcing mobile app development to Saigon Technology lets you concentrate on your business while they handle the technical details.
Start your journey today! 
Get in touch with Saigon Technology and witness the transformation of your ideas into a mobile app that captivates your audience.