3 ways to become an exceptional market leader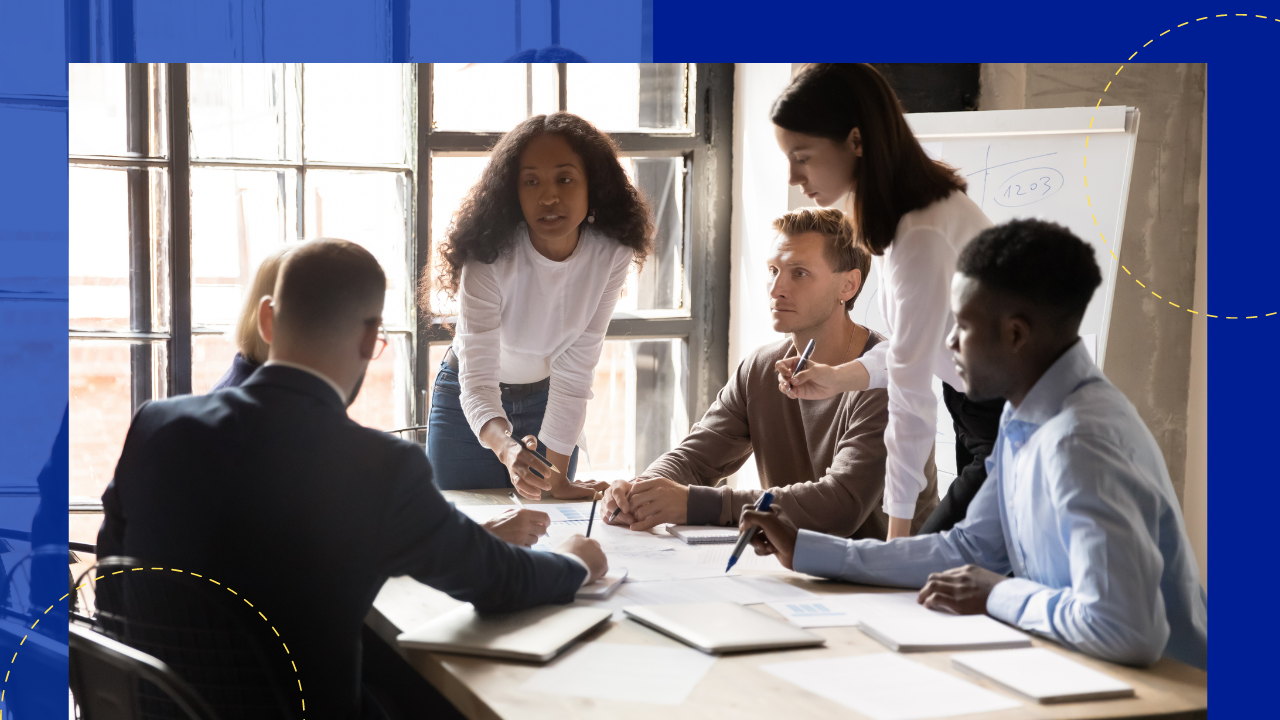 In a world of constant change and fierce competition, the role of a leader has become more critical than ever.
Market leaders are not simply those who occupy the top position in their respective industries. They are exceptional individuals who inspire and drive success.
While it's not easy to become one in your organization, it shouldn't be that hard, either.   
This article covers the significant obligations of a market leader and the effective strategies for becoming an exceptional innovator. 
Importance of being a market leader
An effective market leader is crucial in managing industry trends and contributing to organizational success.
Market leaders help organizations attain a higher market share, greater brand recognition, and increased customer loyalty. They also set the benchmark for innovation and excellence, attracting top talent and investment opportunities.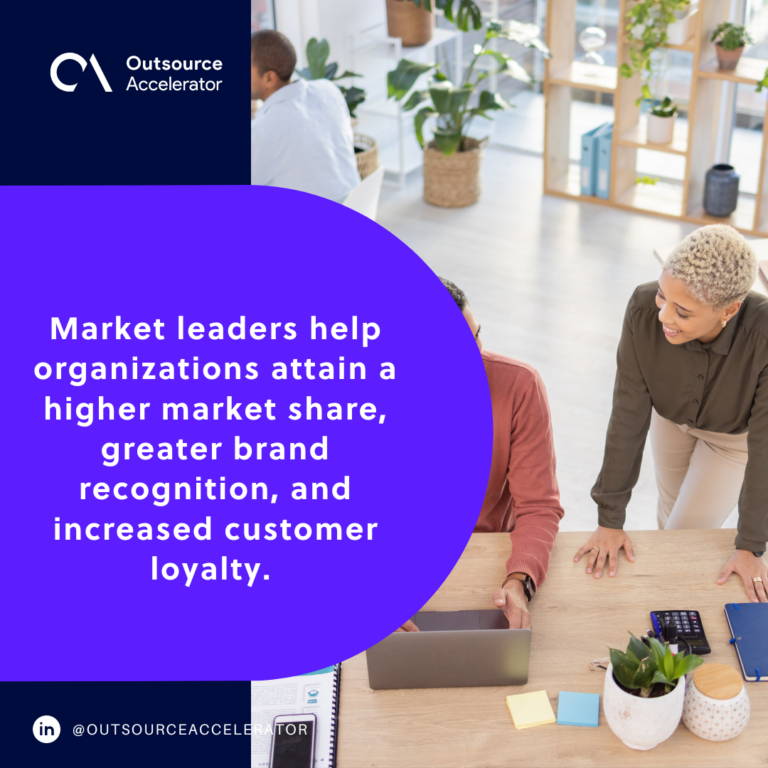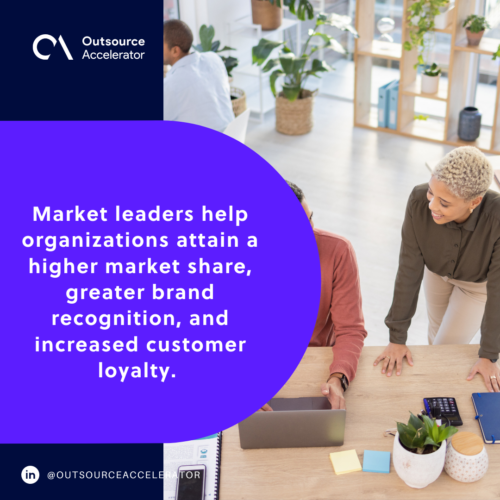 Significant obligations of a market leader
A market leader is responsible for maintaining ethical behavior and responsible team decision-making. He must also create an environment where employees are encouraged to go above and beyond.
In addition, a market leader sets an example by operating with integrity, transparency, and fairness. 
Market leaders also anticipate market trends and provide groundbreaking solutions that meet the needs of their firms and consumers.
3 effective ways to be a successful market leader
For those striving to be an exceptional market leader, take note of the following:
1.
Develop self-awareness and self-improvement
Self-awareness is the cornerstone of exceptional leadership. Take time for self-reflection and seek feedback from trusted mentors or peers. By gaining insights into your attributes, you can effectively leverage your strengths and address areas for improvement.
Continuous learning and development are essential for market leaders. You should embrace a growth mindset and approach challenges as opportunities for learning by:
Understanding personal strengths and weaknesses
Recognize the areas where you excel and leverage them to drive positive outcomes. Similarly, identify your weaknesses and take proactive steps to address them.
Seeking continuous learning and development opportunities
Stay current with industry trends, best practices, and emerging technologies. Attend seminars, online webinars, in-person conferences, and workshops to expand your knowledge base.
Engage in networking activities to learn from industry experts and exchange ideas with peers. You should also Invest in personal growth by reading books, listening to podcasts, or participating in online courses.
Managing emotions in high-pressure situations
Develop emotional intelligence by recognizing and regulating emotions. Practice mindfulness techniques such as deep breathing, meditation, or exercise to reduce stress.
2.
Build a strong team
Exceptional market leaders recognize the importance of building a strong and cohesive team. Surround yourself with talented professionals who complement your vision. 
This will help you acquire real-life lessons and stories of success from like-minded people that can further motivate you.
Hire and retain top talent
Focus on creating a strong recruitment process that identifies individuals who possess the necessary skills and align with your company's values and culture. Communicate your organization's vision and mission to potential candidates.
Additionally, highlighting the opportunities for growth and advancement within your company may entice a good applicant to join your team for the long term.
Promote collaboration and teamwork
Break down silos and promote cross-functional collaboration to leverage the collective intelligence of your team.
Create opportunities for team-building activities and promote a sense of camaraderie among team members. Share ideas, feedback, and knowledge to enhance collaboration and drive innovation.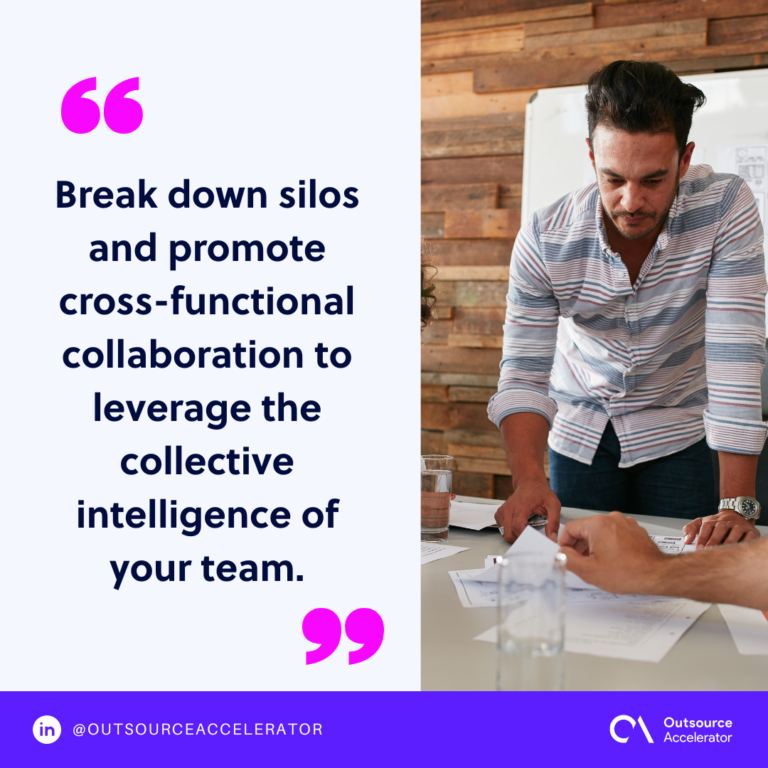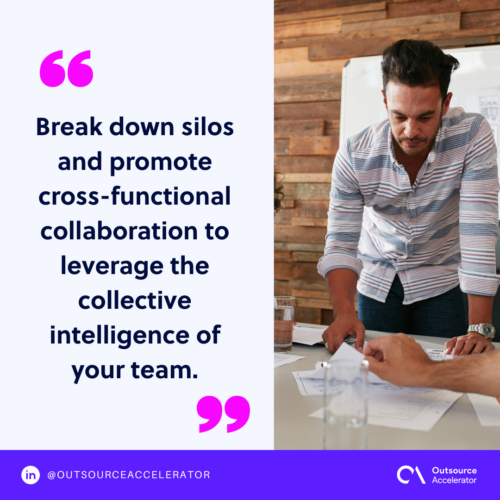 3. Establish strategic planning
Market leaders set the direction for their organizations through strategic planning. A market leader should be able to devise a compelling vision that inspires and aligns his team toward a common goal. 
Craft a clear and actionable strategy that outlines the steps required to achieve that vision. Break down long-term objectives into shorter-term goals and communicate them effectively to your team.
You can do this through these two execution strategies:
Define a vision for the company
Ensure that your vision is realistic yet ambitious and communicates a sense of purpose and direction. Engage your team in the vision-setting process, allowing them to contribute their ideas and perspectives. 
Implement execution strategies
Break down the strategic plan into actionable steps and assign responsibilities to each team member, don't forget to establish KPIs to track progress and ensure accountability.
To keep the KPIs reliable, you should regularly review and adjust your strategies based on market dynamics and emerging opportunities.
By implementing execution strategies, you transform your vision into tangible results and drive the success of your organization.
Become an exceptional market leader and inspire success
Becoming a great market leader is a difficult but rewarding process. In a nutshell, you may realize your full potential as a market leader by:
Growing self-awareness

Constantly enhancing your abilities

Forming a strong team

Implementing strategic planning
Accept leadership duties, lead responsibly, use the abovementioned effective ways to become a great leader, and encourage others to achieve new heights.