When are managed services better than outsourcing for your company?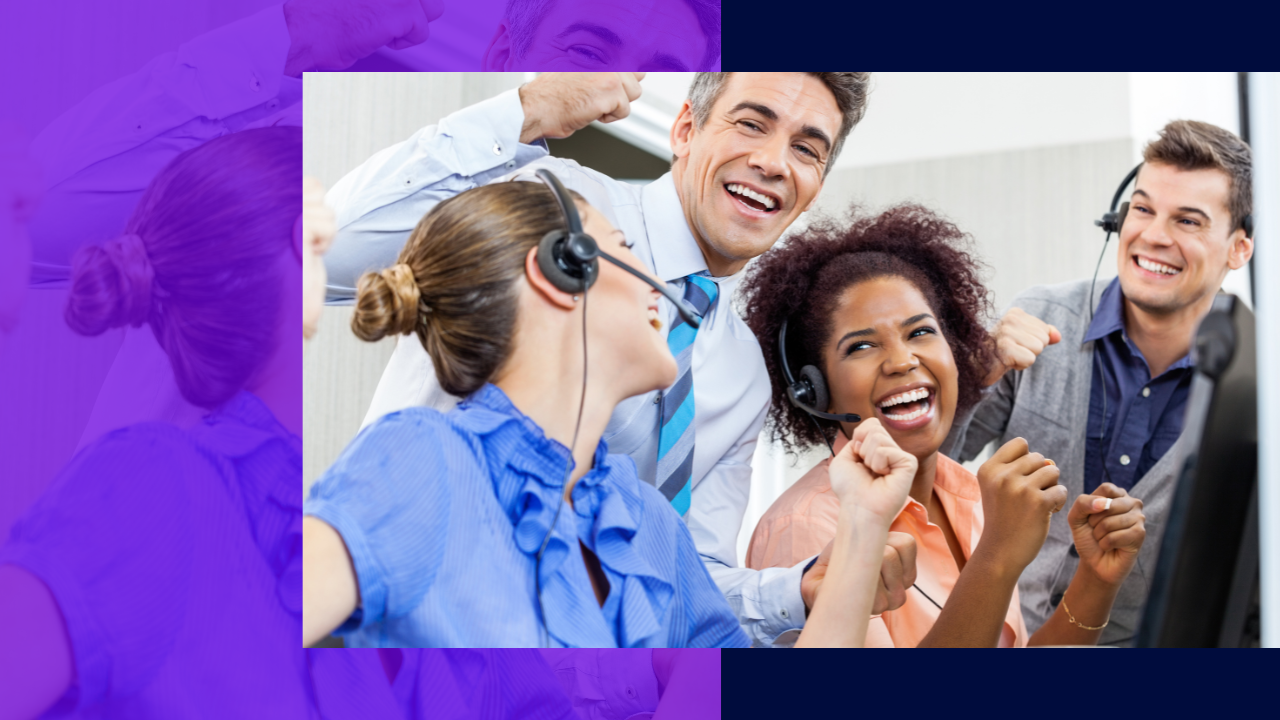 Outsourcing is not a one-size-fits-all solution for all companies and business models. One outsourcing option that works well for one company may not work for another.
Thus, it is important to extensively research various outsourcing options, such as business process outsourcing and managed services, before deciding the right fit for your company.
Investing in well-aligned outsourcing solutions with your company will ensure you get the best value for your money.
In contrast, settling with an outsourcing option that isn't suited for your company's business model will prevent you from getting the most benefits from outsourcing.
Definition of managed services
Managed services are an outsourcing option similar to most other outsourcing services. Its similarity with other outsourcing options often leads to companies labeling managed services as just a fancy term for outsourcing.
However, managed services are a much broader outsourcing option than other types of outsourcing, such as business process outsourcing.
Outsourcing companies who offer managed services, often referred to as managed services providers (MSPs), provide a more holistic approach to outsourcing.
Managed services give outsourcers access to more than just a team of workers to do the legwork of a given business function. They also benefit from having professionals proactively take over the entire business process.
While managed services are more common in companies in the IT sector or companies with IT-related concerns, there are MSPs like Booth and Partners for almost every market niche.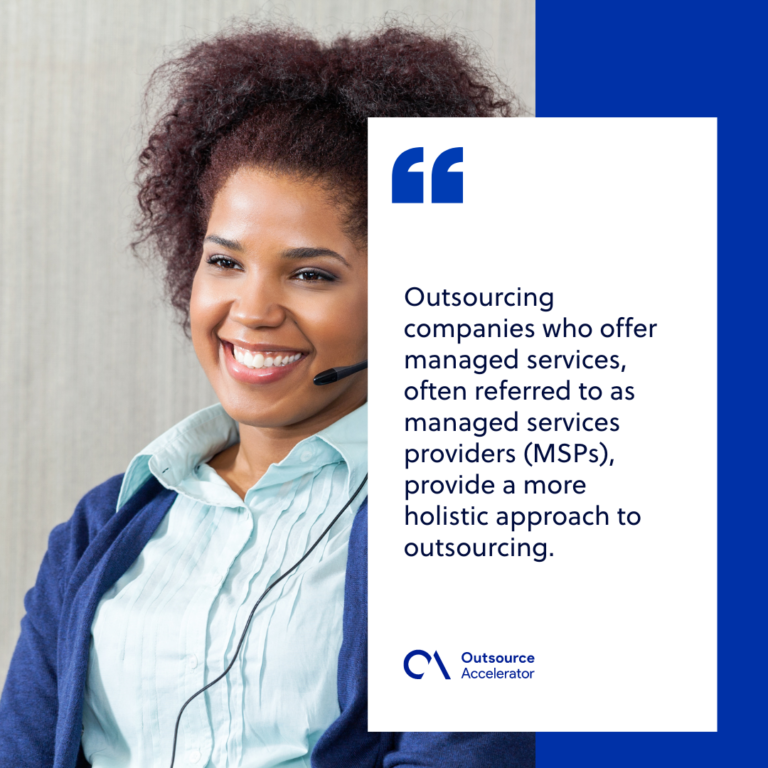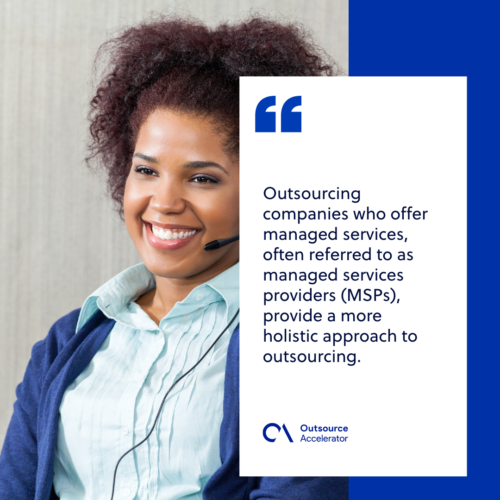 Differentiating managed services and other outsourcing options
As stated above, MSPs differ from other outsourcing services with regard to the scope of a company's operational aspects that the managed services would handle.
For example, suppose a company delegates its customer support to a business process outsourcing provider. In that case, the outsourcing company will provide the team, facilities, and equipment necessary to perform the delegated task.
However, the outsourcing company's duties will only revolve around the delineation of the job the outsourcer hired them to do, which is providing customer support – no more, no less.
Simply put, (business process) outsourcing companies provide only discrete and specific services.
How different would it be then if that company came to an MSP for its customer support needs?
As discussed earlier, MSPs provide a more holistic approach to outsourcing. Thus, an MSP will not only offer a professional team of agents to handle the company's customer support, but it will also assess the company's entire customer support process.
MSPs also take on a more proactive role than outsourcing companies. They will go over the entire system you've hired them to manage and assess the areas needing improvement and formulate the course of action to address these.
In short, MSPs give you access to a team of professionals who'll take over a particular business process, troubleshoot existing issues, proactively seek potential future complications, and take necessary actions to prevent them.
When should you turn to managed services solutions for your company?
Like other forms of outsourcing, managed service solutions can significantly benefit your company, especially if you're in the IT sector or have IT-related issues.
Turning to MSPs for help is also an efficient and cost-effective way for small to medium-sized businesses to manage and scale their companies' digital operations.
Suppose you're looking to expand your company's operations but lack the human and material resources needed to scale up while maintaining your current output. In that case, turning to MSPs like Booth and Partners may be the best choice.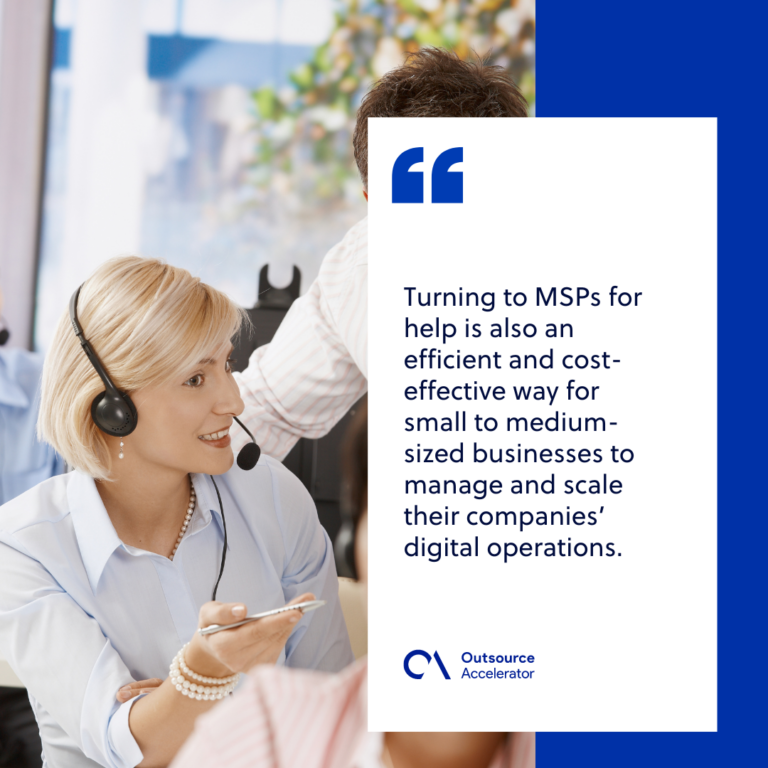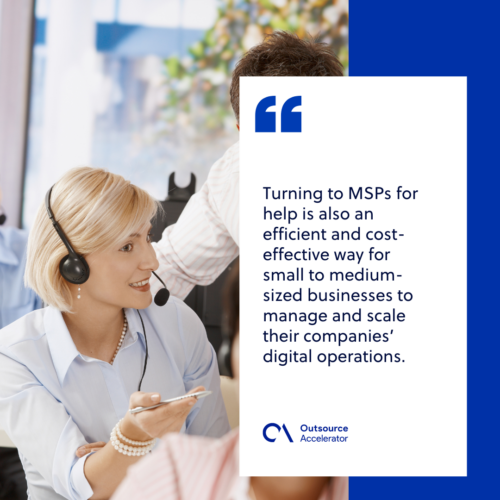 How Booth and Partners can provide reliable managed services solutions
When it comes to delivering efficient and reliable managed services solutions, Booth and Partners is a name that many businesses have come to trust.
This outsourcing and HR solutions company has been in business since 2013 and has extensive experience in providing clients with high-performance teams ready to handle your business operations and well-equipped with leading industry technology.
With Booth and Partners, you won't have to worry about IT, people management, office space, and additional labor costs; this Climate Neutral Certified company will be responsible for your end-to-end projects and operations management.
Booth and Partners also let you identify your key performance indicators (KPI) criteria and offer a service-level agreement (SLA) contract. This ensures that you're not only working on the same page but also towards the same goal.