A comprehensive guide to managed data centers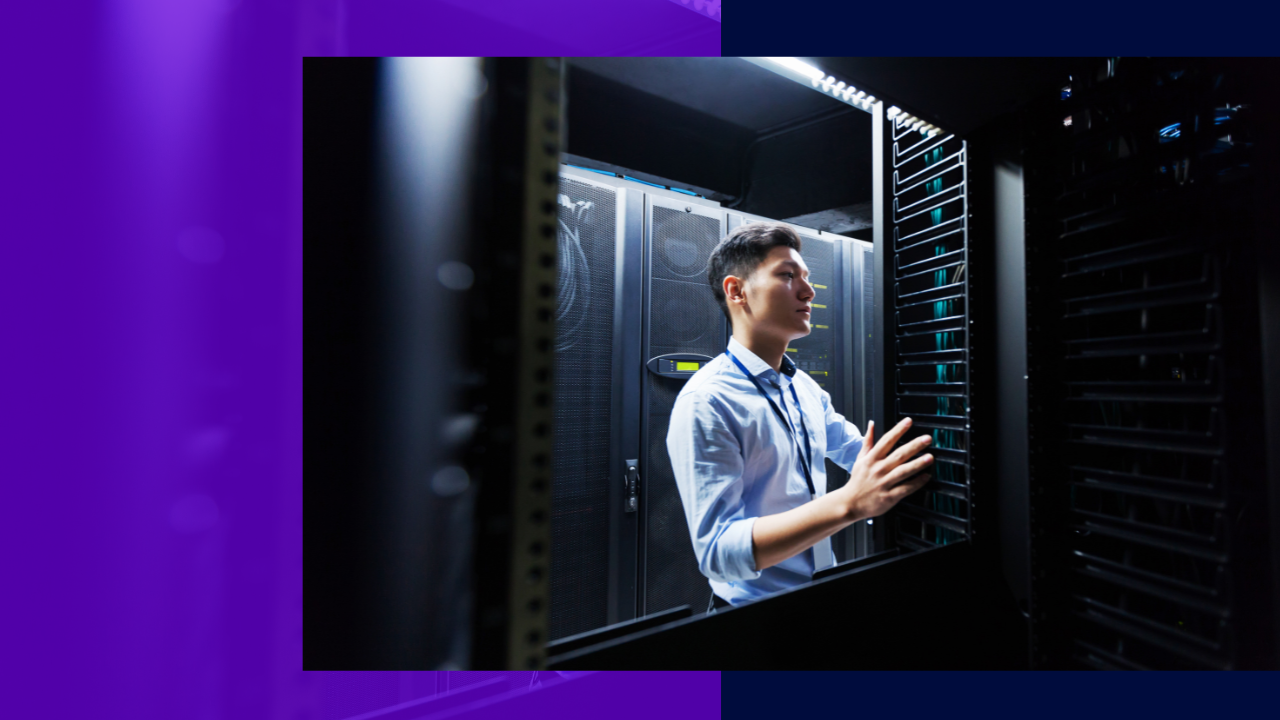 Managed data centers offer various services, infrastructure, and expertise to ensure the reliable storage, processing, and management of critical data. Studies reveal staggering statistics that highlight the significance of efficient data center management.
According to GlobeNewswire, the global data center market is projected to reach USD 112.1 billion by 2028, growing at a compound annual growth rate (CAGR) of 11.4%.
This growth only proves the increasing recognition of the strategic advantages offered by managed data centers.
Let's explore the concept of a managed data center in this article.
Definition and importance of a managed data center
A managed data center is a facility that provides infrastructure, resources, and services for storing, processing, and managing big data. It is equipped with servers, networking equipment, and storage systems for reliable and secure data management.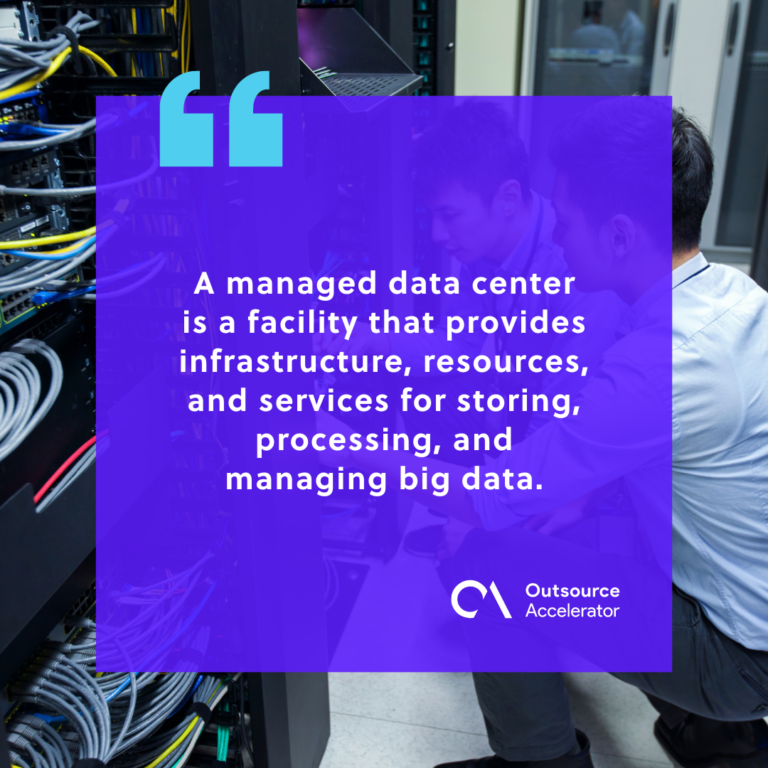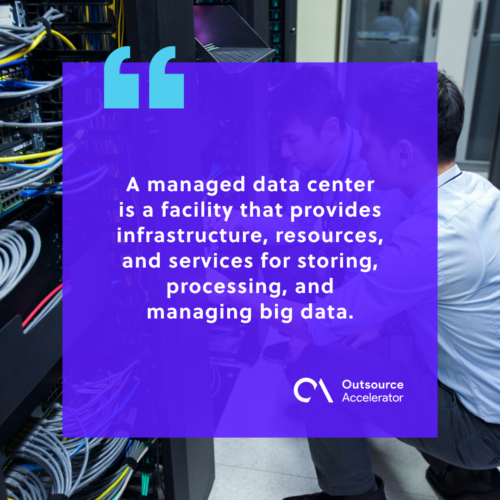 Managed data centers offer several advantages to businesses, including the following.
Reliability and uptime
Managed data centers are designed to provide high levels of reliability and uptime. They employ redundant systems, backup power supplies, and robust network connectivity to minimize downtime and ensure continuous data availability.
Security and compliance
Data centers implement stringent security measures to protect sensitive information.
They employ physical security controls, such as access control systems and advanced cybersecurity measures, to safeguard data against unauthorized access and cyber threats.
Managed data centers also help organizations comply with relevant regulations and industry data privacy and security standards.
Cost efficiency and resource optimization
Instead of investing capital in maintaining in-house data infrastructure, companies can leverage the infrastructure and services of their managed data centers flexibly.
Through data center outsourcing, they can optimize IT budgets, improve cost predictability, and allocate resources more efficiently toward their core business objectives.
This lessens the company's need to invest in hefty hardware, software, facility setup, ongoing maintenance, upgrades, and personnel costs.
Types of managed data centers
Managed data centers can be categorized into different types based on the level of management and services provided:
Enterprise data center
An enterprise data center is operated by a single organization to meet specific data management needs. It offers complete control over infrastructure, allowing organizations to customize and tailor the environment according to their requirements.
Managed services center
Known as a managed service provider (MSP), a managed services center is a third-party facility that provides infrastructure and services to multiple organizations. It offers various services, including server hosting, storage, network connectivity, and system monitoring.
Managed services centers allow companies to focus on their core competencies while outsourcing data center management to experienced professionals.
Partially-managed data center
In a partially-managed data center, the organization retains control over certain operational aspects, including hardware management. They do this while outsourcing other tasks, such as network management or security, to an MSP.
Fully-managed data center
A fully-managed data center oversees all aspects of operations, including hardware, software, network, security, and maintenance.
Organizations can rely on the MSP's expertise to handle all day-to-day management tasks. This helps them focus on more valuable aspects of their operations.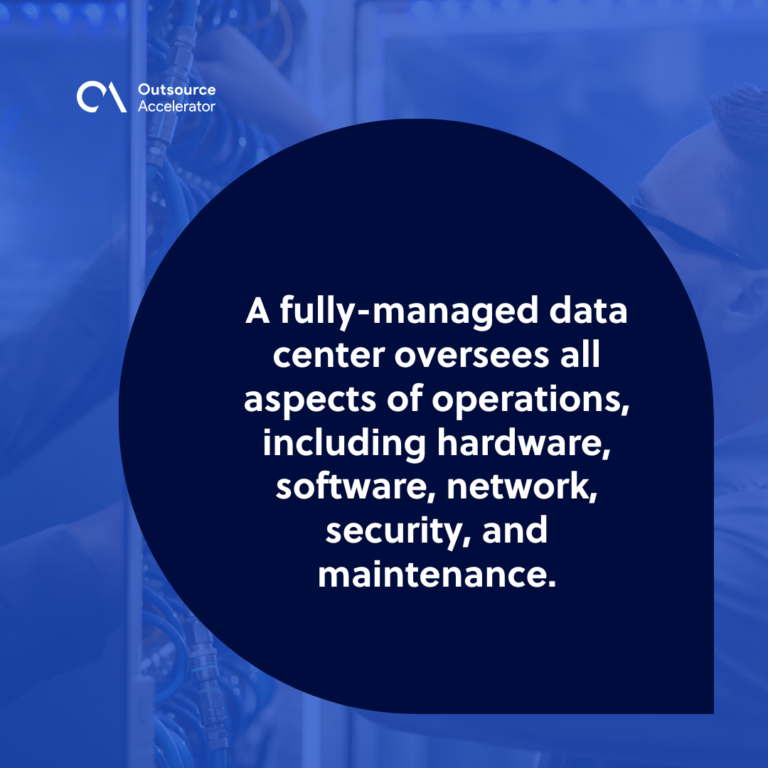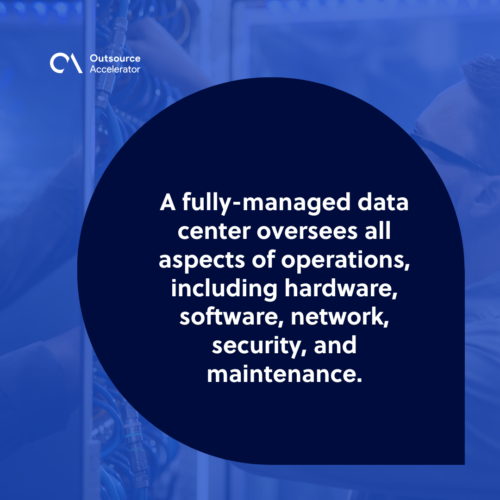 Cloud data center
A cloud data center provides virtualized resources and data services. It offers scalability, on-demand provisioning, and pay-as-you-go pricing models without a physical infrastructure involved.
Cloud data centers are highly flexible and cater to most firms, from startups to established enterprises.
Choosing a managed data center
Like most outsourced services, managed data centers pose several challenges and risks, particularly in data security. 
Firms should consider several factors in choosing a managed data center to ensure the best fit for an organization's requirements. 
Here are three key considerations:
Review your service level agreements (SLAs)
Thoroughly review the service-level agreements provided by the data center provider. Pay attention to uptime guarantees, response times for support, security measures, and disaster recovery plans. 
Ensure that the SLAs align with the organization's needs and expectations.
Assess their flexibility
Assess the scalability and flexibility offered by the data center provider. Determine if they can accommodate future growth and rapidly provision additional resources when needed.
Consider the provider's ability to support specific technologies or platforms the organization requires.
Evaluate their security measures
Evaluate the data center's security measures, including physical security controls and cybersecurity practices. 
Inquire about compliance certifications, such as SOC 2 compliance, to ensure that the provider follows industry best practices for data protection.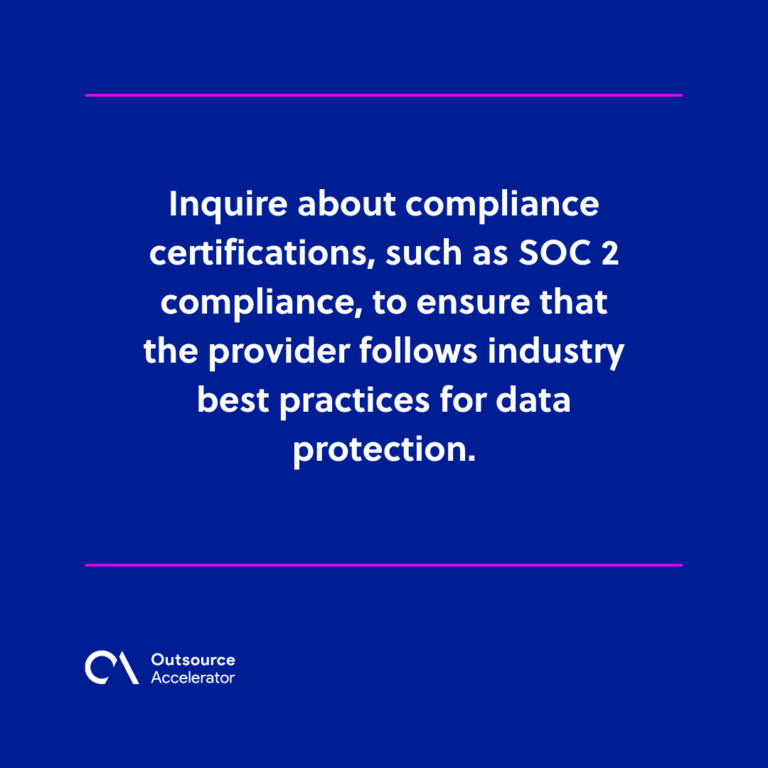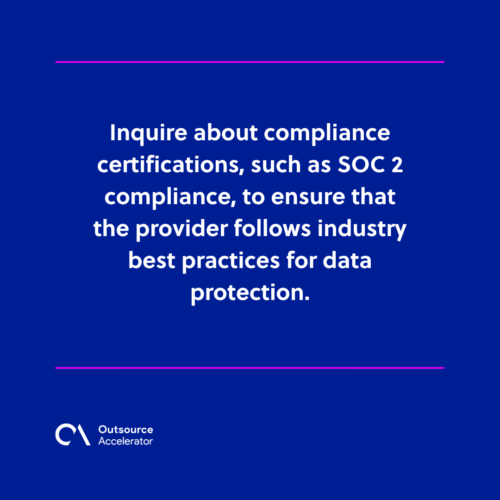 Check the managed data center's connectivity
Assess the data center's connectivity options to ensure they align with your organization's networking needs. Consider the availability of diverse carriers, fiber optic connectivity, and low-latency connections.
Robust connectivity options enable seamless communication between your infrastructure and external networks or cloud service providers.
Find out about their disaster recovery measures
Inquire about the data center's disaster recovery plans and business continuity strategies. Look for facilities that have redundant systems, geographically dispersed locations, and robust backup solutions.
Additionally, assess their ability to restore operations during a disaster or outage quickly.
Support and managed services
Evaluate the data center's support offerings and managed services. Determine whether they provide 24/7 technical support, proactive monitoring, and responsive incident response. 
Managed services such as remote hands support, server management, and network administration can offload operational tasks and enhance the efficiency of your IT operations.