The importance of SOC 2 certification for outsourced call centers in the financial industry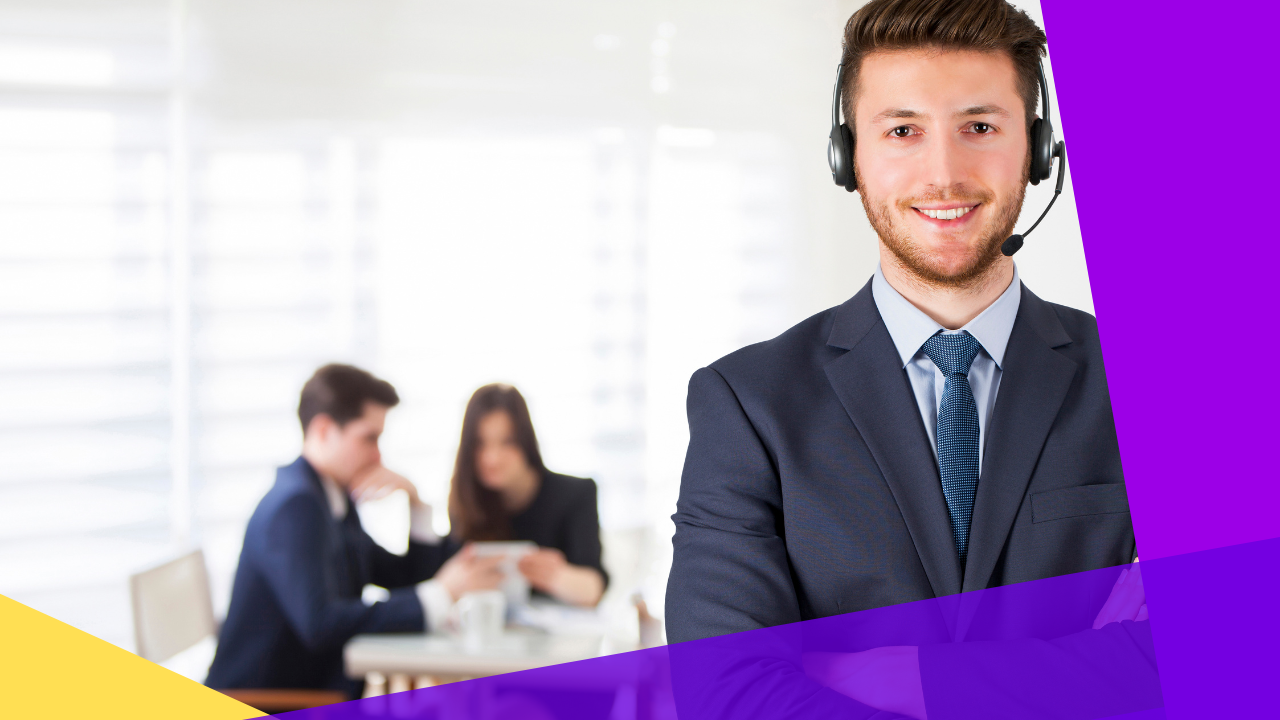 The financial industry is no stranger to the necessity of maintaining high standards of security, confidentiality, and integrity. 
With outsourcing increasingly being seen as a valid business move, more and more financial services firms are outsourcing call centers to manage customer interactions. It's paramount that these service providers also uphold the same level of trust and compliance. 
One key way to assess and maintain these standards is through SOC 2 certification. 
In this article, we will explore what SOC 2 certification is and why it's an important box to check when considering call center partners. We'll also highlight the advantage that financial industry professionals receive from partnering with a complying firm.  
If you're seeking to outsource services to a call center that you can trust, including being SOC 2 certified, look no further than Executive Boutique Call Center. 
Executive Boutique is an American and Australian-owned call center and outsourcing services provider in the Philippines. Gain access to a highly-skilled team for your financial needs!
What is SOC 2 certification?
System and Organization Controls Type 2 (SOC 2) is an auditing procedure that evaluates a service organization's controls, policies, and procedures related to the Trust Services Criteria (TSC). 
These criteria are:

Security

Availability

Processing integrity

Confidentiality

Privacy
SOC 2 certification was established by the American Institute of Certified Public Accountants (AICPA). Authentication ensures that companies adhere to the industry's best practices in managing and protecting customer data.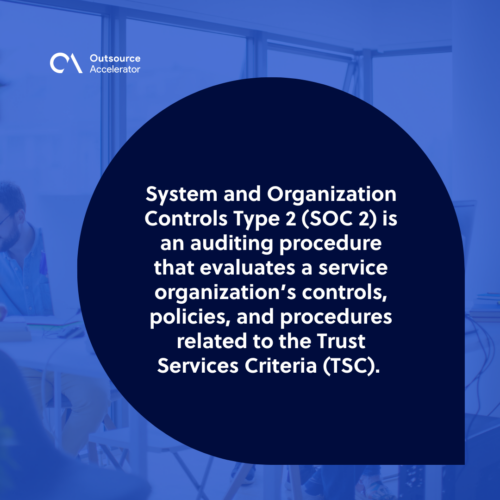 Why is SOC 2 certification important for a call center service provider?
For call centers, a SOC 2 certification signifies the proper implementation of security controls. It means you can trust the call center to provide quality service. 
Here are the benefits you can expect:
Data security and confidentiality
Financial institutions deal with vast amounts of sensitive customer data daily. This includes Social Security numbers, account information, and transaction histories. 
SOC 2 certification ensures an additional layer of data protection for outsourced call centers, reducing the risk of unauthorized access, data breaches, and potential financial loss. 
Regulatory compliance
Financial institutions are subject to stringent regulations, including the following:

Sarbanes-Oxley Act (SOX)

Gramm-Leach-Bliley Act (GLBA)

Payment Card Industry Data Security Standard (PCI DSS)
By partnering with a SOC 2-certified call center, financial service firms ensure that they are working with a partner that complies with regulations and maintains necessary standards for data protection.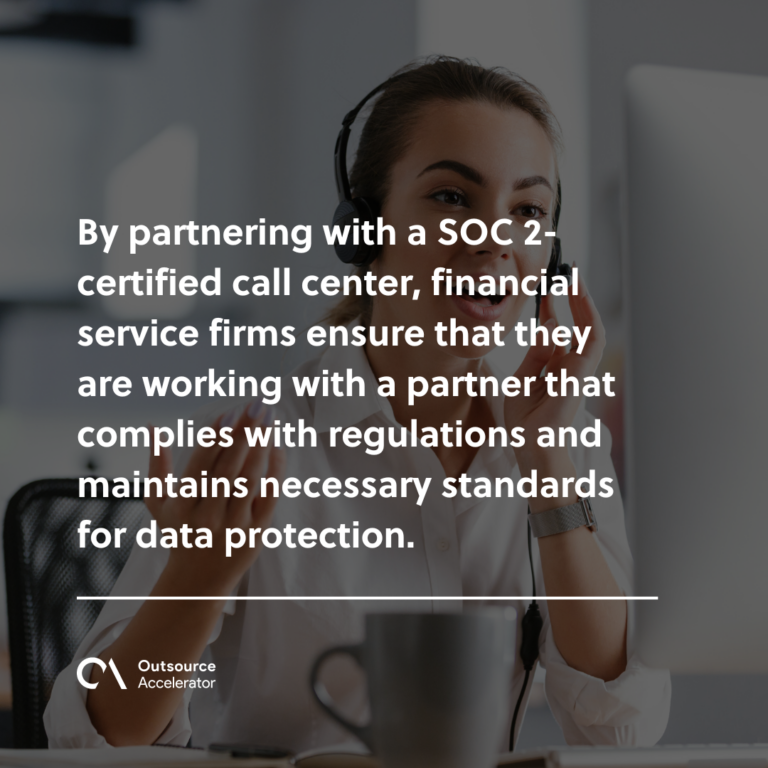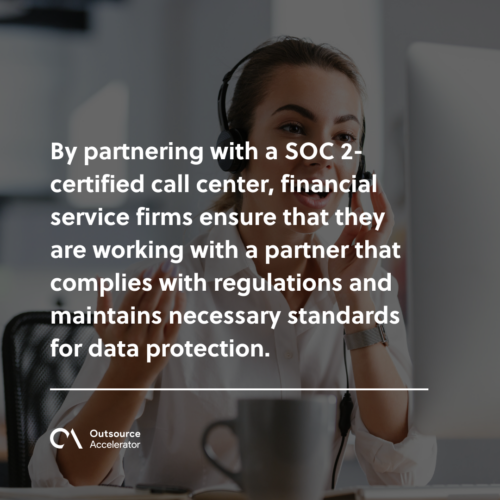 Reputation management
In the age of digital transformation and growing cybersecurity threats, a single data breach can have disastrous consequences for a company's reputation. 
Working with a SOC 2-certified call center like Executive Boutique helps financial institutions mitigate this risk. This demonstrates their commitment to protecting customer data and maintaining their clients' and stakeholders' trust. 
Verizon's 2022 Data Breach Investigations Report noted a 13% increase in ransomware breaches, more than in the last five years combined.
While this is a threat to any business, it would be devastating to financial institutions with their databases of people's monetary data. 
SOC 2 certification for your company presents your financial institution to the market in a credible fashion. It shows to your audience that you take the threat of data breaches seriously enough to prepare your cybersecurity protocols properly. 
Improved operational efficiency
A SOC 2-certified call center has well-defined policies and procedures in place, leading to improved operational efficiency. 
Financial institutions benefit from streamlined processes, faster response times, and reduced risk of human error. 
Competitive advantage
In a highly competitive financial industry, partnering with a SOC 2-certified outsourced call center can differentiate your organization from competitors. 
A SOC 2 certification signals your commitment to security, confidentiality, and compliance, making your services more attractive to potential clients and partners.
Leading cyber economy research group Cybersecurity Ventures reports that global security job vacancies grew by 350% between 2013 and 2021. As of 2023 there are 3.5 million unfilled cybersecurity roles, and it's expected to continue until 2025. 
Companies are eager to fill these positions to address the growing cybersecurity threat, but just any developer won't do. Aside from the starter certifications, a SOC 2 certification signifies that your firm aspires to a higher standard of cybersecurity.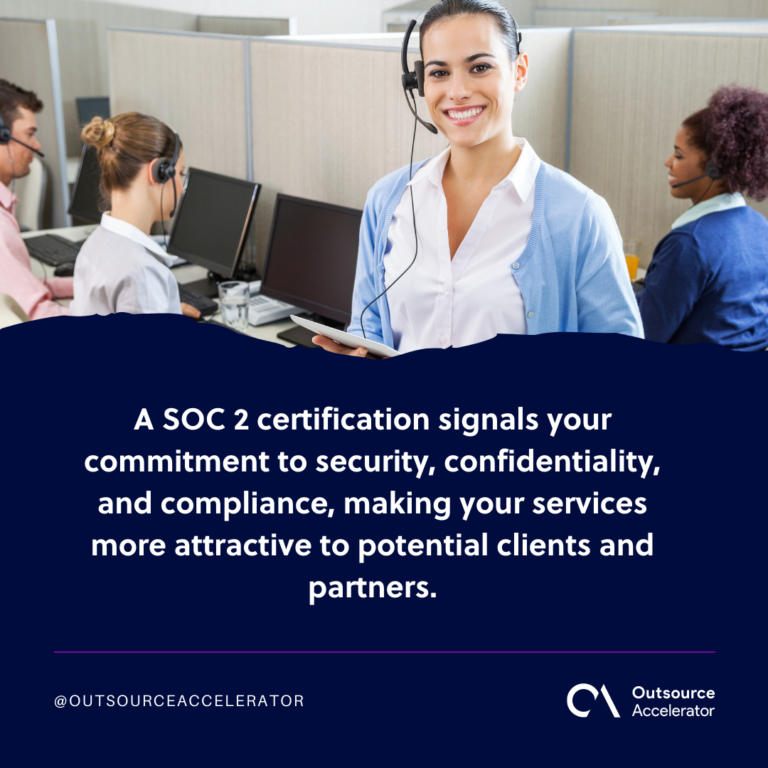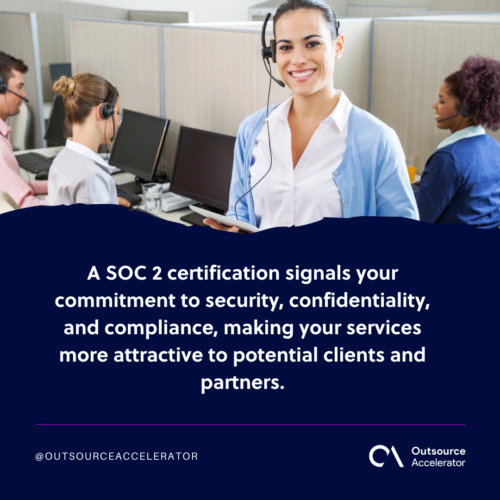 Executive Boutique Call Center: A SOC 2 certified partner
Financial institutions should prioritize partnering with SOC 2-certified call centers to maintain quality. 
Executive Boutique Call Center is a SOC 2-certified BPO provider you can trust. The firm also goes through an extensive PCI DSS certification audit and inspection yearly to minimize your exposure to all cybersecurity threats.
Executive Boutique Call Center's services help clients elevate performance, streamline operations, and achieve substantial savings. 
Get in touch with them today!