Starter's guide to loan processing outsourcing: 6 easy steps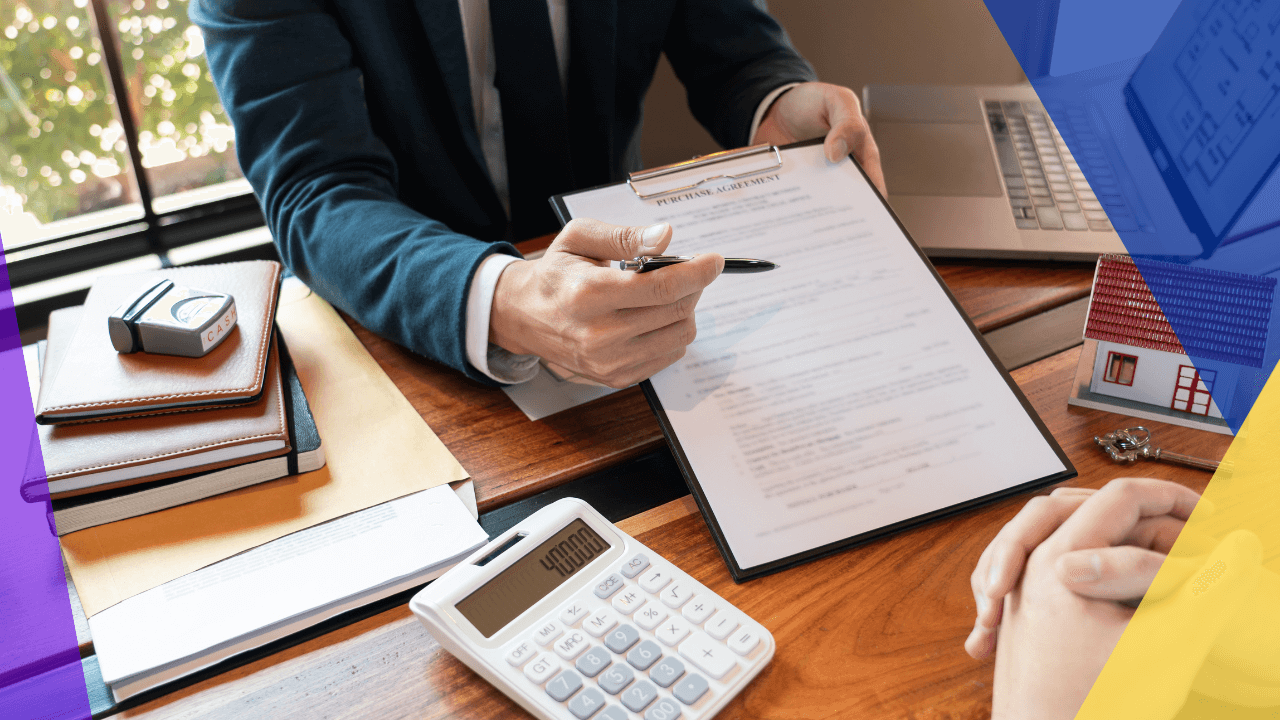 Businesses often outsource loan processing to optimize operations, reduce costs, and enhance efficiency. This allows them to sidestep the overheads of hiring and training in-house staff, maintaining infrastructure, and purchasing expensive technology. 
Furthermore, outsourcing partners often bring a wealth of industry knowledge, experience, and the latest technology, enabling companies to benefit from their expertise. 
If you're new to loan processing outsourcing, continue reading as we'll explore six steps to start with this method and how it can benefit your firm.
What is loan processing outsourcing?
Loan processing outsourcing is a strategic business decision that involves partnering with external entities, like outsourcing firms, to handle certain elements of the loan lifecycle.
The tasks delegated to outsourcing companies include the following:
Loan application processing

Underwriting

Document verification

Customer support
Outsourcing these functions aims to streamline operations, reduce operational costs, and allow your in-house teams to focus on core competencies.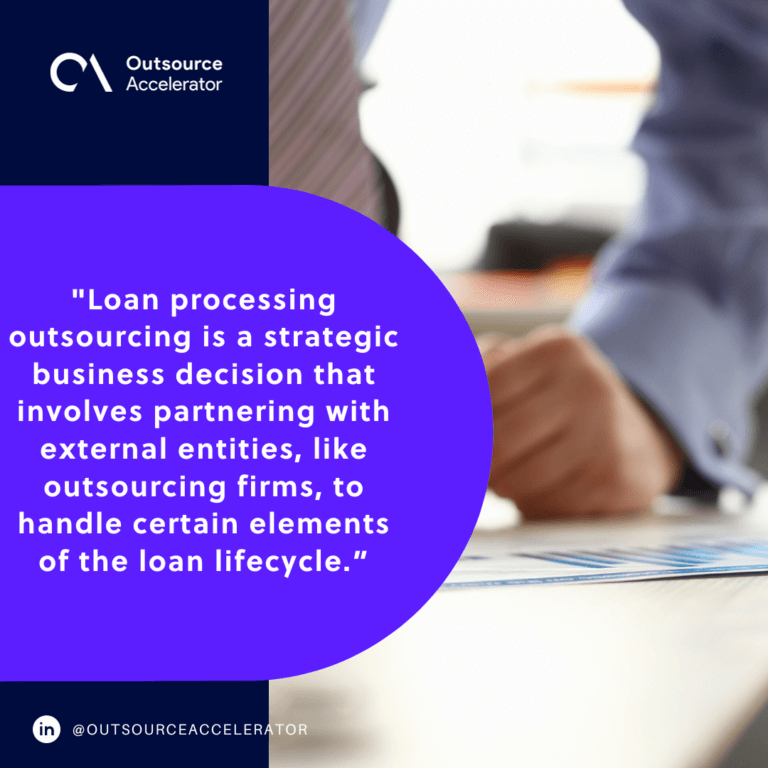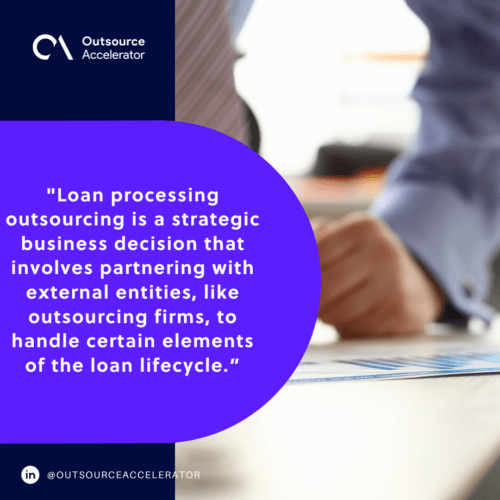 Benefits of loan processing outsourcing
Why is loan processing outsourcing a popular choice among financial institutions and lending companies?
Here are several compelling reasons:
Cost savings

– Loan processing outsourcing can significantly reduce operational expenses. By leveraging the expertise and resources of specialized service providers, you can avoid internal associated costs.

Expertise access

– Outsourcing partners are often specialists in their field. When you collaborate with them, you gain access to their industry knowledge, experience, and the latest technology, helping you stay competitive.

Scalability

– Loan volumes can fluctuate over time, and dealing with these fluctuations can be challenging for in-house teams. Outsourcing providers offer scalability, allowing you to ramp up or down quickly in response to market demands.

Enhanced focus

– Loan processing outsourcing lets your in-house team concentrate on core activities like

building customer relationships

and strategic decision-making.

Faster turnaround times

– Outsourcing providers often operate around the clock, ensuring loan applications are processed and approved more swiftly. This can lead to improved customer satisfaction.
6 steps to start loan processing outsourcing
Now that we've established loan processing outsourcing and its benefits, let's explore the six steps to initiate this process effectively.
1. Define your outsourcing objectives
In the initial stages of considering loan processing outsourcing, it's crucial to establish clear and specific objectives.
You may ask these few questions to get started:
What do you aim to achieve by outsourcing these tasks?

Are you primarily focused on reducing operational costs, increasing overall efficiency, or gaining access to specialized skills that may not be readily available in-house?
Defining your objectives is vital to setting the compass for your outsourcing journey. It helps you articulate the "why" behind your decision and guides your selection of the most suitable outsourcing partner. 
2. Identify target loan processing services
Identifying the specific loan processing services you intend to outsource is a fundamental step in outsourcing.
Consider the various components of loan processing, such as:
Document collection

Data entry

Credit checks
It's imperative to have a comprehensive understanding of your organization's requirements to make an informed decision. Different aspects of loan processing may necessitate unique skill sets and expertise.
By identifying your target services, you can match them to an outsourcing provider with the specific capabilities and experience required to excel in those areas.
This alignment ensures that your outsourcing partner is well-equipped to meet your precise needs, ultimately leading to a successful and productive outsourcing collaboration.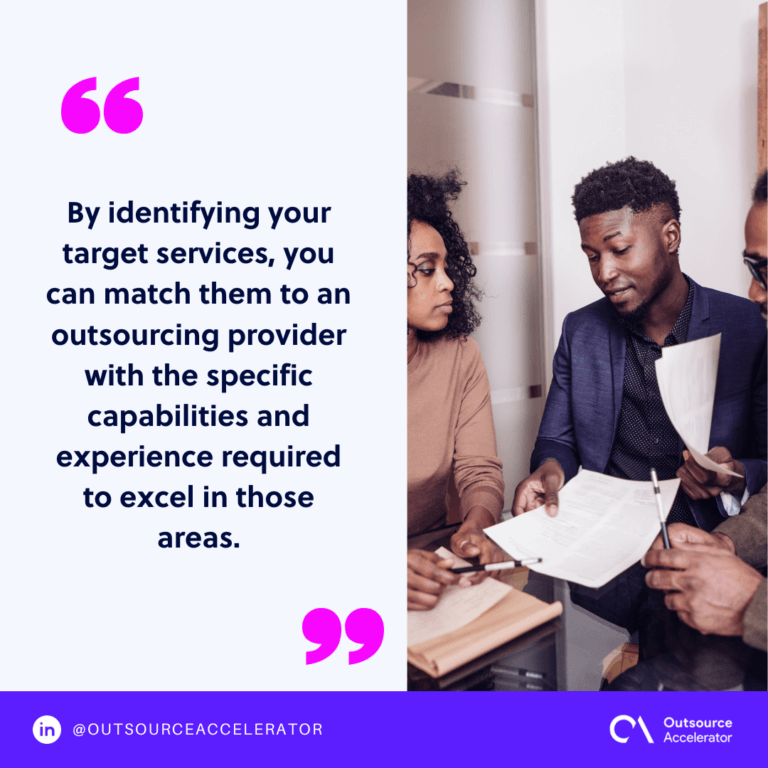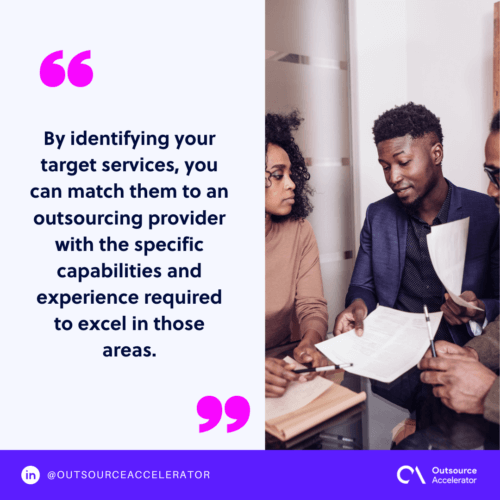 3. Choose outsourcing partners or vendors
Selecting the right outsourcing partner is critical in the loan processing outsourcing journey. It's imperative to exercise due diligence and analyze potential vendors to ensure a successful collaboration.
You may start by seeking partners with a proven track record in loan processing. They should have field experience, indicating their ability to deliver efficient services.
A good reputation for quality and compliance is another essential criterion. This can be verified through client testimonials and industry awards, providing valuable insights into their performance and reliability.
4. Develop a service level agreement (SLA)
As you move along with loan processing outsourcing, remember that a well-structured service level agreement (SLA) is more than just a contractual document. It is the foundation for a successful partnership.
An SLA is a comprehensive agreement that delineates the terms and expectations of the outsourcing partnership, ensuring both parties are aligned and accountable.
The SLA should outline performance metrics, setting clear targets and benchmarks for quality, efficiency, and productivity.
Additionally, quality standards should be meticulously defined to maintain the integrity of your processes and ensure that the outsourcing partner meets your expectations consistently.
5. Set up data security protocols
Given the highly confidential nature of the data involved, ensure that your outsourcing partner complies with all relevant regulations and standards, such as:
General Data Protection Regulation (GDPR) 

Health Insurance Portability and Accountability Act (HIPAA)
Note that security protocols will depend on the specific nature of the data being handled. These regulations are in place to protect the privacy and security of personal and financial data, and adherence is non-negotiable.
Continual vigilance is also vital in this context. Regular assessment and monitoring of data security protocols are necessary to prevent data breaches and protect your customers' confidential information.
6. Implement loan processing workflows
Efficient loan processing workflows are the backbone of a successful loan processing outsourcing operation.
This step involves collaborating with your outsourcing partner to design and implement efficient workflows tailored to your specific business needs and objectives. These workflows should be meticulously documented to ensure clarity and consistency.
Moreover, the documentation of workflows should not be a one-time endeavor. Instead, they must be regularly updated to reflect changes in your business requirements, market dynamics, or regulatory mandates.
These changes could include adjustments in approval criteria, document collection processes, or even customer interaction procedures.
Keeping workflows up-to-date is essential to ensure that the loan processing operation remains agile and adaptable in response to an ever-evolving financial landscape.

Loan processing outsourcing controls loan volume fluctuations
Financial institutions often experience peaks and valleys in loan application submissions due to economic conditions, market demand, or regulatory changes.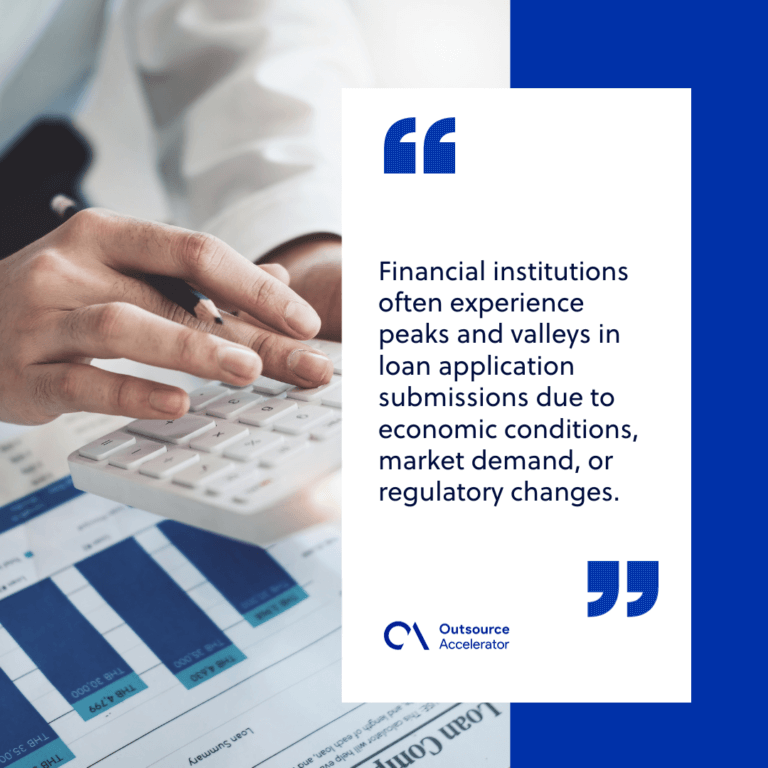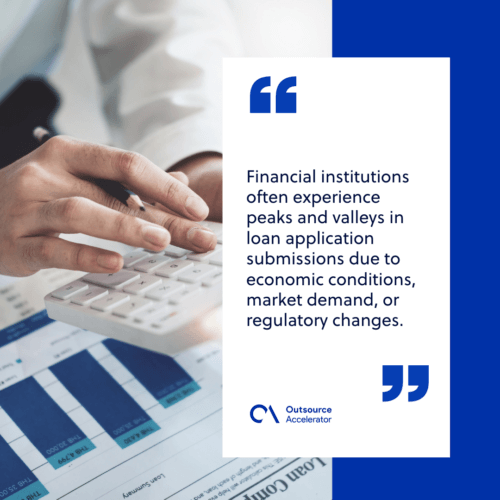 Managing these fluctuations can be challenging for in-house teams, leading to underutilized resources during slow periods and overwhelmed staff during surges in demand.
Outsourcing partners are well-equipped to handle these variations. They can quickly scale their operations up or down to meet your needs. During peak periods, they can allocate additional resources, ensuring loan applications are processed promptly.
So, if you want to optimize your loan processing operations and stay competitive, consider outsourcing a viable solution.