Exploring the role of a legal receptionist in law firms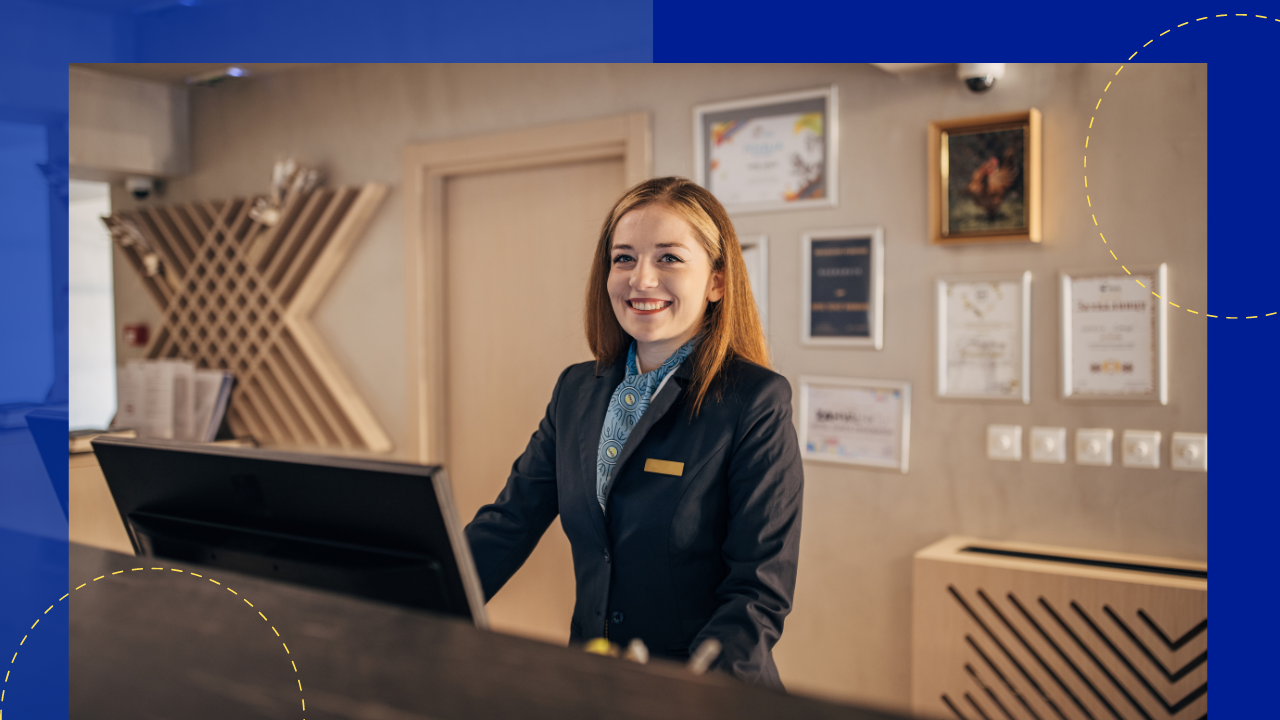 Law firms rely on professionalism and precision, so legal receptionists play a crucial role in the team. They are vital for the smooth functioning of daily operations and ensuring everything runs efficiently.
This article explores a legal receptionist's responsibilities, must-have skills, and valuable contributions to law firms.
What is a legal receptionist?
A legal receptionist creates a professional and welcoming atmosphere for law firms being the first point of contact for clients and visitors.
Legal receptionists possess:
Courteous demeanor

Excellent attention to detail 
These strengths contribute to establishing a warm and efficient environment that reflects the firm's commitment to client care and professionalism.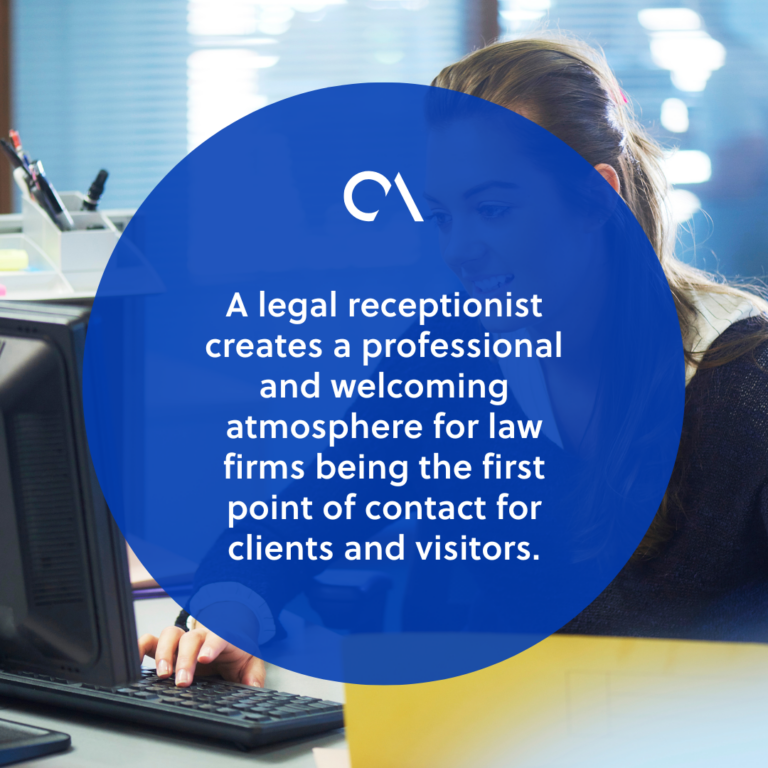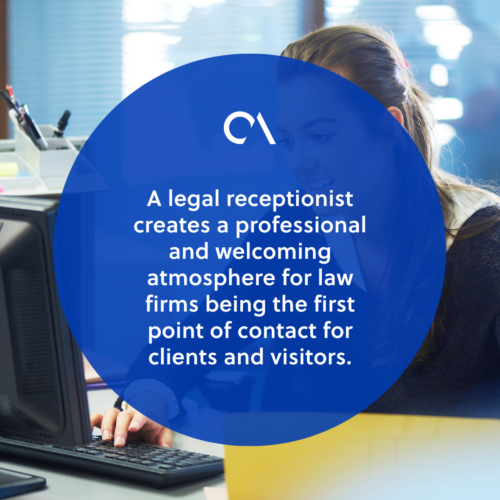 Responsibilities of a legal receptionist
Here are the primary responsibilities of a legal receptionist:
Welcoming clients and visitors
An essential duty of legal receptionists is to establish a positive initial encounter for clients and guests. They warmly greet all arrivals with professionalism and amiability, shaping the atmosphere. 
This friendly reception sets the stage for the client's time and enhances the law firm's image.
Managing phone calls
Legal receptionists manage incoming calls with skill and professionalism. They route calls to the right staff, record messages accurately, and ensure clients' questions are swiftly attended to. 
Proficient phone handling is important for top-notch customer service and maintaining smooth communication in the law firm.
Scheduling appointments
Arranging appointments forms a crucial aspect of the legal receptionist's duties. Legal receptionists oversee the law firm's calendar, guaranteeing client appointments at convenient times. 
By upholding an orderly schedule, they aid attorneys and other team members in effectively utilizing their time and resources.
Administrative tasks
Taking care of administrative responsibilities constitutes a fundamental aspect of a legal receptionist's role. 
Legal receptionists manage diverse administrative tasks like handling letters, arranging documents, and upkeeping office supplies. Their carefulness and organizational skills are key to ensuring the law firm's efficient operations.
Managing mail and deliveries
Legal receptionists frequently manage incoming mail and packages, ensuring proper sorting and distribution to the relevant individuals at the law firm. 
Additionally, they might handle outgoing mail and collaborate with couriers or delivery services as needed.
Maintaining client records
Legal receptionists are crucial in upkeeping client records and files. They confirm precise and updated client data, including contact information and appointment records. 
This responsibility underscores the significance of attention to detail and organizational expertise.

Must-have skills of a legal receptionist
A legal receptionist must possess the following essential qualities to support the legal firm's overall success:
Strong communication skills
Proficient communication stands as a core competency for a legal receptionist. 
Legal receptionists communicate information clearly and professionally to clients, visitors, and colleagues. 
They provide precise and valuable information to all involved parties through attentive listening and articulate speaking.
Organizational abilities
Being organized is essential for effectively handling daily tasks. A legal receptionist should prioritize duties, manage multiple tasks simultaneously, and uphold attention to detail. 
These organizational skills are vital in ensuring the law firm's smooth operation.
Attention to detail
Paying close attention to details is fundamental in the legal field. A legal receptionist should meticulously handle client information, appointment schedules, and administrative duties to maintain accuracy and avoid mistakes. 
This attribute improves the overall efficiency of the law firm.
Professionalism and discretion
Legal receptionists frequently encounter private and confidential data. They should maintain high professionalism and be careful while handling client concerns. 
Showing professionalism and being discreet nurtures trust and confidentiality within the law firm.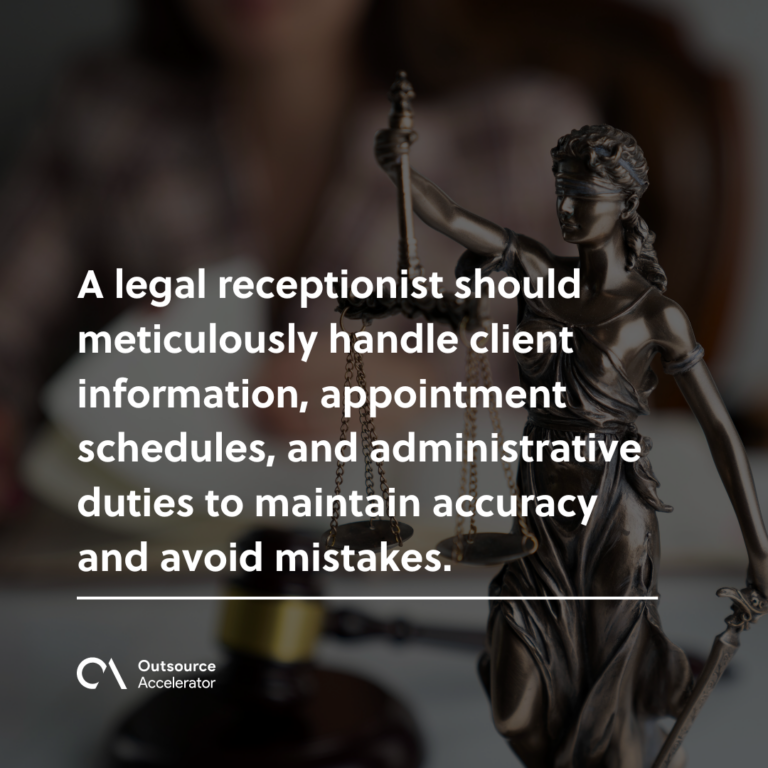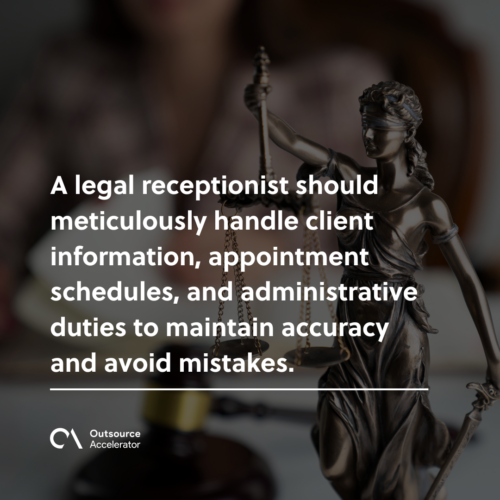 Benefits of hiring a competent legal receptionist
Hiring a competent legal receptionist can significantly benefit a law firm or legal practice. Here are some key advantages:
Improved client experience
An adept legal receptionist has a notable impact on improving the client experience. 
Legal receptionists contribute to a positive and refined atmosphere by offering a friendly greeting, expert call handling, and prompt appointment scheduling.
A favorable client experience results in their contentment and opens doors for potential future business connections.
Enhanced efficiency
A capable legal receptionist guarantees a seamless operation at the law firm. 
Legal receptionists oversee administrative duties, manage phone calls, and organize appointments, enabling lawyers and other staff to concentrate on their primary tasks. 
This improved efficiency optimizes productivity and conserves valuable time.
Time and resource savings
An adept legal receptionist aids in conserving time and resources at a law firm. 
Legal receptionists enhance resource utilization through appointment management, schedule organization, and administrative task handling. 
They help lawyers and other staff to focus on crucial responsibilities, leading to elevated productivity and improved profitability for the firm.
Legal receptionist: The backbone of a professional law firm
Legal receptionists are essential to law firms due to their role as the initial point of contact for clients and visitors. This highly influences the firm's image. 
They excel at multitasking and time management, keeping the workspace organized, and promptly addressing client inquiries. 
While many firms still hire legal receptionists in-house, there's now a way to hire them offshore with the help of service providers such as ConnectOS.
Legal receptionists contribute significantly to law firms' success by ensuring efficiency, positive client experiences, and smooth operations.