Build an IT support team with ConnectOS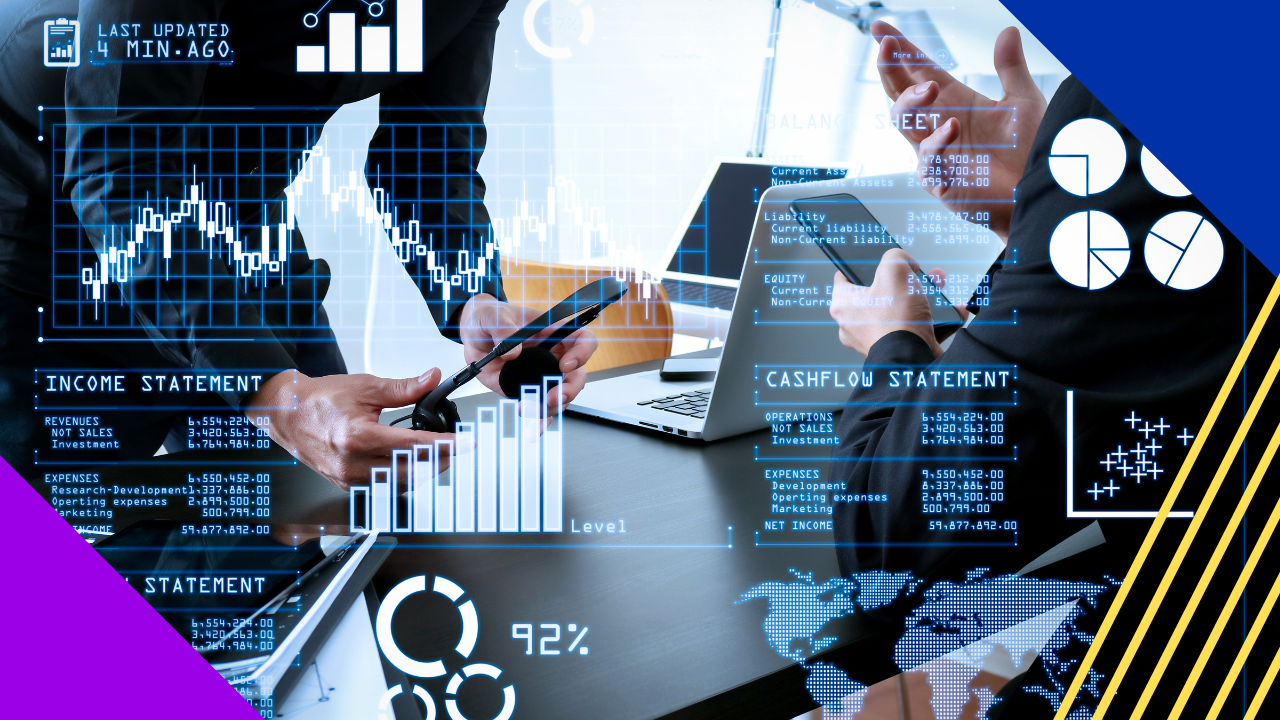 Build an IT support team with ConnectOS
These days, technology has become a large part of the operations of nearly every business. What used to be a luxury is now a business necessity. 
Therefore, it is essential that organizations recruit the services of an IT support team to handle their technological backbone. 
IT support systems ensure the IT infrastructure of a business runs smoothly. A failure in the infrastructure impacts the business negatively, losing revenue and spoiling its brand image.  
Because of the nature of the work, many companies enlist the aid of offshore staff to fill in their IT support team and often use cloud infrastructure. ConnectOS offers solutions like this by building a dedicated offshore IT support team for its clients.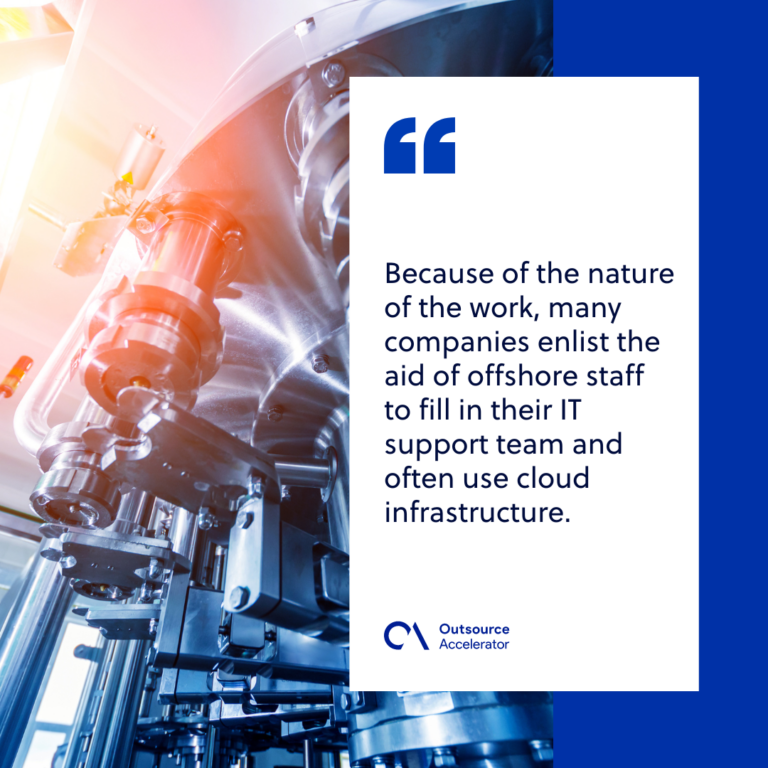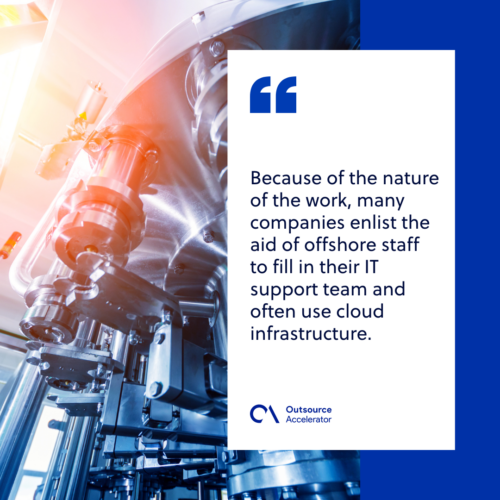 Advantages of a dedicated IT support team
There are extensive advantages to hiring a dedicated IT support team. The more your organization relies on an IT infrastructure, the more these benefits will become apparent:
Seamless communication 
A dedicated IT support team works well within an organization, so there's no need to explain repeatedly. 
When you have a team familiar with your company's needs and how they can help make improvements, communication will be more effective and efficient. 
You'll also have one point of contact when something goes wrong so that they can quickly pinpoint where the problem lies and resolve it as quickly as possible.
Enhanced data management and storage 
Having an expert IT support team on hand means your data will be managed properly and stored safely. 
You don't need to worry about losing any important information or documents. The team can track what files are where and who has access to them at all times.
This helps ensure your business can continue operating smoothly even if there are problems with your network equipment or software programs.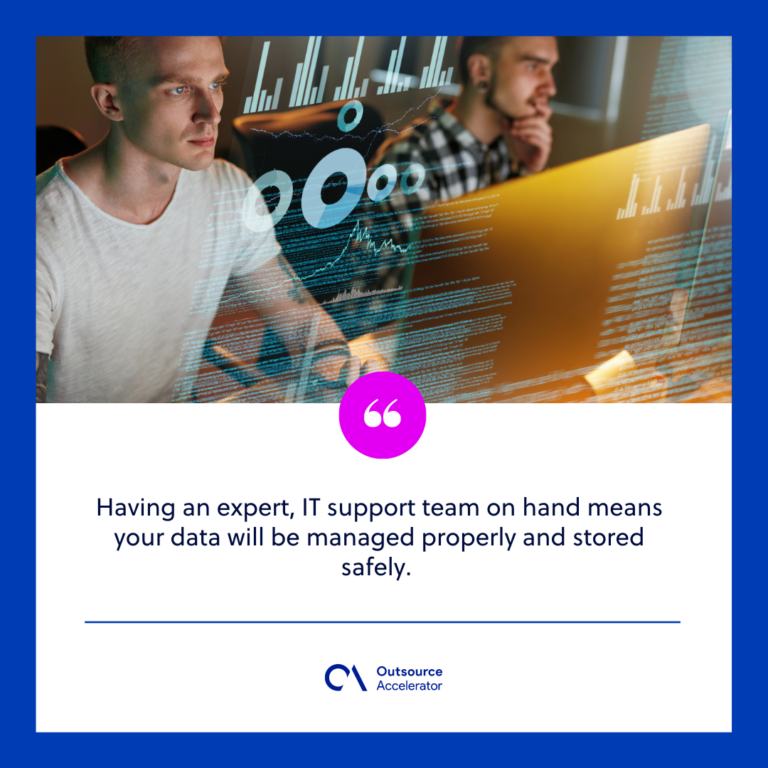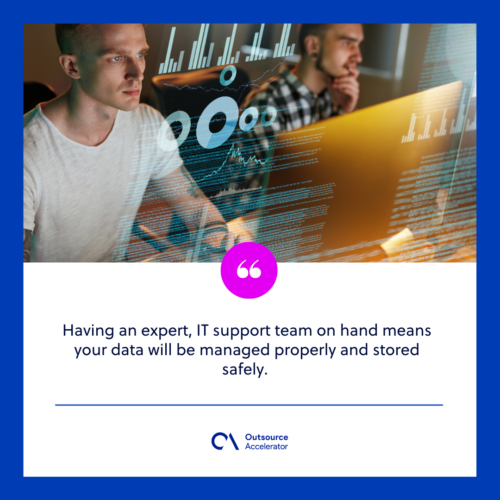 Professional experience 
When utilizing offshore solutions, it usually means that your IT support team members have years of experience in their respective roles. This enables them to troubleshoot better than individual freelancers or contract workers. 
A dedicated professional IT support team can also plan for future needs. They can evaluate new software or hardware purchases before they are made so they will be compatible with your current setup.
Faster incident resolution 
The most important resource of a company is its data. A dedicated IT support team has the expertise to identify and fix issues quickly, ensuring data protection.
Because the team is assigned to your company, they will be able to focus on and monitor your system alone. This also means they will respond immediately to any issues that arise. 
A dedicated IT support team generally has a response and resolution time of 30 minutes to an hour. Compared to having to wait days or weeks when commissioning an external IT service firm, this is a major time-saving benefit.   
Improved security 
Data is valuable, and companies must make sure their network security is constantly up-to-date and able to withstand possible attacks and breaches.
A dedicated IT support team can monitor your network 24/7, preventing intrusions and attacks on your systems. 
Your team will also be able to identify potential security threats before they become serious problems for your business.
Partner with ConnectOS to find expert IT support teams 
With ConnectOS, you can grow your business, unlock greater productivity, and utilize the full potential of your team. 
Build a capable and dedicated IT support team with its offshore solutions. 
Even if you already have an internal IT team, ConnectOS has flexible staffing solutions so you can augment your core team when necessary. 
Your offshored talent works directly for you and is managed by you, so there's no worry about divided commitments.  
ConnectOS selects university-educated, experienced IT talent and integrates them with your onshore teams. 
You're assured of consistent operation with ConnectOS's solutions!