5 IT security services to enhance business protection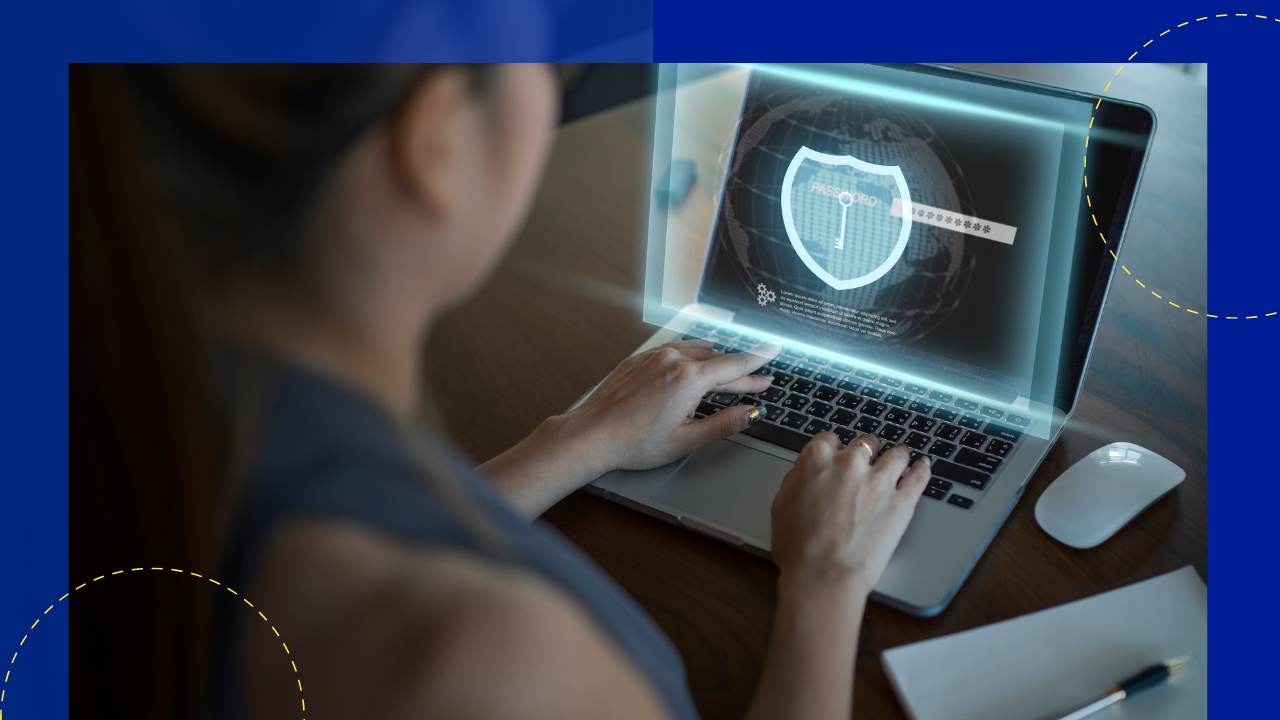 Keeping your business safe from cyber threats is vital today. A strong IT security helps protect your sensitive data, systems, and reputation. 
This article will explore five essential IT security services you can acquire to enhance your business protection. 
What are IT security services?
IT security services are a group of methods, solutions, and actions to keep IT systems, networks, and data safe from cyber dangers and unauthorized entry. 
These services ensure your digital assets remain private, reliable, and accessible while avoiding security problems.
Importance of IT security services
IT security services keep data, systems, and operations safe. They make sure that rules are followed and trust is established with stakeholders. 
As threats constantly evolve, organizations must invest in comprehensive IT security measures for long-term success and sustainability.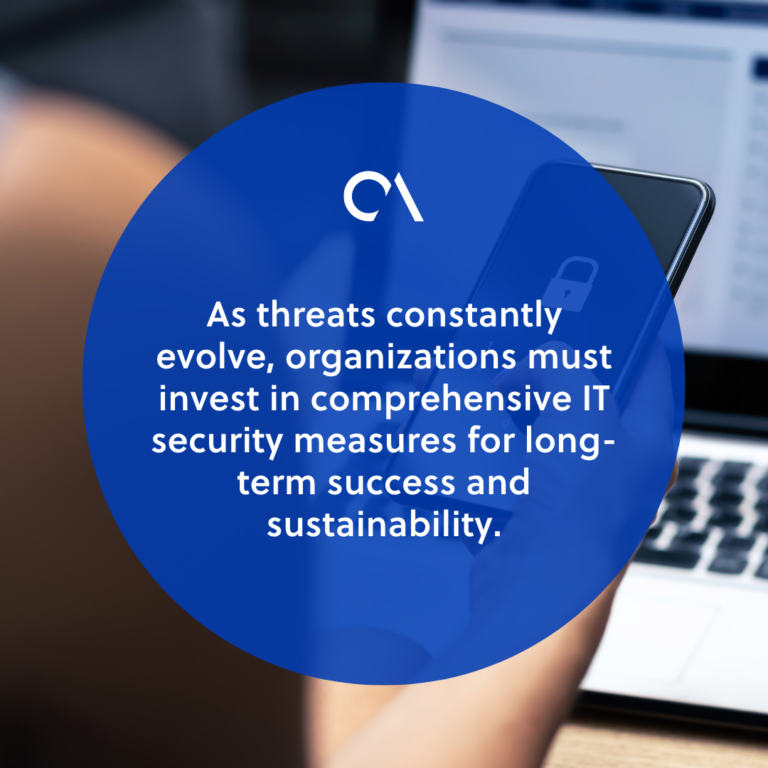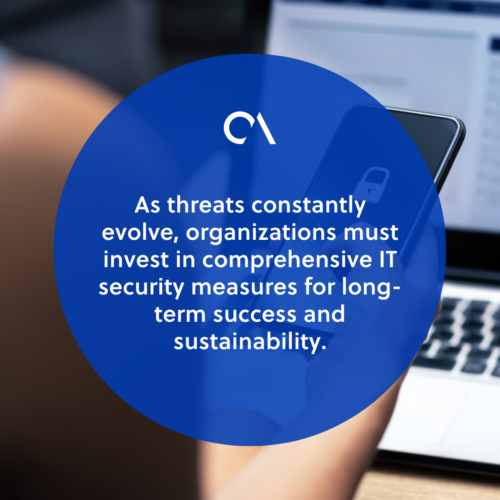 5 types of IT
security servic
es
IT security services safeguard your digital assets and defend your organization against cyber threats. 
Here we have five common types of IT security services:

1. Network security
Network security aims to keep communication and data flowing safely within a network. 
It uses firewalls, intrusion detection systems (IDS), and virtual private networks (VPNs) to prevent unauthorized access and cyber threats.
2. Cloud security services
Cloud security services protect data stored on cloud platforms. As more businesses use cloud-based solutions, safeguarding sensitive information from breaches or data loss becomes a top concern.
3. Endpoint security
Endpoint security aims to secure devices like computers, laptops, smartphones, and tablets connected to a network. 
It uses antivirus software, firewalls, and other measures to protect devices from malware and unauthorized access.
4. Antivirus and antimalware solutions
Antivirus and antimalware are essential tools against harmful software. They detect and remove viruses, worms, ransomware, and other malicious programs from your devices, stopping them from causing harm.
5. Data loss prevention (DLP)
DLP services prevent sensitive data leaks by monitoring data in use, transit, and rest. It also ensures compliance with data protection regulations and industry standards.
How to choose the right IT security service provider
Selecting the best IT security service provider is essential to keep your business safe. Here are some tips to help you make the right decision:
Assess your needs

: Identify the IT security services you need based on your specific requirements. Understanding your vulnerabilities and potential threats will guide you to the right provider.

Experience and reputation

: Look for a provider with a proven track record and positive customer feedback. Dealing with evolving threats requires expertise gained through experience.

Range of services

: Ensure the provider offers comprehensive IT security services covering different aspects of your digital environment. This ensures full protection for your systems.

Security measures and compliance

: Ask about the provider's security measures and if they meet industry standards and regulations. This ensures they are committed to data protection.

24/7 support

: Cyber threats can happen anytime. A reliable IT security service provider should offer round-the-clock support to respond promptly to emergencies.
Considering factors like experience, reputation, and the range of services offered will help you find the right partner to protect your electronic records effectively.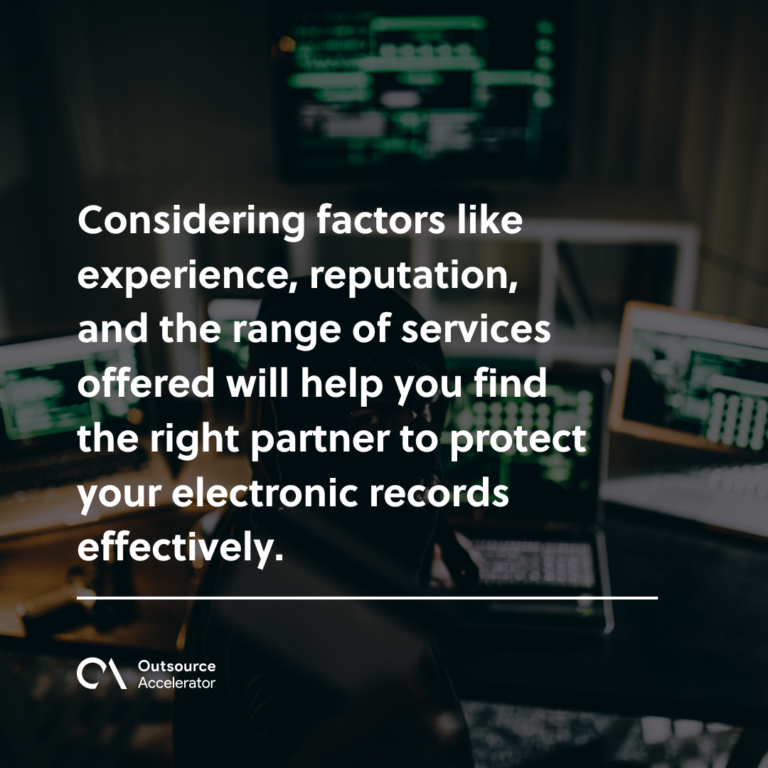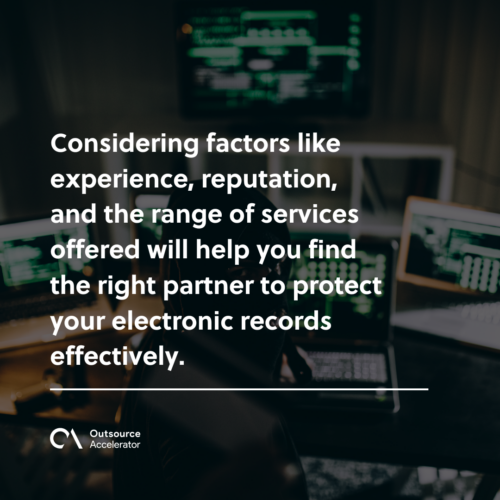 Cultivate your IT security with Booth and Partners
When it comes to keeping your digital assets safe, Booth and Partners is the perfect choice. With years of experience and a proven track record, it offers various IT security services customized to suit your needs. 
Booth and Partner's team of experts is committed to always ensuring the safety and security of your data and systems. 
You can trust Booth and Partners to shield your digital world from cyber threats, knowing your information is in capable hands.
Booth and Partners is ready to enhance your IT security and protect your business.