IT security outsourcing services: managed or hosted?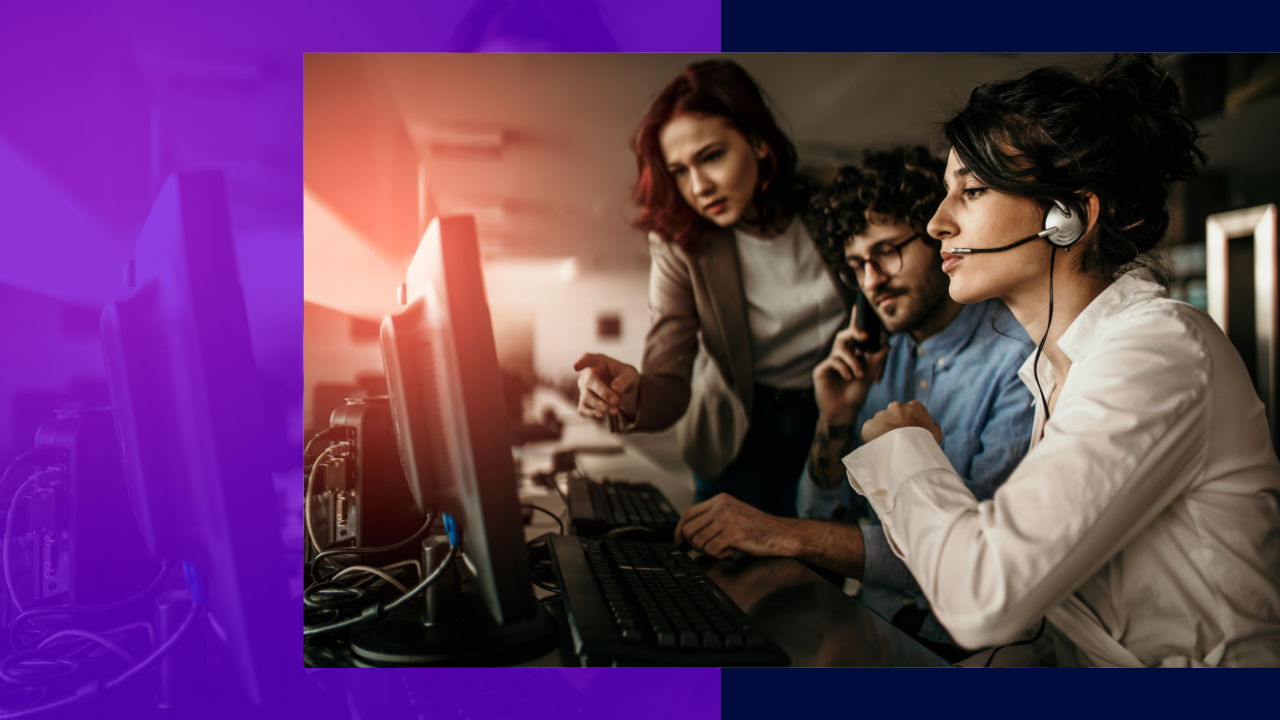 IT security outsourcing services: managed or hosted?
In this day and age, having appropriate IT security outsourcing services, whether it is managed or hosted, is a key advantage for businesses.
If you are looking to stay at par, or even overtake, your business competitors and at the same time better serve your customers, then hiring the best IT outsourcing provider should be your priority.
In this article, you will learn the difference between managed and hosted outsourcing services and their corresponding benefits. You would also want to go through the essential outsourcing considerations before hiring a service provider.
What made you decide on outsourcing
Perhaps the best reason for hiring an outsourced IT solutions company is the ability to focus more on core competencies rather than worry about managing one's own IT system.
Today's businesses cannot survive without a reliable IT system. Maintaining a website, backing up important files and documents, and having clear lines of communication between stakeholders are all significant parts of modern industries.
Not only that, the number of security threats online is at its highest nowadays as more people get open access to the internet. You need to have competent people handling that part of your business to ward off these risks.
Your organization's IT needs should only be managed by experts if you want your business to thrive.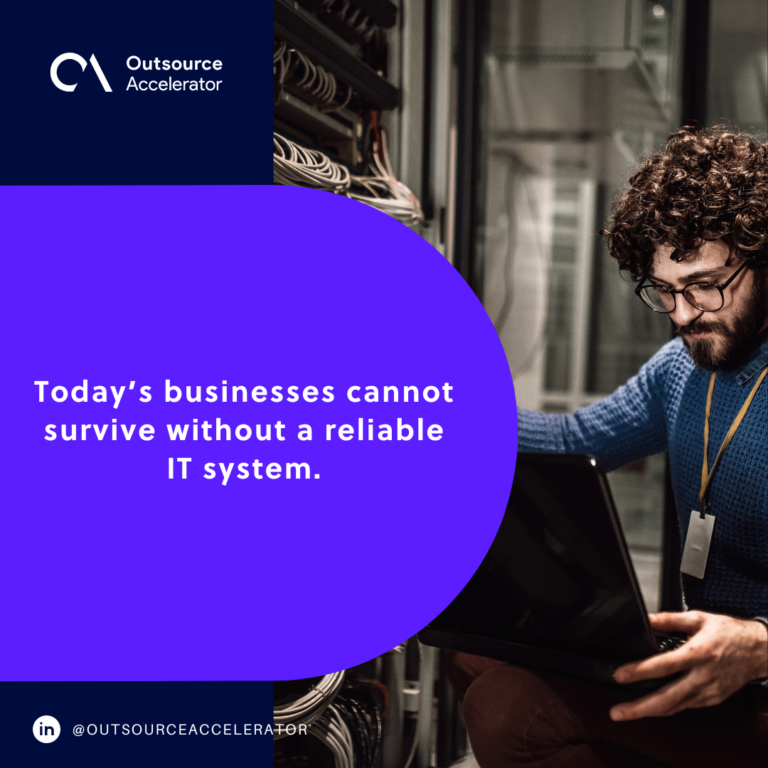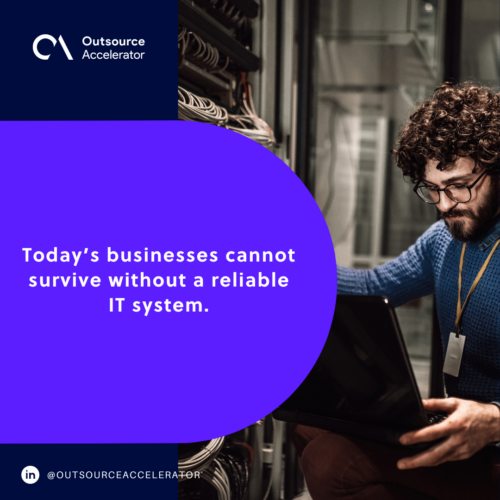 Benefits of managed services
In terms of IT security, managed services pertain to hosted services, which also include third-party proactive support. This means that the service provider you hire is literally inside your office premises to help you manage your company's IT system.
Proactive support means that your outsourced staff is hands-on to handle the reporting, maintenance, monitoring, and troubleshooting of the entire system. In this kind of setup, you and your team will be able to concentrate fully on your core competencies.
This type of service is crucial if your team is not that adept with software maintenance. Software maintenance has become a highly technical business aspect. Interactions with software vendors have turned into complicated and jargon-filled activities. If you don't know what you're doing or saying, then it would be a considerable disadvantage on your part.
Managed services from a reputable software outsourcing company can do all the heavy lifting for you.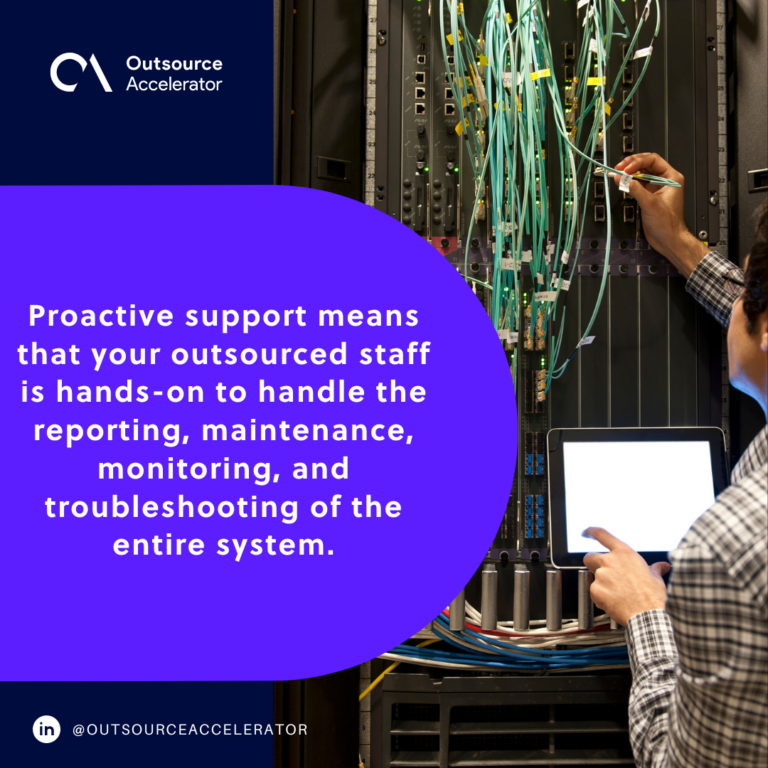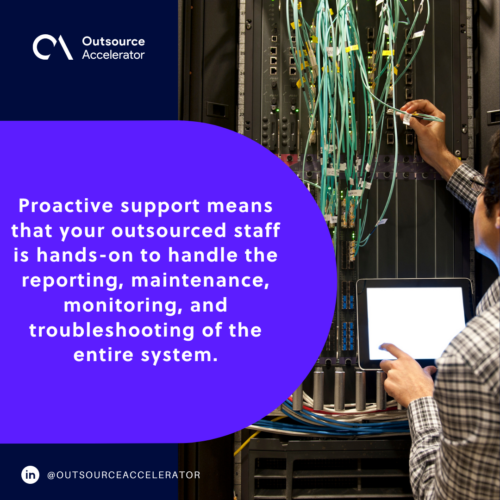 Benefits of hosted services
The difference of hosted services from managed services is that your outsourced staff, and the corresponding infrastructure, is not physically present within your office premises.
An outsourced IT solutions company may provide you with the necessary hardware and equipment to run your IT system, but their personnel will not be there in the flesh to help you manage it. Of course, they are available for consultations and advice whenever needed.
The benefits of hosted services are two-fold. First, they allow you to lower infra costs by being able to use state-of-the-art equipment coming from your provider. They are responsible for maintaining them and keeping them functional, and you only get to use them.
Second, you keep aspects of your organization confidential as your team will still be implementing your strategies. You maintain administrative ownership of crucial elements, including backup scheduling, password and security protocol setups, and software maintenance and upgrades; thus you have complete control of everything.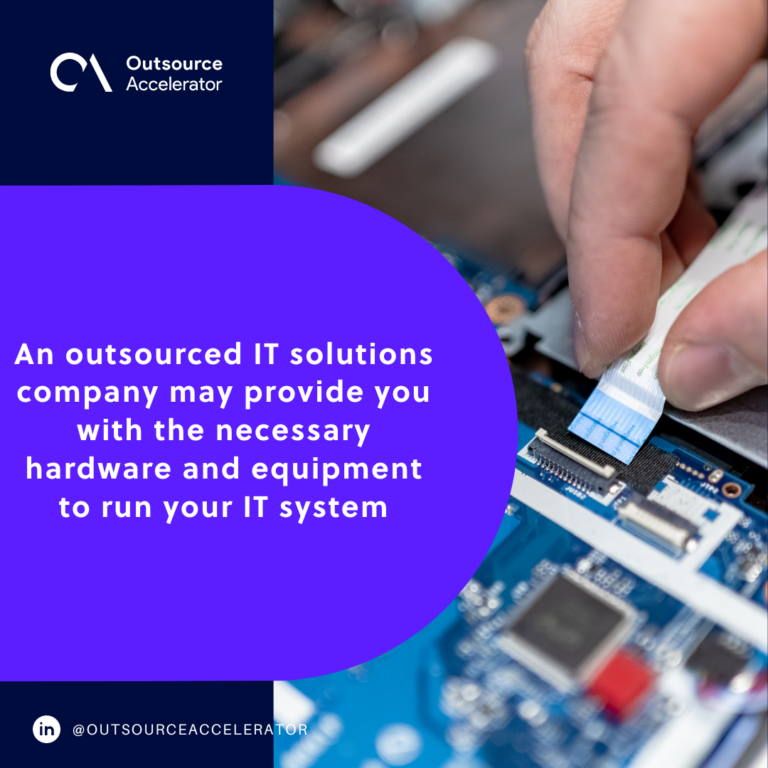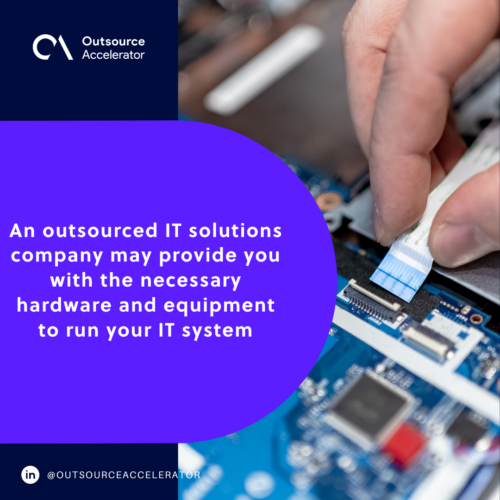 Other important IT infrastructure outsourcing considerations
Here are some of the different IT infrastructure outsourcing facets that you need to consider.
Define your outsourced IT support parameters
It is essential to identify which IT parameters your outsourced staff will provide help on. Restrictions or limitations should be explicit between you and your outsourced IT support team from the beginning to avoid any unwanted conflict.
This is useful in terms of managing expectations, enabling you to prepare if ever an unexpected issue or crisis happens.
Know your team's IT competence and capacity
You must first assess your own team's IT competency before deciding which type of outsourcing service to obtain. By having an honest appraisal of your team's strengths and weaknesses, you can arrive at the best decision that will benefit all stakeholders.
Consider your business' short term and long term plans
Distinguishing your ultimate goals from what you currently need is also helpful when deciding which service provider to hire.
For instance, if your organization is way behind your competitors when it comes to using the latest software, then hiring a software outsourcing company should be your option.
Get ready to choose your IT outsourcing provider.
Now that you know the difference between managed and hosted services and you have learned the primary considerations, you are now ready to hire your IT outsourcing provider.
Having a secure and efficient IT system has never been as vital as it is right now. Indeed, hiring a trustworthy and competent IT security outsourcing service is one of the best decisions you can ever make for your business.