5 key areas of IT outsourcing services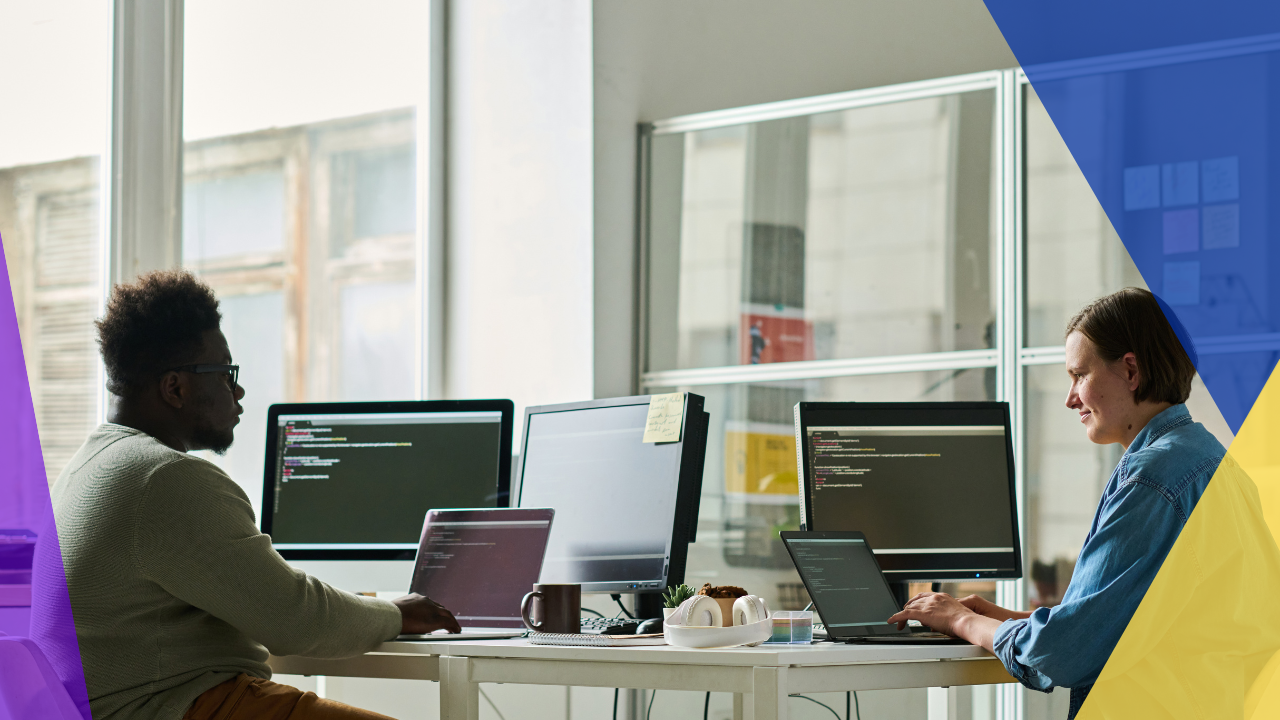 This article is a submission by Rootstack. Rootstack is a software development services company focused on helping businesses achieve their digital transformation goals.
Technological solutions have become a kind of backbone for the functioning of companies today, regardless of their industry.
Through different tools and platforms, they have managed to boost their businesses to a level they never expected, but they have also faced the costs of maintaining an internal IT department.
Aside from cost reduction, companies have the ability to use outsourcing as a strategy to focus on core areas of their operation more effectively.
Delegating complementary tasks to third parties can boost efficiency and productivity since these secondary activities are usually carried out more competently by external entities than by the company itself, they noted in an Investopedia article.
IT outsourcing has become a viable solution for companies of all sizes.
In this article, we will review in detail the areas that a company can cover through IT outsourcing services, highlighting the key benefits and considerations when implementing it.
A quick review of what IT outsourcing is
IT outsourcing is nothing more than hiring technology service providers to manage and execute IT-related tasks on behalf of a company.
They can be local suppliers or located anywhere in the world and trained to take care of different technology areas of a company.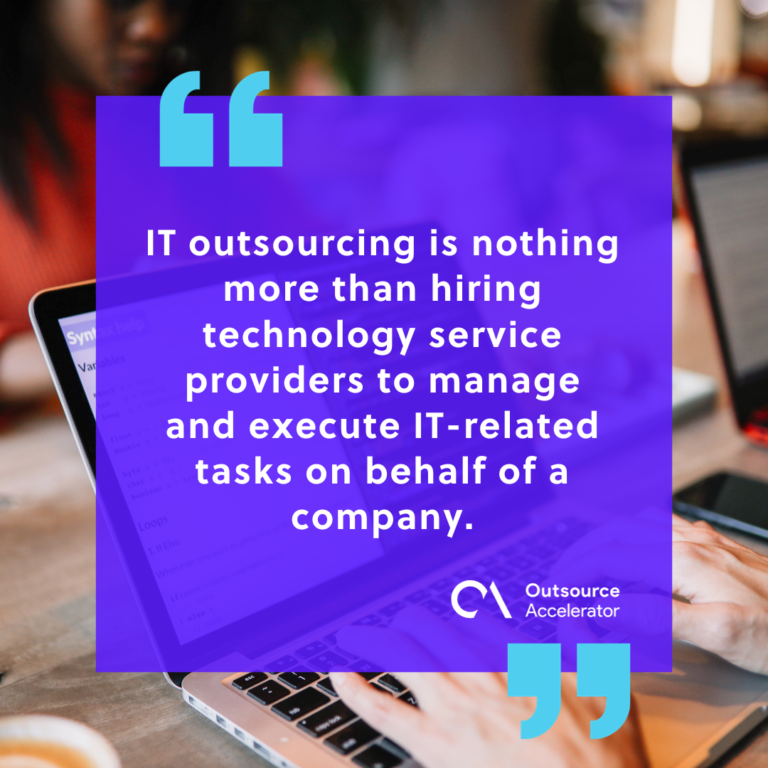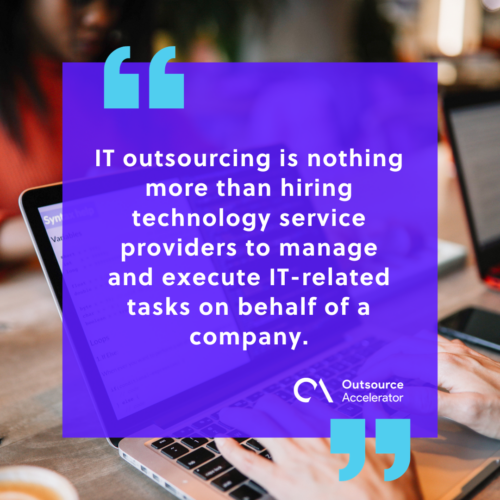 5 essential areas of IT outsourcing services
Now we will give details of what an IT outsourcing service provider can offer so that you are clear when evaluating your needs and seeking help:
1. Technical support
This is one of the areas that companies most often outsource since sometimes they do not have enough personnel to take care of this work.
In this case, IT outsourcing services include:
Hardware and software troubleshooting
Remote assistance
By outsourcing technical support, companies can ensure that their employees have access to the help they need in a timely manner without incurring the costs of maintaining an in-house support team.
2. Software development
It goes without saying that among the main services offered by an IT outsourcing provider is software development.
Businesses sometimes don't have enough teams to create a software product or carry out a project, so they hire an IT outsourcing team to create applications, websites, or content management systems.
This allows you to access a diverse talent pool and leverage the specific expertise needed for individual projects without the need to hire full-time programmers.
"Outsourcing to qualified individuals or companies gives startups the luxury of tapping into their expertise, greatly reducing the risk of failure when attempting to run all operations in-house.
This is particularly prominent in software development, where access to experienced developers skilled in the latest technologies can ensure that a startup's products maintain a competitive advantage", they explained in a Forbes article.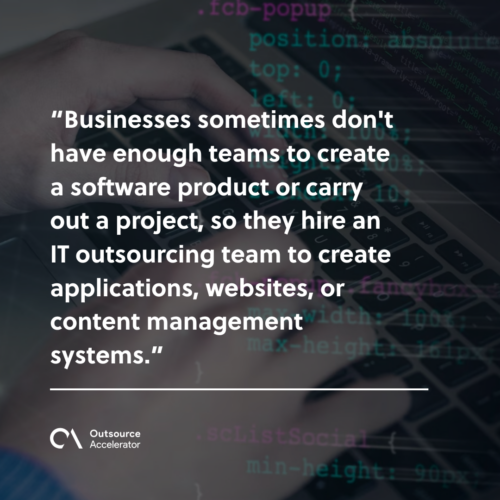 3. Infrastructure management
Managing IT infrastructure, including servers, networks, and storage systems, is a complex task.
Outsourcing this area allows companies to benefit from the experience of professionals specialized in server administration, ensuring that their systems operate efficiently and securely.
4. Cyber security
Cybersecurity is a constant concern in today's business world. Outsourcing cybersecurity ensures that experts in the field are in place to protect critical data and systems against constantly evolving threats.
This is essential to protect the reputation and integrity of a company.
5. Cloud services
Cloud data storage and management are increasingly important areas in enterprise IT. Outsourcing these services to trusted cloud providers can save time and resources, as well as provide scalability and flexibility.
"Companies that have embraced cloud-based IT outsourcing are creating competitive advantage through strategic relationships that provide them with new or enhanced capabilities, integrating these capabilities into their existing business models, and aligning with partners who can help them drive their business," they detailed in a Deloitte report.
Benefits of IT outsourcing services
IT outsourcing services grant businesses the following advantages:
Cost reduction. IT outsourcing can be more cost-effective than maintaining an in-house department as it eliminates costs associated with hiring and training staff.
Access to experts. Firms gain access to highly trained and specialized professionals in various IT areas.
Focus on core business. Companies can focus on their core activities instead of worrying about IT tasks.
Flexibility and scalability. Businesses can easily adapt outsourced IT services to their changing needs.
Greater efficiency and productivity. IT service providers often offer more efficient and up-to-date services, which increases company productivity.
Risk management. IT service providers have advanced security protocols and can help better manage cybersecurity risks.
IT outsourcing services: Important considerations
Before looking for an IT outsourcing partner, you have to take into account certain aspects so that this collaboration is successful and as trouble-free as possible:
Evaluate the current situation of your business
"Before you decide to outsource any IT function, you should understand your current situation and your outsourcing objectives. You should perform a thorough analysis of your IT environment, including its infrastructure, applications, processes, people, and performance.
You should also identify your weaknesses, deficiencies, and opportunities for improvement. Based on this analysis, you must define your scope, objectives, and outsourcing criteria", they detailed in a LinkedIn report.
Select the technology partner that fits your needs
When selecting the IT outsourcing partner to work with, don't be driven by costs. Don't just choose the one with the lowest rate. Hire someone who has the necessary skills and tools to execute your project since that is the guarantee of the success of everything.
It is essential to carry out a thorough and transparent supplier selection process, which includes various phases, such as:
Selection
Pre-selection
Bidding
Evaluation
Negotiation
You should use a wide range of criteria to evaluate potential suppliers, such as their track record, expertise, reputation, references, certifications, and pricing structure.
Likewise, it is necessary to verify their capabilities, processes, security measures, and degree of compliance through on-site visits, audits, and rigorous tests.
The goal is to establish a long-term, mutually beneficial relationship with the selected supplier.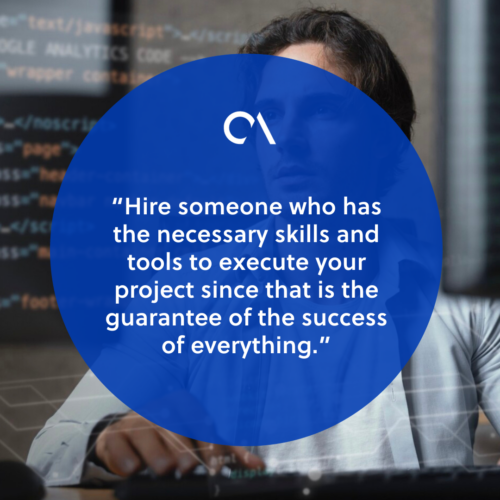 Define the contract with the IT outsourcing services provider
The contract is one of the most important and sensitive aspects of any collaboration with an IT outsourcing provider.
Once you have chosen it, make a clear, detailed, and complete contract covering all aspects of the outsourcing relationship, such as:
Scope
Deliverables
Milestones
Schedules
Service levels
Payment terms
Penalties
Incentives
Guarantees
Responsibilities
Dispute resolution
Termination clauses
Exit strategies
The contract should also specify the roles and responsibilities of both parties, as well as communication and reporting mechanisms.
IT outsourcing services help boost your competitive advantage
IT outsourcing offers a variety of areas that companies can outsource to improve efficiency and reduce costs.
However, it is important to approach these decisions carefully and consider the specific needs of your company, as well as the security and compliance implications.
When done properly, IT outsourcing can be a valuable strategy to improve your company's competitiveness and performance in today's digital economy.