What is internal recruitment and how does it work?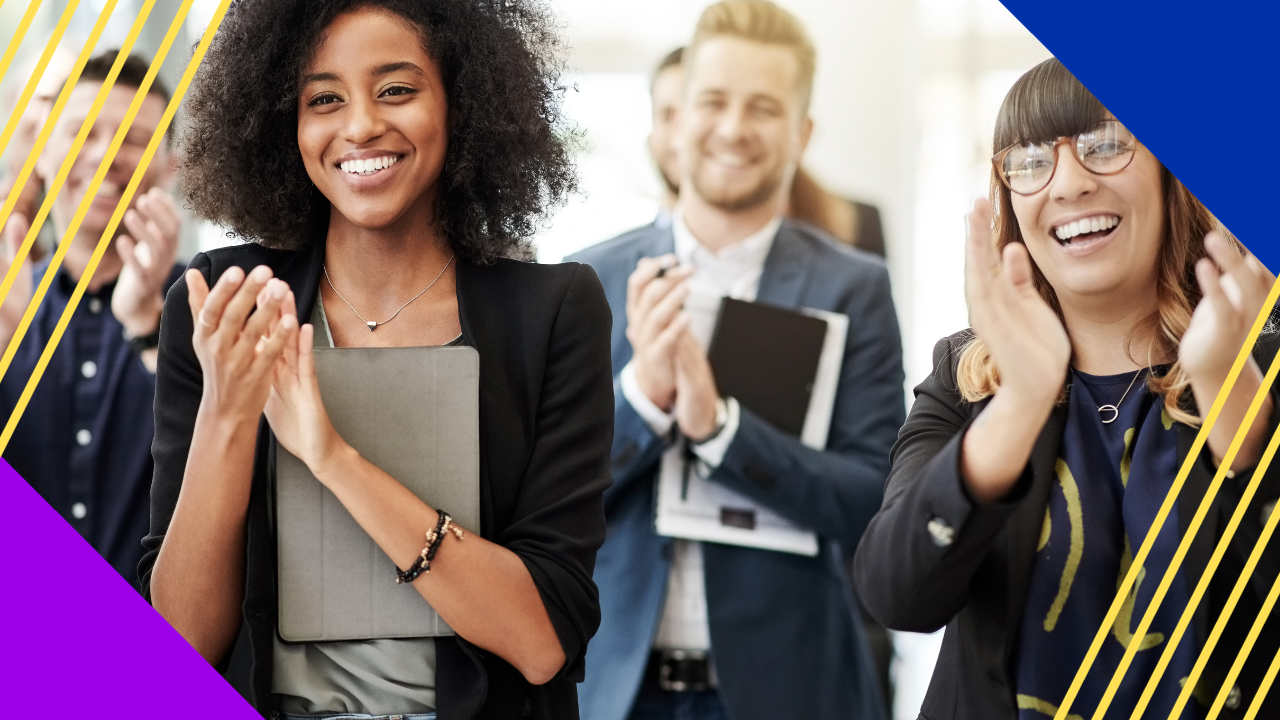 Organizations often cast their nets far and wide when acquiring talent, looking externally for the next great hire. However, amidst the fervor of seeking fresh faces, one strategy that should not be overlooked is internal recruitment. 
Internal recruitment has evolved from a routine HR process into a cornerstone of effective talent management. By nurturing talent from within, organizations can unlock immense potential, foster loyalty, and lay a strong foundation for success. 
The significance of internal recruitment cannot be overstated, especially as businesses seek to optimize resources, boost employee morale, and groom future leaders. 
In this article, we look at the approach of internal recruitment, its types, and its pros and cons so that you can harness the potential of your most valuable asset – your people. 
What is internal recruitment?
Internal recruitment is the process of filling job vacancies within a company by considering and hiring candidates from its existing workforce. It's also called internal hiring or internal talent acquisition. 
This differs from external recruitment, which involves bringing in candidates from outside the company to fill open positions. 
Internal recruitment leverages existing employees' skills, knowledge, and experience. It promotes career growth, talent development, and a sense of loyalty and commitment among your workers.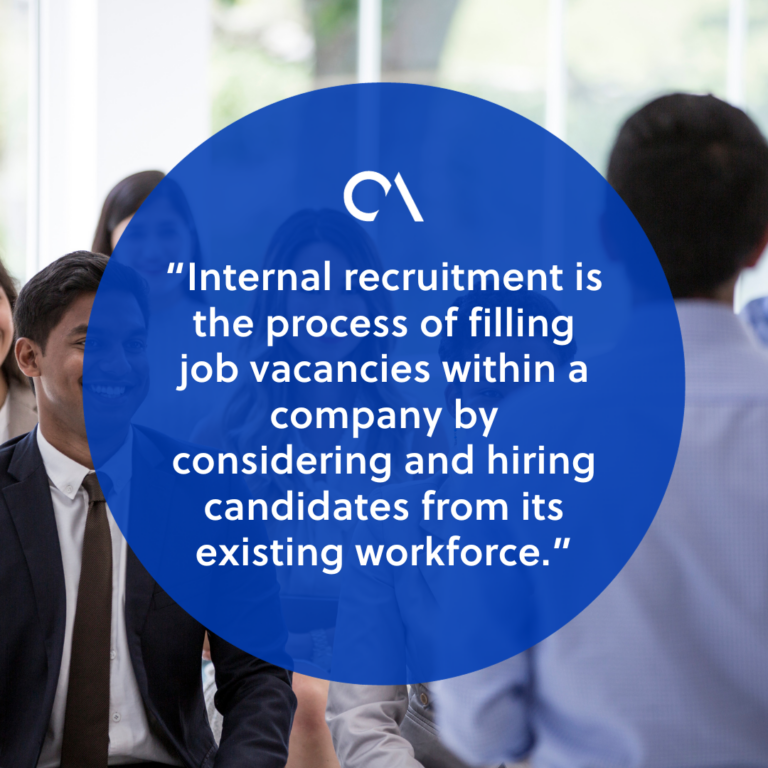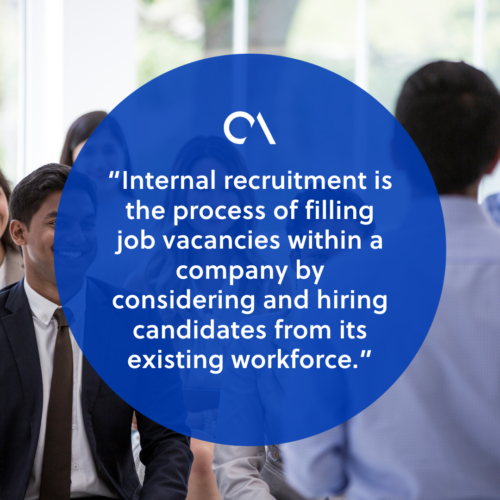 How does internal recruitment work?
Internal recruitment follows a structured process within an organization to identify, assess, and select employees. 
Here's a general overview of the steps involved in internal recruitment: 
Internal job announcements
First, the hiring department creates an internal job posting or vacancy announcement. 
These postings include details about the position, such as job responsibilities, qualifications, and requirements. With internal recruitment, they're usually shared first via communication channels within the organization. 
Employee application
Interested employees may apply for the position by submitting their applications, which frequently include a resume and cover letter. 
Less formal organizations may not even require those, but it's best to keep professional (this also aids in documentation). 
Screening and evaluation
The hiring manager then screens and evaluates the applications. This process typically involves reviewing the candidate's qualifications, experience, skills, and performance in their current role. 
Selection process
After the initial screening, eligible candidates are invited for interviews. 
The interview process for internal candidates may be similar to that for external candidates. It typically includes multiple rounds of interviews with HR representatives, hiring managers, and other key stakeholders. 
Decision-making and offer 
When the interviews are completed, the hiring team reviews the feedback and decides on the best candidate for the position. If selected, the internal candidate is extended an offer of employment or promotion. 
Transition and onboarding
Upon acceptance of the offer, the internal candidate transitions to the new role. Selected candidates may undergo a process of onboarding to familiarize themselves with the new responsibilities. 
Their performance and fit within the organization are also monitored. This helps ensure that the internal recruitment process effectively meets the company's needs. 
Types of internal recruiting
Internal recruitment methods can take various forms depending on the organization's specific needs and goals. 
Here are the common types of internal recruitment: 
Promotions 
This is one of the most straightforward forms of internal recruitment. It involves promoting employees from their current role to a higher-level position. 
Promotions can be based on factors like performance, skills, and experience.
Transfers
Employees are moved during transfers from one division or location to another. This move can be lateral or vertical, often with the goal of broadening the employee's skills and experiences. 
Internal job postings
Companies can post job openings internally and invite employees to apply for these positions. This approach encourages employees to pursue growth opportunities and enables talent mobility within the organization.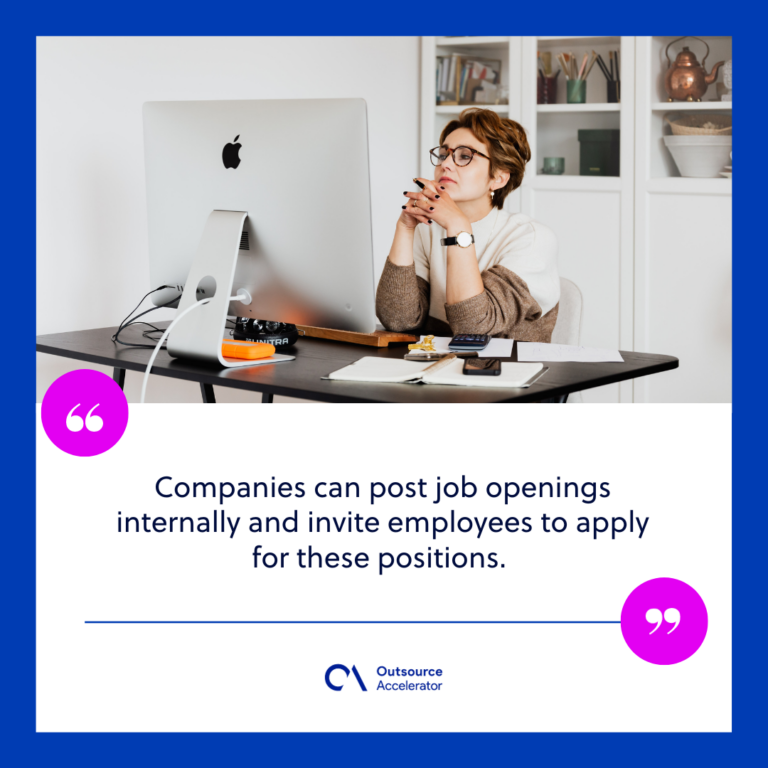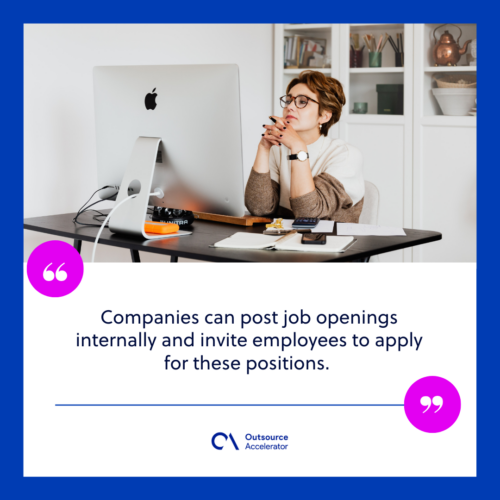 Succession planning
Succession planning is a strategic internal recruiting process that identifies and grooms potential candidates for key leadership roles in the future. 
It means keeping an eye on high-potential employees and providing them with development opportunities. This method ensures a smooth transition when senior executives retire or move on.

In-house talent pool 
Some organizations maintain a talent pool or talent development program. Employees who have expressed interest in future opportunities are identified for programs that prepare them for higher-level positions. 
This database can be tapped into when positions become available. 
Employee referrals 
Employees can also be encouraged to refer candidates from their personal or professional networks. Employee referral programs often come with incentives for successful hires. 
Advantages of internal recruitment
Internal recruitment offers several advantages for organizations, which can contribute to improved talent management and overall business success. 
Below are the primary benefits of internal recruitment: 
Faster hiring process
Internal recruitment significantly reduces the time it takes to fill a job vacancy. Since candidates are already part of the organization, there is no need for a lengthy external search. 
Better cultural fit 
Internal recruitment ensures that the new employee is already familiar with the company culture and values. This reduces the risk of a poor cultural fit and increases the likelihood of the new employee integrating well into the existing team. 
Retention and loyalty
Offering career advancement opportunities within the organization can help retain high-performing employees. When individuals see a clear career path, they are more likely to stay with you long-term. 
Disadvantages of internal recruitment
While internal recruitment can be beneficial, it also comes with its own set of disadvantages and challenges. Organizations must be aware of these potential drawbacks to make informed decisions about their hiring processes.
Here are some disadvantages of internal recruitment:
Limited candidate pool 
Internal recruitment relies on the existing workforce, which can limit the diversity of candidates considered for positions. Organizations may miss out on acquiring new talent with fresh ideas and skills. 
Stagnation and lack of innovation 
Being overly dependent on internal recruitment can result in a stagnant work environment where teams are complacent or resistant to change. 
Over time, it can lead to the inbreeding of ideas and practices, resulting in limited solutions. 
Potential for office politics
If the internal recruitment process is not transparent and equitable, it can create perceptions of favoritism or bias. This can harm employee morale and create an unstable environment. 
Many companies use a balanced approach to mitigate these disadvantages that may combine internal and external recruitment strategies. 
A hybrid approach aims to leverage the strengths of both, ensuring a diverse and dynamic workforce.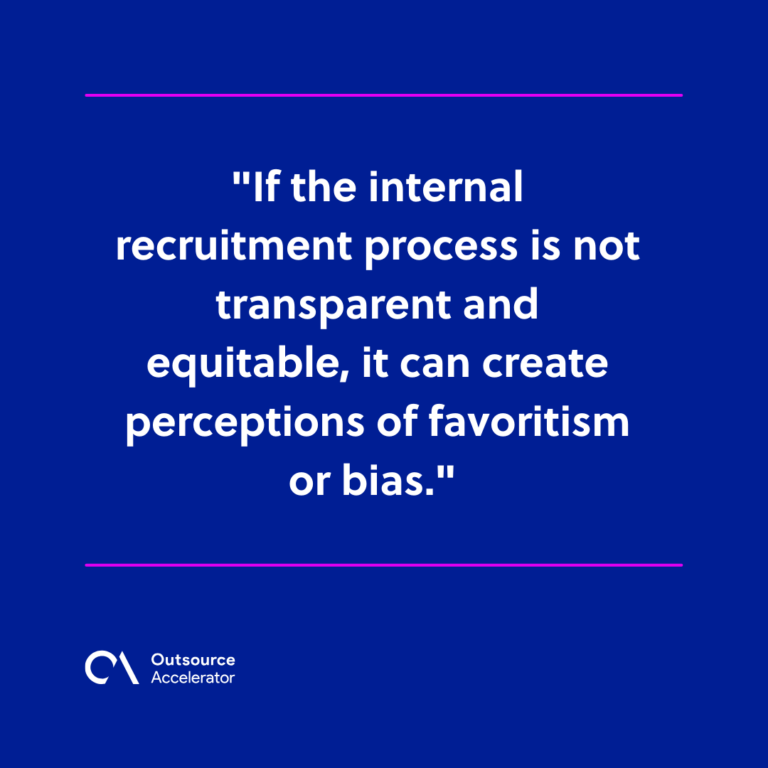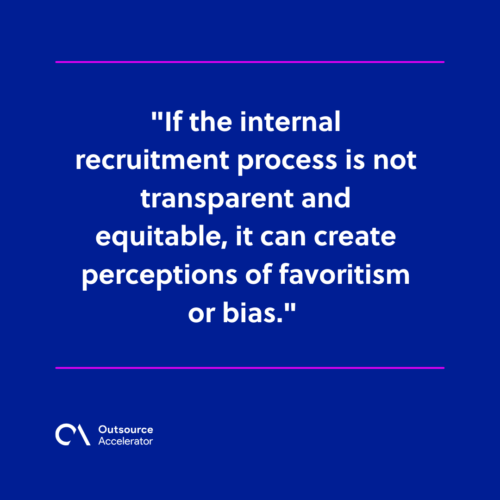 When and how to recruit internally
You can look to internal recruitment if any of these situations pop up: 
Job openings

– Internal recruitment is suitable when there are job openings that can be filled by existing employees. 

Employee development

– Use internal recruitment to provide opportunities for employee development and growth. 

Succession planning

– This identifies and grooms potential internal candidates for key leadership positions, allowing for continuity in crucial roles. 
For internal recruitment to be successful, you need a supportive organizational culture that is committed to providing clear career paths for your employees. 
It's important to communicate openly and transparently with employees regarding internal job opportunities, selection criteria, and the recruitment process. This helps to build trust, motivate employees to apply, and maintain a positive work environment.