Understanding inbound teleservices in modern business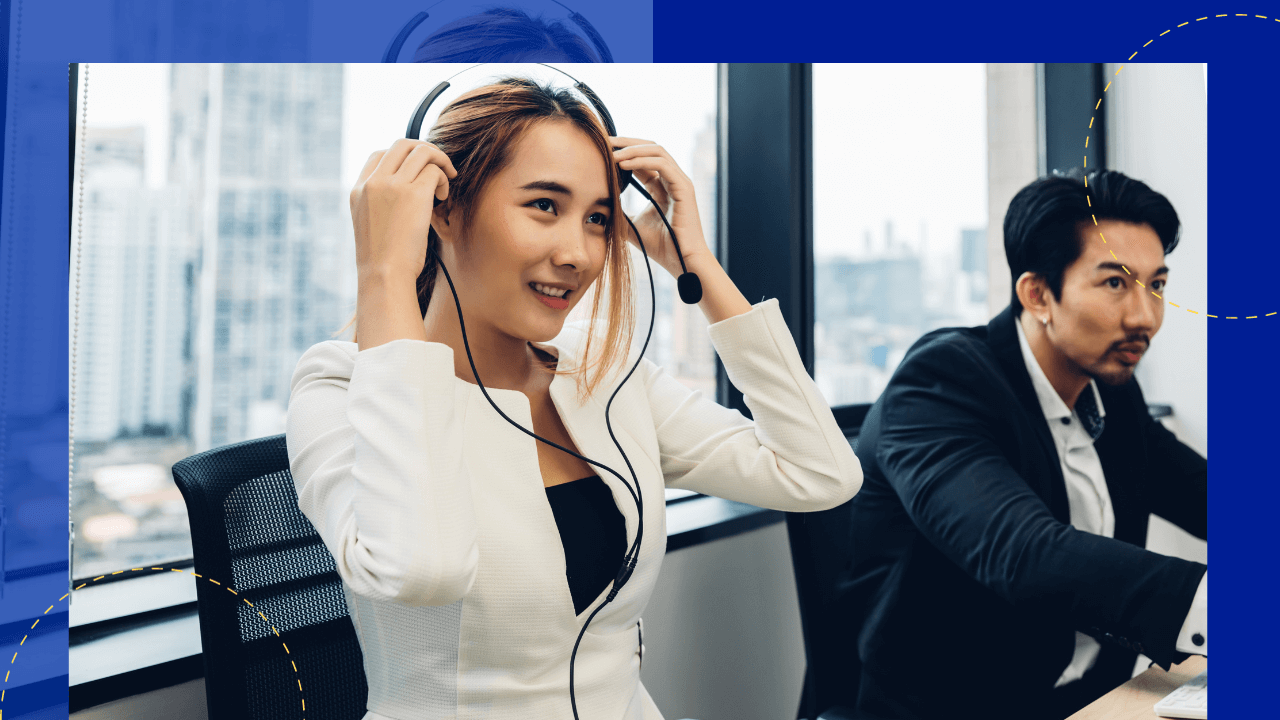 Companies that excel in providing top-notch customer support are one step ahead of their rivals.
Exceptional customer service has become a critical differentiator in the market. It not only satisfies existing customers but also attracts new ones through word-of-mouth and positive online reviews.
However, the game-changer lies in adopting the modern approach of inbound teleservices.
Inbound teleservices specialists represent a paradigm shift in customer support, and they offer a versatile and dynamic platform for businesses to engage with customers. 
What are inbound teleservices?
Inbound teleservices represent a specialized facet of customer service dedicated to managing incoming customer communications. This form of client support is crucial in ensuring businesses effectively address their clients' needs. 
The primary focus of inbound teleservices lies in receiving and responding to various types of inquiries through phone calls, text messages, emails, and live chat platforms.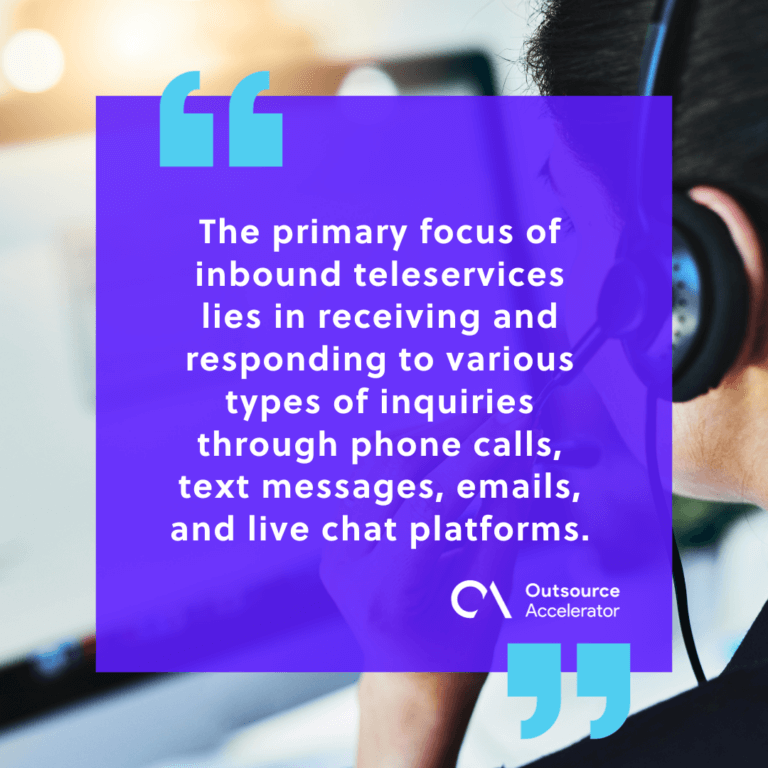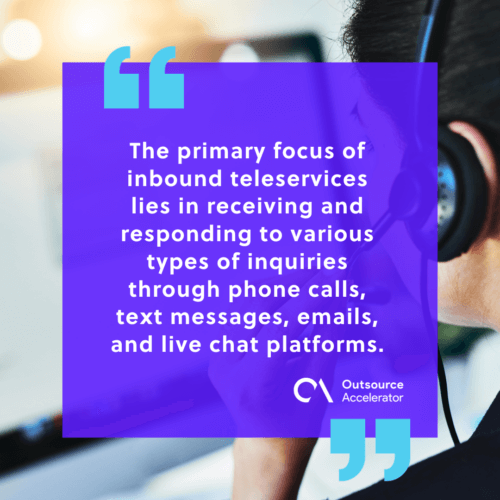 It revolves around the responsiveness and efficiency with which customer inquiries are handled.
Whether resolving issues, providing information, scheduling appointments, or processing orders, these services are designed to create a seamless and positive customer experience.
Types of modern inbound teleservices
Inbound teleservices have evolved significantly to cater to the diverse needs of modern businesses and their customers.
Here are some of the key types of modern inbound teleservices:
Appointment scheduling
An appointment scheduling service is one of the modern types of inbound teleservices that focuses on streamlining the process of setting up appointments, consultations, or reservations. 
This service is particularly valuable for businesses in the healthcare, hospitality, and professional services sectors.
In healthcare, for instance, medical practices and hospitals rely on patient scheduling to ensure patients can easily book appointments with medical providers.
Order processing
Efficient order processing is a critical type of inbound teleservice, particularly important for e-commerce and retail businesses.
Customers expect their online orders to be processed efficiently, from the moment they hit the "buy" button to the delivery of their purchased items. 
As such, this service ensures that customers' orders are handled swiftly and accurately. 
Billing and account inquiries
Billing and account inquiries teleservices are essential for various industries, including telecommunications, utilities, and financial services.
In the telecommunications sector, customers may inquire about their monthly phone bills, data usage, or subscription plans.
Customers often have questions regarding their bills, payments, and accounts, inbound teleservices address these inquiries. This type is crucial for enhancing customer satisfaction and loyalty.
Live chat support
Live chat support is one of the dynamic and versatile types of inbound teleservices that seamlessly merges the efficiency of online communication.
This real-time communication channel allows businesses to engage with their customers directly and address queries promptly. MCI is a BPO firm that fully understands this value. 
The significance of live chat support lies in its ability to provide instant assistance, enhancing customer satisfaction and trust. Customers appreciate the convenience of getting immediate responses without the need to make a phone call or send an email.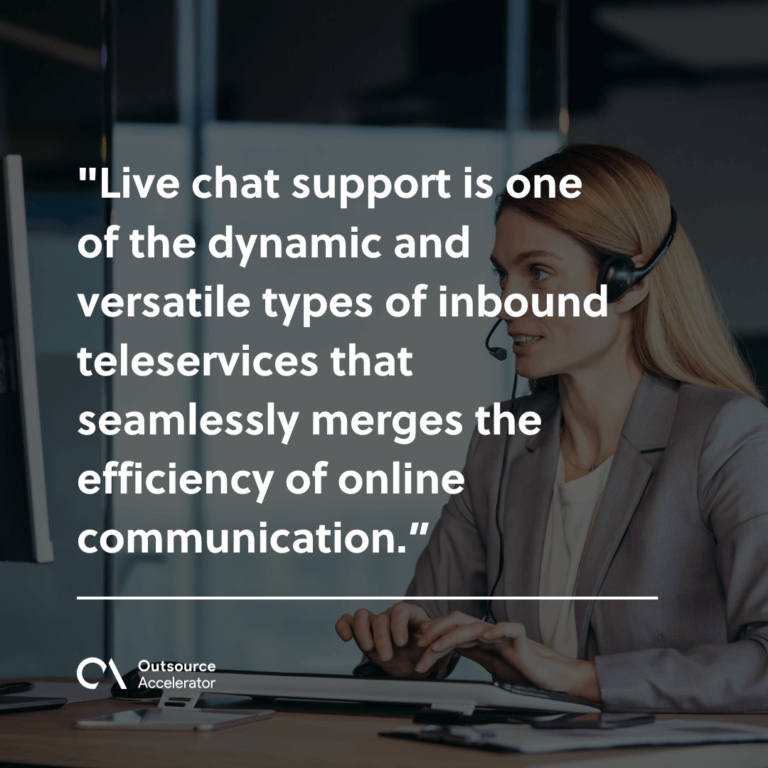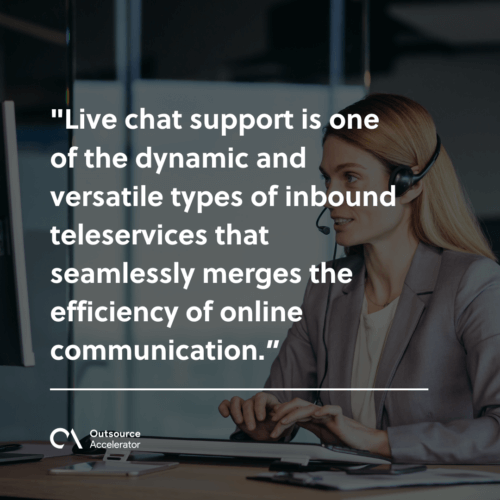 Social media engagement
Social media engagement encompasses various activities, such as: 
Responding to comments and messages

Engaging with customers in discussions

Launching the brand through social media advertisements

Maintaining a brand's image across different social networks
With the escalating importance of social media platforms, businesses use this type of inbound teleservice to manage their online presence effectively.
Benefits of inbound teleservices
The implementation of inbound teleservices can yield a plethora of advantages for your business.
Let's take a closer look at some of the benefits of inbound teleservices:
Boost sales and revenue
Effective inbound teleservices play a vital role in boosting sales and revenue for businesses. 
By offering personalized assistance to potential customers, these services create a seamless and engaging customer experience.
Moreover, the modern approach in inbound teleservices allows customers to have the opportunity to have their questions addressed promptly and efficiently. As a result, it leads to increased trust and a higher likelihood of purchasing.
Gather market insights
Inbound teleservices can serve as a valuable source of market intelligence. By engaging with customers, you can gather feedback and identify trends, helping your business make informed decisions.

Strengthen brand reputation
Providing exceptional customer service through inbound teleservices can significantly boost your brand's reputation. Satisfied customers can become loyal advocates for your business.
Why should firms adopt modern inbound teleservices?
The contemporary business landscape is marked by evolving customer expectations and preferences. Modern consumers seek:
Convenience

Instant gratification

Personalized interactions
Inbound teleservices align perfectly with these demands. These services provide round-the-clock availability and immediate responsiveness through various channels like phone, live chat, email, and social media.
Remember that every customer interaction generates data that can be harnessed to understand customer behavior, preferences, and pain points. 
A data-driven approach allows firms to make informed decisions, refine their products or services, and tailor their marketing strategies more effectively.
Inbound teleservices adapt to changing customer needs
Adopting modern inbound teleservices empowers businesses to provide personalized and highly responsive customer assistance. This personalized approach not only resolves customer issues but also builds trust and loyalty.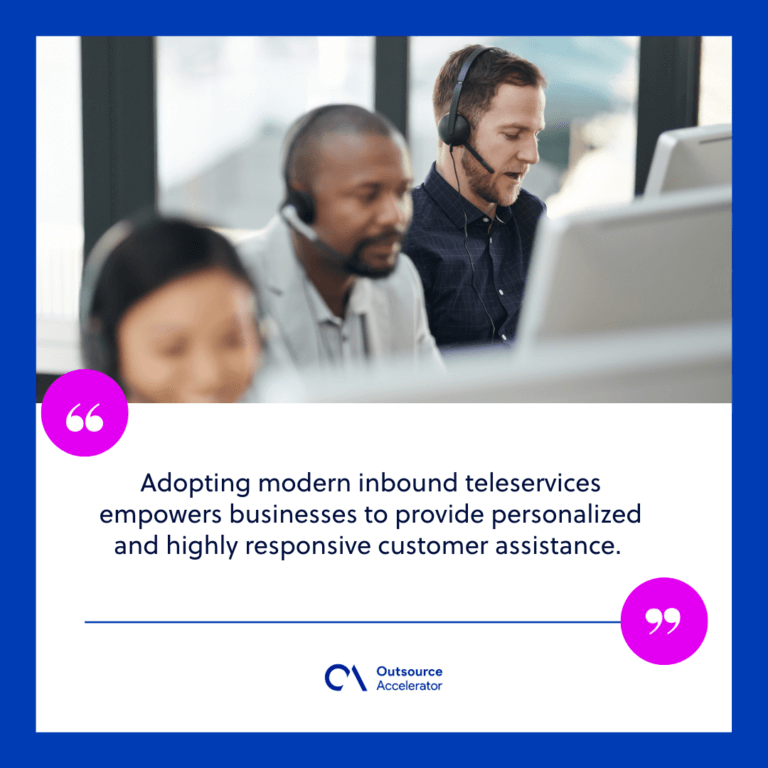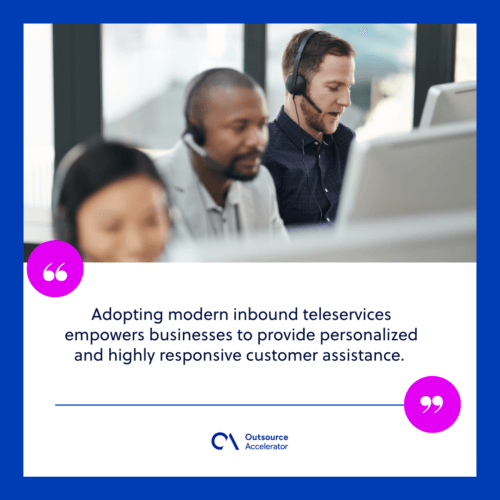 When customers feel heard and valued, they are more likely to return for repeat business, refer others to the company, and, in some cases, become brand advocates.
Furthermore, modern inbound teleservices facilitate the collection and analysis of valuable customer data and insights. It gives your business a competitive edge, enabling you to anticipate and adapt to changing customer needs more effectively.