7 essential steps to kickstart your inbound recruiting strategy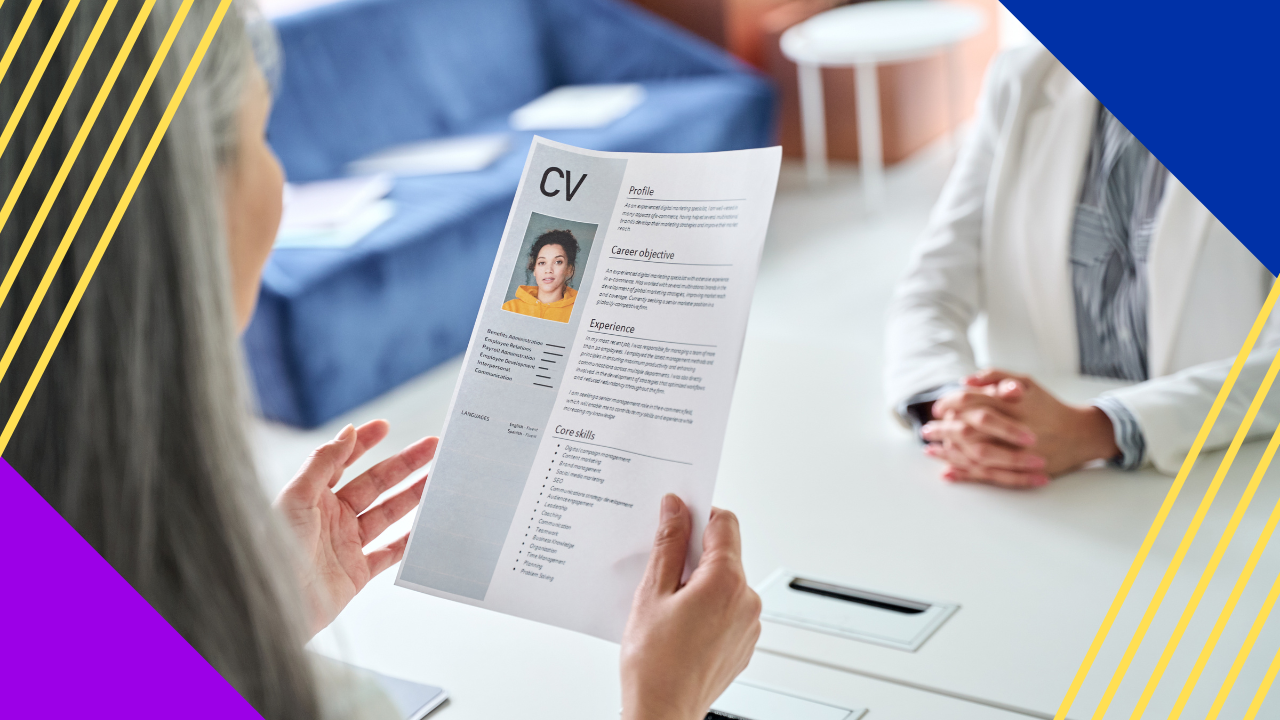 The modern job market is way more competitive. Companies must proactively engage when recruiting potential candidates to stay afloat in the competition.
Passive recruitment methods, such as posting job listings and waiting for applicants to apply, often do not attract and retain top talent.
Cue in inbound recruiting. This method's recruitment paradigm swiftly helps recruitment departments move from being reactive to proactive.
This article explores the significance of inbound recruiting in modern talent acquisition and provides a seven-step roadmap to kickstart your own strategy.
What is inbound recruiting?
Inbound recruiting is a strategic approach to talent acquisition that mirrors inbound marketing principles.
It aims to attract and engage top talent by offering prospects a personalized and compelling candidate experience.
Unlike traditional recruiting methods that wait for applicants to respond, inbound recruiting involves building relationships with potential candidates. This can be done even before they express interest in a job opening.
By nurturing these relationships, companies can create a steady stream of qualified talents interested in the organization.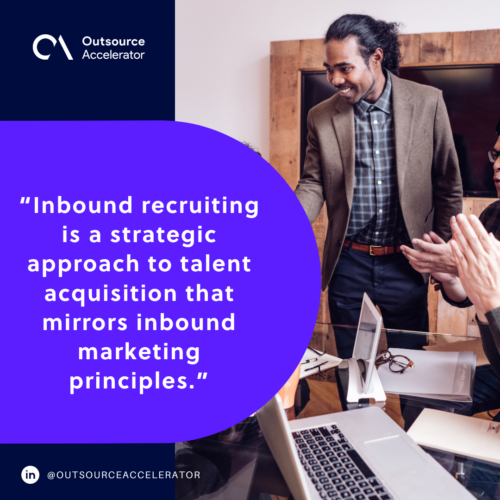 Significance of inbound recruiting in modern talent acquisition
The significance of inbound recruiting lies in its ability to adapt to the evolving expectations and preferences of both job seekers and employers.
It's worth noting that inbound recruiting prioritizes quality over quantity. It focuses on forming a bond with a select group of highly qualified candidates.
This approach ensures that companies invest their time and resources in candidates with the necessary skills beneficial for the organization. This, in turn, leads to more successful and longer-lasting hires.
7-step guide to get you started with inbound recruiting
If you are thinking about adopting an inbound recruiting strategy, you'll need the following steps:
1. Create candidate personas for precise targeting
The first step to inbound recruiting is to create candidate personas. These personas are detailed, semi-fictional representations of your ideal candidates.
Start by gathering data about your current top-performing employees and identifying common traits, skills, and backgrounds. Then, delve deeper by considering career aspirations, values, and motivations.
Creating candidate personas allows you to target your recruitment efforts precisely. It helps you tailor your engagement strategies to meet your ideal candidates' needs and demands.
2. Define your employer brand identity
The second step in inbound recruiting entails defining your brand identity. Your employer brand is your organization's unique selling proposition to potential candidates. It sets you apart from competitors and is a magnet for top talent.
To define your employer brand, start by conducting a thorough internal analysis. Identify your company's core values, mission, and culture and articulate them clearly.
Once you've defined your employer brand identity, communicate it consistently across all your recruitment materials and interactions.
You may also craft a compelling employer value proposition (EVP) highlighting what makes your organization a great workplace.

3. Design an attractive and user-friendly careers page
Your careers page is often the first point of contact for potential candidates, so it needs to make a positive impression.
When doing inbound recruiting, ensure it's visually appealing, easy to navigate, and informative.
Include engaging content that showcases your company culture and values, such as:
Employee testimonials

Success stories

Engaging videos

Infographics
You should also make the application process simple and intuitive. A lengthy, complicated application can deter qualified candidates.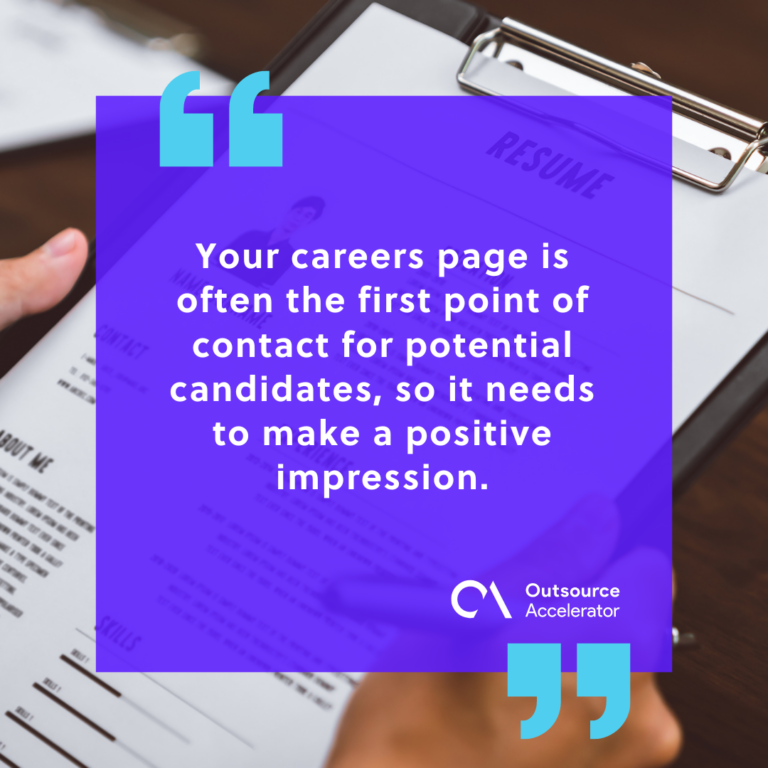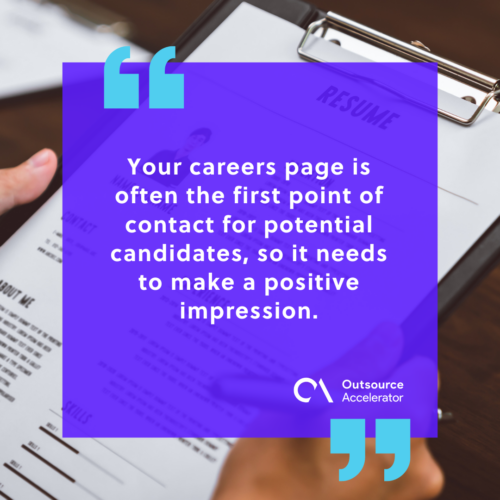 4. Use storytelling techniques to resonate with candidates
Storytelling is a powerful tool in inbound recruiting. Share authentic stories that illustrate your company's culture, values, and your employees' journeys.
Highlight challenges they've overcome, achievements they've reached, and their impact on the organization. These narratives create an emotional connection with candidates and make your organization relatable.
This storytelling approach engages candidates deeper, making them more likely to envision themselves as part of your team.
5. Utilizing CRM tools for candidate nurturing
A customer relationship management (CRM) system is not just for sales and marketing; it's an invaluable tool for inbound recruiting.
Use CRM software to track and manage candidate interactions. Then, personalize your communication by segmenting candidates based on their interests and stage in the hiring process.
You may also create automated email workflows that deliver relevant content to candidates over time.
6. Maintain a long-term talent pool
Inbound recruiting isn't just about filling immediate vacancies and building lasting relationships. You should keep your candidates warm in your talent pool, even if they're not an immediate fit for your organization.
Maintaining a long-term talent pool creates a network of potential hires familiar with your organization, making future hiring processes more efficient.
7. Continuously improve and optimize your approach
Inbound recruiting is an evolving strategy that requires constant refinement. That's why you should do these things more often:
Continuous improvement

– Continuously analyze data and gather feedback to measure the effectiveness of your approach.

Metrics monitoring

– Monitor key metrics such as candidate engagement, time-to-fill, and the quality of hires.
A commitment to improvement ensures that your inbound recruiting strategy remains competitive and effective in attracting and retaining top talent.
Inbound recruiting is a transformative talent acquisition approach
Inbound recruiting is more than just a trend; it's a transformative approach to talent acquisition that aligns with the changing dynamics of the modern workforce.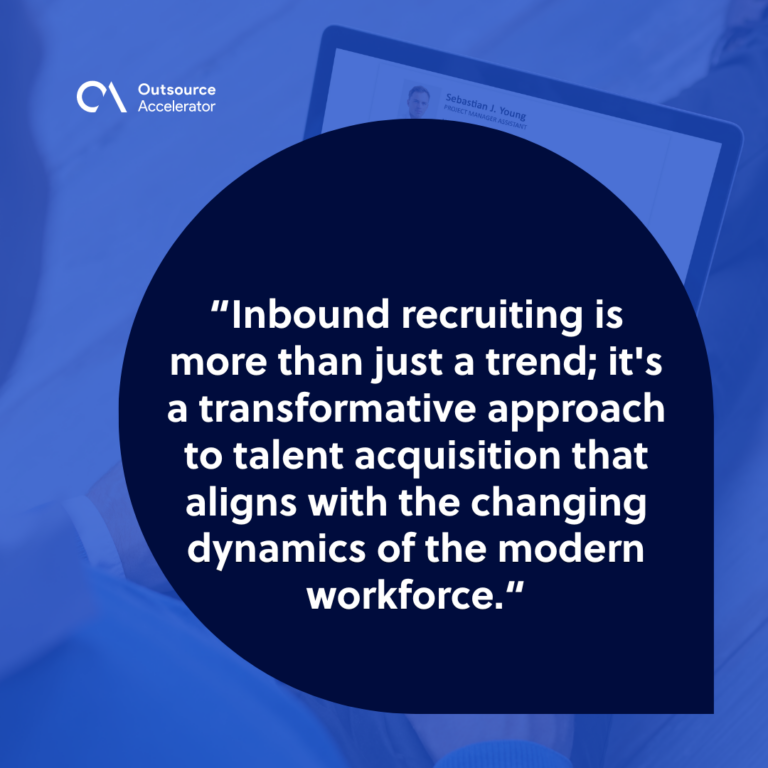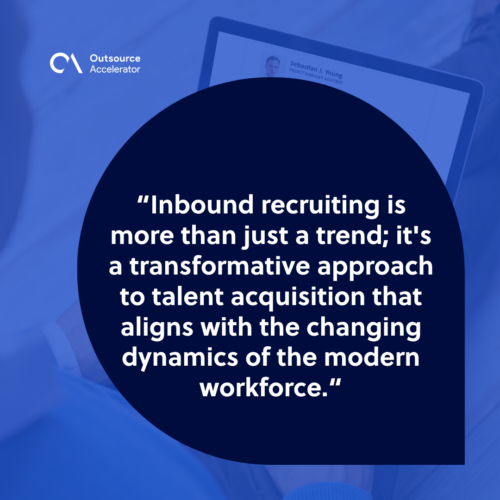 You can attract, engage, and retain top talent by building relationships, showcasing your employer brand, and providing a personalized candidate experience.
Following the abovementioned essential steps outlined in this guide, you can kickstart your inbound recruiting strategy and position your organization for long-term success!