Boosting employee retention through a positive work environment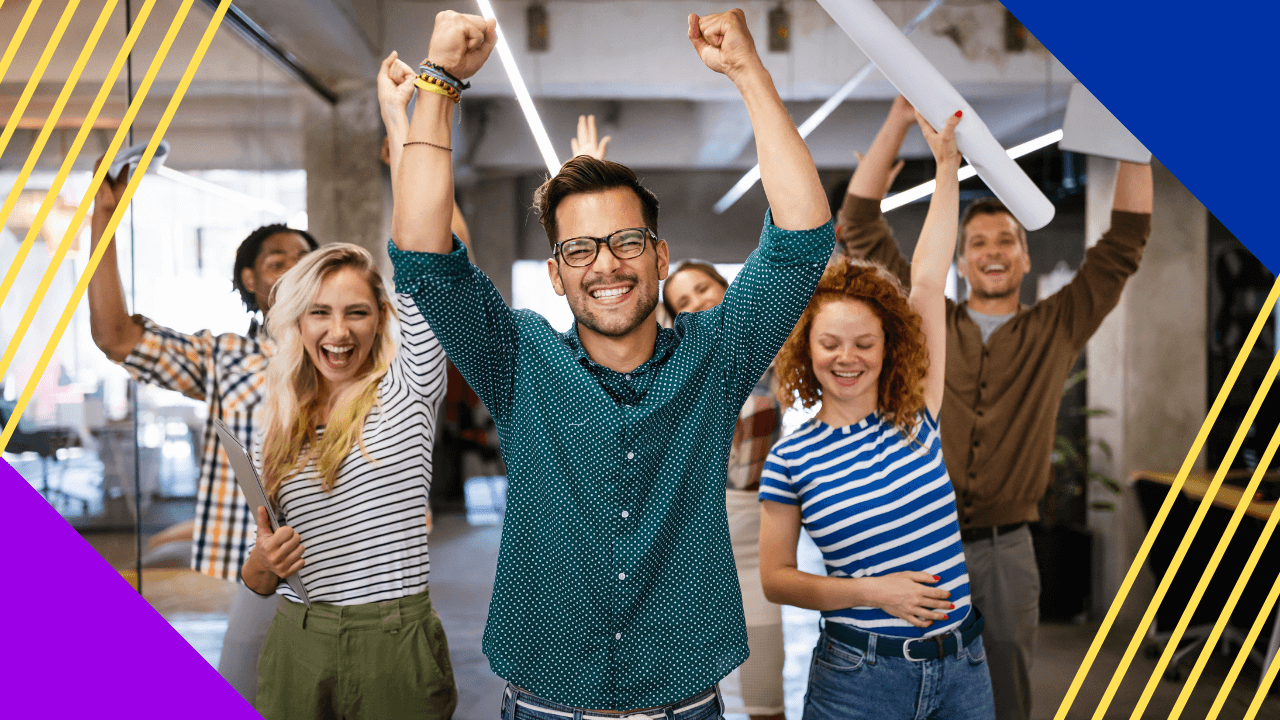 Employee retention is challenging for many companies. Employees have grown increasingly aware of what satisfies them and will likely leave businesses that cannot meet those needs. 
This is especially true if the employee is skilled and can take their pick of other job options. 
Flex Report notes that 30% of companies implement a structured hybrid approach, while 42% of offices require full-time onsite. It only means that full return-to-office is unlikely.
Employers should know how to customize their work environments. They have the opportunity to enhance their working conditions through third-party providers. 
Emapta is an outsourcing company that not only offers you offshore staff and services but also dedicated private offices. You'll get the full outsourcing experience while your offshore staff gets housed in professional offices.    
Importance of employee retention and morale 
Employee morale refers to employees' overall satisfaction, well-being, and motivation. High employee morale usually results in high employee retention, a company's ability to retain talent over an extended period. 
Both factors are interconnected and significantly impact an organization's performance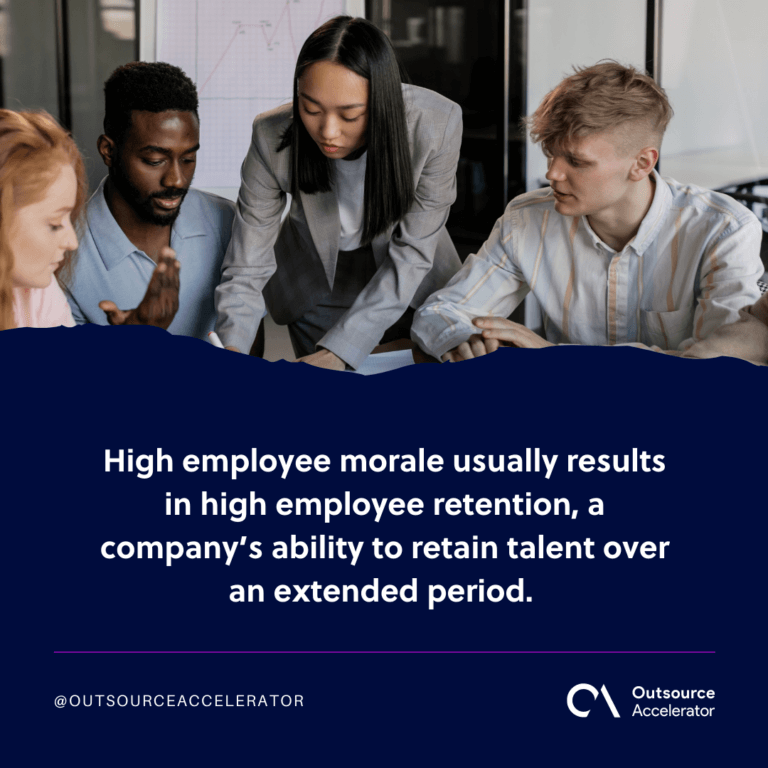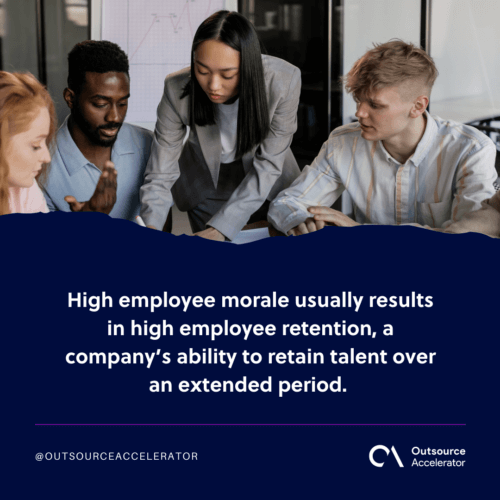 Here are key reasons why employee retention and morale are crucial for businesses: 
Productivity and performance

–

Employees who feel valued in their roles are more likely to deliver high-quality work and contribute proactively to company goals.

 

Cost-savings

– Employee turnover can be costly. Focusing on employee retention and morale reduces those costs and allocates resources more productively. 

Knowledge and skill retention

– Experienced and skilled employees are assets to any company. This also creates an environment conducive to innovation and creativity. 

Organizational culture and engagement

– High morale and engaged employees become more invested in their work and are more likely to stay committed. 
Reputational and employer branding

– Organizations with a positive work culture and excellent employee retention rates tend to have a favorable image in the job market. 
Role of work environments in employee retention
A positive work environment is key to fostering employee retention. When employees feel valued, supported, and satisfied in their work environment, they're more likely to remain loyal. 
The physical office plays a large role in this. Elements like the following directly impact employee well-being and productivity:

Office layout and design

Temperature

Color

Noise 

Plants 
Improving these factors would greatly reform your workplace and increase employee retention. 
Going beyond the physical office, now employers must also consider remote setups. A study on federal workforces reported that agencies with more teleworkers reported less voluntary turnover. 
The work environment is frequently included when listing the reasons for employee turnover. Other major factors are:

Job stress and satisfaction

Job security

Motivation

Wages 

Rewards
It's concluded that strategies addressing these needs will produce better employee retention and morale. 
Strategies for improving working conditions 
Here are several strategies that organizations can implement to improve work environment conditions to enhance employee retention:
Foster open communication
Encourage open and transparent communication throughout the company. You should give your employees platforms to share feedback, suggestions, and concerns. 
This goes two ways, and you should actively listen to employees' opinions and take appropriate action to address their needs. 
Enhance physical comfort
A clean, well-maintained, and comfortable workspace is essential to a good workplace, leading to employee retention. 
Provide ergonomic furniture and equipment to reduce physical strain. Also, make sure to maintain appropriate temperature, lighting, and ventilation. 
Establish workplace safety
Aside from being comfortable, you'll want your workplace to be safe. Prioritize workplace safety and provide appropriate training and resources to employees. Encourage them to report any safety concerns or incidents. 
Hiring an EHS specialist's services will display to your staff that you're serious about securing their safety. 
Promote work-life balance
While it's good to improve your physical workplace, you must also consider whether that's truly your employees' need. With remote work being adopted, it's good to offer flexible work arrangements to your staff where possible. 
Additionally, encourage your employees to take regular breaks and vacations to recharge. A healthy work-life balance benefits everyone. 
Provide growth and development opportunities
Employee retention happens when people are assured that they're working toward something. Therefore, offer opportunities for professional development, training, and upskilling. Support your employees' personal and professional growth.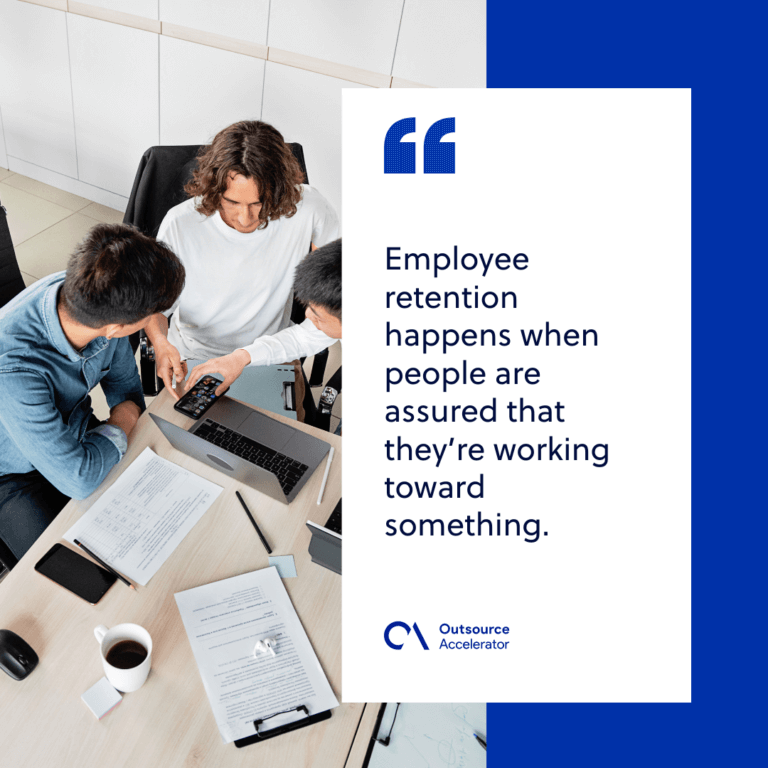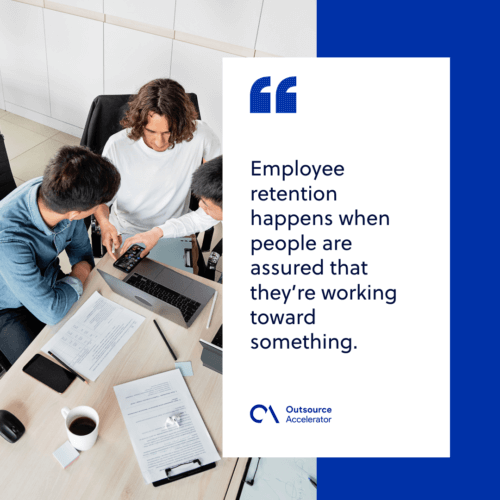 Recognize and reward employee contributions
Your employees are the backbone of your operations, so make them feel valued by recognizing their contributions. You can implement a rewards program to acknowledge and appreciate their efforts and achievements. 
Provide workforce diversity and inclusion
Diverse teams are strong teams. Employee retention occurs when people from all backgrounds can work in a safe and respected environment. 
Foster a welcoming work environment that promotes equal opportunities. Early on, embrace diversity in hiring practices and provide diversity and inclusion training to increase awareness and understanding. 
Lead by example
Your employees will look to you for leadership. A boss living by their own rules will likely lead to low employee retention and morale. Instead, demonstrate leadership behaviors that reflect a positive work environment. 
How outsourcing aids employee retention
Outsourcing can impact employee retention through the following:
Outsourcing certain tasks reduces the burden of your onsite employees, which means they can focus on more meaningful and strategic work. 

Outsourcing lets you access specialized expertise and skills. This enhances the confidence of your staff when they see you're committed to delivering quality work. 

Outsourcing encourages collaboration and learning when external providers bring in fresh perspectives. Cross-pollination of ideas leads to a more dynamic work environment. 

Outsourcing creates career development opportunities by opening up new roles internal employees can take. 

Finally, outsourcing enables work-life balance by delegating tedious tasks offshore, reducing employee time demands, and increasing job satisfaction. 
We recommend Emapta as a trusted outsourcing partner. Along with its excellent outsourcing services, the firm has also taken the initiative to provide fully-equipped office spaces that are as comfortable as they are high-tech. 
Get in touch with Emapta to know more about its offered services!