Inbound customer service: How your BPO partner can do it better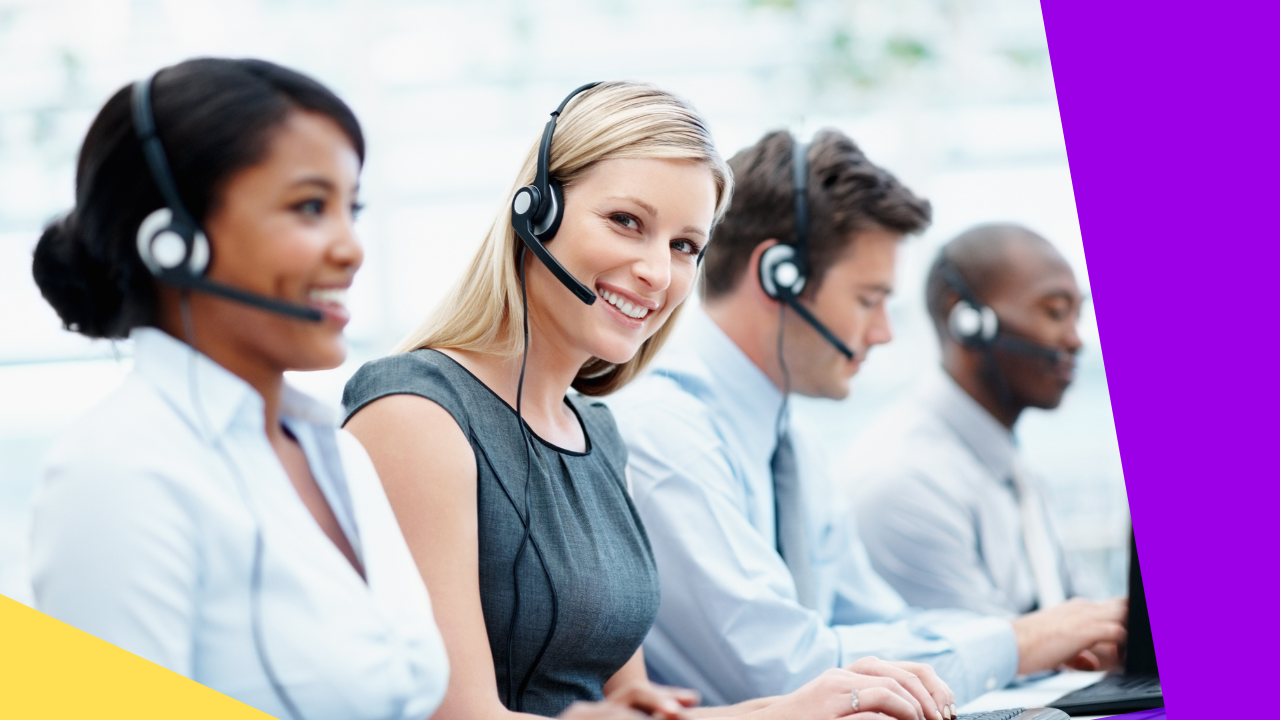 The customer experience continues to be a factor in customers' company preferences. You may have an excellent product, but people won't bother if you can't deal with their concerns appropriately. 
Customer experience platform Emplifi reported that 86% of consumers would leave a brand they were once loyal to after only two bad experiences. Customer concerns matter, and it's time brands invest in providing better experiences. 
Inbound customer service is one solution to this. 
Acting beyond what is expected of a call center, agents take meaningful steps to reassure clients of their concerns and explain how to help. 
Partnering with a reliable inbound customer service provider like SPLACE can boost your competitive advantage.   
What is inbound customer service? 
Inbound customer service focuses on establishing a deeper relationship with customers. 
This approach aims to improve the quality of interactions between businesses and customers by listening to the latter and responding in a timely, personalized, and effective manner.
Inbound customer service is more than just replying to calls or emails. Customer service representatives (CSRs) must understand their client's needs and problems, providing information based on those insights and prioritizing them. 
This results in the customer getting what they need more efficiently. 
The inbound customer service method is a welcome change from traditional call centers, which generally have agents waiting on hold or fielding calls. 
It's also distinct from outbound customer service, where the business reaches out to customers to resolve issues. This also usually comes paired with a sales objective.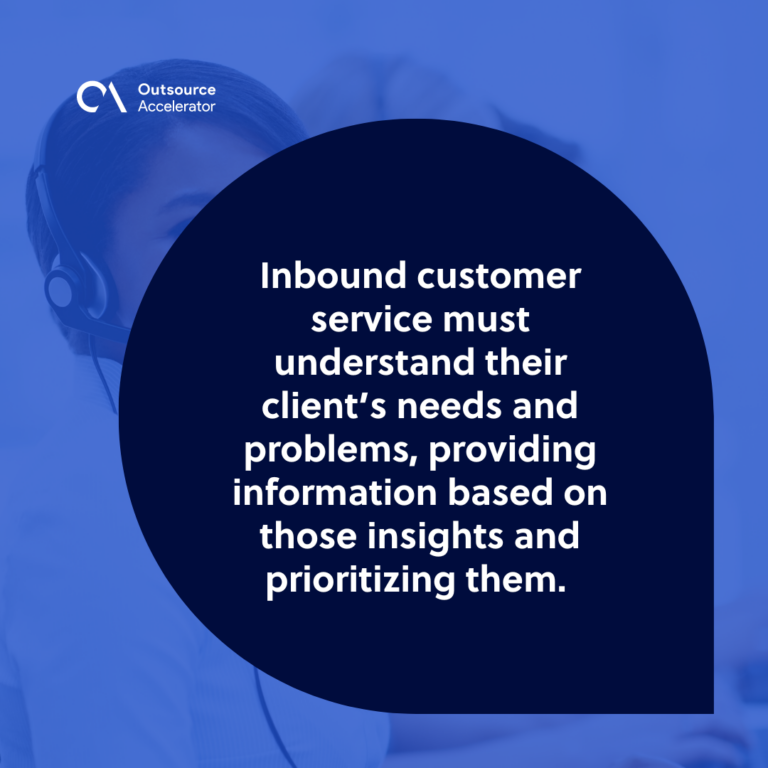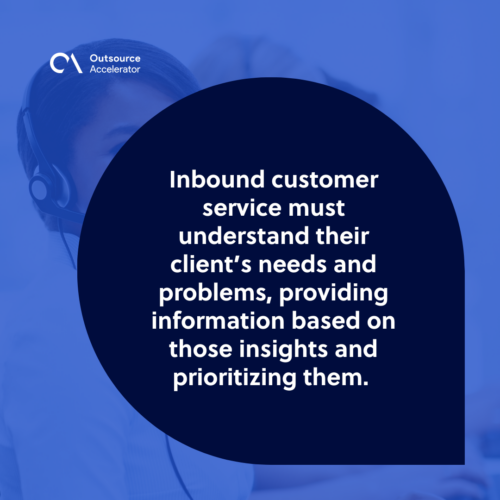 Advantages of outsourcing inbound customer service 
Inbound customer service is a heavy investment for companies. Hiring, training, and managing employees in this area costs money, and expenses can build up quickly. 
It's a big challenge, especially for smaller brands still trying to get their name out. Fortunately, outsourcing this role through a BPO partner has become a viable solution. 
Here's a brief walkthrough of the advantages of partnering with a BPO for inbound customer service:
Increased savings and revenue
Saving money is a frequent benefit of outsourcing services, including inbound customer service. 
Because you'll be utilizing the resources of a BPO, you can reduce costs by eliminating the need for a large staff, expensive equipment, and software. That money can be directed to core business needs instead. 
BPO firms also give you access to more experienced staff, offering you more value than what you could get from an inexperienced employee you'd have to train yourself.  
When you partner with SPLACE, they guarantee a reduction of your business operating costs by at least 40%. 
Increased availability
Many BPOs that offer inbound customer service and call center solutions are available 24/7, 365 days a year. This is especially important because customers can reach you for concerns at any time. 
If you're a small business with limited hours, you can take advantage of an outsourced BPO team to scale up availability quickly.

Improved efficiency and productivity
Having a BPO partner handle your inbound customer service frees up your internal resources to focus on more essential tasks like product development or marketing campaigns. 
Outsourced teams are run by experts who know how to handle different situations without compromising quality or accuracy. These virtual teams work together regardless of location, so there's no need to worry about coordinating schedules or managing time zones. 
Additionally, your BPO partner team can field more calls than you could manage in-house. You'll also have the option to scale up or down based on demand. 
Creates an omnichannel support experience 
An omnichannel experience means that you can provide a seamless experience for your customers, regardless of how they interact with your brand. Omnichannel support can be done through email, phone calls, or social media. 
This is a core part of inbound customer service and a big advantage for companies because it gives customers personalized attention no matter how they choose to communicate. 
Your BPO partner covers all channels, ensuring greater consistency across all platforms and improving customer satisfaction.  
Expands business reach
Outsourcing helps businesses with limited internal resources expand their reach while reducing overhead costs. Small teams can get started with outsourcing to get off the ground and reach more customers. 
As your business grows, you can always bring more people on board to deal with inbound customer service and other roles.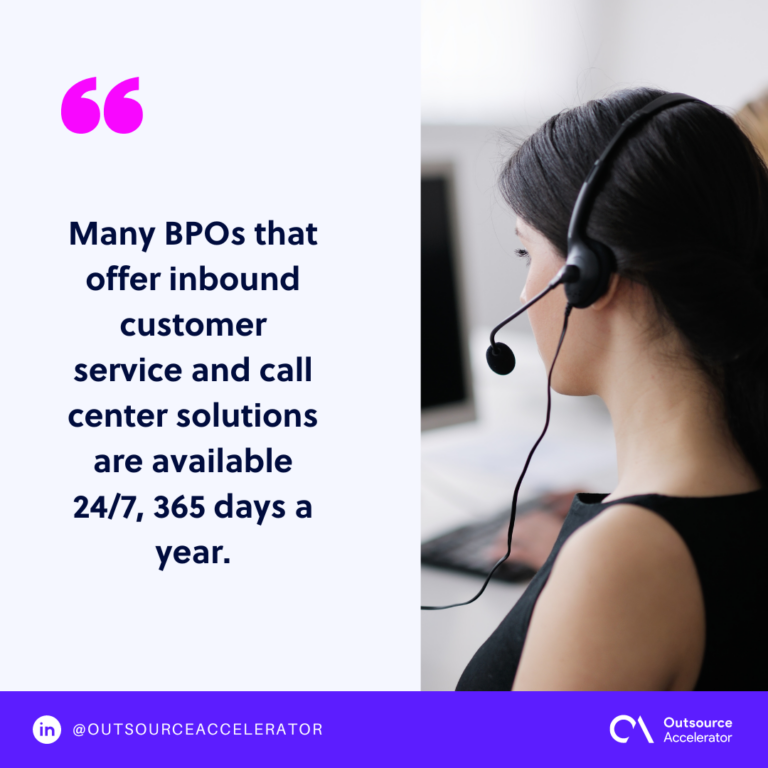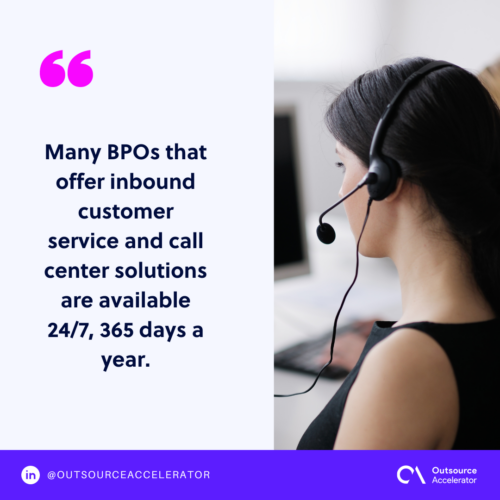 Inbound customer service with SPLACE
SPLACE provides dedicated inbound customer service specialists so your business can cut down on task overload. 
It has experienced teams who can take on repetitive support tasks. SPLACE mobilizes a talent pool of excellent Filipino staff to ensure your core team can focus on your business. 
Aside from inbound customer service, SPLACE also offers other aspects of omnichannel customer care, including:

Email support

Chat support 

Technical support

Reviews management

Dispatch management
Take advantage of their expertise and contact SPLACE today!