7 best practices to improve team efficiency in your company
7 best practices to improve team efficiency in your company
Team efficiency and productivity are critical factors in an organization's success. 
When teams work together to achieve their goals, they grow stronger as a unit. And with stronger teams comes stronger organizations.
Organizations that have highly-efficient teams tend to outperform their market competitors. They are more productive, more driven, and ultimately generate more revenue. 
Team efficiency also improves employees' morale and reduces attrition in companies.
If you're reading this, chances are you're looking for ways to enhance team efficiency in your company. To help you in this matter, we've compiled a list of the seven most effective practices for enriching team efficiency.
Read on below to learn about these practices.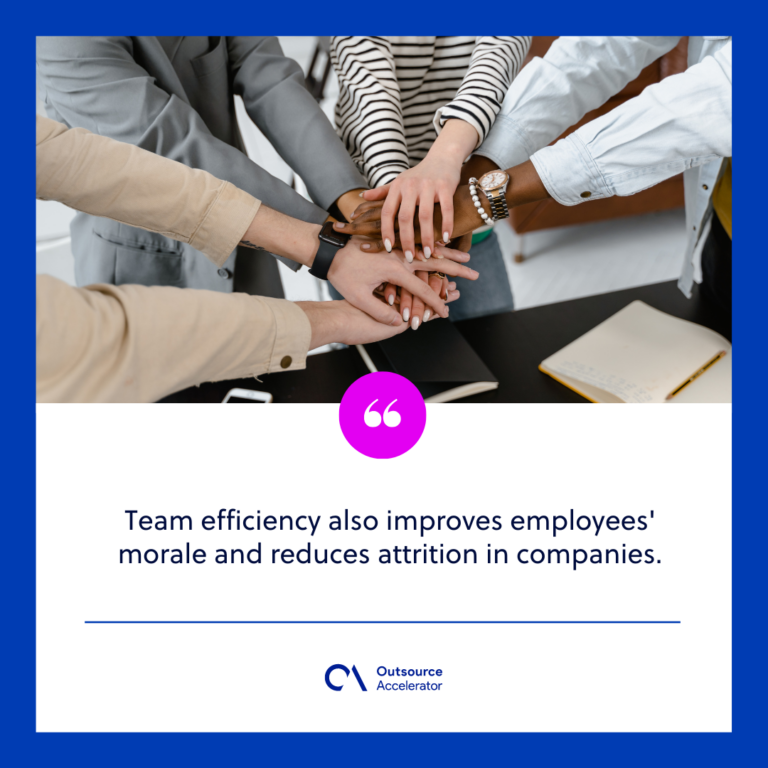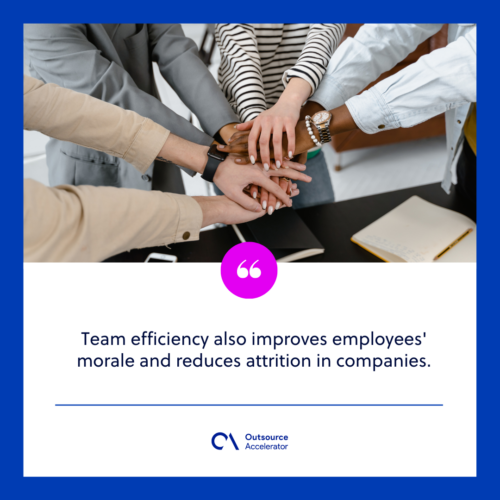 What is team efficiency?
Basically, team efficiency is the ratio of a team's total output relative to the resources (time, energy, or money) it uses. 
In businesses, team efficiency can be measured in:
Time management.

How quickly and efficiently does a team finish its tasks?

Communication.

How effectively do team members communicate and share information?

Productivity.

How many tasks can a team complete within a certain unit of time?

Quality of outcome.

How good are the results of their completed tasks (in terms of quality and accuracy)?

Innovation.

How creative is a team when it comes to solving problems?

Problem-solving.

How quickly can a team identify a problem, and how long does it take the team to solve it?

Coordination.

How effectively does the team work together towards a common goal?
In other words, you can measure team efficiency by analyzing the output of a team's efforts, such as:
the number of projects completed

the quality of the results

amount of time and money saved
How team efficiency affects business performance
The efficiency of the teams within a business can greatly influence the output of a company. Here are some aspects where team efficiency can affect business performance:
Productivity
Improved team efficiency leads to higher productivity and better output; thus, businesses achieve more in less time.
Profits
An efficient team gets more work done. Consequently, this leads to more profit for the company.
Employee morale
Team members that work well together stay longer together. An efficient team improves its members' morale and job satisfaction, which fosters loyalty.

Customer satisfaction
Because team efficiency often includes better communication, efficient teams can lead to faster response time and better customer service. These outcomes translate into improved customer satisfaction.
Effective ways to improve team efficiency
As your company grows, the workload of individual employees will increase, which can strain their productivity. It's important to maintain the efficiency of your teams to ensure your company's growth will not plateau.
Here are seven actionable tips you can follow to improve team efficiency within your company:
1. Eliminate unnecessary meetings
"This meeting could have been an email" is for sure something that has often been said (though not out loud) by employees everywhere.
Meetings can be productive – provided they have a clear agenda, are attended by the right people, and everyone's ready to pitch in. Otherwise, a lot of team meetings end up wasting the time of everyone involved, with very little to show for it.
2. Delete, defer, and delegate
There will always be instances when team members will be overwhelmed with their workloads. In times like these, having a system that allows for better workload management is helpful.
An effective way of efficiently managing your team's workload is learning to delete, defer, and delegate work, depending on their priority. 
Step back, look at the bigger picture, and assess which tasks are priorities and which ones can be deferred to the following week.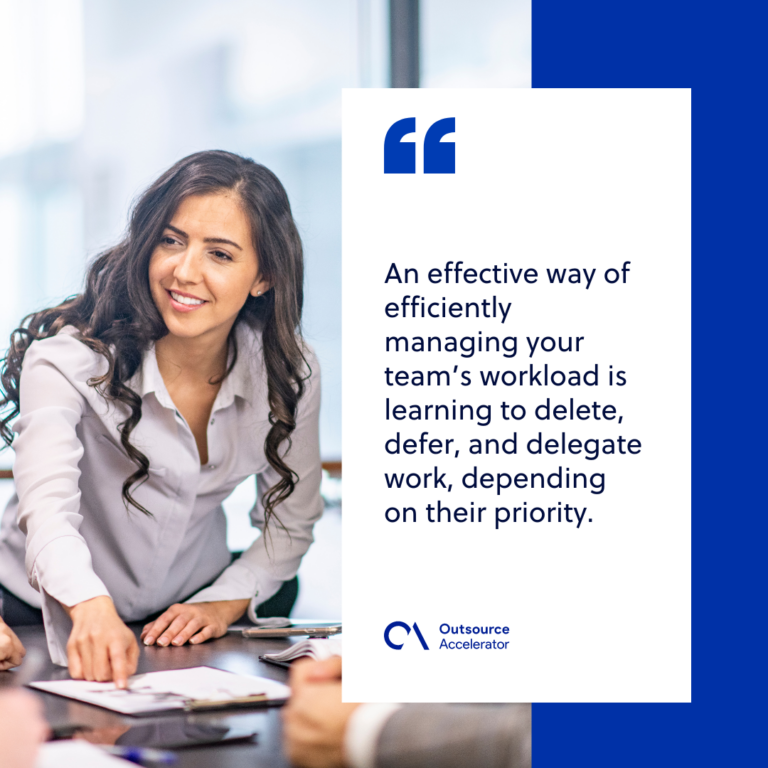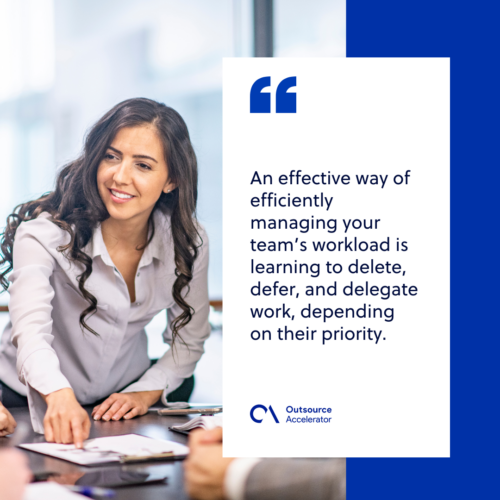 3. Leverage the strengths of team members
Each member of the team will undoubtedly have different strengths and weaknesses. For instance, one member may be a better salesperson than the other who's good at research.

Playing on your team's strengths when giving out their workloads can improve team efficiency and allow you to finish tasks more quickly.
4. Develop a progress map of your work before beginning
Once you've finalized your team's workload delegation, you should create a project plan that all team members can follow. Doing so prevents potential confusion about which task or project should be completed at which point.
Another advantage of having a progress roadmap is that everyone knows who's responsible for what. This improves communication and collaboration between team members.
5. Promote meeting-free days
Meetings can be a source of disruption for team members. Members can be in the flow state and working smoothly and then be interrupted by a meeting. 
Getting back "into the flow" can be hard to do once interrupted, leading to decreased productivity for team members.
Setting aside days for uninterrupted work can help improve team efficiency by providing your team members with a full workday they can spend focused on their tasks.
6. Have separate communication channels and define their uses
Communication tools are vastly helpful, particularly for remote teams. However, inefficient use of these tools can lead to unproductive communication between team members.
Using separate communication channels (i.e., Viber for non-work related concerns, MS Teams for work, and email communication for clients) can increase teams' communication efficiency.
Knowing which channel to use for which purpose can prevent having information lost in the myriad of communication tools often used by businesses.
7. Measure everything
You can't improve what you can't measure – be it time management, productivity, or output quality. Having metrics in place is important to help measure your team's performance.