Embracing hyperautomation: The future of business efficiency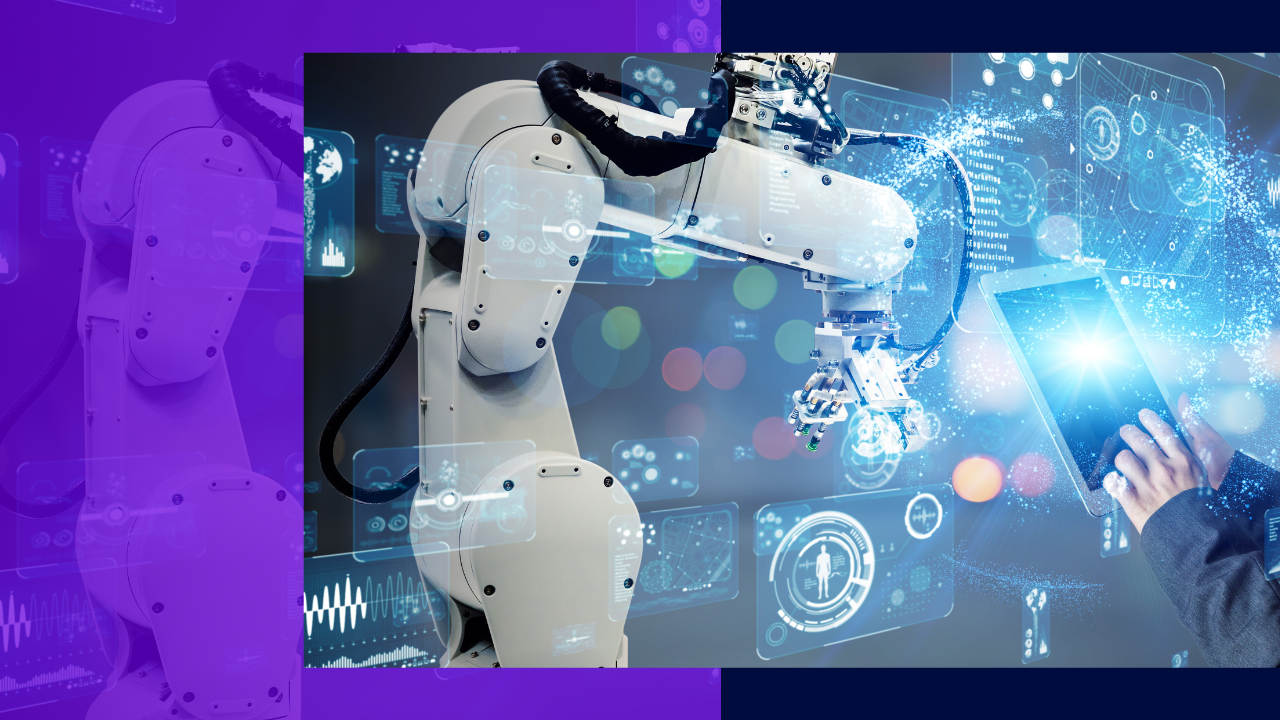 The dynamic nature of market environments forces businesses to look for ways to enhance operational efficiency, reduce costs, and improve productivity. One of the ways they do this is by adopting hyperautomation.
Through hyperautomation, companies can increase their efficiency without a commensurate increase in operational costs.
Gartner, an industry leader in tech research, described hyperautomation as having changed from "optional to vital" due to the global shift to digital business models. The company has also listed hyperautomation among its top ten strategic technological trends list.

As such, it has become even more important for companies to know more about hyperautomation and its benefits to businesses.
Read on below to learn more about this innovation. 
What is hyperautomation?
Hyperautomation refers to the increase in an organization's process automation capabilities through:
artificial intelligence (AI) 

Machine learning (ML)

Intelligent process automation (IPA)

Robotic process automation (RPA)
It involves using the abovementioned automation solutions to optimize complex processes from end to end. 
Companies adopting hyperautomation in their business models augment everything that can be automated, such as production chains, workflows, and marketing processes.
Hyperautomation helps enterprises minimize – if not eliminate – the human element in their low-value activities. Companies can create a seamless and intelligent automation system by leveraging and incorporating the unique strengths of AI, ML, and RPA into their processes.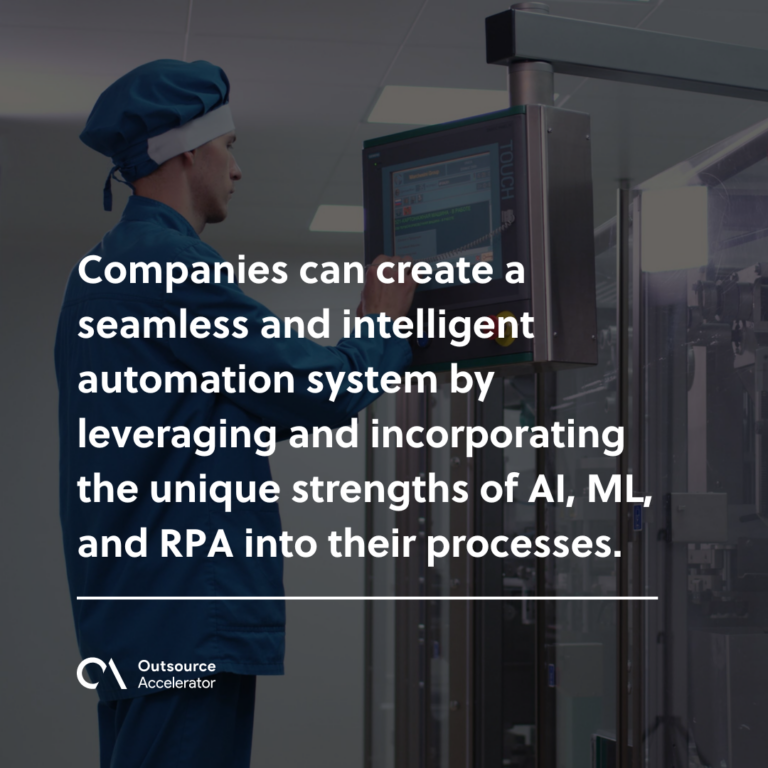 Key components of hyperautomation
To better understand the concept of hyperautomation, it is important to have a deeper understanding of its key components:
Artificial intelligence and machine learning
Artificial intelligence and machine learning are among the fundamental components of automation. AI and ML technologies enable machines to interpret and learn from data, make predictions, and continually improve themselves in the process.
Businesses make their hyperautomation systems increasingly more intelligent by incorporating AI and ML. They empower companies to automate decision-making processes and overcome complex scenarios.
Robotic process automation
Robotic process automation, or RPA, is another critical factor of hyperautomation. With RPA, organizations harness the power of software robots to automate rule-based, repetitive tasks within software applications.
These bots are far superior to their human counterparts at data entry, validation, and extraction. They perform these tasks more precisely and efficiently.
By removing manual human intervention in mundane and repetitive processes, RPA effectively boosts productivity and reduces errors. It lets businesses allocate human resources to more critical functions.
Intelligent process automation
Equally important as the first two hyperautomation components, intelligent process automation combines the capabilities of AI, ML, and RPA. Doing so enables automation systems to understand and process unstructured data.
With IPA, businesses can automate even processes that usually require human intervention. Integrating cognitive technologies (e.g., natural language processing and image recognition) significantly improves a company's hyperautomation capabilities and efficiency.
Benefits of hyperautomation
Through hyperautomation, businesses can unlock a host of benefits they would otherwise be missing out on.
These advantages include:
Enhanced productivity and efficiency
Among the many benefits of hyperautomation is a notable increase in the efficiency and productivity of businesses.
Companies can streamline their operations by automating repetitive and time-consuming tasks. This allows them to accelerate processes and achieve higher output with fewer resources.
In turn, the company's increased efficiency lets them meet consumer demand more effectively, resulting in improved customer satisfaction and loyalty.
Improved accuracy and output quality
Hyperautomation lets businesses ensure high levels of accuracy and consistent quality in their processes.
As stated earlier, the reduction (or complete removal) of human intervention in an organization's operations allows for greater precision and reliability.
Moreover, as hyperautomation systems continuously learn from data through machine learning, they become even more effective over time.
Cost savings and resource optimization
Implementing hyperautomation also allows businesses to cut costs substantially.
By automating tasks that can be done without human intervention, companies can reduce their operational costs and reallocate resources – particularly human resources – where most needed.
This ability to transfer human talent where they can have the most impact improves the company's resource utilization and significant cost savings.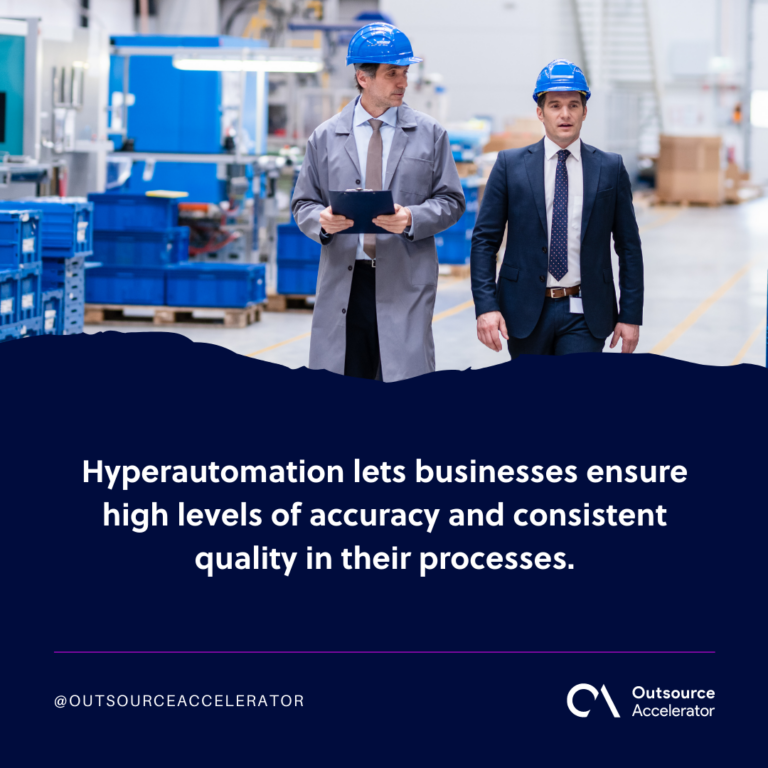 Ethical considerations when implementing hyperautomation
Despite the numerous benefits that hyperautomation brings to businesses, there are several aspects that companies must consider for its ethical implementation.
Data privacy and security
Hyperautomation inadvertently leads to organizations handling a large amount of sensitive data. Businesses must ensure that they have robust data privacy and security measures in place to protect these data from unauthorized access.
Algorithmic bias
Like other AI with machine learning capabilities, hyperautomation systems can unintentionally exhibit bias, which results in unfair outcomes. It is the responsibility of companies to monitor their hyperautomation systems constantly and address any algorithmic biases that arise.
Workforce impact
The workplace transformation brought about by hyperautomation can impact the roles and responsibilities of workers. Companies must keep their employees upskilled and able to adapt to changing work environments.