Top hybrid work statistics to know now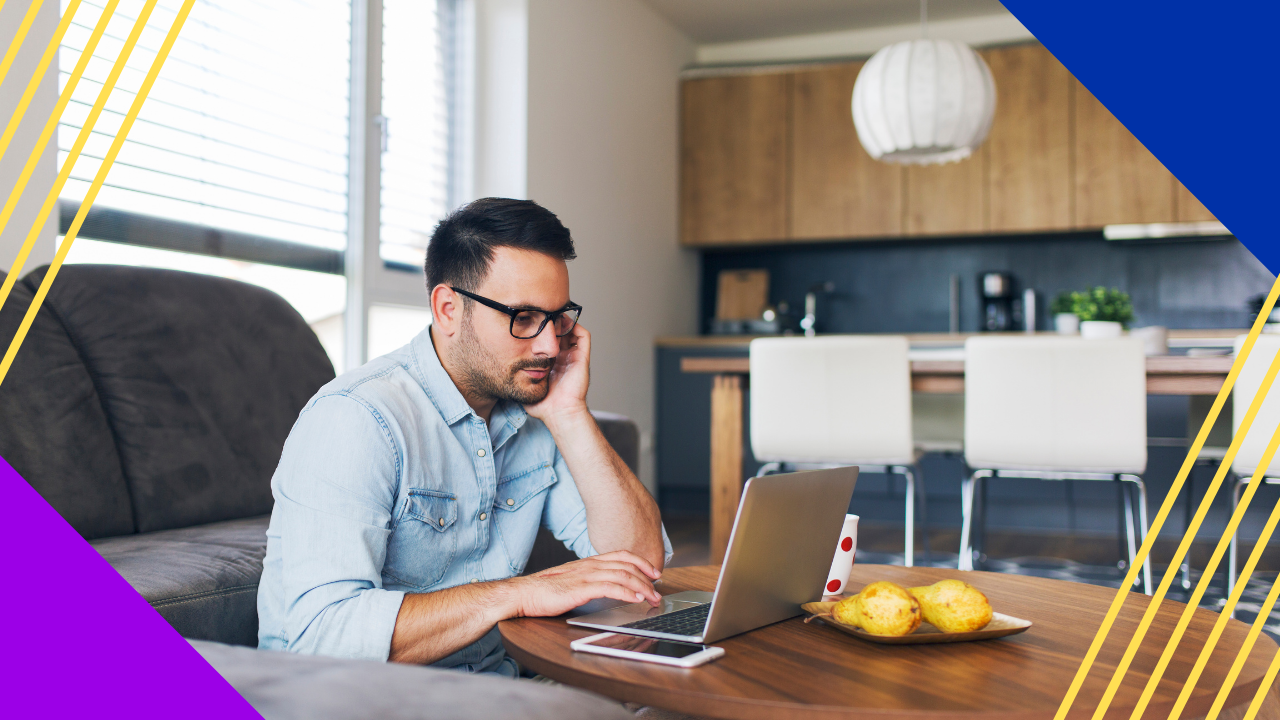 As everyone learns to live with the pandemic, companies' desire to move people back to the office setup and employees' reluctance to give up remote work privileges gave rise to the hybrid work model.
Will you maintain your current work setup or join the trend? Will hybrid work be part of every company's new normal? Here are the top hybrid work statistics every business and employee should know today.
The continued rise of hybrid work arrangements
With offices in some cities still on strict COVID-19 protocols, hybrid work arrangements are the next best course of action for most working professionals. Employees from different industries also prefer this setup.
The appeal of hybrid work comes from the flexibility it offers. 
Most workers want to collaborate with others without too much physical or emotional strain. On the other hand, many companies are still determined to bring people back to the office for different reasons. 
A hybrid work arrangement strikes a balance between these two, allowing companies to monitor staff's efficiency and employees to manage their time better.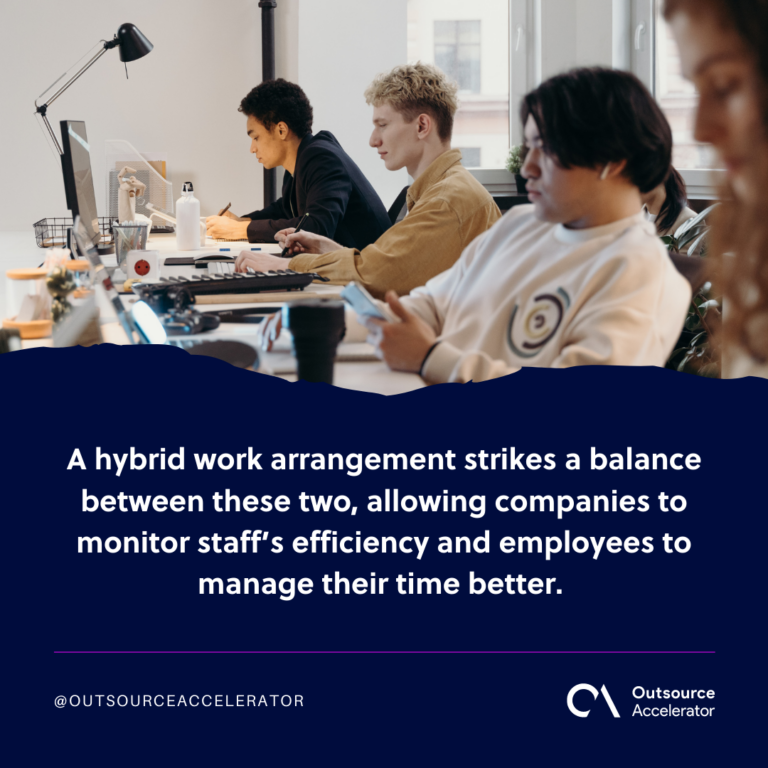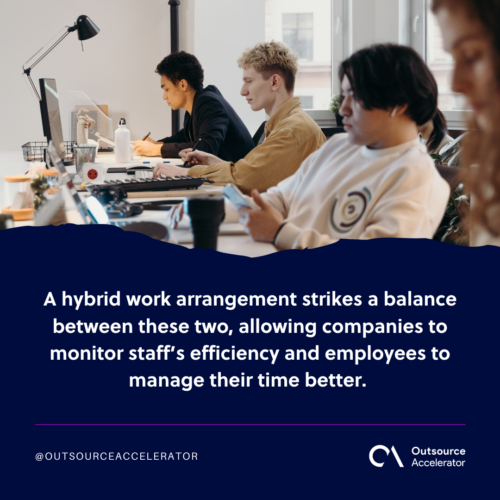 Trending hybrid work statistics you should know
On productivity
During remote workdays, many employers and managers discovered that overall, productivity remained high. This just means that statistically speaking, there's an impact in work productivity by the hybrid work setup. 
From the point of view of workers, this stems from having a much healthier environment, a workplace that is much more comfortable, and a sense of familiarity at home. 
Alternatively, as they report to the office, they can enjoy a more pleasant atmosphere as fewer people are present at a given time.
On mental health management
In this modern era, we cannot disregard mental health. In fact, 5 in 34 people experience mental health problems in their workplace, with women being twice as likely to conform to these numbers. 
The pandemic didn't help either. According to a Gallup study conducted in December 2021, Americans' perceptions of their mental health were worse than at any time in the previous two decades. It shows a considerable increase in the mental health and anxiety that employees are facing.
By contrast, the hybrid work setup has been statistically proven to ease mental health management, with 34% of UK workers in this Envoy report identifying mental health improvement as one of the top benefits second to work-life balance (41%).
On work flexibility
The trend of working from home has revealed a lot about how we all operate best. Non-traditional hours and habits can lead to better results for some people.
Each employee should be given the opportunity to speak about what works best for them. Teams should be open to evolving as organizations begin to embrace the hybrid structure. 
These statistics showed that there's a significant number of employees that opt for this flexible setup because of the sheer benefits it gives.
By enabling flexibility, companies may make employees feel more at ease as they return to work, which will improve their overall happiness and retention. This provides better stability to their relationship and makes a firmer ground in the work environment.
Hybrid work statistics that show it's the future of employment
Working from home has proven to be so popular, in fact, that hybrid work is here to stay—even though it was an abrupt and, in some circumstances, unequal transition. 
Popularly, a lot of jobs have transitioned well into the hybrid setup, providing immeasurable benefits including but not limited to well-paced workflow, better environment, and lesser hassle from traveling.
According to a survey conducted by Robert Half, about half of the workers (49%) wish to work a blended schedule once the pandemic is over. 
The same study reports that if not allowed to work at least some of the time remotely, one out of three workers (33%) is willing to abandon their current employment. 
This is a manifestation of how employees have embraced the concept of the hybrid setup. Some are even willing to let go of their current work just to go into the hybrid transition of a notable number of companies around the globe.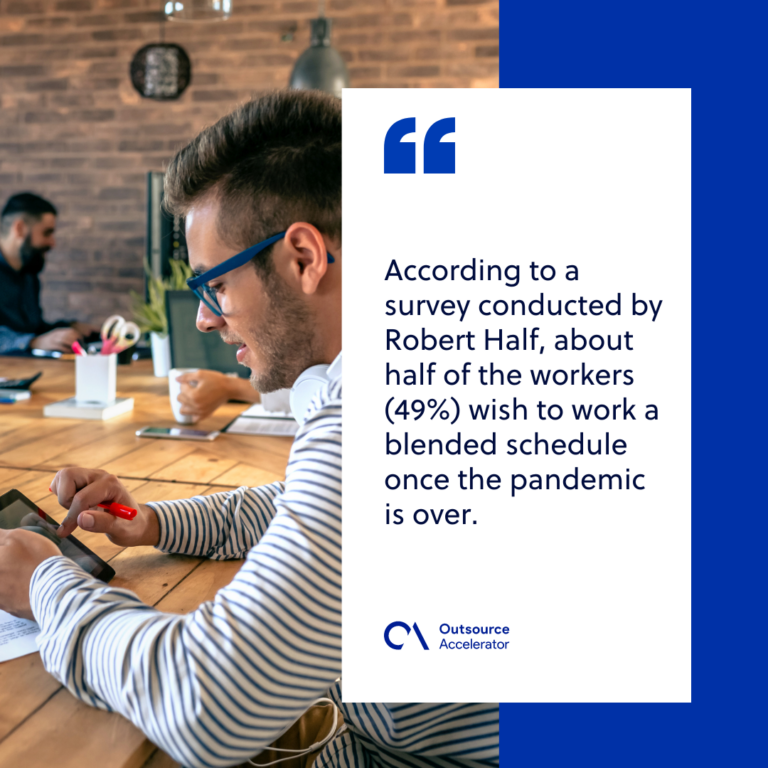 Global, fast, and reliable
In an open data provided by Upwork, a popular freelance site that first introduced the hybrid setup, reported that 90% of their clients are looking for freelancers that are comfortable working in a hybrid working setup. 
This number expanded as the demand for global workers reached an all-time high during the pandemic. 
It became a hallmark for the hybrid setup as it proved to be a global standard not just in a stable company-employee relationship but also in client-based commissions and freelance work.
Beyond the pandemic
According to FlexJob's 10th annual survey, there's an increase of up to 97% of employees that want to stay as full-time remote workers even after the pandemic. This proves that there's an astounding amount of people willing to be in the hybrid setup post-pandemic. 
Another FlexJobs survey provides the reasons many employees perform better in a remote setup:
68% mentioned fewer interruptions and a much quieter environment. 

66% said a remote setup is more comfortable.

63% reported better focus. 

55% concluded that it's a better setup to avoid office politics. 
Companies are into hybrid work
Across the globe, a lot of companies, big and small, have opted for the hybrid remote setup because of its business benefits. In fact, top companies like Apple, Microsoft, and Spotify have long been following the hybrid work model.
Companies that can benefit greatly from the hybrid work setup span across industries, from computer and IT, accounting and finance, marketing, sales, project management, and customer service to human resources, education, and even healthcare.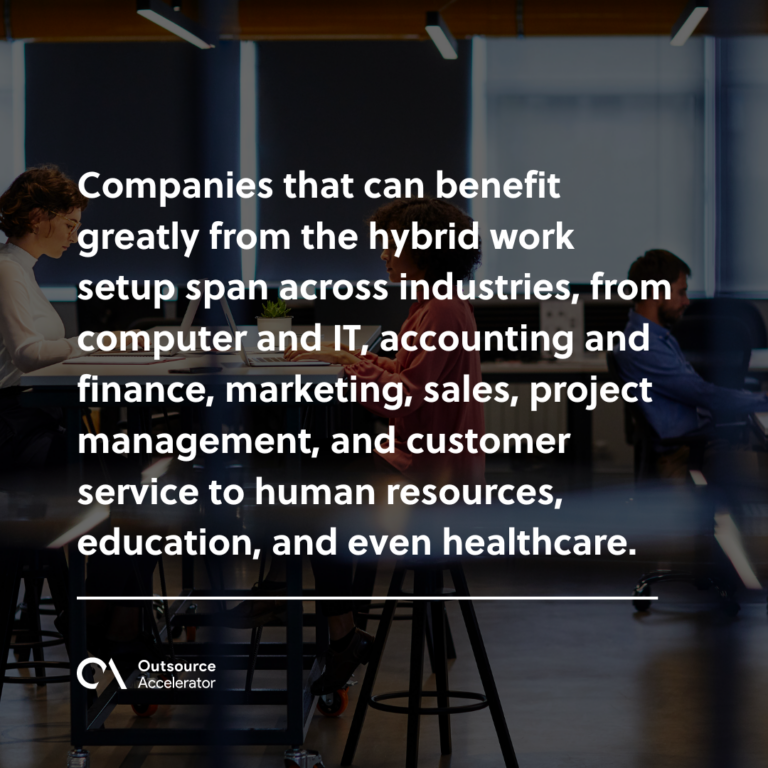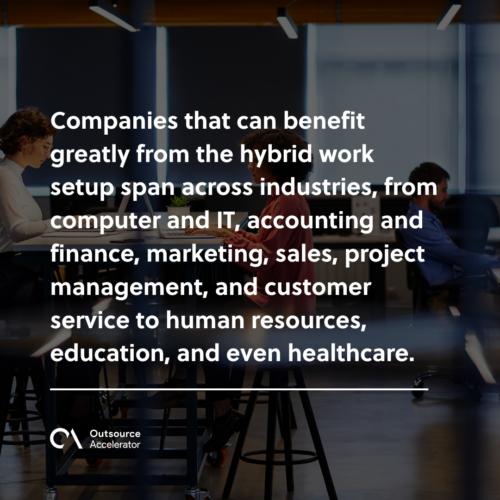 Hybrid work arrangements work
Based on the hybrid work statistics above, we can conclude that it is possible for most companies to provide their employees with the option of a hybrid setup. 
This exact model combines working from home with onsite work, providing employees with the best working conditions in the current and future climates.