HR trends to watch out for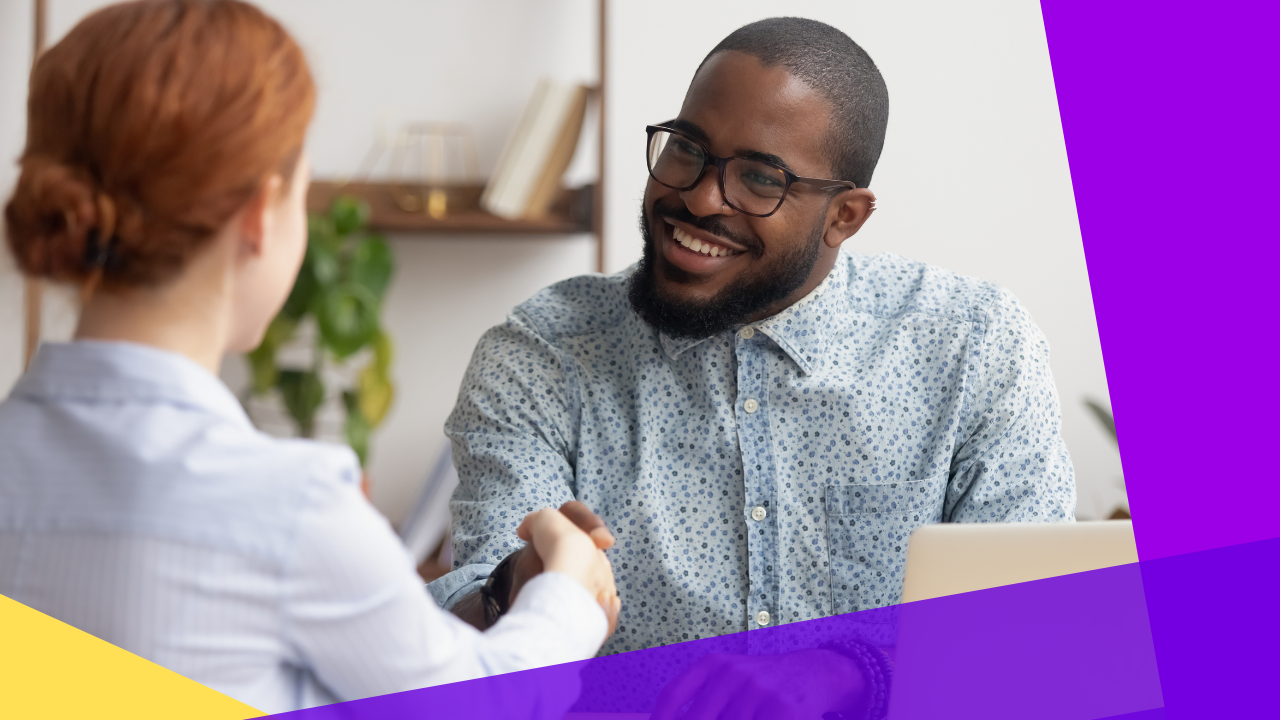 The world of work is constantly evolving, including on the human resources side. Technologies, business strategies, and consumer preferences are all changing at an accelerated pace. 
This means that the way that companies manage their employees must keep pace too. 
Human resources is increasingly being seen as a strategic business function. Technology has made it easier for companies to recruit and dismiss people, so HR must act as more than an administrative department. 
A company's HR department is also responsible for developing talent, building culture, and promoting diversity. All are qualities that prospective employees seek. 
Organizations must always be aware of the HR trends to watch out for to stay relevant. Going one step further, they may enlist the help of firms like Emapta to help them find staff that will fit. 
Top HR trends for 2023 
We've identified the top HR trends this 2023: 
Global talent reach
The world is becoming a smaller place as new technologies allow us to interact with people across the world. This has implications for HR, as it means that organizations are able to access a wider pool of talent than ever before. 
The year 2022 saw 3.32 billion people employed worldwide, a number that has kept growing since the 90s. With outsourcing being seen as a viable business strategy, recruiters need to be ready to compete for top talent everywhere in the world. 
This HR trend also stresses the need for an outsourcing and staffing partner to help you hire the best talent regardless of country.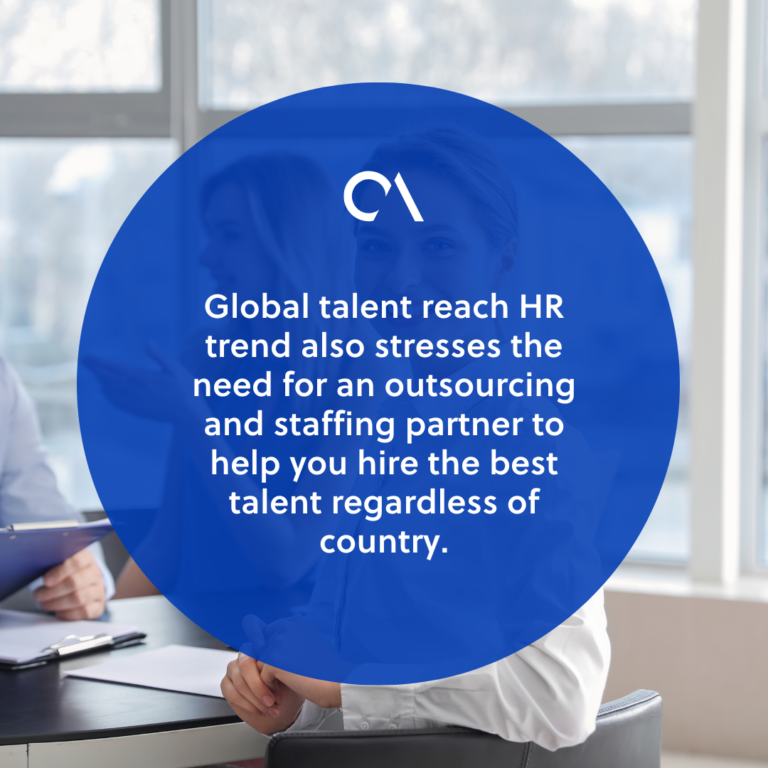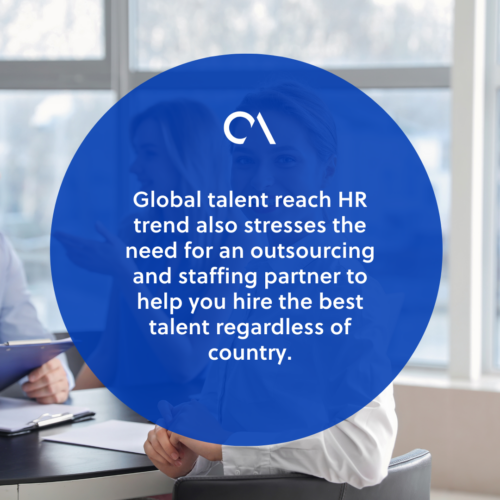 Workplace flexibility 
Recent events have brought remote work into the spotlight, and the entire discussion about workplace flexibility came with it. It's not just about where you work but also your choice of work schedule. 
Workplace flexibility has become a key HR trend as more employees aim to balance their professional and personal lives. 
To keep up with this shift, HR practices need to adapt accordingly. For example, HR departments can explore and implement tools that enable virtual meetings and teleconferencing.  
People analytics & automation
The rise of automation and artificial intelligence has already begun, and even HR departments are engaging in the trend. 
No surprise there, as these technologies have allowed for the streamlining of processes like recruiting, benefits management, and payroll. 
One of the biggest uses of AI in HR today is its implementation for candidate screening, specifically by reviewing people analytics. CNBC reports that AI in recruitment allows managers to focus more on people than processes and even speeds up the hiring system. 
The technology is far from perfect, but it will only improve over time as more companies invest in it. It helps that 67% of HR professionals believe that AI will positively impact the process. 
Employee upskilling & reskilling
Recently, the focus of HR has shifted from recruitment to retention. 
Empowered and engaged employees are more likely to stay in their roles longer and be better equipped to solve problems. This HR trend means that employers will need to provide training opportunities to develop new employee skills that align with the business. 
The demand for skilled employees is growing rapidly, and this HR trend is expected to continue throughout the next few years. 
To keep up with this demand and remain competitive, companies must invest more in employee training programs to upgrade skill sets and produce more industry-ready employees.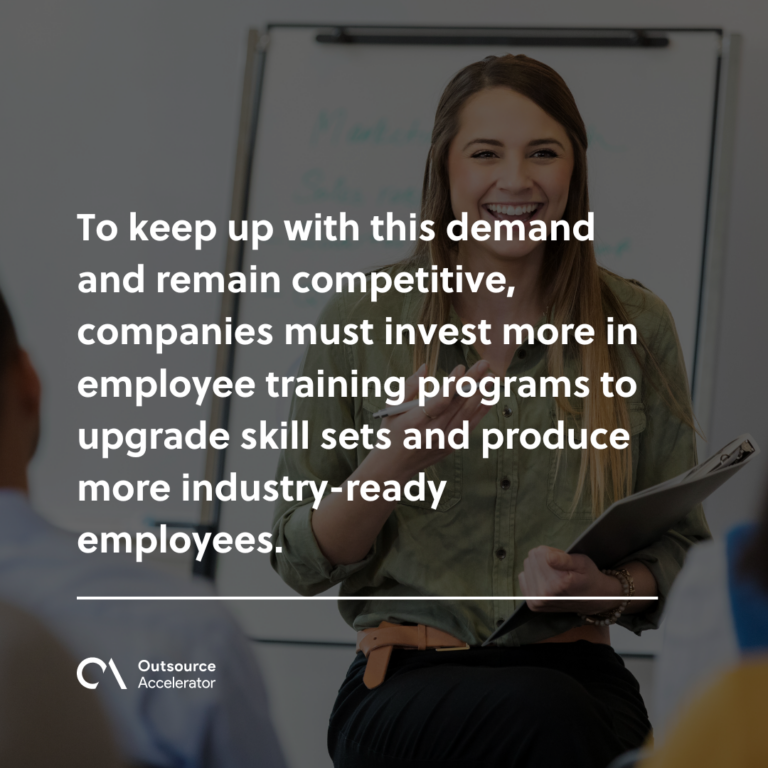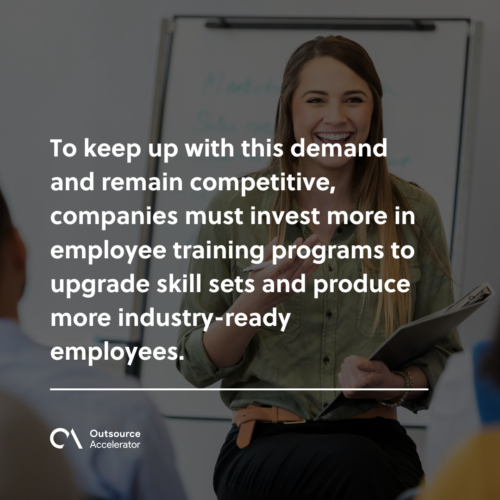 Employee experience
Employee experience is the new employee engagement. 
The employee experience is the sum of all interactions an employee has with your company, from onboarding and training to perks and benefits. This is crucial because it affects productivity and retention. 
The evolution of the employee experience is a key HR trend. With artificial intelligence entering the scene, companies are now focused on making employee experiences more personalized and collaborative. 
Diversity, equity, and inclusion 
As businesses open up to a global workforce, the issue of DEI (diversity, equity, and inclusion) in the workplace arises. 
DEI not only contributes heavily to the overall employee experience but also reduces bias in hiring and enables the sourcing of top talent. 
This may be a key HR trend for 2023, but the issue of DEI has always been an issue for HR departments. Major companies have had to address the DEI deficiencies in their workplaces, which the Bank of America estimates are costing trillions.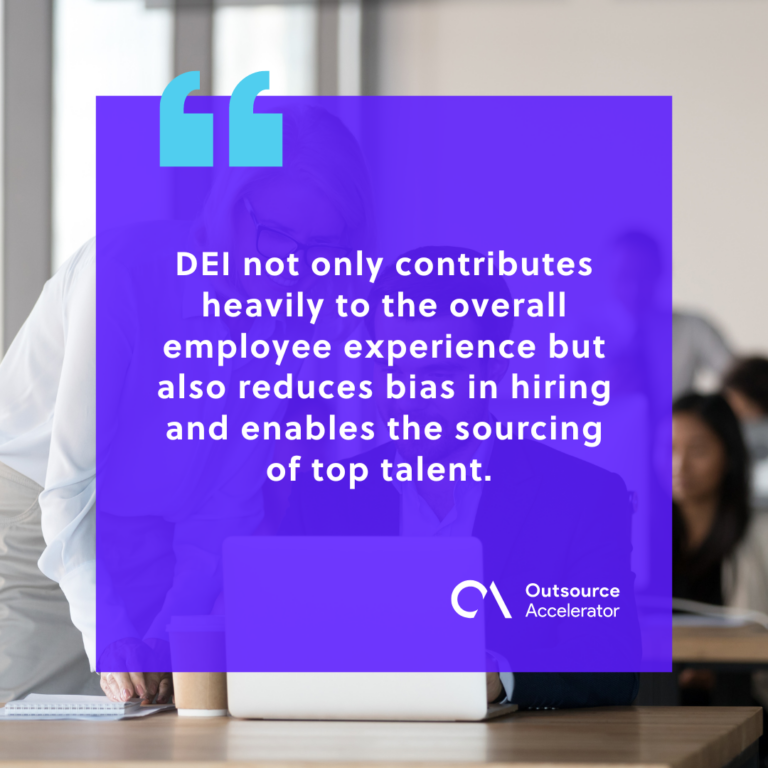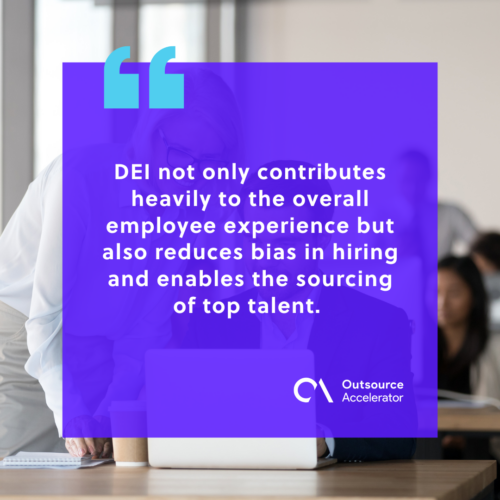 Why companies should keep up with HR trends
You're missing out on a lot of opportunities by not keeping up with the latest HR trends. 
One of the most important things a company can do in business is stay ahead of the curve. It's especially true that HR needs to be aware of current trends and adapt operations accordingly. 
One way to stay competitive is by acquiring the services of an outsourcing provider to build teams for you. 
A firm with resources like Emapta can build you an offshore, professional team according to the latest HR trends to ensure you operate at your best. 
Contact Emapta today to get started!