How can a VA help your company's day-to-day operations?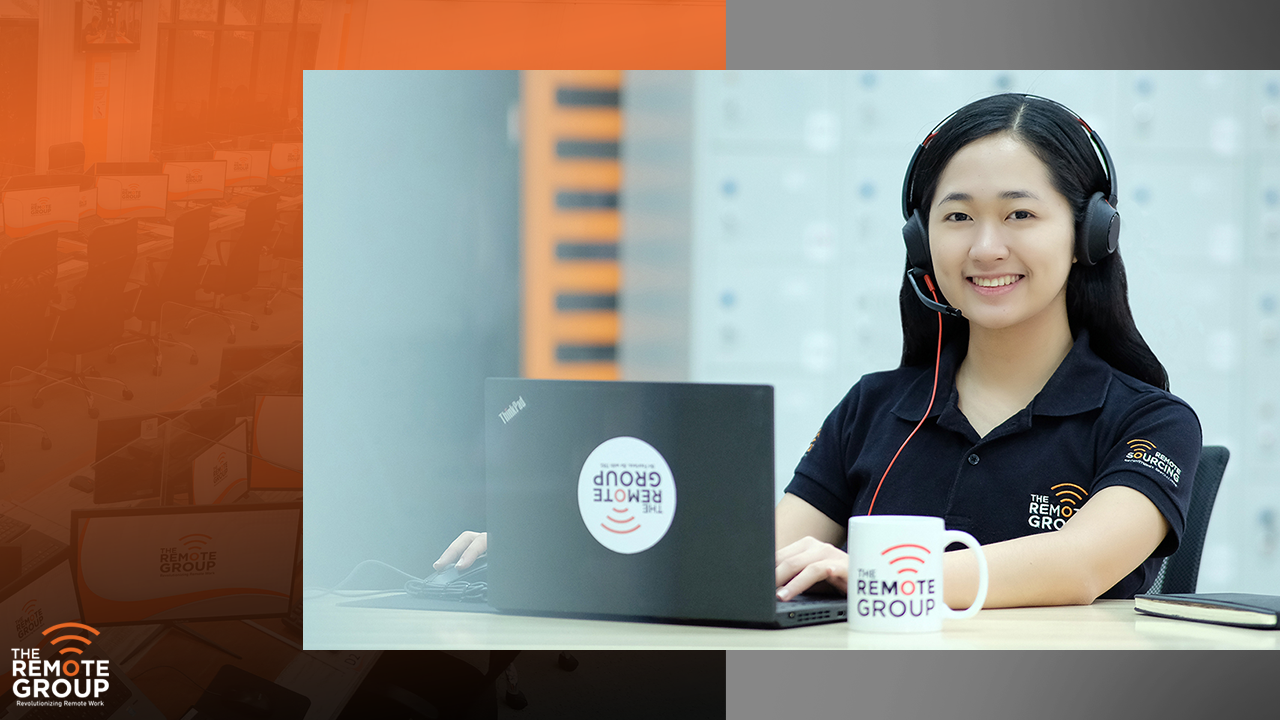 Running your own business is pretty hectic. As your business expands, it also means needing additional workforce and resources to compensate for your growth. 
In most cases, you may find yourself dealing with a handful of tasks at the same time, and this is one of the common mistakes of business owners. They allow themselves to get overwhelmed with piles of work. 
However, as a business owner, you do not have to wear too many hats to fulfill the needs of your company. A lot of business leaders and entrepreneurs in this modern hire virtual assistants (VAs) who assist them in different ways. 
What is a virtual assistant?
A virtual assistant (VA) is a remote worker that helps support businesses' day-to-day operations. 
VAs are typically considered independent contractors. Others, on the other hand, work with VA agencies like The Remote Group where they undergo a series of extensive training to be a VA.  
VAs mainly function as administrative assistants with diversified professional specializations. They generally have in-depth knowledge and experience when it comes to administrative, creative, and secretarial roles, among others. 
VAs can be employed part-time, full-time, or depending on the total hours you need them. No need to provide them with resources as they are usually equipped with the tools and technology needed for their job. 
As for the fees, a VA may charge an hourly rate or a fixed price per project, week, or month. These will all vary according to every VA and what you have discussed on the contract.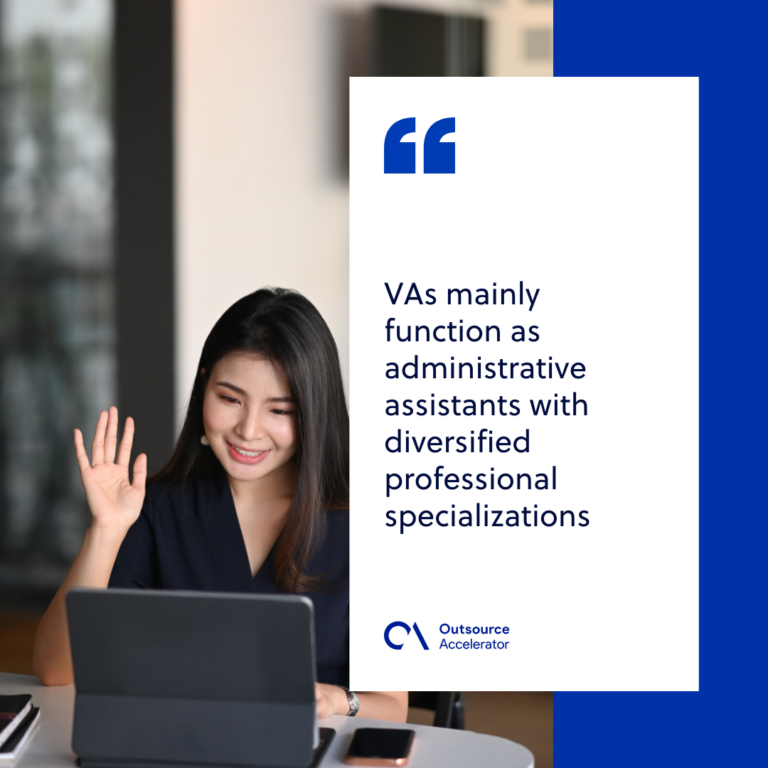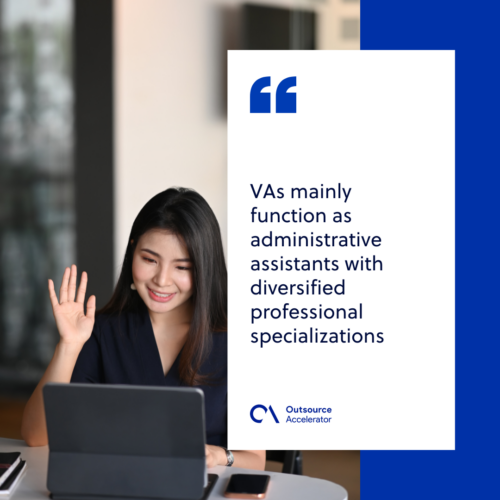 What are the roles and responsibilities of a VA? 
A virtual assistant can take on a number of tasks and responsibilities remotely. Their roles will pretty much depend on your business requirements and needs. 
VAs commonly handle these functions or a mix of the following: 
Payroll,

bookkeeping

, and invoices 

Answer calls, emails, and client/customer inquiries 

Schedule appointments, reservations, and bookings

Manage calendar 

Handle customer service

Website maintenance and other IT-related tasks

Manage social media accounts 

Web content creation 

Graphic design 
Overall, VAs are able to perform a wide array of roles. Some also offer personal assistance like shopping for specific items or planning out your family travel. 
Why should you hire a VA? 
If you are still undecided about acquiring a virtual assistant, here are three reasons you should consider venturing into the VA market: 
You are spending most of your time on repetitive tasks 
Routine tasks like managing the calendar, answering phone calls, or writing emails can be tedious and time-consuming. 
If you have to allot most of your time daily for these kinds of tasks and you lack enough time for your core activities, then it may be the right time to hire a VA.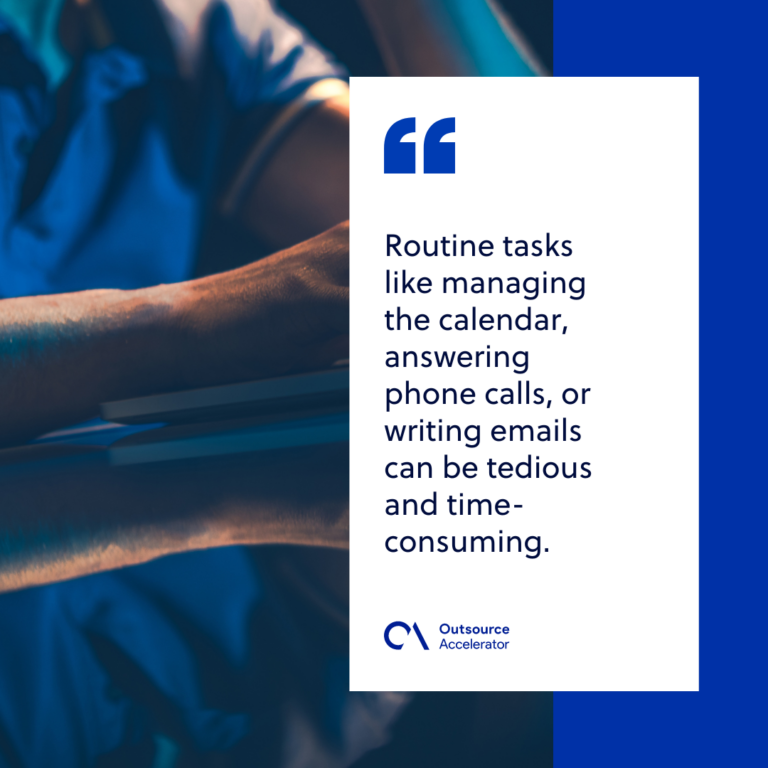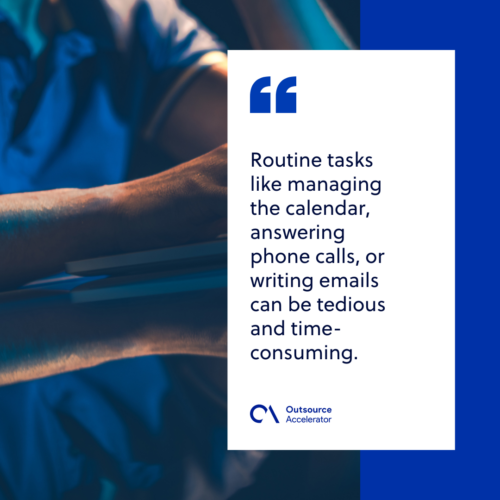 You need an additional workforce, but not full-time 
A virtual assistant is an ideal solution if you only need to pass on one or two non-essential tasks but do not need a full-time employee. In hiring a VA, you will not have to worry about providing extensive training, unlike onboarding new in-house staff. 
You have the budget to hire a VA 
Although a virtual assistant is more cost-effective than a regular employee, you still need to perform a cost-benefit analysis on the value of your time vs the total amount of time you spend on certain tasks. 
If your analysis suggests that you will earn your precious time back — more so, if you have enough budget to employ a VA — then it is about time you look for an independent contractor. 
Get access to the best VAs in the market with The Remote Group  
Tapping into the remote workforce is the new normal. The Remote Group is widely known for providing exceptional talents to businesses of all sizes. Their virtual assistants have outstanding skills and expertise in various specializations. 
Connect with The Remote Group today to know more about their featured services!