Why you should hire Filipino workers through StaffWiz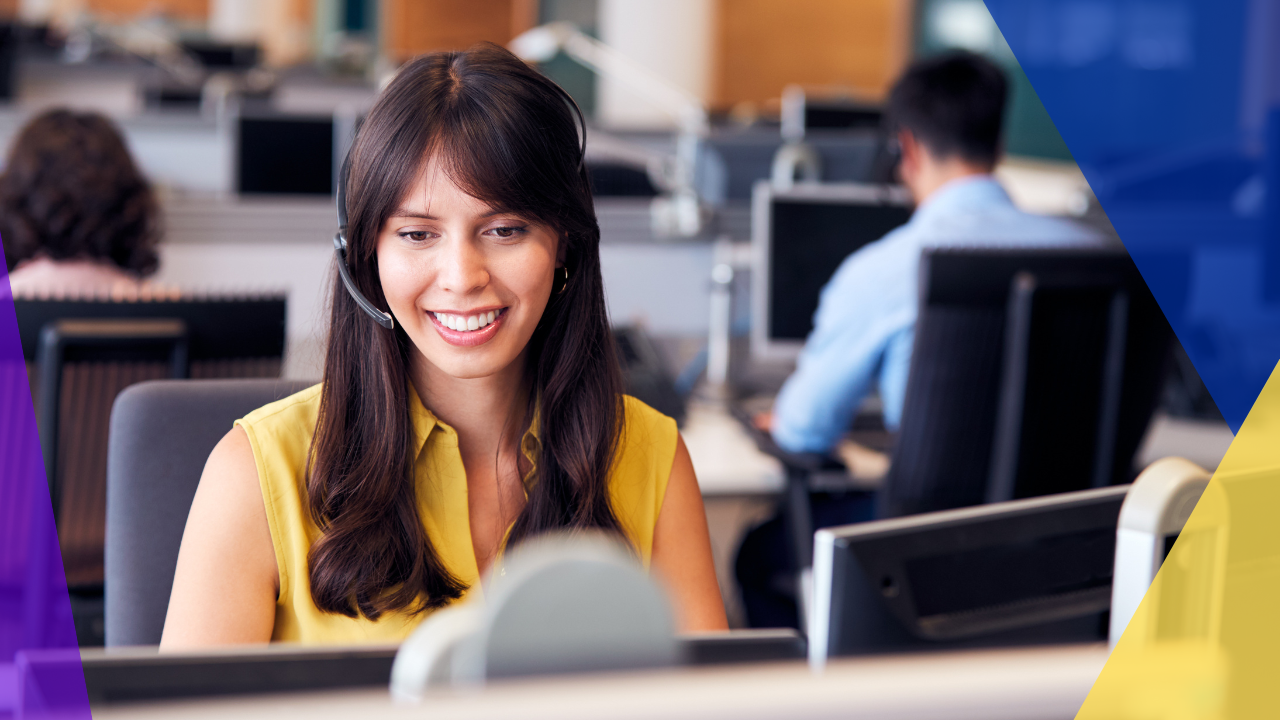 The international community recognizes the Philippines as the world's outsourcing capital. This renown is primarily due to the country's world-class workforce.
The Philippines' skilled and globally competitive talents have prompted many businesses to hire Filipino workers through outsourcing firms like StaffWiz.
Aside from the allure of cheap labor from the developing Asian country, Filipino workers possess an incredible amount of desirability on their own that compels employers to outsource to the Philippines.
Why successful businesses hire Filipino workers
What do many successful enterprises have in common? Filipino workers.
Many leading global conglomerates from various industries have operations in the Philippines. From Google, Nestle, and Wells Fargo to Shell, major international companies have seen the advantages of hiring Filipino workers.
Below are some of these benefits.
Significant labor and overhead costs reduction
One of the most touted benefits of employing Filipino workers is the cost reduction that comes with it.
Outsourcing Filipino workers allows businesses to save as much as 70% on labor costs compared to hiring in-house.
In addition to salary cost savings, businesses also save on further overhead costs from training, equipment, and facilities.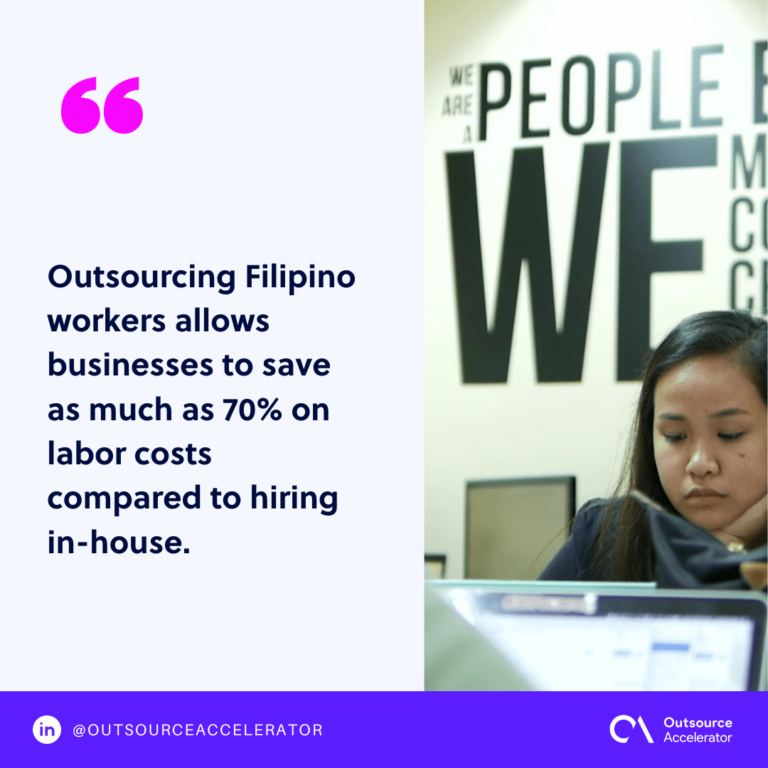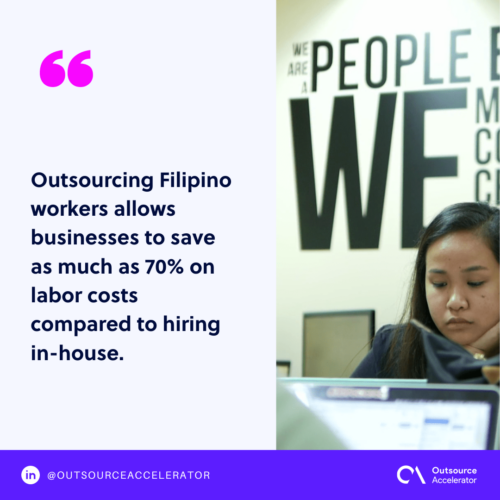 English-proficient and accent-neutral
The majority of Filipino professionals have an excellent command of the English language and speak without any identifiable accent.
This combination of proficiency and lack of accent puts Filipino workers in demand in the contact center industry and other customer service roles.
Government support
Another great thing about hiring Filipino workers is the level of government support given to businesses that do so.
Businesses that outsource to the Philippines enjoy tax benefits (including up to three years of exemptions to certain taxes) and a favorable and investor-friendly regulatory environment.
What makes Filipino workers stand out?
Filipino traits and work culture make them stand out and ideal employees for many employers.
Below are some of the traits that encourage these employers to hire Filipino workers.
Cultural adaptability
Filipino workers are quick to adapt to new situations, environments, and other people's cultures.
Their level of adaptability makes them excellent customer service representatives and great additions to any team in general.
Filipinos can easily build rapport with your customers, wherever they are located..
Filipino resiliency
The resiliency of Filipinos is known worldwide. After all, who hasn't seen the footage of victims of the strongest typhoon in modern history still retaining the strength to live on amid the disaster?
Filipinos are a tough and hardy bunch, and this strength is applied in their work environment as well.
No problem is too big and no challenge too hard for the Filipino workers' indomitable spirits.
Flexibility
The flexibility of Filipino workers can be considered a byproduct of their highly adaptable nature.
It doesn't matter which shift you place them, or what days you designate as their rest days; Filipino workers can easily adapt to it.
Filipinos are also flexible in their approach to problem-solving, often thinking outside the box and coming up with creative solutions for problems that may leave others stumped.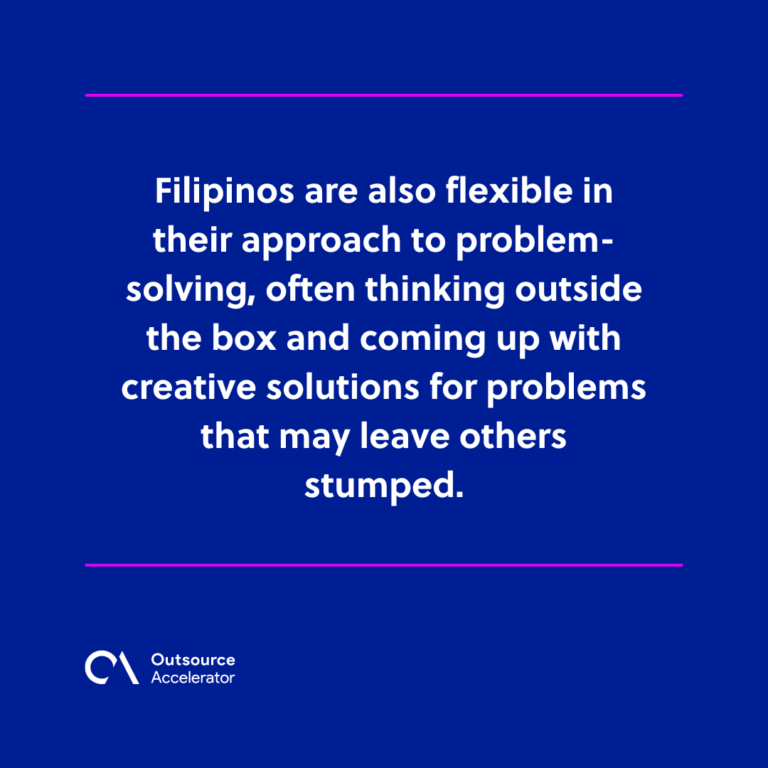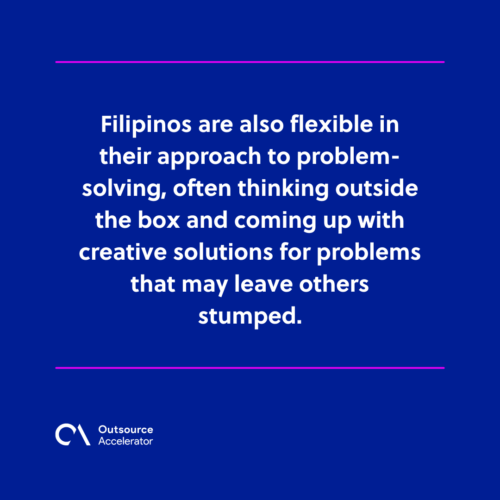 Hire Filipino workers through StaffWiz for optimal results
StaffWiz is your ideal outsourcing firm to partner with if you want to hire Filipino workers.
The company is strategically located in the heart of Makati City, one of the liveliest business districts in the Philippines and a prime hub for Filipino professionals.
StaffWiz offers outsourcing solutions for various verticals at competitive rates.
From executive and admin roles, sales and marketing representatives, and customer support staff to IT professionals, StaffWiz has your needs covered.
Contact StaffWiz now and start hiring Filipino workers!