How Staffwiz provides top outsourcing services for healthcare roles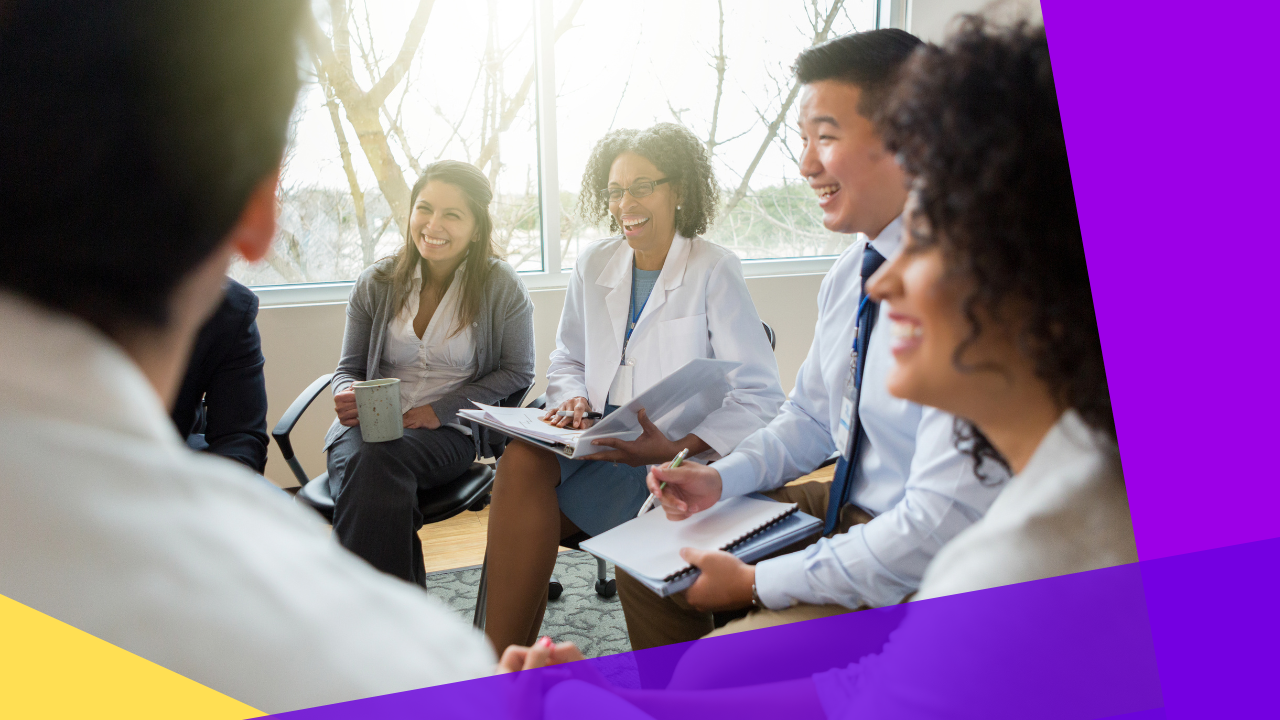 The healthcare industry is no exception when it comes to contracting out parts of their daily functions to reduce costs and increase efficiency.
Many healthcare providers are outsourcing as a business strategy to manage their staffing needs for various healthcare roles.
In this article, we'll discuss how outsourcing healthcare roles to leading third-party providers like Staffwiz can be beneficial.
Advantages of outsourcing healthcare roles
Outsourcing offers the following benefits for healthcare providers and others involved:
Cost savings
Healthcare providers can avoid the expenses associated with recruitment, training, and employee benefits by hiring outsourced employees. 
Medical facilities are also given access to a pool of highly skilled professionals without the overhead costs.
Access to specialized talent
Staffwiz is among the premier outsourcing companies with experienced workers who can provide assistance or expertise to a healthcare facility. 
Whether it's medical coding, transcription, billing, or customer service, outsourcing enables organizations to tap into a wide range of specialized skills.

Improved scalability and flexibility
The healthcare industry often experiences fluctuations in demand. Outsourcing healthcare roles offers the flexibility to scale up or down based on these changing needs. 
Whether you require temporary staff during peak seasons or additional support for specific projects, outsourcing allows for efficient resource allocation and optimal workforce management.
Enhanced focus on core competencies
Outsourcing non-core healthcare functions lets organizations concentrate on their primary goals. They can focus on delivering quality patient care, conducting research, or improving medical outcomes. 
Outsourcing providers offer services for back-office operations, administrative tasks, and support roles, allowing healthcare professionals to prioritize their core competencies.
Increased operational efficiency
An outsourcing firm enables healthcare providers to streamline processes and improve overall operational efficiency by bringing extensive expertise in healthcare contracting.
Outsourcing companies with experience in the healthcare sector can help optimize workflow, reduce errors, and ensure compliance with regulatory requirements in the industry.
Improved patient experience
Outsourcing healthcare roles such as patient support services can significantly enhance the patient experience. 
Dedicated customer service representatives can handle inquiries, appointment scheduling, insurance verification, and other administrative tasks promptly and efficiently. 
Overall, outsourcing improves patient satisfaction, reduces waiting times, and ensures a positive interaction with the healthcare provider.
Focus on growth and innovation
Healthcare providers can allocate more resources to innovation and growth initiatives when they outsource routine-based healthcare roles. 
With additional time and resources, they can invest in research and development, implement new technologies, improve healthcare delivery models, or expand services. 
Outsourcing healthcare roles frees up internal resources, allowing organizations to stay competitive and adapt to the evolving healthcare landscape.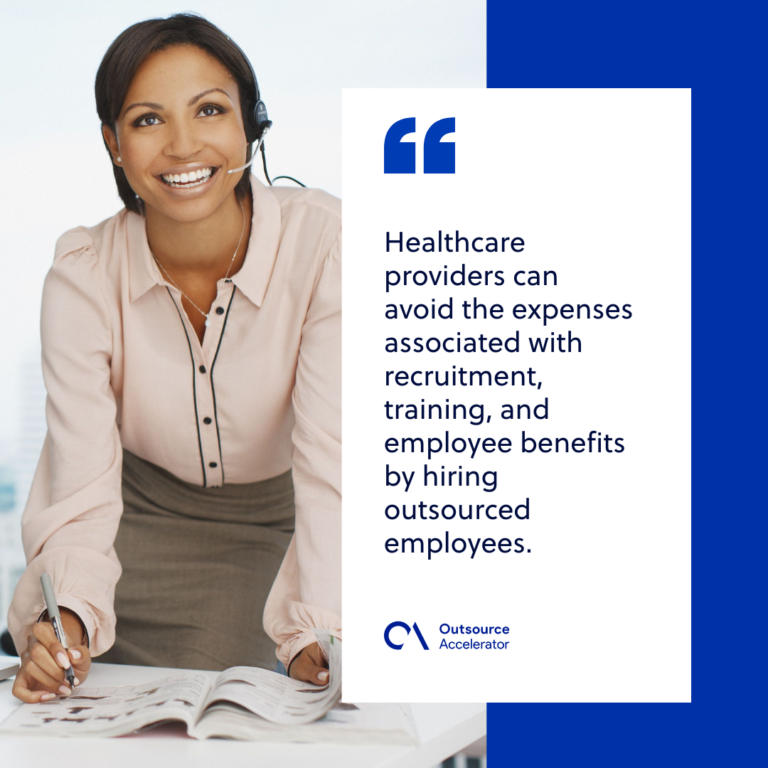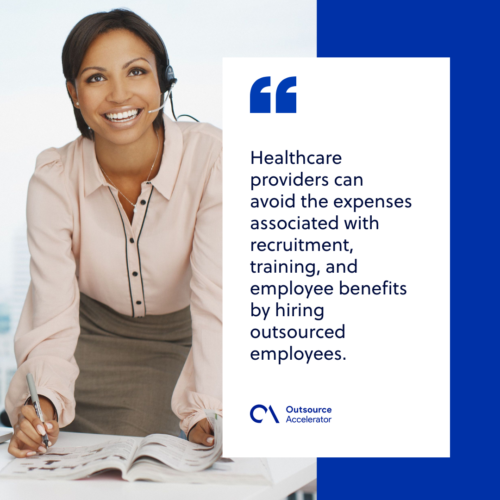 Why Staffwiz is a leading healthcare outsourcing provider
Staffwiz is an established outsourcing provider because of its commitment to providing high-quality staffing solutions — especially in the healthcare industry. 
Staffwiz offers a wide range of outsourced healthcare roles, including:
Staffwiz's healthcare outsourcing roles
Medical coders
Medical coding is also known as medical data entry. It plays a crucial role in the healthcare industry as medical coders translate medical procedures and diagnoses into codes for billing and record-keeping purposes. 
Staffwiz can provide outsourced medical coders who are trained and certified to ensure accurate and efficient coding.
Medical billers
Medical billers are responsible for submitting claims to insurance companies and ensuring that healthcare providers receive timely payment. 
Staffwiz has medical billers who can effectively navigate complex insurance regulations and make sure claims are submitted on time.
Medical transcriptionists
Medical transcriptionists are responsible for transcribing medical records and other healthcare-related documents. 
Medical transcriptionists from Staffwiz are capable of producing accurate records and warranting confidentiality in their work.
Healthcare IT specialists
Healthcare IT specialists manage and maintain healthcare IT systems and other healthcare-related software such as electronic health records (EHRs).
StaffWiz offers technical support services that covers an array of healthcare IT needs. Its IT specialists keep healthcare IT systems secure, efficient, and effective.
Clinical admins
Staffwiz offers back-office, administrative, and customer support services that can assist with various healthcare roles and processes such as:
Insurance verification

Claims processing

Health information management (HIM) services

Appointment scheduling

Vaccine scheduling

Remote nursing assistance

Adjudication

Receivables management

Telehealth

Clinical outsourcing

Customer support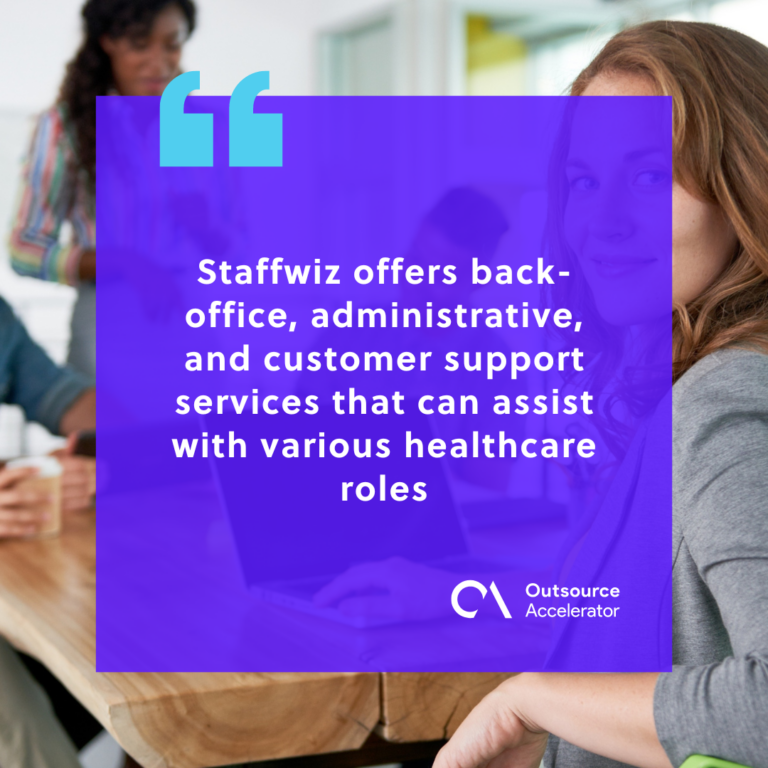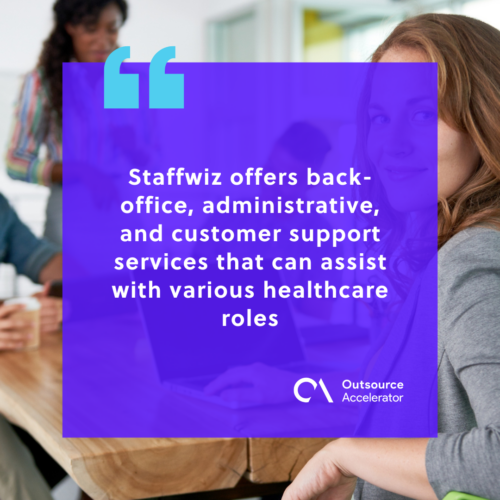 Outsource healthcare roles through Staffwiz
Staffwiz is a viable option for outsourcing healthcare roles and related positions because of its commitment to providing high-quality staffing solutions.
The outsourcing company offers access to a diverse group of skilled and knowledgeable remote worker. They are screened and evaluated to make sure the best services and support are delivered. Staffwiz even lets clients build a whole team with their recruitment services.
Outsourcing healthcare roles through Staffwiz allows healthcare providers to focus more on patient care, thereby improving health and medical services. 
Staffwiz also offers outsourcing staffing solutions for businesses and industries that require software development, travel, sales, marketing, technical, and executive support services.
Contact Staffwiz today to learn more about its healthcare outsourcing services.