What are healthcare IT solutions?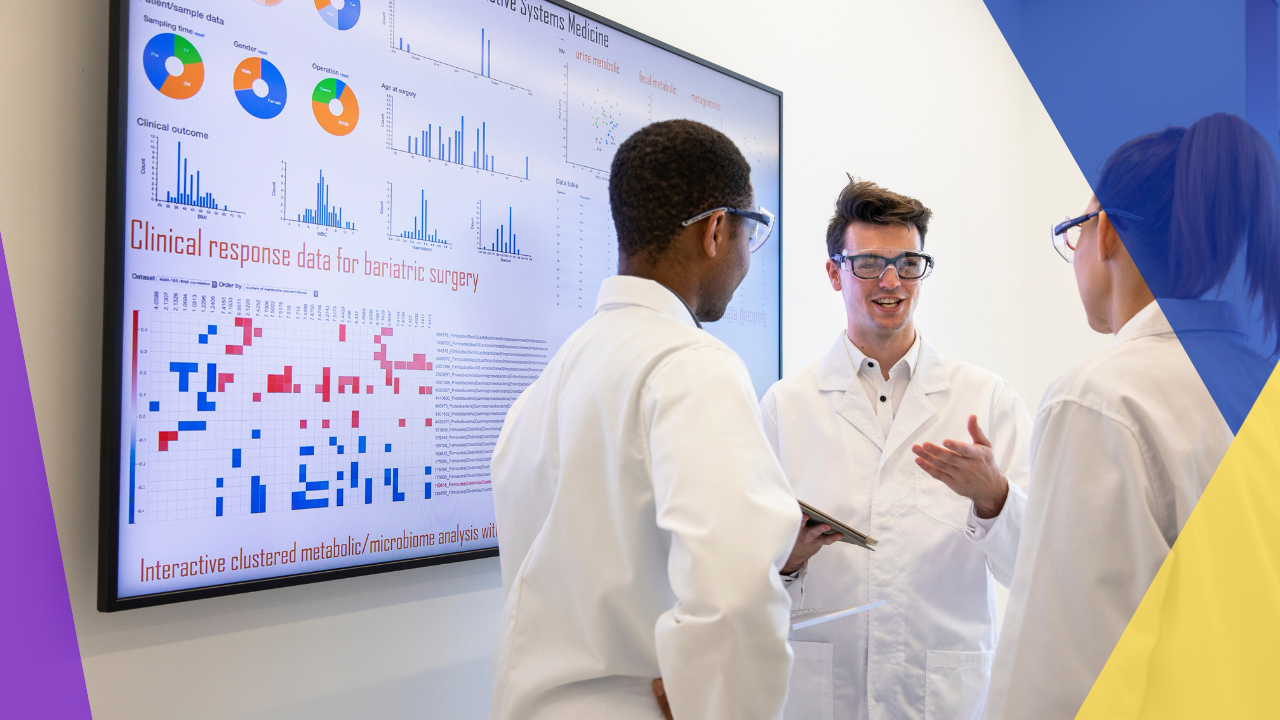 Advancements in technology have the potential to enhance healthcare across various dimensions significantly. Just think about how patients can now consult with healthcare professionals remotely.
Additionally, wearable devices and remote monitoring technologies empower individuals to participate in their health management actively.
Overall, integrating technology in healthcare enhances the efficiency of existing processes and introduces innovative approaches to patient care. This is the power of healthcare IT solutions.
This article explores healthcare IT solutions' essence, key components, benefits, challenges, and essential tips for successful implementation.
Defining healthcare IT solutions
Healthcare IT solutions refer to integrating technology into various aspects of healthcare management.
These solutions aim to:
Enhance the quality of patient care

Optimize administrative processes

Facilitate efficient communication among healthcare stakeholders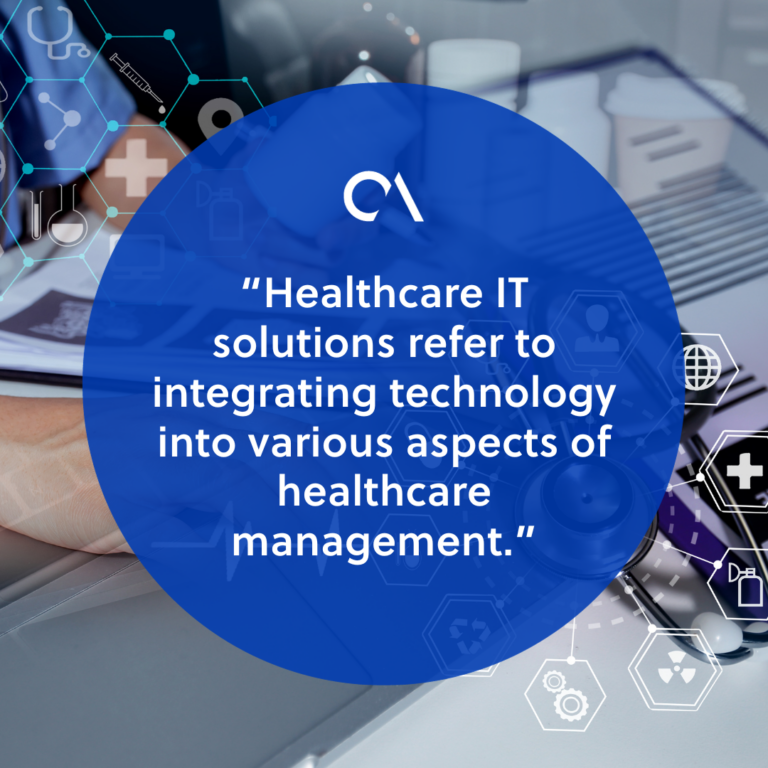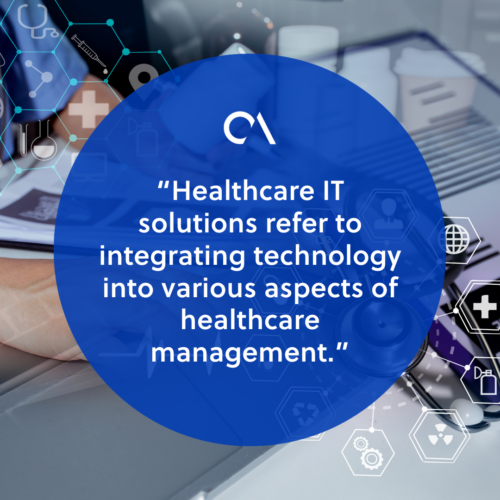 Key components of healthcare IT solutions
Here are the key components of healthcare IT solutions:
Electronic health records (EHR)
Electronic health records (EHR) have become a cornerstone of healthcare IT solutions. EHRs digitalize patient data, facilitating convenient access for authorized healthcare professionals.
This comprehensive digital repository includes the following: 
Patient demographics

Medical history

Medications

Allergies

Immunization status

Laboratory test results

Other essential data
The adoption of EHRs has streamlined data management, reduced errors, and improved the overall quality of patient care.
Health information exchange (HIE)
Health information exchange is a transformative component of healthcare IT solutions. Its goal is to ensure that critical patient data is readily accessible whenever and wherever it is needed within the healthcare network.
This interoperability breaks down the barriers of fragmented information, promoting a more holistic and coordinated approach to patient care.
Computerized physician order entry (CPOE)
CPOE is vital in healthcare IT solutions' evolution as it revolutionizes the way healthcare providers manage patient orders.
CPOE systems empower healthcare professionals to enter and oversee various patient orders, spanning prescriptions, diagnostic tests, and treatment plans, in an electronic format.
Clinical decision support systems (CDSS)
CDSS leverages advanced algorithms and data analytics to provide healthcare professionals with evidence-based information and recommendations at the point of care.
This technology assists in diagnosing conditions, selecting appropriate treatments, and ensuring compliance with best practices.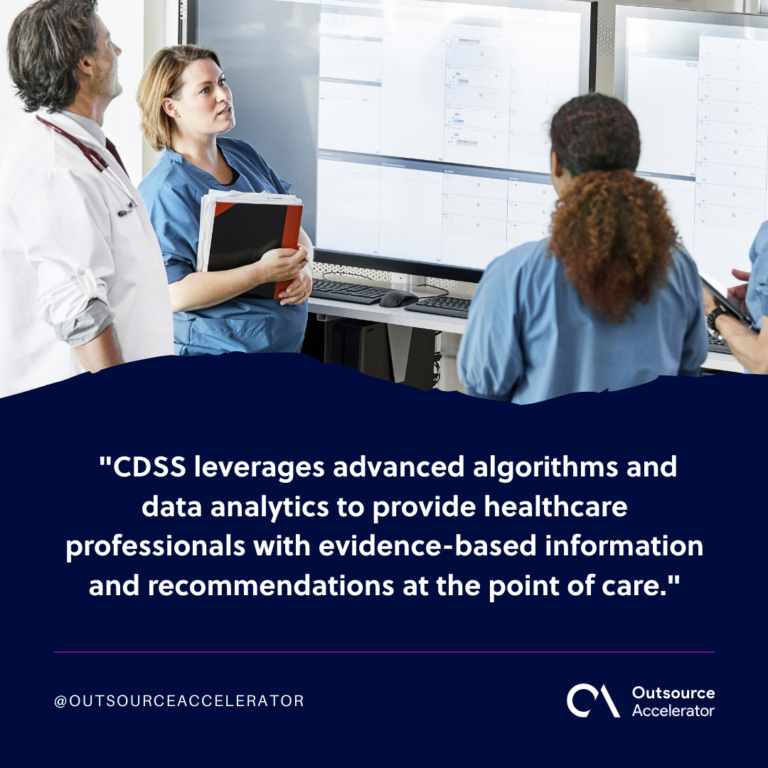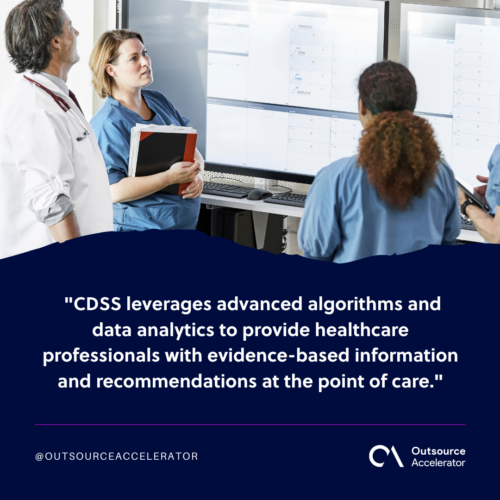 Revenue cycle management (RCM)
Revenue cycle management plays a critical role in ensuring the financial stability of healthcare organizations. RCM systems are designed to streamline the intricate billing, claims management, and revenue collection processes.
The automation of financial workflows through RCM not only enhances operational efficiency but also minimizes errors in billing and coding.
Telemedicine
Telemedicine has emerged as a transformative key component of healthcare IT solutions. This technology facilitates providing healthcare services remotely, breaking down geographical barriers and enhancing accessibility to medical care.
Through telemedicine platforms, patients can engage in virtual consultations with healthcare professionals using video calls. They can obtain medical advice and even receive prescriptions without needing physical presence.
This promotes patient convenience and addresses healthcare disparities by bringing essential medical services to remote or underserved areas.
Benefits of healthcare IT solutions
Healthcare IT solutions are changing how healthcare is provided and organized. Here are the benefits of healthcare IT solutions:
Improved patient care
One of the primary benefits of healthcare IT solutions is the significant improvement in patient care.
EHRs enable healthcare providers to access comprehensive patient information promptly, leading to more informed decision-making.
Clinical decision support systems, for instance, help diagnose conditions accurately, and telemedicine ensures patients receive timely consultations.
Streamlined communication
Healthcare IT solutions facilitate seamless communication through secure messaging, collaborative platforms, and shared access to patient records. These functions result in quicker response times, reduced errors, and improved patient outcomes.
Increased accessibility of patient records
As mentioned earlier, digitizing patient records ensures that healthcare providers can access vital information anytime and anywhere.
This accessibility is particularly beneficial in emergencies, where quick decision-making relies on having comprehensive and up-to-date patient data.
Better coordination of care
Healthcare IT solutions promote better coordination of care by enabling the sharing of patient information among different healthcare providers. 
As a result, it reduces the likelihood of duplicate tests, conflicting treatments, and other inefficiencies.
Challenges to healthcare IT solutions
While healthcare IT solutions offer numerous benefits, their implementation is not without challenges. Overcoming these obstacles is essential to realizing the full potential of these technologies:
Interoperability issues

– EHRs, HIEs, and other solutions often operate in silos. Efforts to standardize data formats and protocols are ongoing, but achieving true interoperability remains complex.

Data security and privacy concerns

– The digitization of patient records raises significant concerns about the security and privacy of sensitive healthcare information.

Resistance to change

– The healthcare industry has traditionally been slow to adopt new technologies, and resistance to change is a common barrier to the successful implementation of healthcare IT solutions.
Tips in implementing healthcare IT solutions
Despite the challenges, successful implementation of healthcare IT solutions is achievable with careful planning and execution.
Here are some tips to guide healthcare organizations through the implementation process:
Before selecting and implementing any healthcare IT solution, identify the specific challenges and goals of the organization and the requirements of healthcare professionals.




Deploy

robust security measures

such as encryption, multi-factor authentication, and routine security audits.

Training should be ongoing for both newly hired and tenured medical providers as technology evolves in healthcare industries.

Organizations should foster a culture of continuous improvement, encourage user feedback, and stay abreast of technological advancements.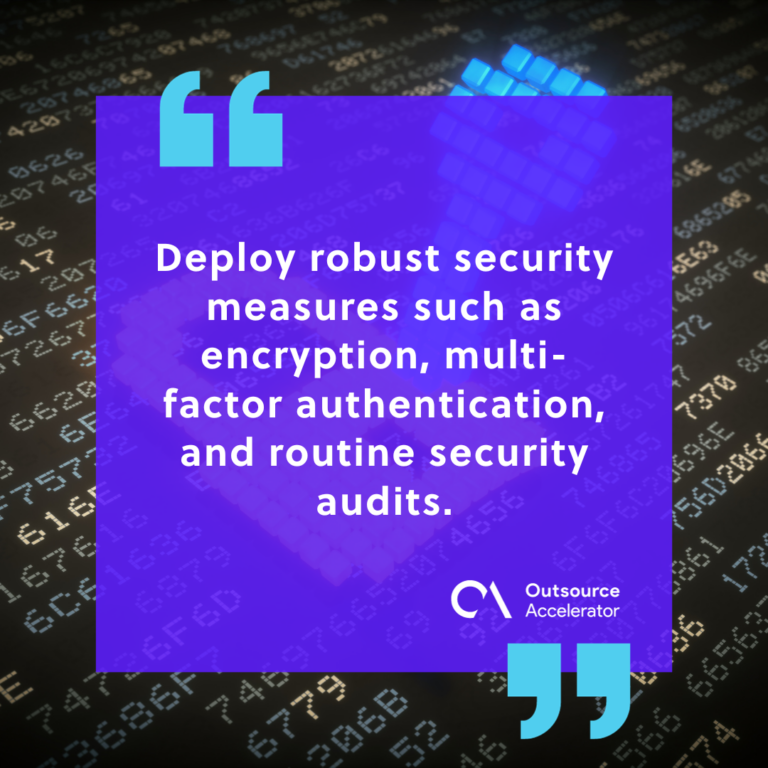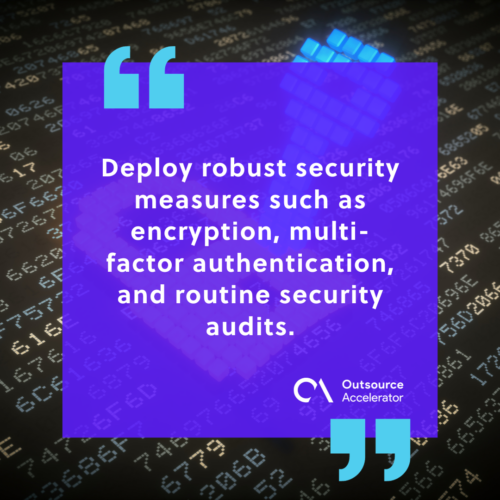 The vital role of healthcare IT solutions
As healthcare IT solutions continue to advance, their role in shaping the future of healthcare becomes increasingly vital.
These technologies have the potential to revolutionize healthcare delivery, making it more patient-centered, efficient, and accessible.