A simple guide to healthcare claims processing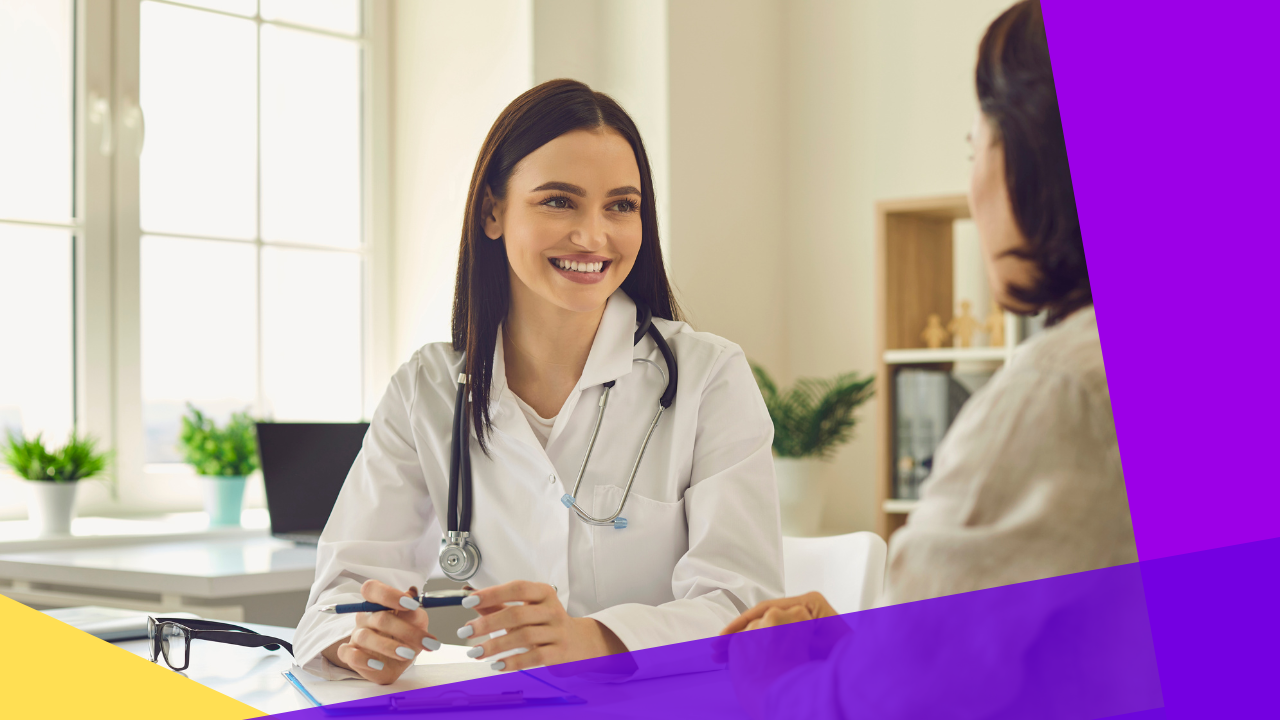 Healthcare claims processing covers the entire experience of filing payment requests involving healthcare providers, insurance companies, and patients.
This article will simplify the concept and procedure of health claims processing, providing a better idea of how to tackle it if the event arises.
What is healthcare claims processing?
Healthcare providers and insurance companies use healthcare claims processing – a system that helps manage and pay for medical services given to patients.
The submission, processing, and paying of claims for medical services are involved in the process.
Verifying patient eligibility, reviewing services provided, and determining the appropriate payment amount are typically included in healthcare claims processing.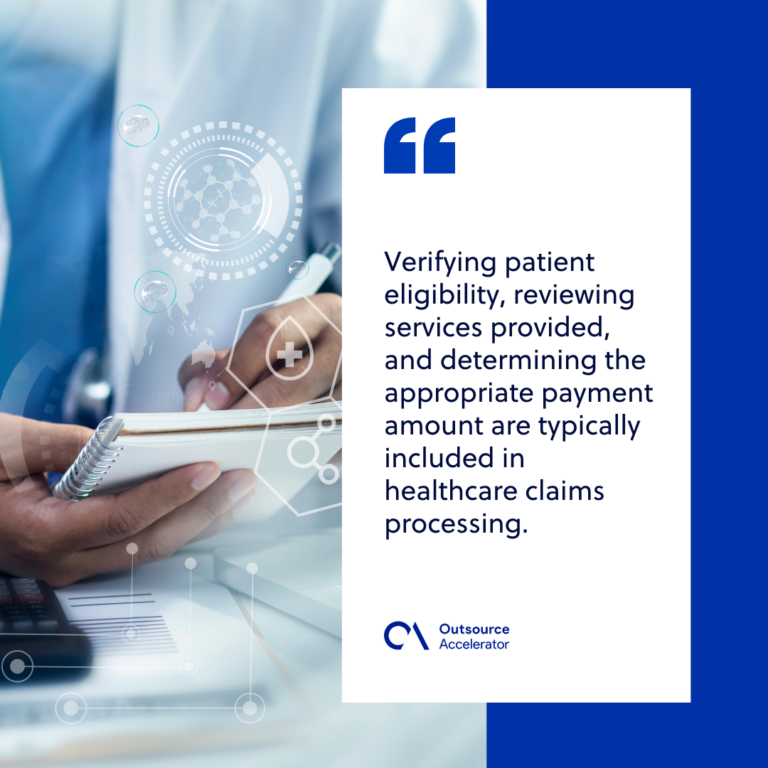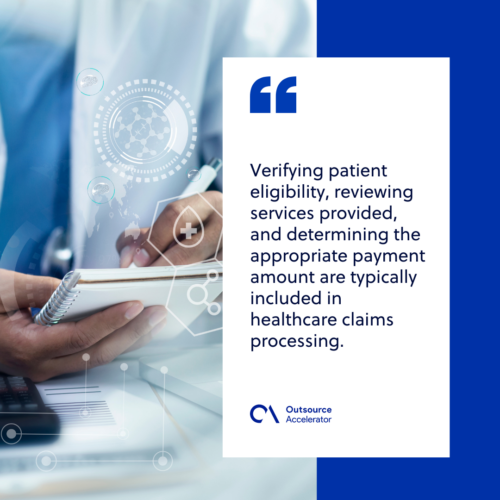 Importance of healthcare claims processing 
Healthcare claims processing is primarily utilized by healthcare providers and insurance companies.
It ensures compliance with regulations governing healthcare services, prevent and reduce fraud and abuse, and improves overall patient care and experience.
Discussed below are why healthcare claims processing is essential:

For healthcare providers
Healthcare providers benefit from healthcare claims processing because it allows them to receive payment for provided medical services. 
The healthcare provider submits a claim on behalf of a patient receiving medical care to the insurance company for payment. If the claim is approved, the insurance company pays the healthcare provider for the services provided.
The system ensures that the claims are accurate and that the healthcare provider is paid on time. The financial stability of healthcare providers largely relies on the process.
Healthcare claims processing also lessens the burden on the administrative side as it simplifies the payment process and minimizes doing manual paperwork. 
The system ultimately allows healthcare providers to focus on caring for patients.
For insurance companies
Insurance companies take advantage of healthcare claims processing to make it easier to manage and pay for medical services that policyholders receive. 
The insurance company reviews claims submitted by healthcare providers asking for payment. They ensure that medical care and services provided to patients are covered under their policy and that the charges appointed to them are reasonable.
In addition, the process assists insurance companies in the following responsibilities:
Management of medical coverage costs

Detection and prevention of fraudulent and abusive actions by patients and healthcare providers

Maintaining good relationships with healthcare providers and patients when accurate payments are made on time
Steps involved in healthcare claims processing
As an idea, here are the steps involved in healthcare claims processing. The number of steps may depend on the current processes of the healthcare provider or insurance company:
1. Claim enters the system
The healthcare provider files a claim to the insurance company,  sent either in physical or digital form. The claim includes information about the medical services provided and attached charges.
2. Review of claim
The insurance carrier then reviews the claim to make sure that it is covered under their policy and submitted within the appropriate filing period.
The reviewing process involves checking medical records, finding out if there are duplicate claims, and verifying the accuracy of the information provided. 
4. Patient verification
Healthcare providers or insurance companies will check if the patient is in their system. They will also determine whether the patient is covered under an active policy or plan.
5. Adjudication
The insurance carrier will deliberate whether to approve or deny the claim based on their review of the information provided by the healthcare provider. A denied claim should come with a viable reason.
6. Issuance of payment
An approved claim results in insurance companies paying healthcare providers the designated payment in a set timeframe.
7. Making appeals
A healthcare provider or patient may file for an appeal if their claim is denied. This is done through a formal appeals process which typically requires additional information to further support the claim.
8. Patient billing and receiving of EOB
Should there be any services not covered by insurance, the member will receive a bill for the remaining balance. 
Patients should also receive an Explanation of benefits (EOB) statement that outlines the total cost of services billed and how much the insurance covers.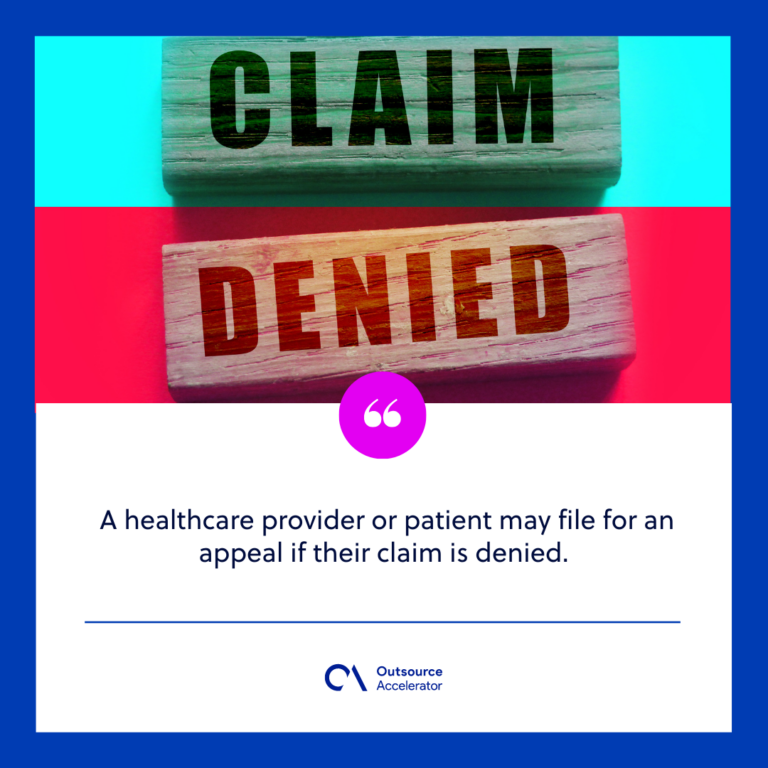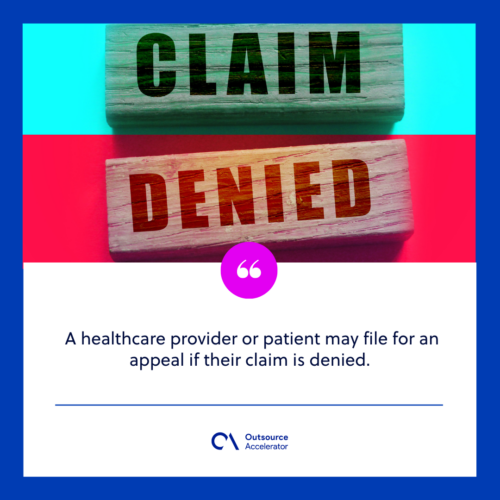 Common challenges in healthcare claims processing
Like any other system, healthcare claims processing faces issues that can impact its efficiency. Here are some of the frequent challenges experienced in the process:
Fraudulent claims
Fraudulent claims refer to false or misleading submissions for payment. These may involve services that were not actually provided, exaggerating the severity of a patient's condition, or submitting duplicate claims.
Errors in claims processing
Errors in the system refer to mistakes or inaccuracies found in the claim's submission, review, or deliberation for approval. 
These can affect the financial stability of healthcare providers and insurance companies. Delayed payments, unapproved claims, and overpayment will have impact to the quality of patient.
Delays in claims processing
Delays in the system pertain to the extended processing times that can happen due to various reasons, such as: 
Missing information

Processing errors

System glitches

High volume of claims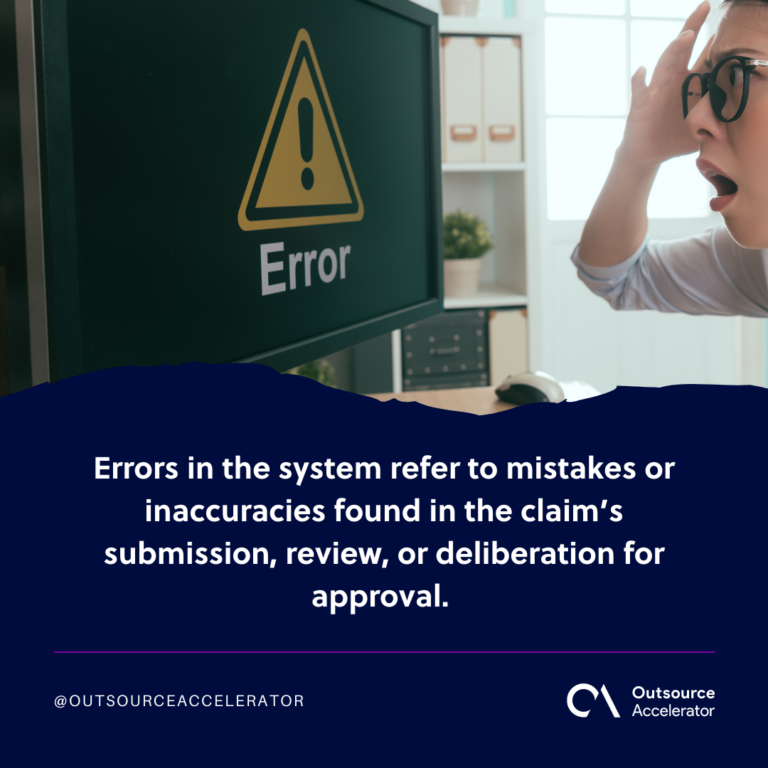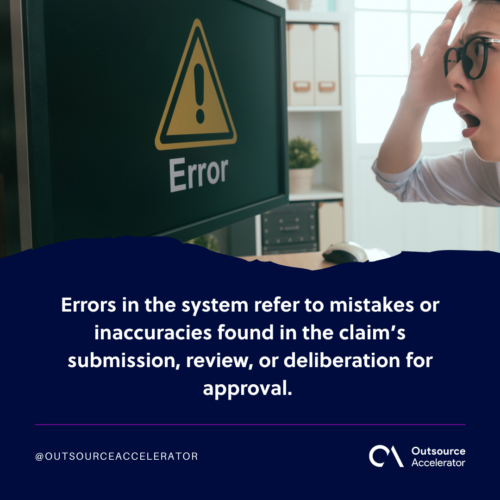 Strategies for effective healthcare claims processing
There are plenty of ways to make healthcare claims processing smoother:
Using technology
Automating healthcare claims processing helps minimize errors and significantly speeds up the cycle of the system.
Some of the technologies used to efficiently manage information include electronic health records (EHR), robotic process automation (RPA), and software algorithms. 
Implementing quality control measures
Conducting regular audits and checks will help guarantee that claims are accurately processed in compliance with regulations. 
Collaboration between healthcare providers and insurance companies
Finally, clear communication is essential for effective healthcare claims processing. It ensures patients receive high-quality care while cutting costs for healthcare providers and insurance companies.
This can improve the overall experience of everyone involved in the process while providing or receiving timely and quality care.