Growth vs. Scaling: How can they boost your business?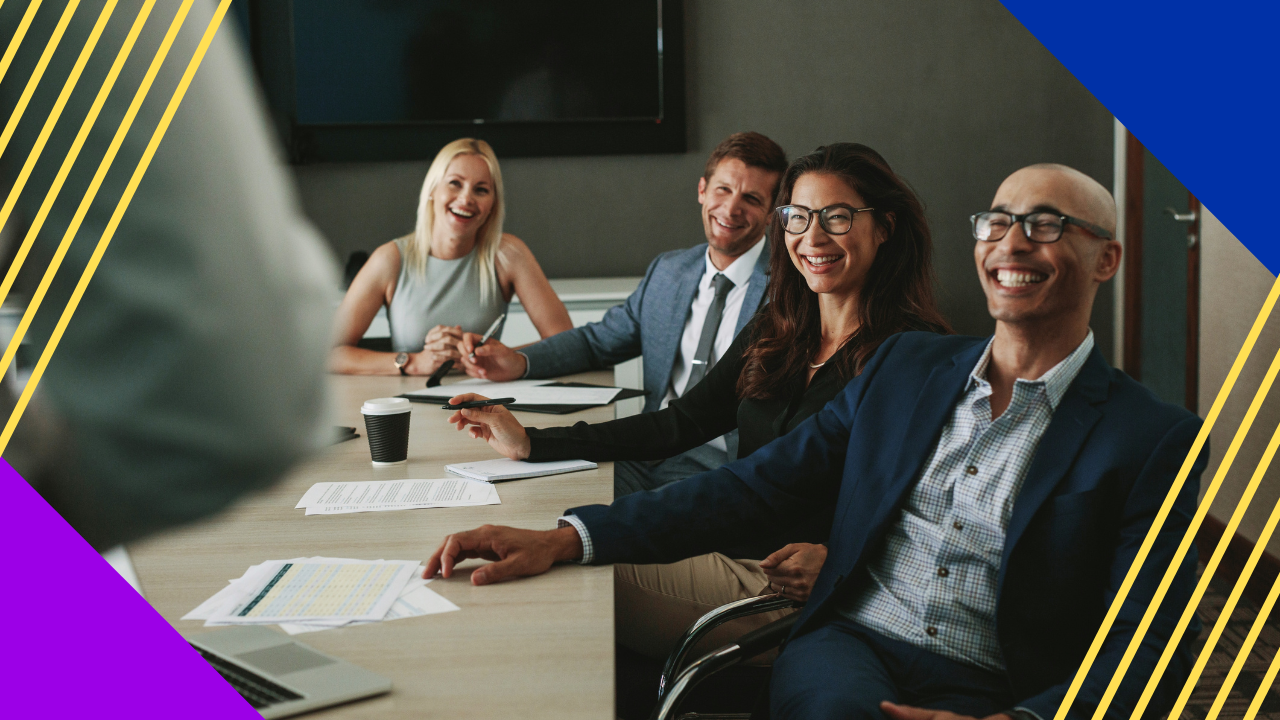 This article is a submission by Clark Staff. Clark Staff is an American-owned remote staffing company that has successfully operated since 2003.
To be a successful entrepreneur, business leader, or business strategist, mastering the art of maximizing return on investment (ROI) is an indispensable factor in bringing your business to prosperity. 
In recent years, to achieve this, two distinct strategies emerged as key elements: growth and scaling. While these concepts are often used interchangeably, they possess unique approaches and advantages for your business. 
Learning about their differences and similarities in expanding your business is a must if you want to unravel the secrets to unlocking your business's true potential and achieving a remarkable ROI.
To help you understand Growth vs. Scaling concepts, I'll also share some examples of known companies that have effectively implemented these strategies to achieve their "multinational" status.
Let's start.
Growth vs. Scaling: Definition of terms 
Now, what is growth? What is scaling? Are these actually helpful? Are they implementable in your business? Allow me to help you explore these concepts.
Growth is what we are most familiar with, as for years now, it is the common strategy of most businesses.
In essence, it is the expansion of a company's revenue, client base, and market reach. It also involves venturing into untapped markets, diversifying product lines, and amplifying operational capabilities. 
On the other hand, scaling is mostly used by startups and small businesses as it allows them to expand more, usually, they resort to Outsourcing for such solutions.
It is a methodical approach to optimize a company's operations to accommodate increased demand without encountering additional costs. 
Scaling emphasizes the fine-tuning of systems, processes, and resources, ensuring the seamless handling of growing volumes while maintaining efficiency and excellence. 
If you're still confused about these two concepts, I will help you understand them more throughout this blog.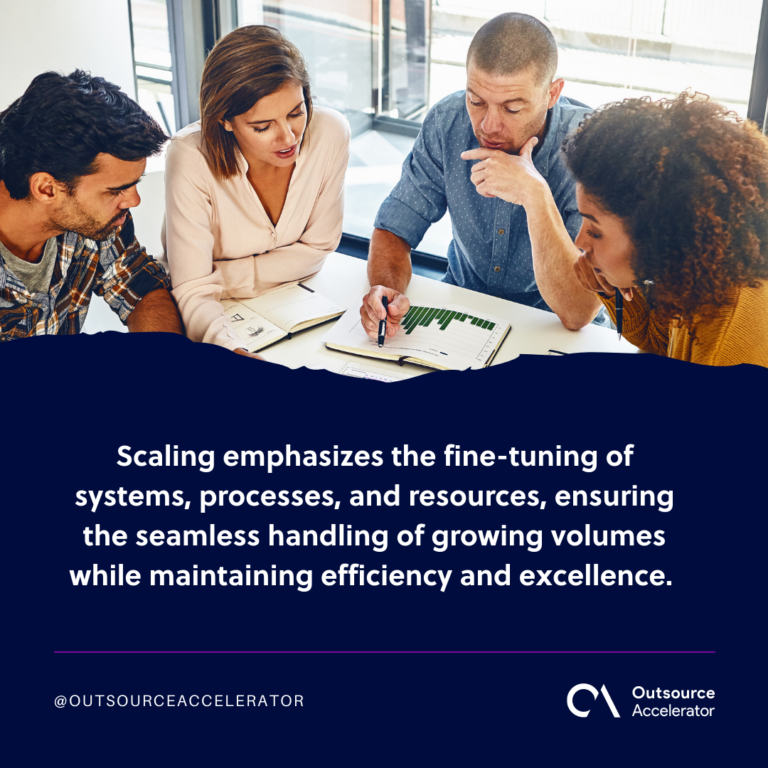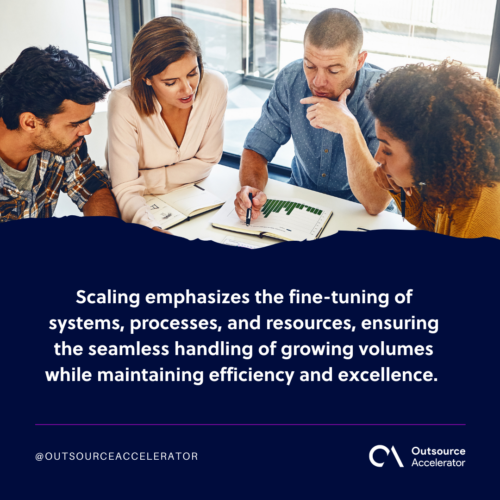 Growth vs. Scaling: Strategies for enhancing ROI via growth 
We now know what sets growth and scaling apart, allow me to immerse you deeper in how growth is applied in the business arena and explore some strategies that can drive your ROI.
Unearthing lucrative prospects
The first step towards growth is comprehensive market research, unearthing untapped niches or sectors with significant growth potential. 
In the case of Amazon, which was originally an online bookstore, it diversified its offerings and identified the potential for growth in the e-commerce industry. 
Today, Amazon emerged as the world's largest online marketplace, capturing a substantial market share.
Broadening client reach 
Initiating targeted marketing initiatives and embracing digital techniques like SEO and social media promotion can significantly broaden your client reach. 
One fascinating example is Starbucks, which artfully employed localized marketing campaigns and strategic store placements to extend its influence across the globe.
Diversifying offerings 
Catering to a broader range of customer needs by expanding your product or service offerings is another potent growth strategy. 
McDonald's, renowned for its burgers, ventured into healthier options. Making salads, wraps, and more, allow them to successfully attract a wider customer base and generate additional revenue streams.
Prioritizing talent acquisition
Hiring exceptional professionals who can contribute to your company's expansion is crucial as businesses grow. Skilled teams bring fresh perspectives and innovative ideas, driving growth to new heights. 
Google's success can be attributed, in part, to its relentless pursuit of top talent from diverse backgrounds, fueling its growth and staying ahead of the curve.
Creating strategic alliances 
Collaborating with complementary businesses or strategic partners can unlock new avenues for growth in your business. 
By leveraging your client base, knowledge, or distribution networks, you can actually accelerate your growth journey. 
One good example is Starbucks' strategic partnerships with companies like Barnes & Noble and Spotify's amplification of its brand visibility and expansion of its reach to new audiences.
Growth vs. Scaling: Strategies for enhancing ROI via scaling 
Now, let us shift our focus to the strategies that fuel ROI through scaling. 
Earlier, I said that this method is commonly used by startups and small businesses, but on some occasions, it is also being employed by some large companies.
Optimizing operations
To scale effectively, businesses must meticulously examine their processes, identifying inefficiencies and embracing automation tools and lean methodologies. 
Amazon, for example, whose implementation of advanced logistics systems, automation, and robotics has allowed them to handle massive order volumes efficiently.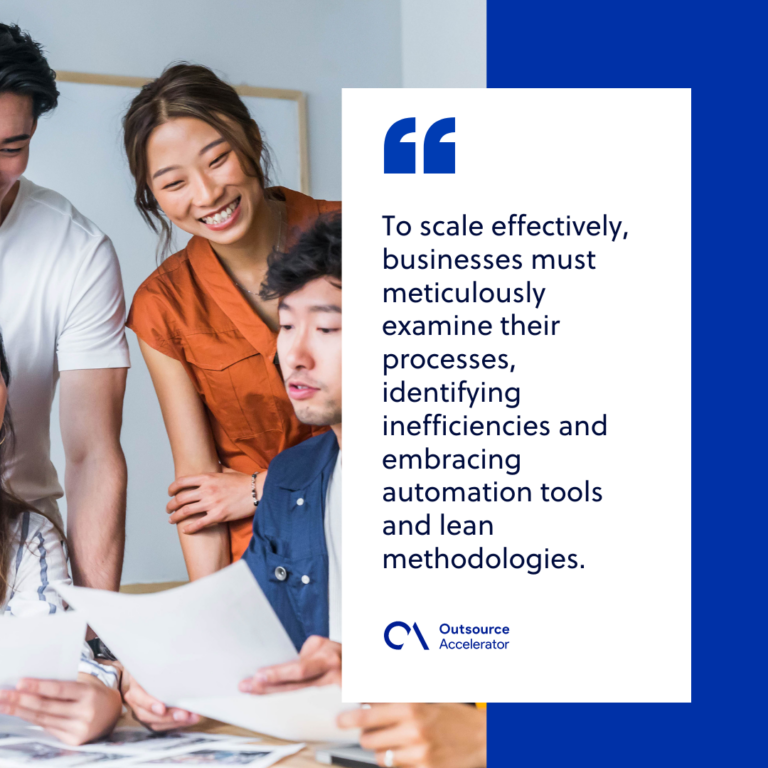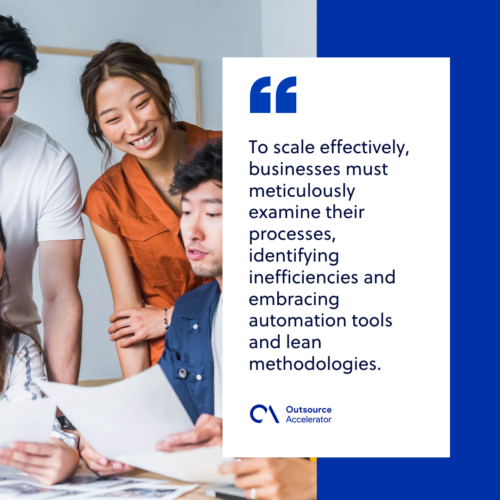 Leveraging technology
Embracing technological solutions can significantly enhance scalability. Through automating repetitive tasks, increasing productivity, and enhancing customer experiences, your company can achieve remarkable results. 
For instance, Google's use of advanced technologies and data analytics has empowered them to scale their operations seamlessly and handle billions of user interactions with ease.
Investing in workforce development
Equipping your workforce with the necessary skills to meet increased demand and evolving business needs is vital. 
Providing training programs and mentorship opportunities and fostering a culture of continuous learning nurtures growth and adaptability. 
Such as Starbucks' investment in its employee training and development programs, which ensures consistent service quality across its expanding number of stores.
Standardizing procedures 
Developing standardized operating procedures and workflows of your business is actually vital to maintain consistency, quality, and scalability. 
Thus, McDonald's exemplifies this with their well-established procedures for food preparation, customer service, and store management. 
Standardization can allow your businesses to manage increased volume while upholding high standards efficiently.
Monitoring crucial metrics 
Regularly monitoring key performance indicators (KPIs) is imperative to evaluate the impact of your scaling efforts. 
Metrics such as customer acquisition cost, customer lifetime value, and operational efficiency can provide valuable insights. 
Role of outsourcing in growing and scaling businesses
Outsourcing has been a key for startups and small businesses to scale their business and achieve exponential gains in their business.
Likewise, outsourcing can enable your company to delegate non-core operations or tasks to third-party specialists enabling you to have a cost-effective fix.
For instance, Apple, despite being a technology giant with immense resources, doesn't manufacture its products in-house. Instead, to keep manufacturing expenses low, it outsources manufacturing to firms like:
Foxconn in Taiwan

Pegatron in Shanghai

Wistron in India 
Growth vs. Scaling: Which is best for your business?
As long as you understand the differences between Growth vs. Scaling, you can develop compelling strategies to boost your business's potential to succeed more.
Integrating the strategies that I discussed can help you navigate the ever-changing business landscape. Whether you choose growth or scaling strategies, it will surely give you an edge over your competitors if done right.
In addition, embracing a customized blend of growth and scaling strategies can be a viable solution to utilize both approaches' practicality and functionality.
Hopefully, with this article, you have been equipped with the proper knowledge to consider your business options to achieve maximum ROI. 
At the end of the day, I believe that success comes from knowing what will and can make you one. So, never be afraid to look for opportunities that can expand your horizons.