Getting to know Gen Z in the workplace
With the modern workforce getting increasingly diverse, understanding each generation's unique traits and preferences is crucial for building a harmonious and productive workplace.
Enter Gen Z, the latest addition to the professional realm.
Let's delve into the ins and outs of Gen Z in the workplace. We'll explore their impact, the challenges they face, and how companies can effectively engage with this generation to harness their potential.
Defining Gen Z in the workplace
Gen Z refers to the generation born between the mid-1990s and mid-2000s. This generation is also called Gen Zers, post-millennials, iGeneration, zoomers, centennials, or homelanders.
As the first "true digital natives," they have grown immersed in technology — constantly connected and juggling various platforms. They are the largest generation worldwide, comprising around 26% of the global population.
In South Korea, they are combined with Millennials to form Generation MZ due to their many similarities.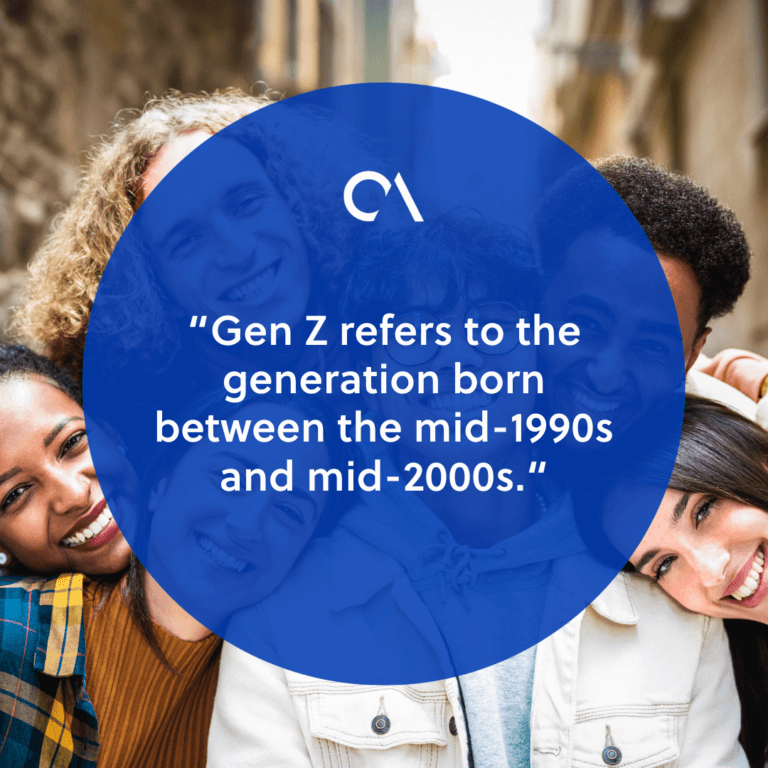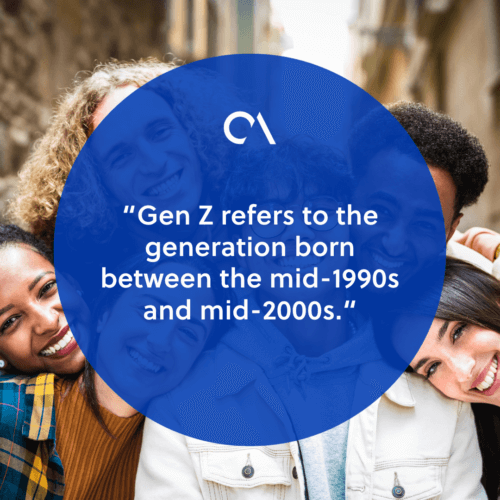 Characteristics of Gen Z in the workplace
Gen Z brings a unique set of characteristics to the workplace. Their distinct work ethic shapes the dynamics of modern organizations and challenges traditional approaches to work.
Tech-savvy
What it means. Gen Z grew up with smartphones, the internet, and social media. They are incredibly comfortable with technology and often prefer using digital tools for work.
Why it matters. They can quickly adapt to new software and technology, making them valuable for roles that require digital skills.
Independent
What it means. Gen Zers like to work on their own without constant supervision. They are self-starters who take the initiative to complete tasks.
Why it matters. Their independence can lead to more efficient work, as they don't need constant guidance. They can be trusted to manage their responsibilities effectively.
Emphasis on diversity and inclusion
What it means. Gen Z in the workplace places a strong emphasis on equality and inclusivity. They want work environments to be diverse, where everyone is treated fairly.
Why it matters. Their focus on diversity can lead to more inclusive and equitable workplaces. Organizations that embrace this value can attract and retain a more varied and talented workforce.
Entrepreneurial spirit
What it means. Many Gen Z individuals have an entrepreneurial mindset. They are creative, innovative, and open to exploring new opportunities.
Why it matters. Gen Z's entrepreneurial traits can bring fresh ideas and problem-solving approaches to a company. They can be excellent at finding new ways to grow the business.
Multi-taskers
What it means. Gen Zers are skilled at doing multiple things at once. This is thanks to their exposure to digital platforms.
Why it matters. Their ability to multi-task can be an asset in fast-paced work environments. This allows Gen Z in the workplace to manage different aspects of a project efficiently.
Impact of Gen Z in the workplace
The presence of Gen Z in the workplace has several notable impacts:
Technological advancement

. Gen Z's tech-savvy nature accelerates the adoption of new technologies in the workplace. Their input can be invaluable in modernizing processes.

Diversity and inclusion

. This generation's emphasis on diversity encourages companies to prioritize inclusive policies, creating a more

equitable work environment

.

Innovation

. Gen Z's entrepreneurial spirit fosters innovation within organizations. They bring fresh ideas and approaches to problem-solving.

Changing work culture

. The preference for flexibility and independence from Gen Z is reshaping work culture. This leads to more remote and flexible work options.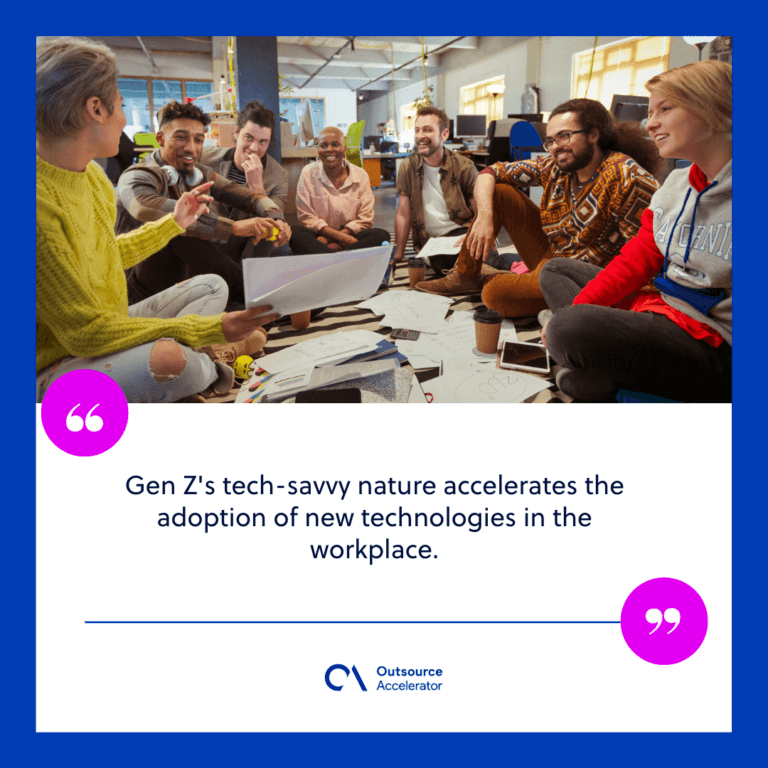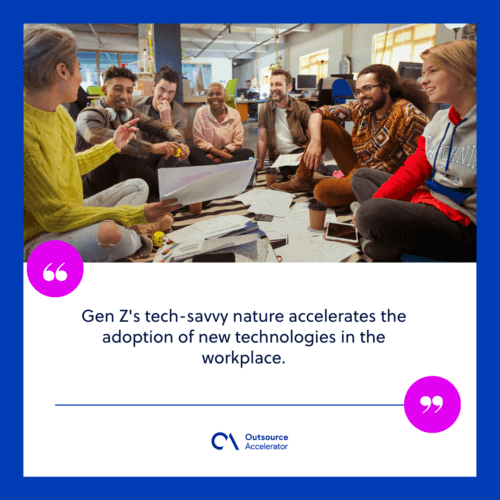 Challenges of Gen Z in the workplace
While having Gen Z in the workplace brings a wealth of strengths, they also present specific challenges:
Communication style

. Gen Z may prefer digital

communication

over face-to-face interactions, which can create challenges in team dynamics.

Impatience

. Their digital upbringing has accustomed them to instant gratification, which may clash with traditional workplace hierarchies.

Short attention spans

. Constant exposure to digital stimuli can lead to shorter attention spans, impacting focus on tasks.

Balancing autonomy

. While Gen Z values independence, they may require guidance to balance autonomy and collaboration.

FOMO and distraction

. Gen Z's constant connectivity can lead to fear of missing out (FOMO) and

distractions

. Employers must strike a balance to ensure resources are used productively.

High expectations

. Gen Zers have high expectations for rapid growth and advancement opportunities in the workplace. Companies aware of this are likelier to retain and engage this generation.
How companies can engage with Gen Z in the workplace
To effectively connect with Gen Z in the workplace, companies can take the following steps:
Embrace technology
Invest in cutting-edge technologies and digital tools to create a tech-friendly workplace.
For example, you can install cloud-based project management software that lets everyone collaborate regardless of location.
Foster inclusivity
Prioritize diversity and inclusion efforts within the workplace. Create a culture where all employees, including Gen Z, feel valued, respected, and included.
Establish diversity and inclusion committees or employee resource groups encouraging open discussions and related initiatives.
Encourage innovation
Create spaces for younger employees to contribute their innovative ideas. Encourage them to take part in decision-making processes and problem-solving initiatives.
Organizations can hold regular brainstorming sessions where anyone can pitch creative ideas. Provide incentives or recognition for outstanding contributions.
Provide learning opportunities
Offer continuous learning and development programs that help young workers expand their skill set and stay engaged with their work.
Provide access to online courses, mentorship programs, and opportunities for skill development relevant to their roles.
Offer flexibility
Gen Z in the workplace values flexibility. Companies should consider offering remote work options and flexible hours to accommodate their desire for work-life balance and autonomy.
Overall, this can benefit everyone at work since flexibility exhibits care toward people's well-being.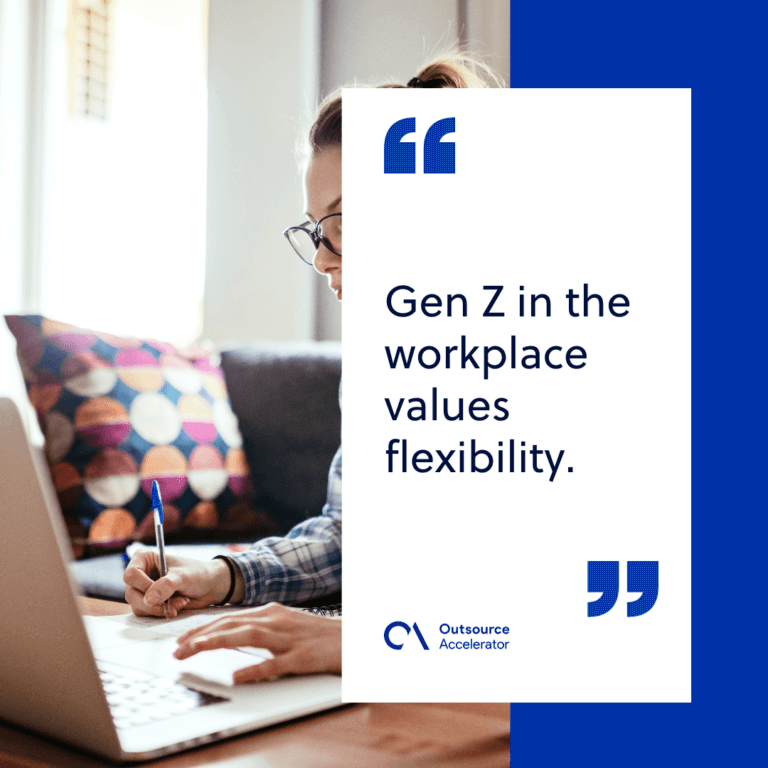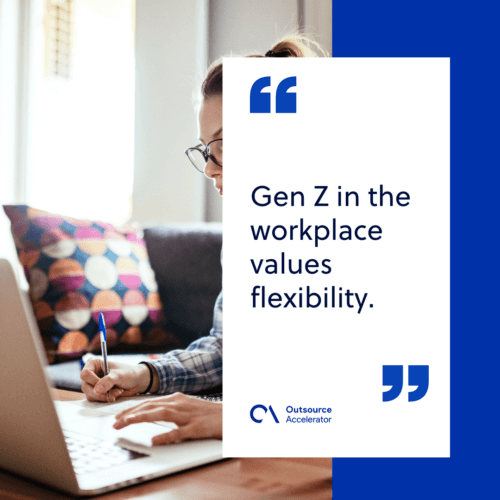 Harnessing the potential of Gen Z in the workplace
Gen Z in the workplace are poised to make a substantial impact as they represent a valuable asset for organizations across industries. Companies should embrace their unique characteristics and preferences to harness their potential fully.
This generation can be a driving force for positive change within organizations by embracing diversity, innovation, and digital fluency.
Working with them can foster growth and adaptability in an ever-evolving professional landscape.