Gen X work ethic: What you need to know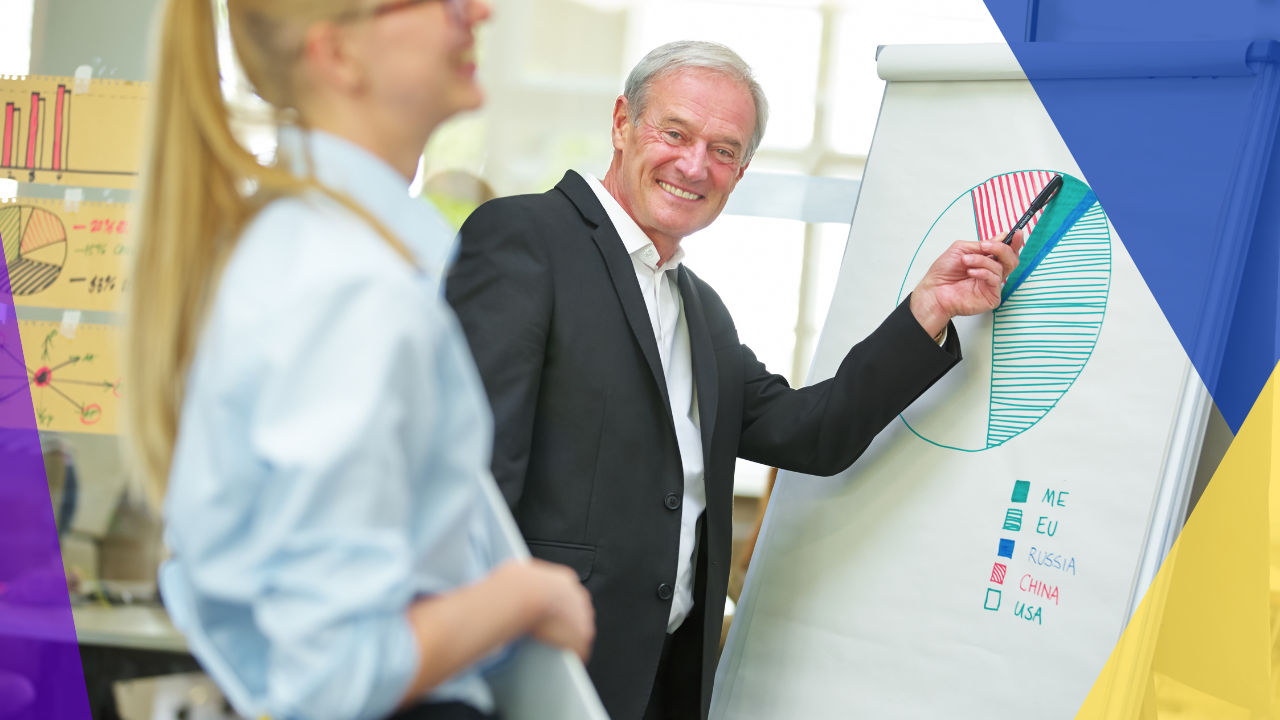 Today's workplaces may include professionals from Generation X to Generation Z. These generations have a wide range of work preferences and attitudes toward organizations and authority. 
Each generation is subject to stereotypes and exaggerations. Thus, a newer generation of employees brings new challenges and possibilities for management teams to shape the workplace.
Understanding misconceptions and present-day cultures is important to make the workplace better for everyone. 
This article discusses the Gen X work ethic and how this generation's mindset affects employees and the organization.
Brief introduction to Generation X
Who are classified as Generation X? 
Generation X originally appeared in Douglas Copeland's 1991 novel Generation X: Tales for an Accelerated Culture. It refers to the group of individuals who were born between 1965 and 1980.
Because these individuals come after the well-known baby boomer generation and before the millennial generation, they have been occasionally referred to as the middle child generation.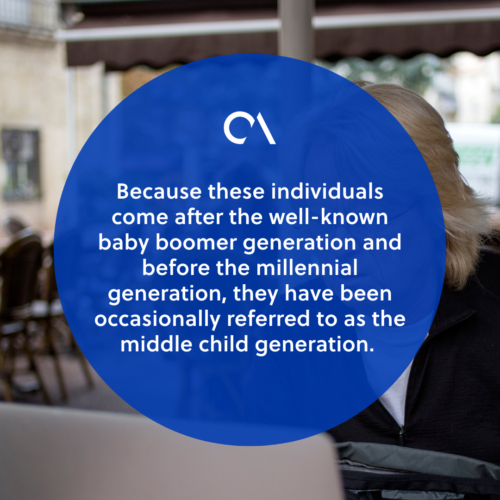 Generation X is also described or referred to as:
MTV generation

Grunge generation

Options generation

Work hard, play hard generation

Latchkey generation

Baby busters

Sandwich generation
The first generation to develop following the civil rights struggle was Generation X. The fact that Gen Xers had more excellent educational opportunities than earlier generations is also notable.
In addition, as baby boomers retire, Gen Xs take up leadership responsibilities. To support this statement, according to an HBR survey, 57% of Gen X value leadership roles. 
Given their upbringing, Generation X is well-suited for any employment. They have a wide range of transferrable skills. 
Common Gen X work ethic stereotypes
Here are three common stereotypes or exaggerations associated with the Gen X work ethic:
Difficult to adapt to other generations
Most people in this generation were not exposed to technology until they were adults. 
As a result, they may find it hard to relate to Gen Z in terms of the latest technological trends. The lack of computer access in their adolescence allows them to relate with baby boomers at work. 
Gen X are pessimists
Because they grew up as a sandwich generation, Gen X's work ethic is said to be centered on pessimism. Gen X prefers stability over risk because they serve as crucial connectors at work and home with their families.
Risk takers
Some people think that Generation X's work ethic portrays a "risk it all" attitude. This contrasts with the statement above, which states that they prefer stability over taking a risk.
They are considered to be rebellious and regressive. Meaning Gen X employees are less likely to receive promotions at work.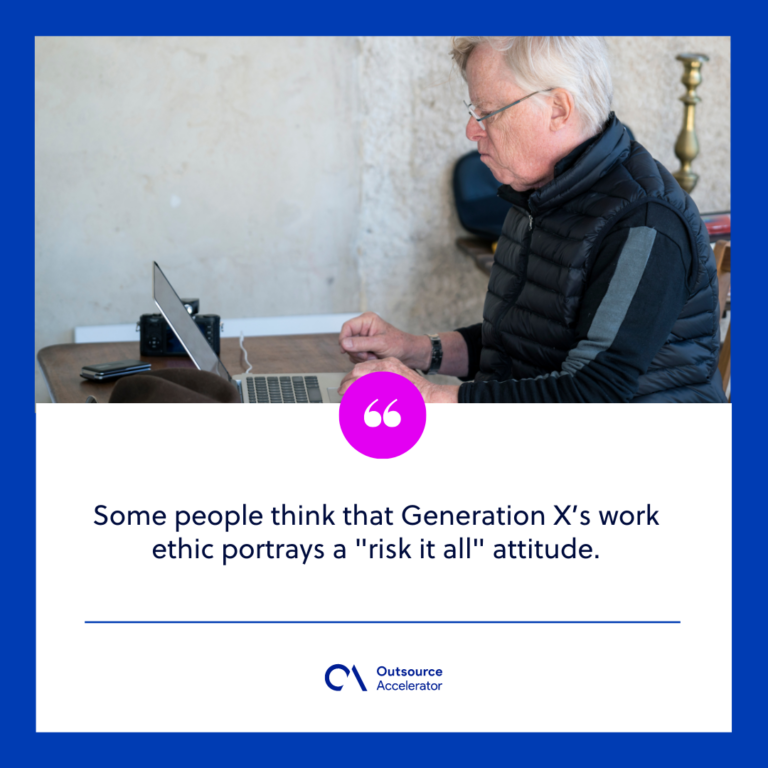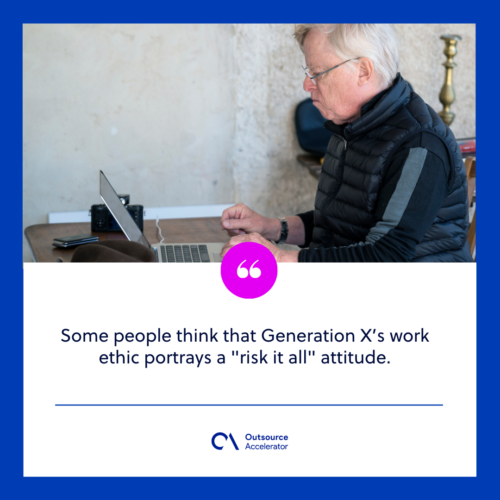 Gen X work ethic: 5 characteristics
We shouldn't categorize, label, or stereotype any demographic or generation. However, knowing the history and perceptions of a particular generation may help us better comprehend their varied opinions, worldviews, and work ethics.
Here are five prominent Gen X characteristics in the workplace: 
Independent
Due to their early experience taking care of themselves, Generation X has developed a strong work ethic that enables them to be independent, resourceful, and autonomous. 
Independence grants Generation X the opportunity for job advancement. They formulate answers using their problem-solving abilities before approaching their supervisor with creative ideas. Generation X also works well under little supervision.
Values work-life balance
Although Gen X employees have a strong sense of entrepreneurship, they desire to follow their goals and appreciate balancing work and leisure time.
Generation X are less committed to their employers than their baby boomer parents since they experienced hard economic times in the 1980s.
Tech-savvy
As mentioned, when it comes to technical improvements, Gen X is less inclined to relate to younger generations.
But Gen X is the first generation to have grown up, while analog technology gave way to digital. Thus, this Gen X work ethic features their tech-savviness as they can quickly adapt to new technical developments.
Flexible
A strong Gen X work ethic is adaptability. In other words, they are adaptable to sudden business environment changes and contribute to a relaxed work atmosphere.
They also frequently emphasize this ability on their resumes since it enables them to learn more about the company.
The Gen X mindset and how it affects them in the workplace
Here are the following Generation X mentality associated with the Gen X work ethic according to SHRM:
The typical Gen X mentality is one of having "been there, done that" and using past experiences to make work more enjoyable. They play a crucial role in solving the generational problem.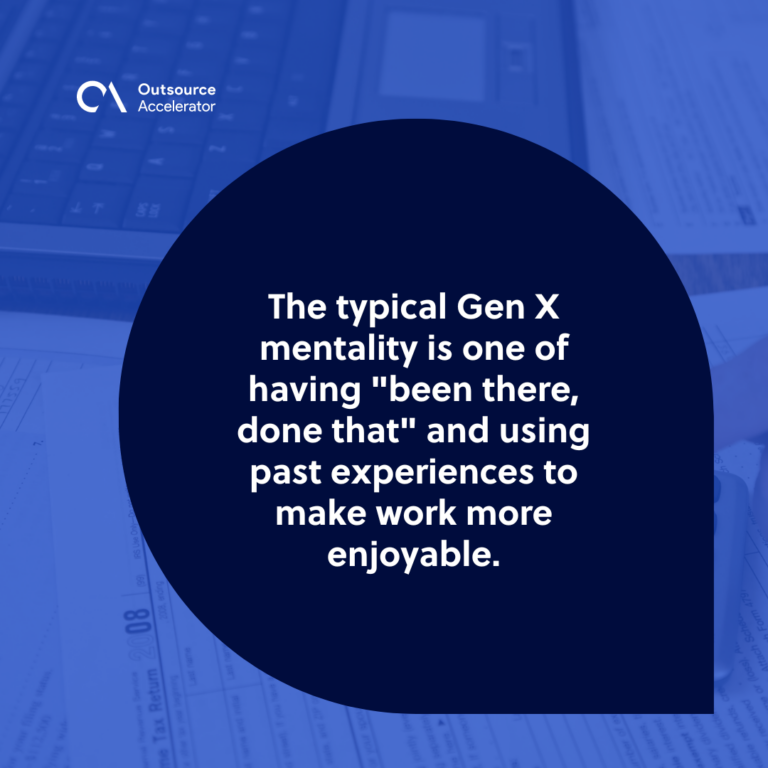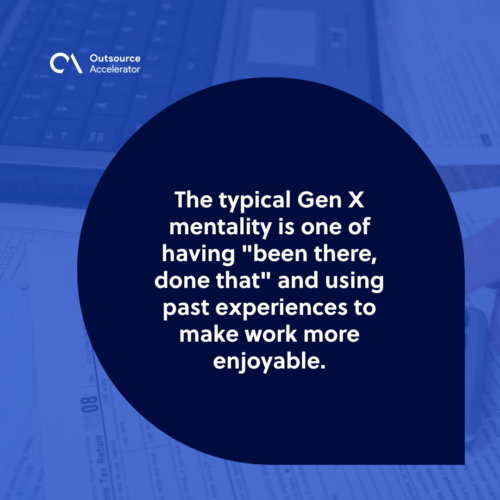 Generation X is not easily impressed by power and demands to have their knowledge and abilities acknowledged. Maybe they'll say, "Tell me what you can do for me."

Despite exceeding expectations and producing outcomes, Generation X see their careers as one aspect of their identity.
Keep in mind that not every member of Generation X will display the listed Generation X work ethic above.
However, this knowledge may be applied to acknowledge the past, draw lessons from it, and use it to improve the workplace for Generation X, who remains working.