The future of the call center: What the BPO industry will look like by 2030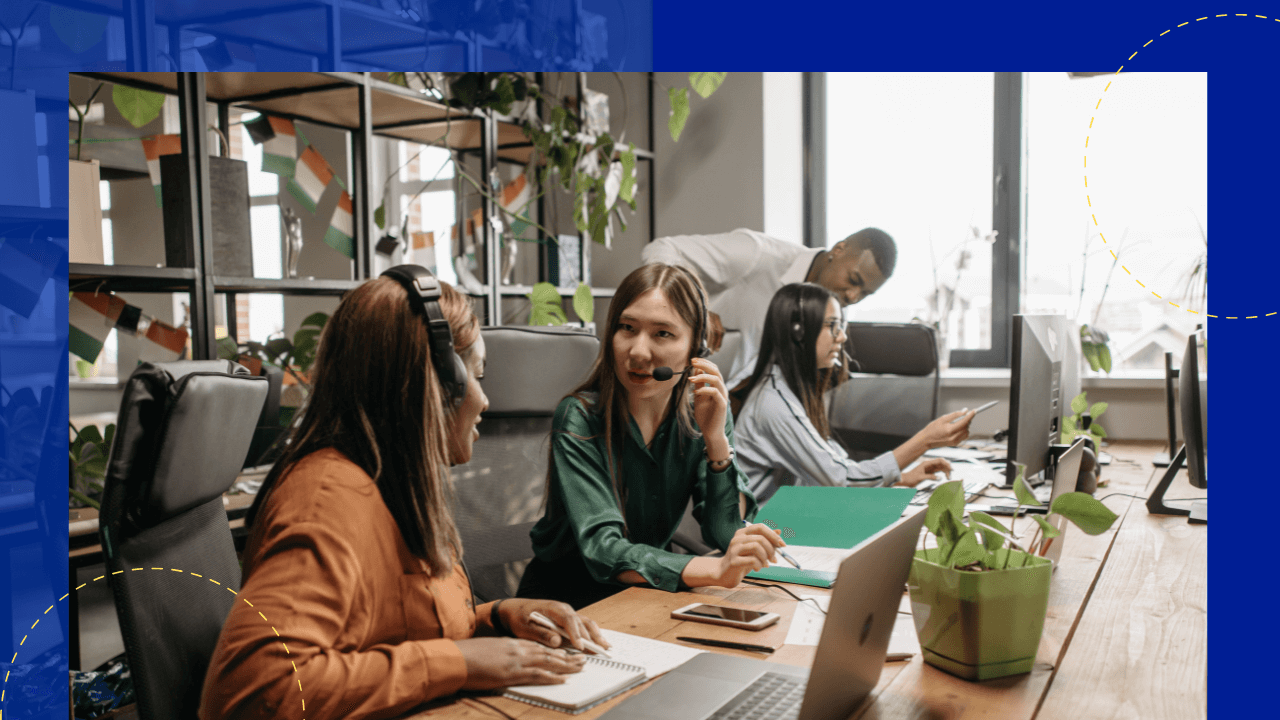 Gone are the days when call centers only provide limited services and cater to limited businesses.
With globalization accelerating through the new normal, outsourcing has become more accessible to companies of all sizes and industries. BPOs and call centers have undergone similar transformations to adapt to the disruptions brought by the pandemic.
As the world continues to be globalized, it is fascinating to see where call centers will go by 2030. Here is a glimpse of the future of the call center and what trends will shape the industry further.
The call center of the future
The call center industry has been adapting to changes brought about by digital transformation for decades. It has welcomed omnichannel support, cloud services, and other trends that affected the industry.
The past years of the pandemic have accelerated these changes by forcing remote work and virtual collaboration. While most service providers and their clients struggled to adjust to their new setting at first, they are now reaping its benefits by making integrations smoother.
More than ever, organizations worldwide would have to rely on call centers to make their services accessible to customers. Call centers, meanwhile, would need to keep up with the increasing customer expectations to match the services they provide.
Like before, call centers will survive and innovate as long as they can adapt to the changing times.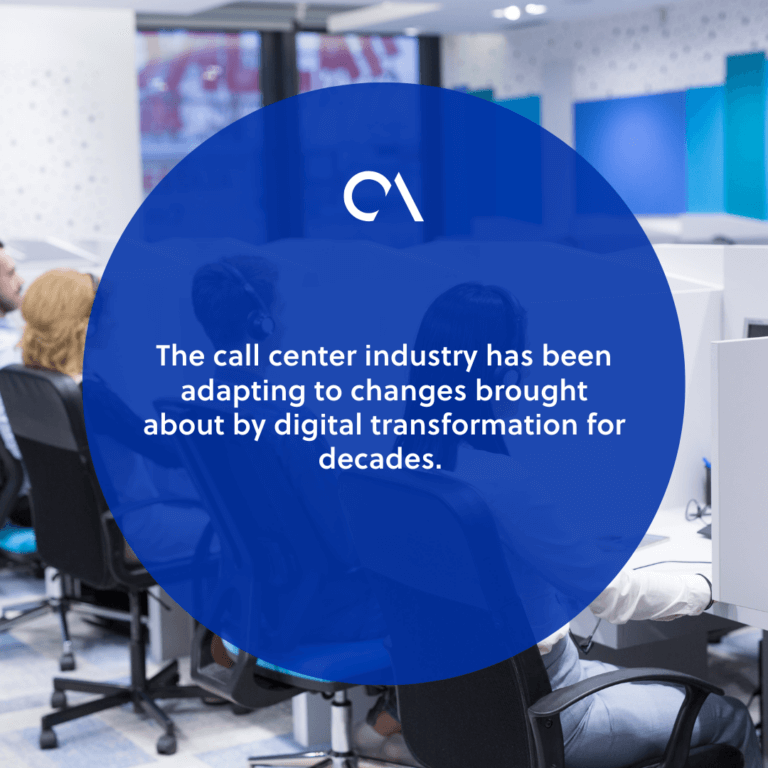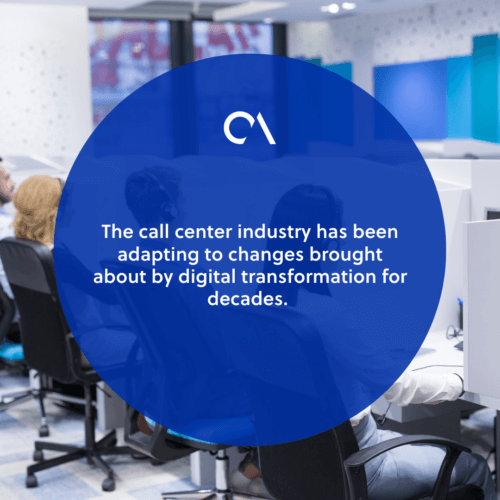 Challenges faced by call centers today
While the outlook on the outsourcing industry slowly changes, call centers still bear their poor reputation from the past. This reputation sometimes affects their ability to retain both their staffing and customers in return.
With its fast-paced nature, call centers face new and existing challenges that affect their credibility, such as the following.
High agent attrition
Agent attrition tops the list of problems faced by call centers even today. Research finds that call centers have an estimated annual turnover rate[1] of 40% due to high levels of stress in the workplace and a lack of employee satisfaction.
Low customer satisfaction
Call centers still work on maintaining customer satisfaction to retain patrons and provide their expected service level.
Customer survey SQM reveals that at least 30% of customers have to call back to a company about the same problem they had. Once this worsens, businesses could lose their customers and earn a poor reputation as a brand.
An overwhelm of tools used
Some call centers still use outdated systems when doing their processes. Agents have to open multiple tools at once to resolve a simple call, from a word processing device for their scripts to various apps for recording calls and storing customer information.
Research by Catalog and Cornell University indicates that having too many tools can affect employee productivity by up to five hours of wasted time weekly.
Issues on boosting performance
An agent's performance is measured by their metrics, targets, and customer satisfaction (CSAT) scores. In many instances, agents struggle to improve their performance and hit their targets for a few reasons:
Outdated quality assurance (QA) software

Lack of motivation at work

Negative work environment
Trends that will shape the future of the call centers
The call center of the future is equipped with the latest technology, top-tier agents, and the best infrastructures and systems. They should be efficient enough to weather future crises that are to come.
Call centers won't be easily eradicated by advancements and disruptions to come. Instead, it will further develop its potential to provide value-adding services. Here are the different trends that could shape the industry for years.
Digital transformation
Improved self-service options
Self-service in call centers, as we know it today, commonly involves simple concerns such as site navigation and basic queries.
It was once projected that self-service would replace human interactions by up to 85%. Future projections will show a different view. Instead, self-service options will make up for query resolution, saving up the agent's effort for complex concerns that need human intervention.
Contact center as a service (CCaaS)
Combining contact center hosting and cloud-based infrastructure, contact center as a service (CCaaS) provides a more flexible, pay-as-you-go service model. This is best for organizations that would need a more flexible way to hire remote support teams.
More companies have made the move to hire CCaaS services to their advantage, especially during the pandemic. With this, the trend is expected to rise as more industries switch to cloud-based solutions.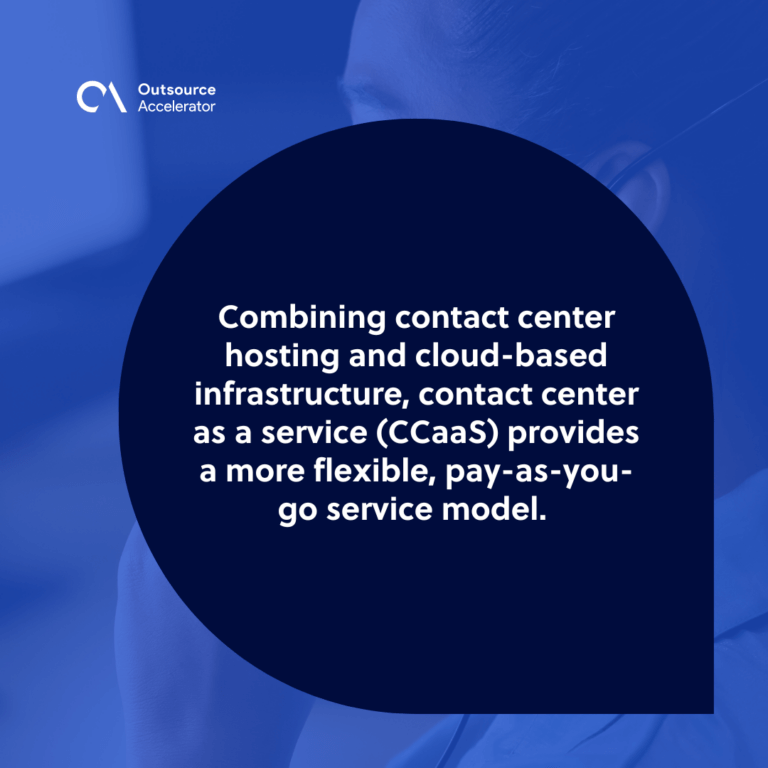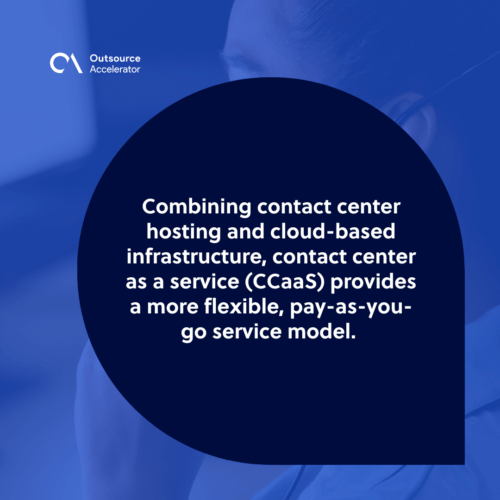 Evolving IVR systems
People do not like interactive voice response (IVR) systems due to several reasons. This includes confusing navigation and annoying turnaround of processes. 
The rise of smart IVR systems that allow personalization, advanced analytics, and simulation options can change the way customers view IVRs in the future.
Hyper-personalization in outbound services
Hyper-personalization makes it easier for call centers to make customer journeys personal. It uses real-time AI integration to customer data to generate insights.
Contact centers can include this in outbound calling to proactively get to know their customers and personalize their offerings to them.
Conversational AI
While contact centers have been using conversational AI for navigation and basic concerns, it is projected that this feature will expand its use.
Voicebots or voice AI are good examples of this. Studies suggest that voice-based AI can possibly replace traditional IVRs in the future[2] with its ability to reduce customer complaints. 
Meanwhile, customers learn from their previous interactions with the AI system, making it easier to solve complex concerns.
Work environment
Increase in remote work
More contact centers worldwide have slowly adapted to remote work to maximize their resources. The setup makes their agents more flexible and productive in return, helping them provide the best support for their customers.
At the same time, remote working frees them from being location-dependent, helping them to cater to more clients regardless of their time zones.
Heightened security standards
On the other hand, remote working highlighted the need to increase security standards at work. Most agents used a combination of personal and company-provided devices and connections, causing data to be exposed to breaches and leaks.
Having a distributed workforce requires call centers to add another layer of security for data protection for remote teams. This includes having multi-factor authentication (MFA) in place and training agents on data security.
Additional training and upskilling
Your call center would not be as efficient without getting your agents onboard with the technological and role changes beforehand.
With AI taking over most of the complex and repetitive work, agents should be prepared to take their roles to the next level. Additional training and upskilling for employees is the best way to prepare them to handle complex work and take on more value-adding functions.
Focus on employee engagement
Having a fast-paced environment, call centers risk having low employee engagement and high attrition. This affects overall customer experience in return since an agent's satisfaction at work could translate to how they treat customers.
This is why contact centers should focus on keeping employees engaged and motivated, especially for virtual call centers.
Call center automation for streamlining
Lastly, we will see call centers get more automated in the future.
However, call center automation should be viewed more as a way to augment agents rather than replace them. By automating and streamlining processes, agents can free their time and effort on repetitive workloads, making them focus more on improving customer experience.
Outsourcing markets
Government contact centers
Call center outsourcing won't just benefit private companies and institutions for long. Federal outsourcing has been on the rise for years now, with government agencies hiring contact centers to keep up with the optimal service expected from them. 
AI and automation bringing further growth
The global outsourcing market in general anticipates growth of up to US$525.2 billion by 2030 with an annual growth rate of 9.1%.
The use of AI and automation in call centers are expected to accelerate the industry's growth during the period. Next-generation services, including personalized support and smart self-service, will even create opportunities for the call center industry in the long run.
More value roles for call centers
Lastly, as call centers keep up with the digital transformation, they will need to fill more roles aside from customer support agents.
Contact centers worldwide project their spike in demand for analysts, scientists, and programmers with the amount of data they need to process.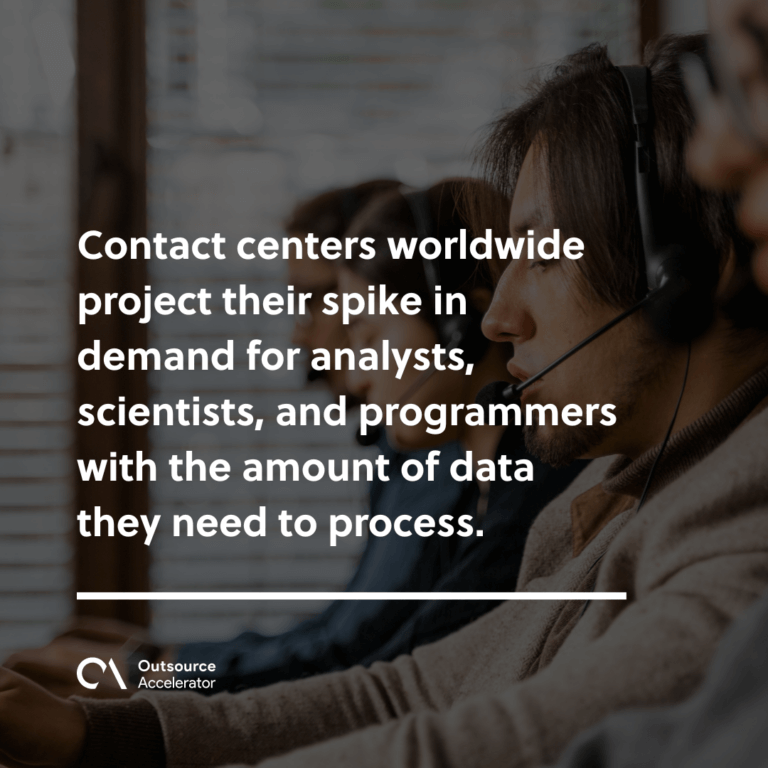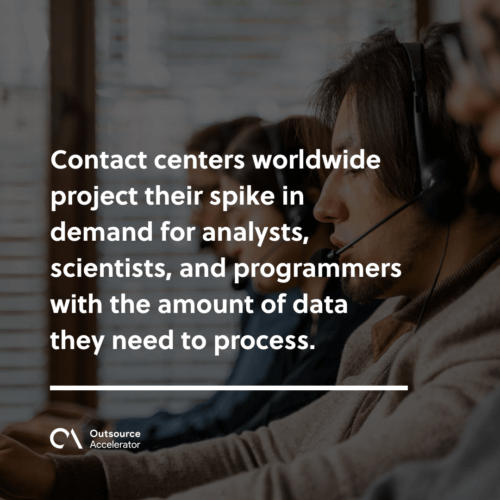 Why outsourcing your call center will stay relevant
The call center trends mentioned above only prove that the call center industry remains to evolve and stay relevant for the next 10 years.
Call center outsourcing is here to stay. Businesses will constantly need to maximize their resources to keep their operations and focus on growth.
Outsourcing can be your alternative to hiring the best teams possible for your call center services. Since you cannot always rely on automation to handle your customers, having a dedicated support team offshore is your key to providing round-the-clock services.
At the same time, outsourcing gives you the chance to expand better without using much of your resources compared to automation. It still adds human interaction to your operations and keeps your business running despite disruptions and crises.
Article references:
[1]Call center turnover rate<Birocci, Jacquelyn, "Call Center Retention: A Correlational Study of Work Attitudes and Satisfaction of Training and Development for Customer Service Agents" (2022). Digital Commons @ ACU, Electronic Theses and Dissertations. Paper 501.
https://digitalcommons.acu.edu/etd/501
[2]Voice-based AI. Wang, Lingli and Huang, Ni and Hong, Yili and Liu, Luning and Guo, Xunhua and Chen, Guoqing, Voice-based AI in Call Center Customer Service: A Natural Field Experiment (July 31, 2022). Production and Operations Management, forthcoming, Available at SSRN: https://ssrn.com/abstract=3633100 or http://dx.doi.org/10.2139/ssrn.3633100