The future of outsourcing: Where is the outsourcing industry heading?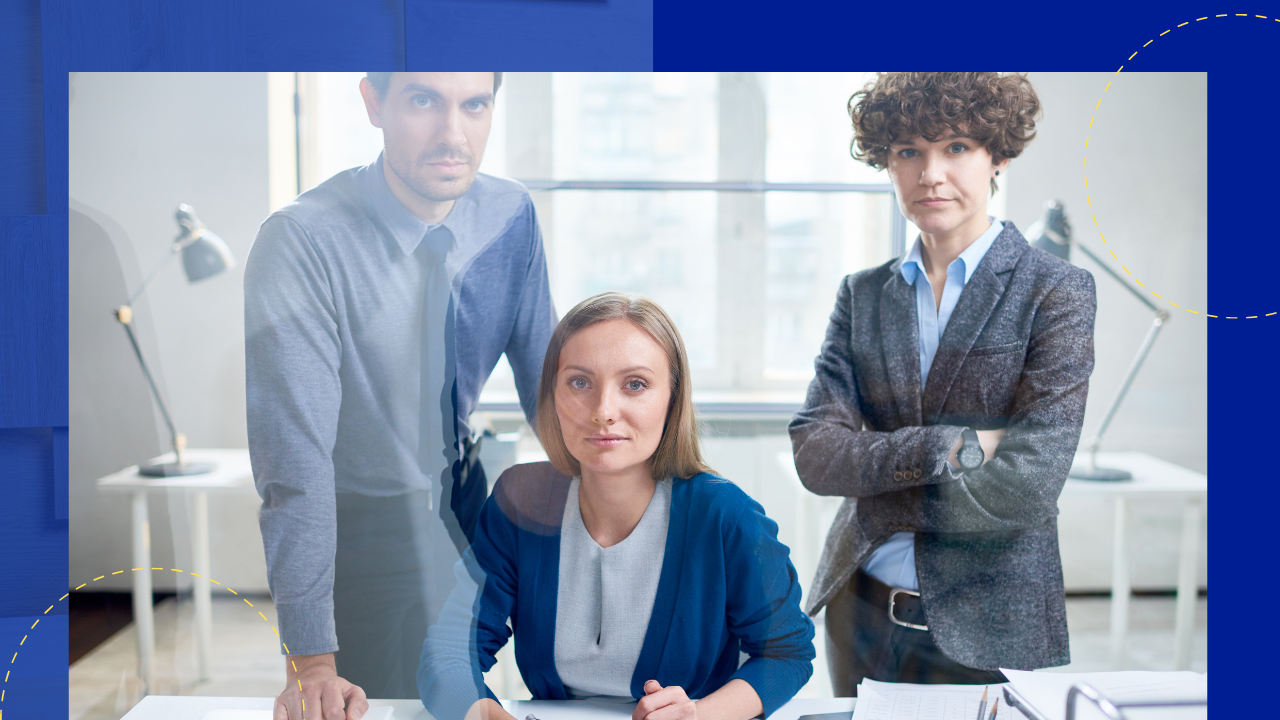 Indeed, outsourcing is a fast-paced industry. It continues to adapt when needed, keeping up with the challenges in the changing times.
This leads current and potential clients to see the value of the industry more. 
Clutch reported that around 37% of small businesses outsource their services in 2019 and plan to increase their budget and effort. For the past year, this effort has spiked due to companies seeking cost-effective operations and improved customer satisfaction.
But what does the future of the industry head towards? 
Arvind Appavu, Head of Global Support for all consumer businesses and Senior Vice President of CSS Corp, discusses this with Derek Gallimore in episode 356 of the OA podcast.
What does the future of outsourcing head towards?
Per Arvind, the outsourcing industry heads towards "delivering the most seamless experience [to customers] and [making interactions] as simple as possible for them." 
He justified this with the advent of technologies that connect businesses better to the customers – including social media and SMS support.
Statistics even prove this. In a report by GSA-UK, "improving customer experience" is seen as the second popular reason for outsourcing services, next to cost savings. 
With this, service providers race to further help their clients provide the best experience for their current and potential customers. It is also seen as a way for BPOs to stay relevant in the industry. 
Arvind implied that those who do not adapt and change end up being irrelevant "in around six to 12 months."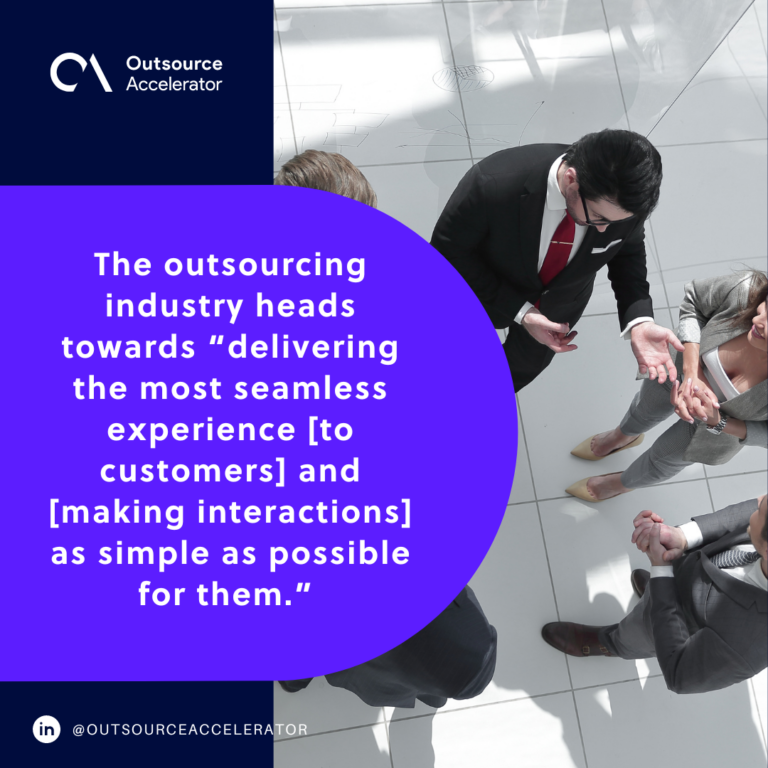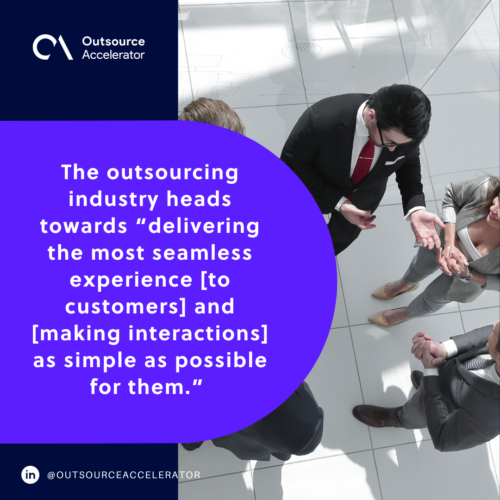 Breakthroughs that shape the future of outsourcing, according to Arvind
Arvind is considered an industry veteran with more than two decades of experience. The majority of his tenure is spent in CSS Corp, climbing through the ranks and developing him to where he is today.
Throughout the years, he has even seen gradual changes in the industry, particularly in the tools they used at work. According to him, the advent of technology is "one of the most empowering and enriching things" that happened in the industry.
With the pandemic accelerating technology and remote work, the industry is expected to continue adapting and changing with the following breakthroughs that will shape the industry.
Hybrid work model
The past 18 months taught us that hybrid work is "the way of the future". Global companies and BPOs alike expect to continue remote work long-term even when the majority has gone back to the office. 
Automation
Indeed, automation is useful in making work efficient for everyone including remote teams. With this, service providers now make a move to integrate automation and AI into their processes. 
On the other hand, this move could reduce the "lower end of [work] volumes," particularly the repetitive tasks. 
BPO workforce upskilling
Despite the threat of automation, Arvind doesn't see automation as something that could eradicate "the human element" in outsourcing. Rather, this further sees the need for workers that can operate AI and machine learning technologies.
This move, then, calls for BPOs and their clients to encourage employee upskilling so they could keep up with these advancements.
A rising IT outsourcing destination
CSS Corp has around 10,000 employees in seven countries across the world. Three of their offices are located in Asia: in India, the Philippines, and China.
Among the three, Arvind saw a rising potential in China for outsourced technology. The country admittedly has its strengths in manufacturing OEMs and developing language support.
Though, outsourcing English support in China won't be effective for now.
Getting the best out of outsourced services
With the advancements and breakthroughs in the industry, companies are highly encouraged to outsource their services as early as now. 
Gone are the days of traditional outsourcing, with BPOs acting as a "standalone" team. Nowadays, clients can get the best out of their outsourced services by forging a partnership with their service providers.
Per Arvind, modern outsourcing is all about "working together" and becoming an extension of their organization.
Yet, with the stigma still running in the industry, they get their clients to outsource by building their trust in two ways:
Transparency

. CSS Corp makes sure to be transparent with their clients in anything. This includes their performance reports and the problems they face when working on a project.

Communication

. Having a "free flow of communication" is crucial in getting work done and collaborating with the client's remote teams.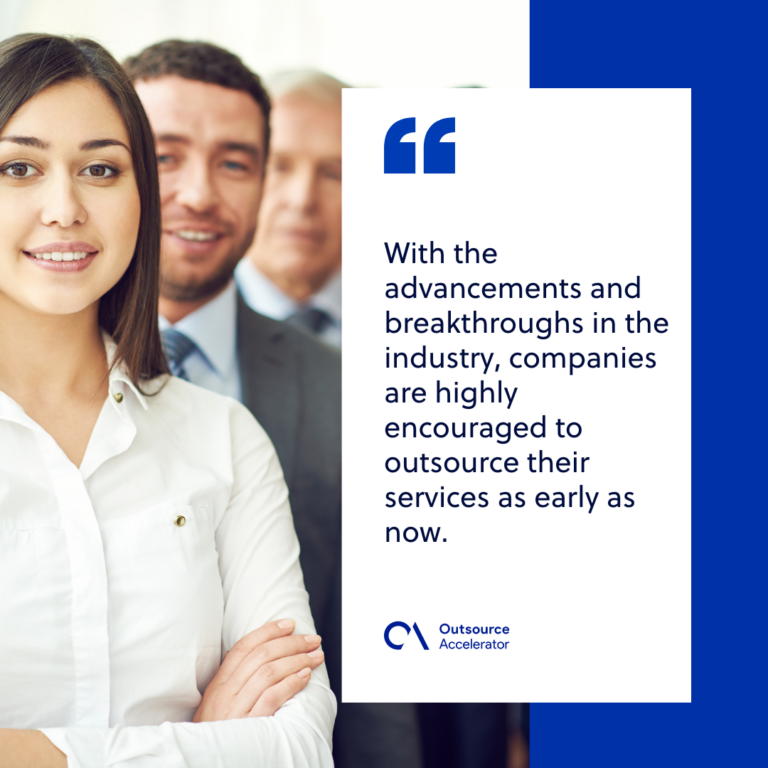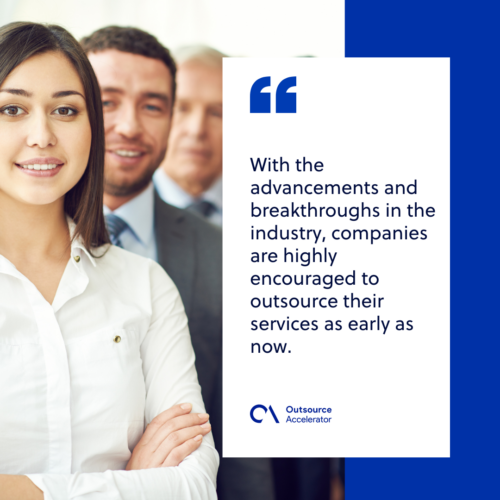 CSS Corp: breaking through traditional and modern outsourcing
Now in its 26th year, CSS Corp is a mid-sized BPO company that focuses mainly on IT-related services and customer support predominantly in the enterprise, consumer, and digital spaces.
Currently, they have around 10,000 employees located in seven countries across the globe. This enables them to provide the best option tailored to their clients, whether onshore, nearshore, or offshore.
Check out their website and listen to episode 356 here.