Front office associate: Team player in the hospitality industry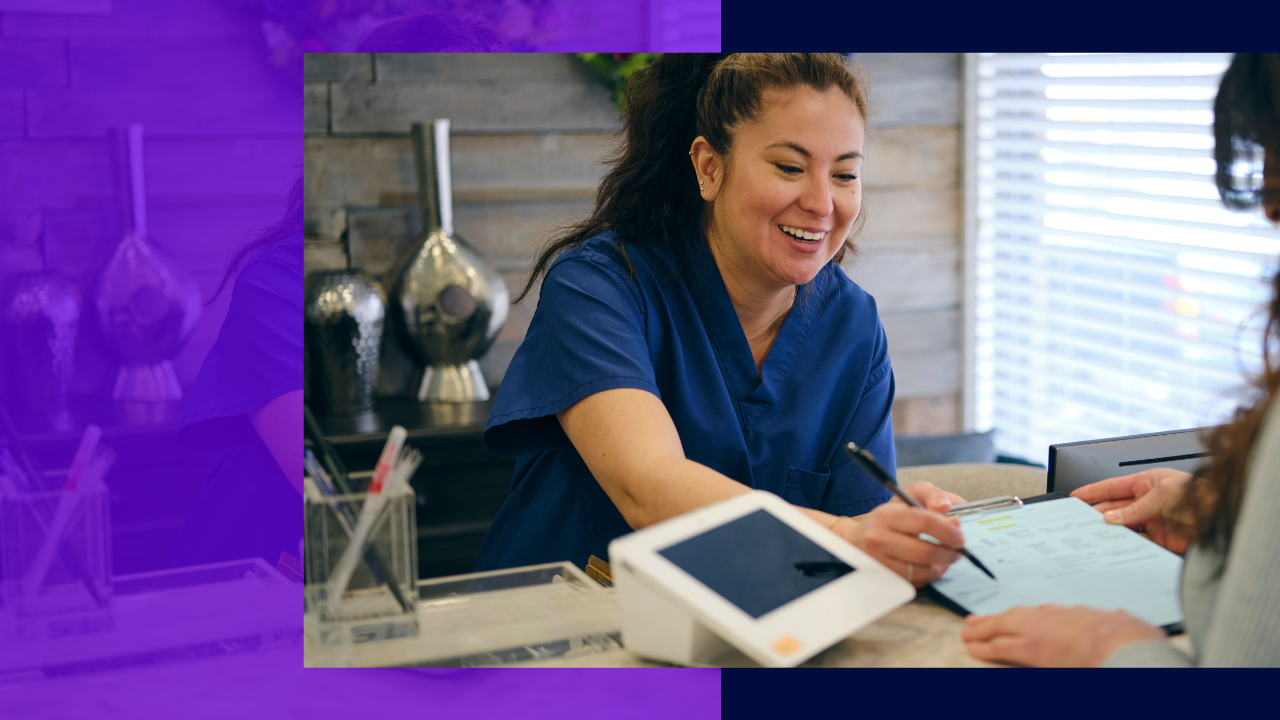 In the hospitaity industry, the first point of contact with a customer is crucial because it sets the foundation for a successful and lasting customer relationship.
Customers form their first impressions during this initial interaction, which can greatly influence their overall perception of a business or service.
Meanwhile, a negative or indifferent experience at the first interaction can drive customers away and damage the potential for future interactions. Businesses must prioritize delivering exceptional service and creating a welcoming atmosphere from the very beginning.
A front office associate is responsible for creating a positive first encounter with patrons to create a sense of trust, professionalism, and care.
What is a front office associate?
A front office associate or a front desk officer serves as the face of the organization and acts as the first point of contact for guests and clients.
Primarily stationed at the front desk, front office associates handle many responsibilities with finesse and professionalism. These adept professionals provide personalized attention to each guest, taking note of individual needs and going the extra mile to meet their expectations.
A personalized service leaves a lasting impact on guest satisfaction, making them more likely to return and recommend the establishment to others.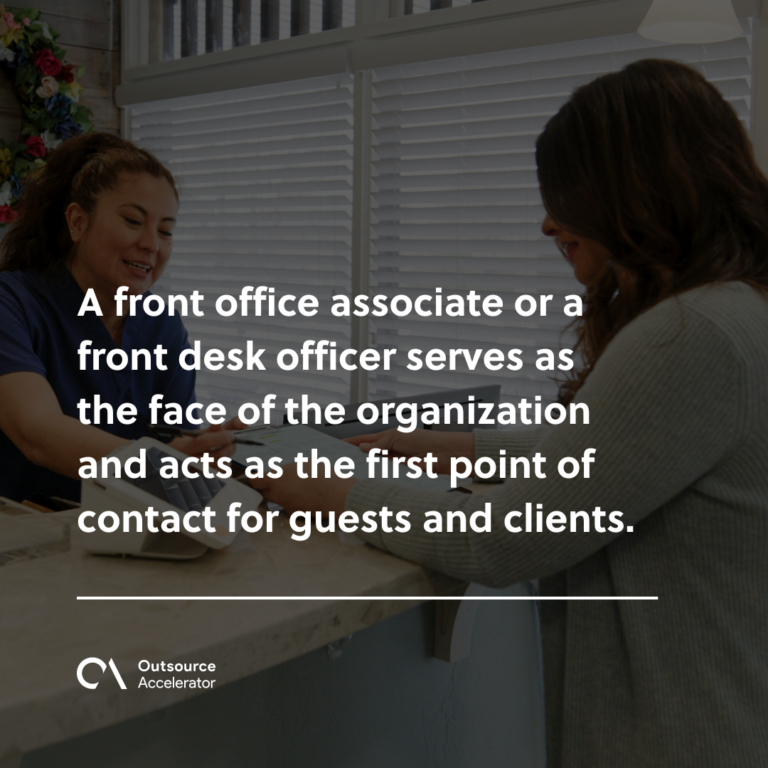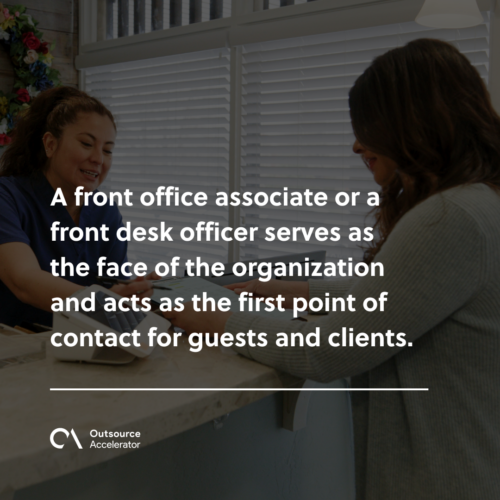 Responsibilities of a front office associate
As one of the key hospitality team members, a front office associate shoulders the following responsibilities to ensure a seamless and memorable guest experience:
Greeting and assisting guests
An excellent front office associate understands the significance of the first impression and takes pride in providing a warm and hospitable greeting to all arriving guests.
Front desk officers possess outstanding interpersonal skills, greeting visitors with genuine smiles and a friendly demeanor. They can also tailor their services to meet individual requirements by actively listening to the guest's demands.
Handling check-in and check-out processes
Efficiency and organization are the hallmarks of a front office associate's role when managing the check-in and check-out procedures. 
An efficient front office associate diligently verifies reservations by cross-referencing with the system to ensure accuracy.
During check-in, front desk agents collect essential guest information and provide details about the stay, such as Wi-Fi passwords, breakfast timings, and other amenities. They explain the establishment's policies if necessary, ensuring guests understand clearly.
During check-out, a front office associate handles billing precisely, double-checks expenses, and offers itemized invoices. 
Timely and accurate check-out processes leave guests with a positive final impression, ensuring they depart with fond memories of their stay.
Managing reservations and room assignments
A front office associate manages reservations, records all bookings, and maintains an organized system. This staff monitors room availability, ensuring that guests have a variety of options to choose from during their stay. 
When assigning rooms, the front office associate considers guest preferences, such as room type, location, and special requirements, ensuring personalized comfort.
Whether a guest prefers a quiet room away from elevators or needs specific accessibility features, front office associates strive to fulfill these preferences whenever possible.
Addressing guest inquiries and concerns
Knowledgeable front office associates are the primary source of information when guests have questions or concerns. As such, they must be well-versed in all aspects of the establishment and the surrounding area.
Processing payments and invoicing
A front office associate efficiently processes various payment methods, including cash, credit cards, and other electronic payment options. 
Financial transactions demand accuracy and security, and a front office associate handles these responsibilities with the utmost discretion.
Front office associates maintain the confidentiality of financial information, ensuring guests' trust and peace of mind. In case of any discrepancies or questions related to billing, they handle inquiries with patience and provide clarifications promptly.
A meticulous approach to payment processing and invoicing reflects the establishment's commitment to transparency and integrity in all aspects of guest service.
How can a front office associate drive hospitality excellence?
Front office associates significantly impact the overall guest experience and the establishment's reputation for excellence.
Here are some ways they contribute to hospitality excellence:
Creating a welcoming atmosphere.

A warm and friendly welcome sets the tone for a positive guest experience, making them feel valued and comfortable during their stay.

Providing efficient operations.

An effective front office associate helps guests save time and

reduce potential frustrations

by ensuring smooth check-in and check-out processes.

Offering personalized services.

Understanding guest preferences allows the front office associates to offer personalized services and recommendations, enhancing guest satisfaction.

Resolving issues.

Skillfully addressing guest inquiries and concerns helps prevent minor issues from escalating into major problems, ensuring a smooth and enjoyable stay.

Building guest loyalty.

Exceptional service builds guest loyalty, encouraging repeat visits and positive word-of-mouth recommendations.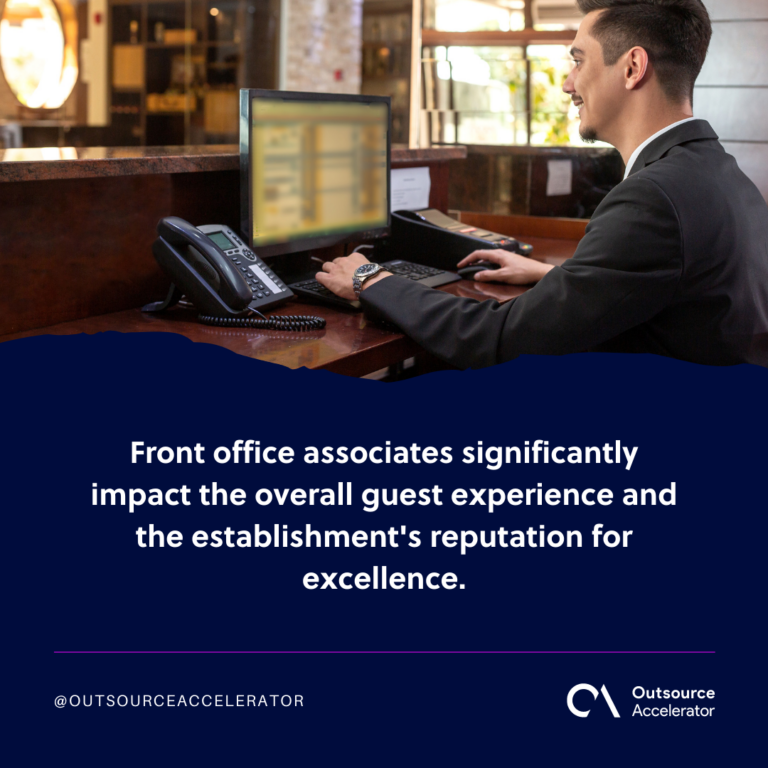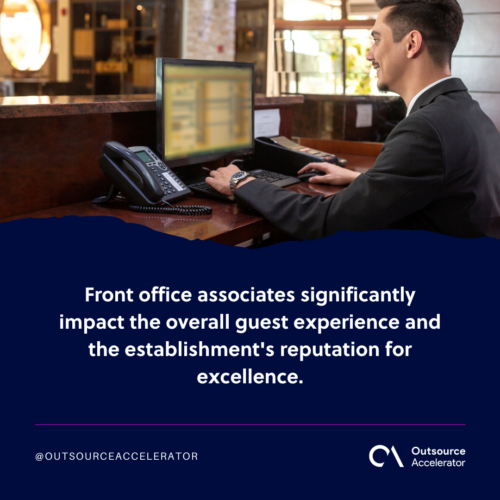 Traits of an excellent front office associate
The role of a front office associate demands a unique set of qualities that contribute to their effectiveness and success.
Here are some key traits of an excellent front office associate:
Adaptability and flexibility
Hospitality can be unpredictable, with different challenges arising each day. A front office associate must adapt to changing circumstances, handle various situations, and remain composed under pressure.
Multitasking abilities
A front office associate juggles multiple tasks simultaneously, such as attending to guests, answering phone calls, and managing administrative duties. The ability to multitask and manage workload efficiently ensures no guest is left unattended.
Problem-solving skills
In the hospitality industry, unexpected issues may arise that require quick thinking and problem-solving. An exceptional front office associate must be resourceful and proactive in finding different solutions that would solve the issues promptly.
Emotional intelligence and empathy
Understanding and connecting with guests on an emotional level is crucial for providing exceptional service. A front office associate should have high emotional intelligence to empathize with guests and effectively address their needs with care.
Positive attitude and professionalism
A good front office associate must have a positive attitude to uplift guests' spirits and create a pleasant atmosphere. Similarly, maintaining professionalism at all times builds trust and respect among guests and colleagues.
Front office associate: Backbone of hospitality excellence
Front desk officers are truly the backbone of exceptional hospitality. Their friendly manner, efficiency, individualized service, and problem-solving skills tremendously impact client experiences.
If you work in the hospitality industry, ensure you have an effective front office associate that would help you guarantee the success and reputation of your firm.