Foundever vs. Top competitors: Review, alternatives, services, and pricing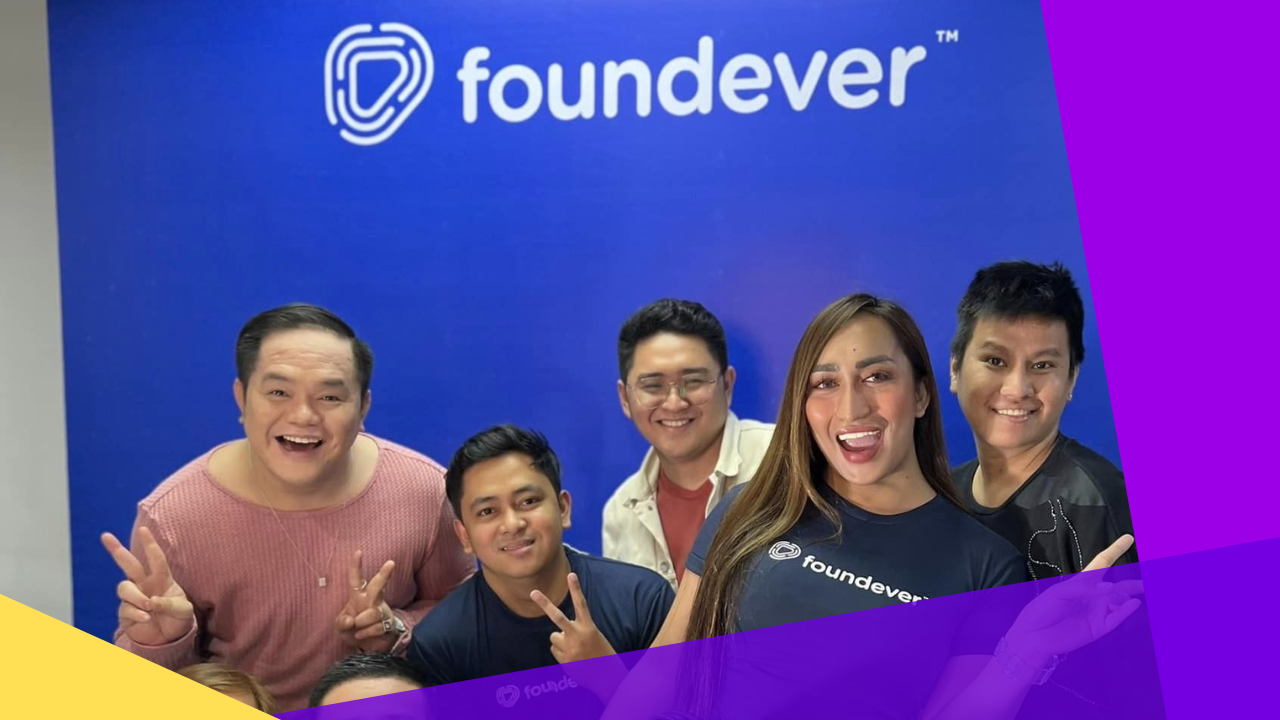 Customer experience (CX) is paramount in any business. Poor customer experience management can often cause losing customers to competitors.
Inversely, businesses that consistently provide good customer experience enjoy high customer satisfaction and loyalty.
Hiring the services of business process outsourcing (BPO) firms can help companies ensure they give the best possible customer experience. And when it comes to CX, few in the BPO industry can top what Foundever provides.
Read below to learn more about Foundever, its offers, and how it compares to its closest competitors.
Foundever overview
Formerly known as Sitel Group, Foundever is a global leader in providing excellent customer experience, among its other services. 
The company's rebranding is a testament to its staunch commitment to providing top-notch services while leading the global transition of businesses into a digital-first model.

Its new name reflects Foundever's original expertise for which it was known. "Found" pertains to the company's drive to lead groundbreaking innovations, and "ever" refers to its agility and ability to adapt to any business's needs.
Today, Foundever employs more than 170,000 associates around the world. It has earned a reputation for helping businesses achieve ROIs through effective digital-first CX practices.
The company offers its diverse services and CX solutions to businesses from a wide range of industries, including:
Banking and financial services

Insurance

Telecoms

Government

Healthcare

Manufacturing

Media

Retail and e-commerce

Technology

Utilities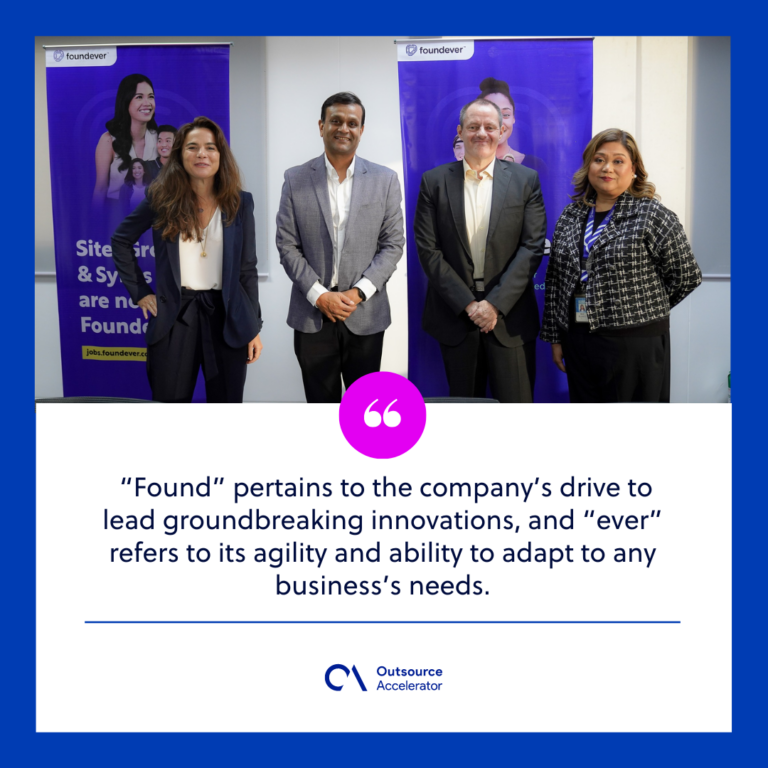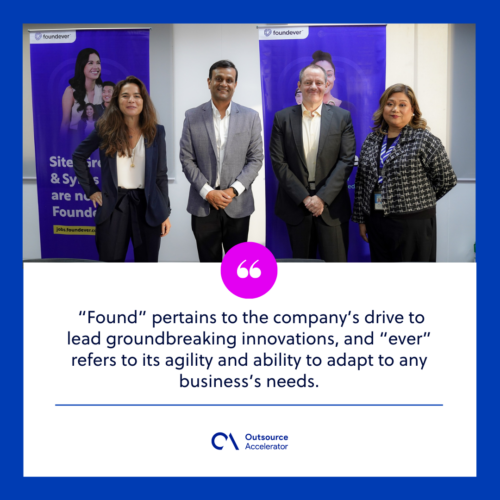 Foundever services and prices
As a global leader in helping businesses provide unparalleled customer experience, Foundever's services and solutions are geared towards this end.
The following are short descriptions of what Foundever offers:
Back-office support
Foundever's back-office support is a proven and effective solution for reducing errors in back-office operations. The company boasts an 80% reduction in customer complaints and errors, on top of a 40% savings in support costs.
It has over 8,000 personnel providing support from more than 40 locations across 15 countries.
Foundever leverages intelligent automation to streamline many back-office processes and reduce the chances of operational errors. 
As a result, businesses provide better customer services due to reduced backlogs and improved efficiency of their back-office operations.
Further, the company utilizes data gathered from back-office processes and customer services to predict forthcoming workload levels. This lets businesses better manage employee productivity and maintain a healthy work environment.
Collections
Foundever's collections services are supported by specialists backed up by advanced artificial intelligence (AI) and analytics. 
Through this service, businesses gain access to Foundever's over 2,000 collections support staff and save as much as 70% on costs. Customers also enjoy a 26% improvement in cure rate and a 20% Net Promoter Score (NPS) increase.
Moreover, Foundever's collection services combine its knowledge of national and state regulations with speech analytics technologies that help identify a non-compliant language. 
This helps customers remain compliant with existing laws and minimize compliance risks.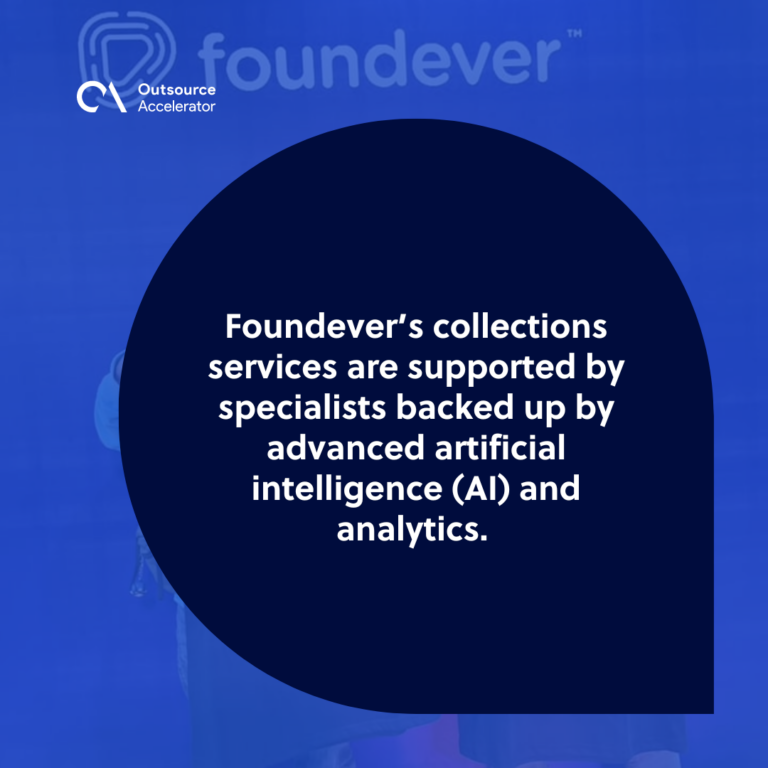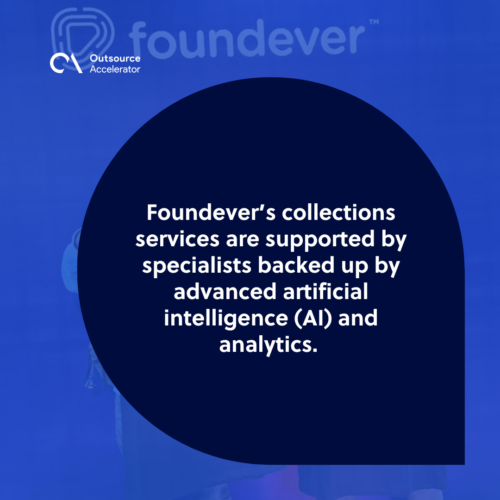 Customer care
Foundever's customer care services help businesses resolve issues effectively regardless of the channels their client's customers use.
The company's customer care teams integrate seamlessly with its client's in-office team and function as an extension of its brand. Foundever uses AI to improve its customer care services continuously.
Its omnichannel capabilities help its clients engage their customers in whatever platform they prefer, including the Metaverse.
Equally important, Foundever's customer care services are highly flexible. Clients can quickly increase their customer support staff when demands rise and let go of extra personnel when it falls.
Sales and retention
Foundever's leadership in AI and analytics help it better understand its clients' customers and provide insights that can boost revenues and increase the lifetime value of customers.
Clients benefit from Foundever's tried and tested sales practices, as well as a training module that they can fully customize.
Like its customer care services, Foundever's sales and retention services use an omnichannel platform to improve the reach and effectiveness of its clients.
The company currently has over 30,000 sales and retention associates and supports more than 35 languages. Foundever's clients enjoy a 41% sales conversion rate improvement.
Content moderation
Foundever has more than 20 years of experience moderating content for its clients. It supports over 60 languages, boasts a 99% moderation accuracy, and, on average, monitors around 2.5 million content elements per month. 
The company has a team of rules experts supported by performance and quality managers and experienced moderators. It supports multi-channel moderation for businesses with a presence on multiple platforms.
Foundever's content moderation helps make businesses' online spaces safer through early fraud detection, user authentication, and protection from unauthorized users and activities.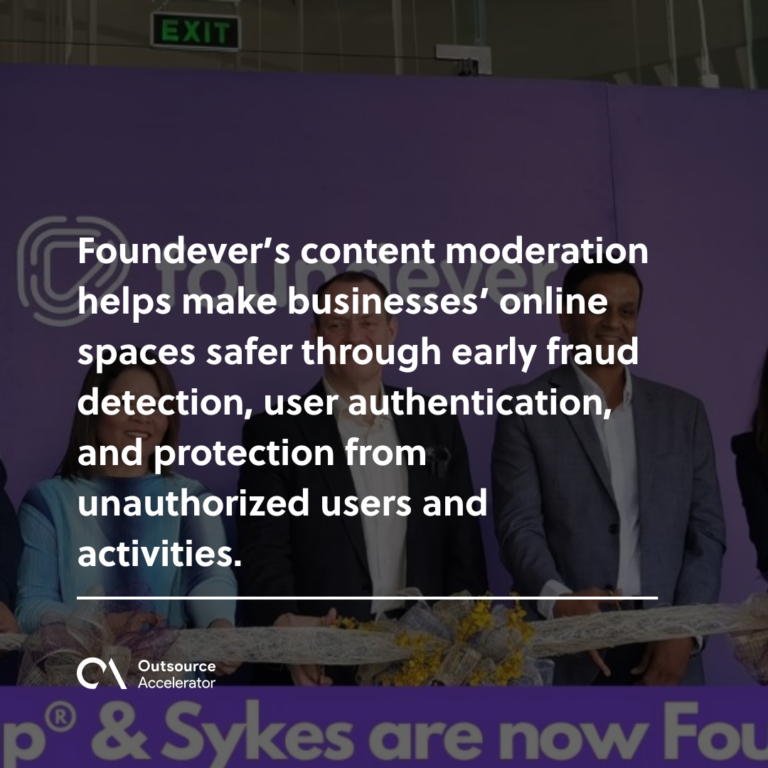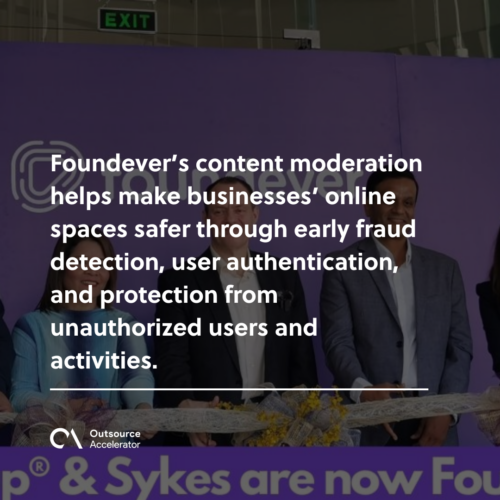 Foundever's prices
Like all BPO providers, Foundever helps businesses save costs, improve efficiency, increase profitability, and scale quickly. Clients can save up to 70% and benefit from a marked improvement in customer experience. 
For consultation and quotes, interested clients can get in touch with the company and fill out the form to have an accurate pricing estimate.

Foundever alternative
Being a global leader, Founder's competitors are also household names in the outsourcing industry.
These are some of the top alternatives for Foundever:
TaskUs is among the global leaders in the BPO industry. It was founded in 2008 and now operates in eight countries Across North and South America, Europe, and Asia. 
Like Foundever, TaskUs specializes in customer experience and back-office operations. The services it offers are:
Digital customer experience

Talent management

AI services

Consultations

CX functions for startups
TaskUs serves various business verticals – from entertainment, FinTech, and healthcare to retail and transportation.
Teleperformance is a multi-awarded leading provider of digitally-integrated business solutions. 
Being in the business for over 40 years, it has gained various industry awards and recognitions for its quality services. Teleperformance has also consistently been a Great Place to Work awardee.
This France-based BPO provider specializes in customer service and has served businesses in 170 countries. It helps clients with:
Solution design

Business optimization

Transformation strategies

Customer support and journey management

Back-office operations

Tech support
Teleperformance currently has over 400,000 employees worldwide. 
Concentrix helps businesses "deliver exceptional experiences, with exceptional outcomes." The company takes pride in its ability to reimagine customer experience and nurture brand loyalty to its customers.
CX strategy is one of Concentrix's main services. Its other services include:
Experience platforms

Data and analytics

Experience design

CX management

Automation and operations

Content trust and safety
Concentrix shuns the humans vs. robots outlook in providing exceptional customer experiences. Instead, the company leverages technology to further improve the capabilities of its human employees in giving the best experiences for its clients' customers.
The company's commitment to customer-centricity and "obsession" with CX makes it a great fit for businesses that value the same.
Alorica boasts of being "the digital CX partner of choice" for many businesses worldwide. It has been helping firms improve their customer experience management for more than 20 years.
The company has more than 100,000 employees across the world and leverages digital technologies to provide its clients with exceptional service.
Like Foundever, it uses omnichannel platforms to handle customers more efficiently. It uses metrics to gain better insights from customers and further improve services.

TTEC is another long-time player in the BPO industry. The company utilizes its over 40 years of experience in providing quality services and helping its clients improve their customer experiences.
It specializes in CX management and developing strategies that help businesses improve in this area. TTEC combines its vast industry knowledge with leading technologies to ensure success for its clients.
It offers intelligent automation, data and analytics, and other smart digital solutions to drive its clients' revenues and help them better manage customer experiences.
Foundever vs. Competitors
The table below shows how Foundever compares to its top competitors. It compares Foundever's pricing, customer service, NPS, employee Net Promoter Score (eNPS), and product quality to similar companies.
| | | | | | |
| --- | --- | --- | --- | --- | --- |
| | Pricing* | Customer service** | NPS*** | eNPS**** | Product quality***** |
| Foundever | 3.4/5 | 3.4/5 | 11 | 53 | 3.5/5 |
| TaskUs | 4.2/5 | 4.1/5 | 42 | 72 | 4.2/5 |
| Teleperformance | 3.7/5 | 3.9/5 | 27 | 75 | 3.8/5 |
| Concentrix | 3.6/5 | 3.8/5 | 22 | 57 | 3.9/5 |
| Alorica | 3.9/5 | 4/5 | 28 | 35 | 4/5 |
| TTEC | 2.7/5 | 2.9/5 | -42 | 34 | 2.9/5 |
* based on the score given by 46 customers
** based on the score given by 44 customers
*** based on the score given by 55 customers to the question, "On a scale of 0-10, how likely are you to recommend Foundever to a friend?"
**** based on the score given by 3,545 employees to the question, "On a scale of 0-10, how likely are you to recommend working at Foundever to a friend?"
***** based on the score given by 56 customers