Fixing Twitter
Elon Musk is a flawed genius.  Fantastic with rockets and cars, but he's burning X (AKA Twitter) to the ground. Fear not. There is a solution.
His success cannot be disputed.  At least, he's had one more Iron Man cameo than any of us have had.
But his soft skills and management style are questionable at best, and often downright destructive.
He's desperate to play the lovable scamp in the public eye, but when it comes to running his business, he's a pirate captain facing a mutiny.
Clearing the decks
With a whopping 80% of staff fired, it's safe to say that Twitter (oops, X) is in something of a crisis under Musk's leadership.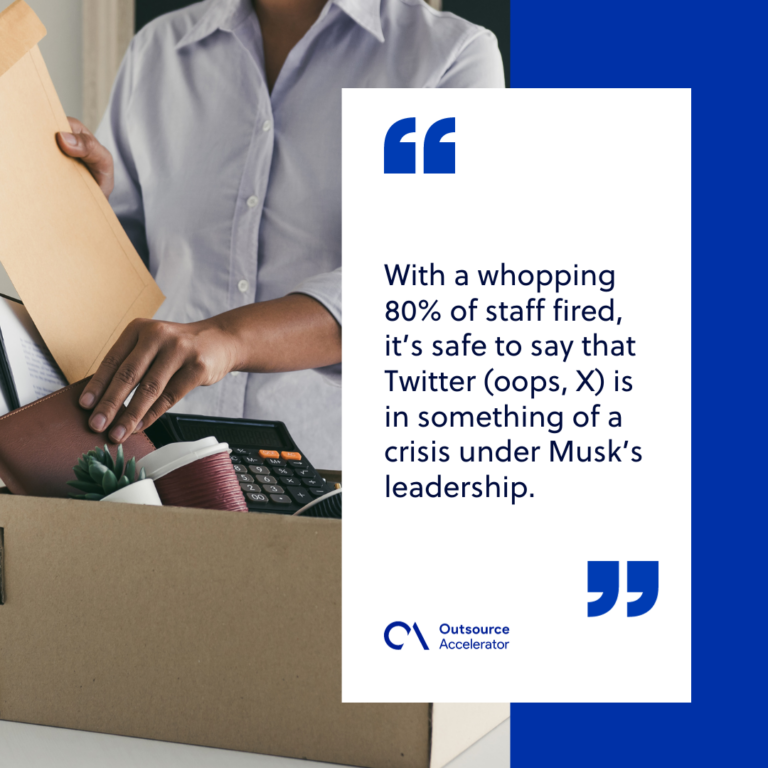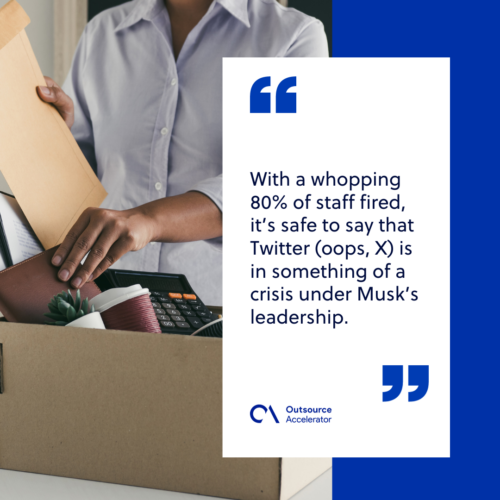 And the remaining 20% aren't having it easy either. Musk's brutalist regime was underlined with a simple email – work "extremely hardcore" or leave. 
However, with advertisers still running for the door, Elon's radical scorched earth approach might not even be enough to save things.
Running the numbers
Twitter is hemorrhaging money despite the cuts.
And even a billionaire like Musk still needs to watch the bottom line.
Consider this scenario: with a remaining staff of 2,000 and an average annual salary of $200,000 per person, the company's total salary expenditure stands at a hefty $400 million. 
The solution? Transition to offshore staffing.
Costs can be up to 70% lower, generating an incredible saving of $280 million annually.
More than enough to turn things around.
Plus, Elon fought hard to bring the entitled SF staff back to the office, account for their productivity, and focus on core activities. These are all standard deliverables for an offshore team.
Everything, in one place, all at once
You might be thinking that offshoring is only good for low-level tasks.
Call centers, VAs, finance, HR.
But you'd be dead wrong.
Outsourcing in locations like Manila opens up a veritable cornucopia of options for all roles. Google, Facebook, Amazon, JP Morgan, and American Express are all already in town.
For a company like Twitter, offshoring their entire engineering team at an incredible cost saving is possible.
Beyond the Twitterverse
For the average Joe, Musk's approach to running a business just wouldn't cut it.
You'd be dead in the water as soon as you hit send on that 'hustle or die' email.
But if you need to resolve everyday business requirements, outsourcing has you covered.
Need a ready-to-deploy workforce from the get-go, tailored to any business size and budget?
Outsourcing can help with securing that sweet spot where cost-effectiveness meets quality.
The cure for your business woes
Outsourcing isn't just a budget band-aid.
It's a strategic toolkit, a multifaceted answer to the complex puzzles faced by businesses from the size of Musk's Twitter to smaller enterprises.
Beyond trimming costs, it's about honing operational finesse and elevating service quality. 
It's a partnership that redefines not just the financial bottom line, but how we approach business efficiency and customer satisfaction.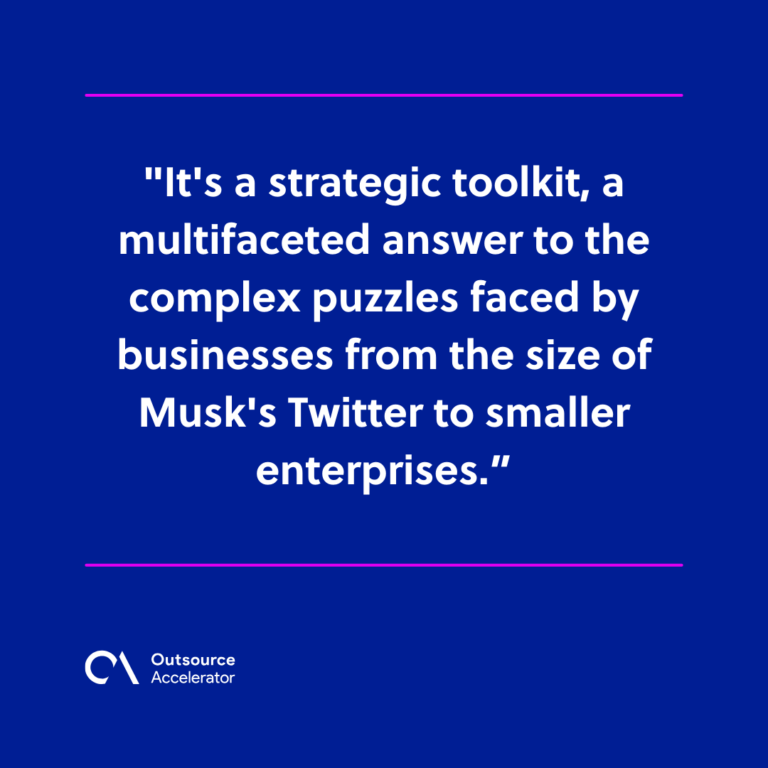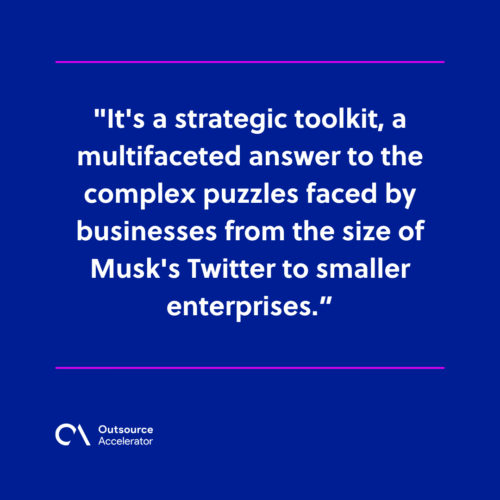 The question for your business
Can outsourcing potentially save your business's operations?
Read more thought leadership articles here: