Build better results by cloud staffing engineering and construction services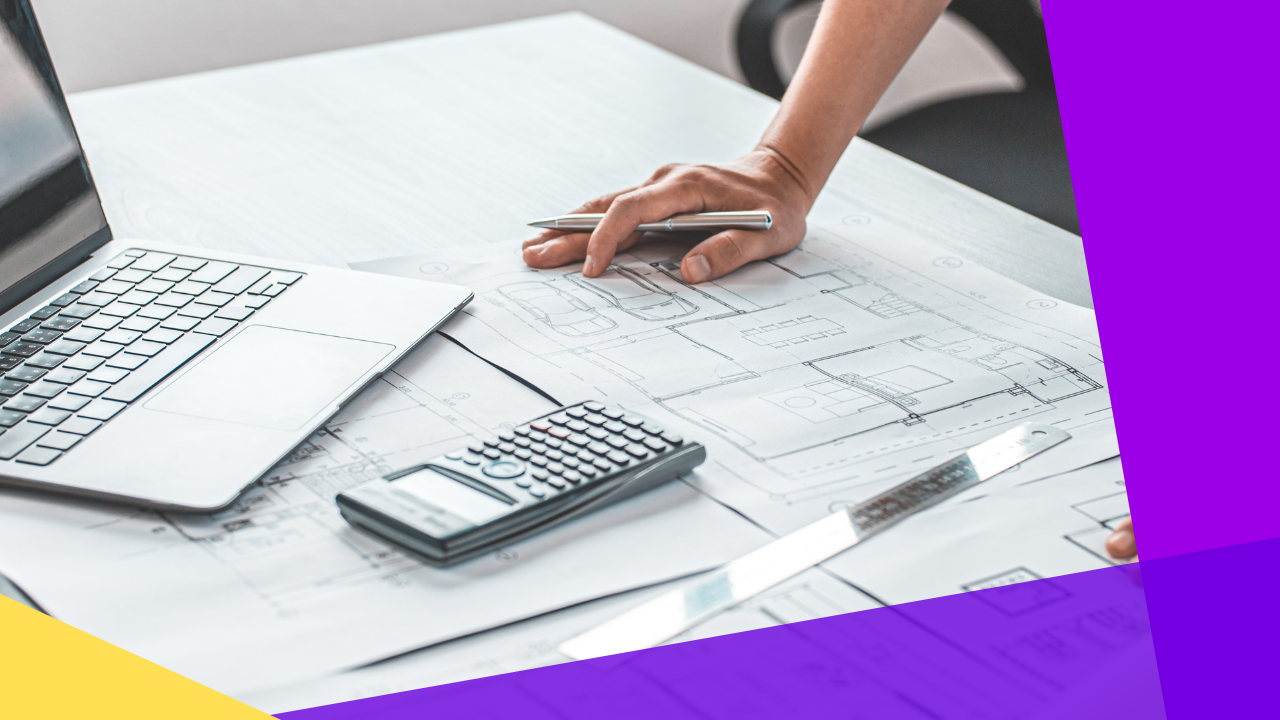 Engineering and construction can be quite literally considered one of the foundations of a thriving community.
Companies that provide services in these areas are highly valued and expected to produce high-quality results.
Outsourcing services from reliable offshoring firms like Cloudstaff allows engineering and construction companies to take on large-scale projects common in their industry.
Through business process outsourcing (BPO), these companies can efficiently handle large-scale operations without compromising output quality.
How do cloud staffing engineering and construction services work?
Cloud staffing means entrusting part or the entirety of a particular business process or service to a third-party service provider.
In the engineering and construction industry, these services can include:
Computer-aided drafting (

CAD

) and AutoCAD

Simulation and analysis

Reverse engineering

Technical documentation

Engineering consulting

Drafting
By cloud staffing these services, companies also hand over to the third-party service provider the responsibility of filling the following job roles:
Draftsmen

Structural, electrical, mechanical, and civil engineers

CAD/AutoCAD operators

Architects

Site estimators

Quantity surveyors

Project managers
Cloud staffing – or the practice of outsourcing – is commonplace in this industry.
In fact, construction firms have been outsourcing services for years now, particularly in the EPC (engineering, procurement, and construction) and AEC (architectural, engineering, and construction) sectors.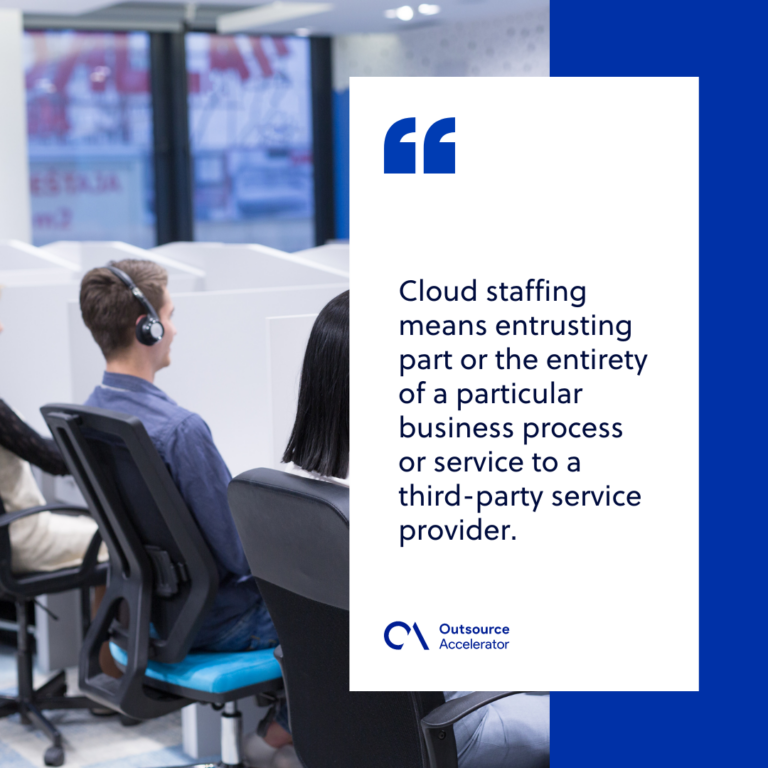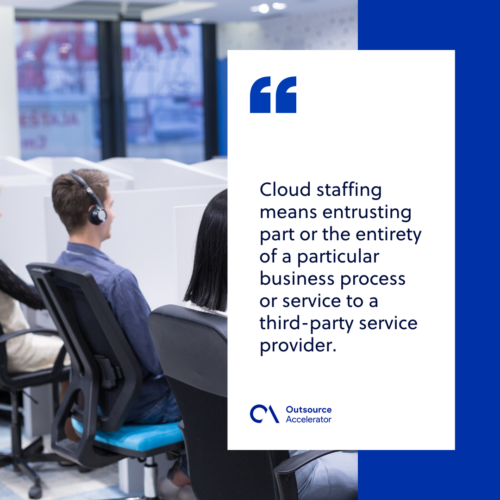 Advantages of cloud staffing engineering and construction services
Cloud staffing engineering and construction services – and the job roles associated with these – give businesses plenty of benefits.
These benefits range from added flexibility and improved performance to better market positioning.
Below are some advantages businesses gain from cloud staffing construction and engineering services.
Reduced labor and overhead costs
Cost reductions are one of the top benefits of outsourcing.
Partnering with offshore firms like Cloudstaff gives organizations access to the low-cost labor market in developing countries.
Aside from up to 70% cheaper labor costs, businesses don't have to worry about equipment and facility costs for their cloud staff as outsourcing firms shoulder these.
Access to global talents
Cloud staffing brings international talents to businesses' fingertips.
Outsourcing firms often have operations across different countries. Companies can tap these resources and hire professionals from other countries when faced with a shortage of particular skills in their own country.
Moreover, outsourcing these talents ensures that the people you'll be hiring are already trained and experienced and can hit the ground running once hired.
Added flexibility
Hiring in-house workers for temporary positions can be expensive, time-consuming, and often limits a business's options.
Professionals with the required skills are also hard to come by and can be reluctant to accept roles on a temporary basis.
With outsourcing, businesses gain the flexibility to increase their workforce based on demand and decrease as the need subsides.
Access to premium technologies
Outsourcing firms often possess proprietary and custom-built software and other equipment.
Cloud staffing gives organizations access to these leading-edge technologies and the personnel knowledgeable about using them.
These resources give businesses a competitive edge over their competitors without access to the same.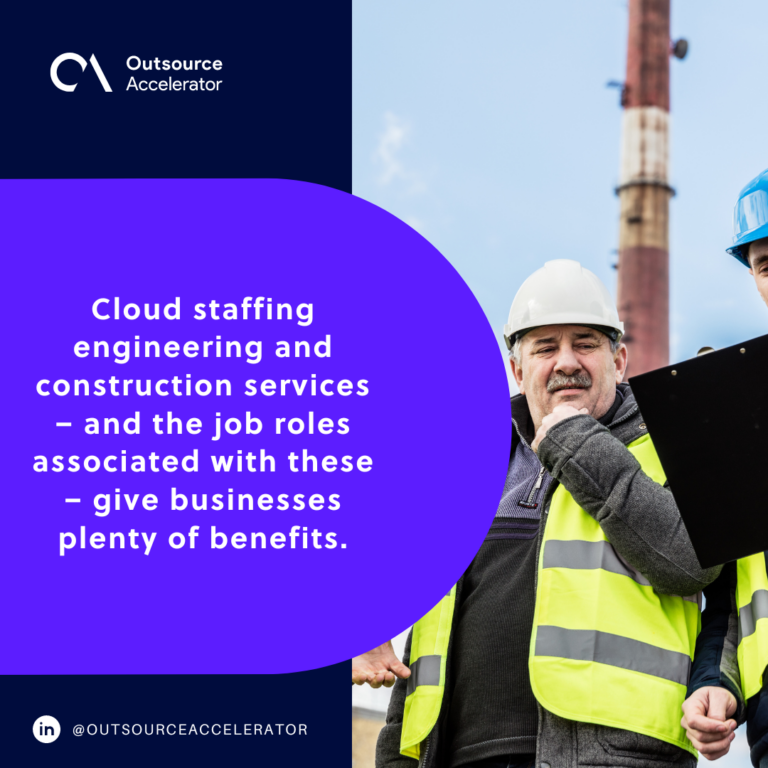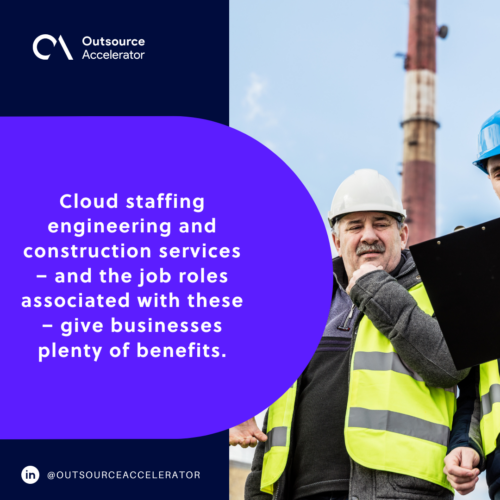 Partner with Cloudstaff for your cloud staffing needs
Cloudstaff is a leading provider of outsourcing solutions in the Philippines and boasts more than a decade of industry experience.
It offers a combination of world-class facilities, leading-edge technology, and skilled professionals. This premier third-party provider never fails to deliver high-quality outsourcing solutions to virtually every industry, including engineering and construction.
The company's talented workforce is backed by top-of-the-line software and equipment tailored specifically to cater to the industry's needs.
Cloudstaff is capable of providing your cloud staffing needs in the following areas:
Draftsmen

Structural engineer

Electrical engineer

AutoCAD

Project manager

Project director

and more
Cloudstaff is also PCI-DSS certified and in the process of ISO 9001 certification, assuring clients of only the highest quality of services.
Contact Cloudstaff now and fill your cloud staffing needs!