Encouraging companies to start outsourcing: An outsourcing company CEO's insight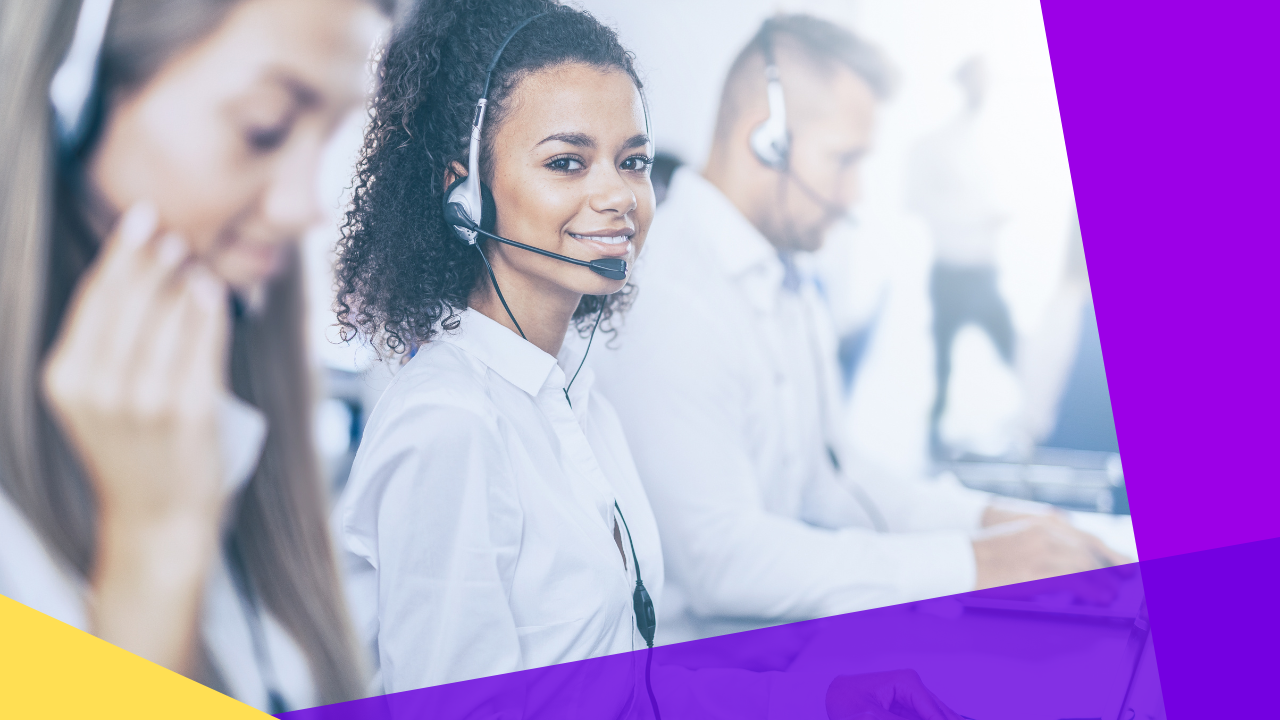 Business process outsourcing has been one of the most viable ideas for businesses to hire remote teams, save on costs, and delegate non-core tasks. During the pandemic, BPO companies have even provided a concrete continuity plan for their clients. 
The new normal has pushed companies around the world to innovate and adapt to digitization. With this, the outsourcing industry has seen a continuous increase in demand in spite of the hardships it faced. Though there is still a stigma that comes to mind when companies delegate their services offshore. 
With this into play, how can companies be encouraged to start outsourcing? This has been briefly discussed by Derek Gallimore, CEO of Outsource Accelerator, and Carmen Booth, CEO and co-founder of Booth and Partners in the 334th episode of the Outsource Accelerator podcast.
Breaking the outsourcing stigmas
As Carmen mentioned, outsourcing today is "far from its image decades ago." With the help of innovations that make technology more accessible, the industry has evolved into a highly globalized one, armed with the latest tools and ways to work even when miles apart.
It has also disproved some stigma and misconceptions such as:
Being a "sweatshop" industry
Overall, the industry is far from doing cheap labor practices. BPO companies make sure that they follow standard labor laws and compliances both in the West and in outsourcing destinations such as the Philippines and India.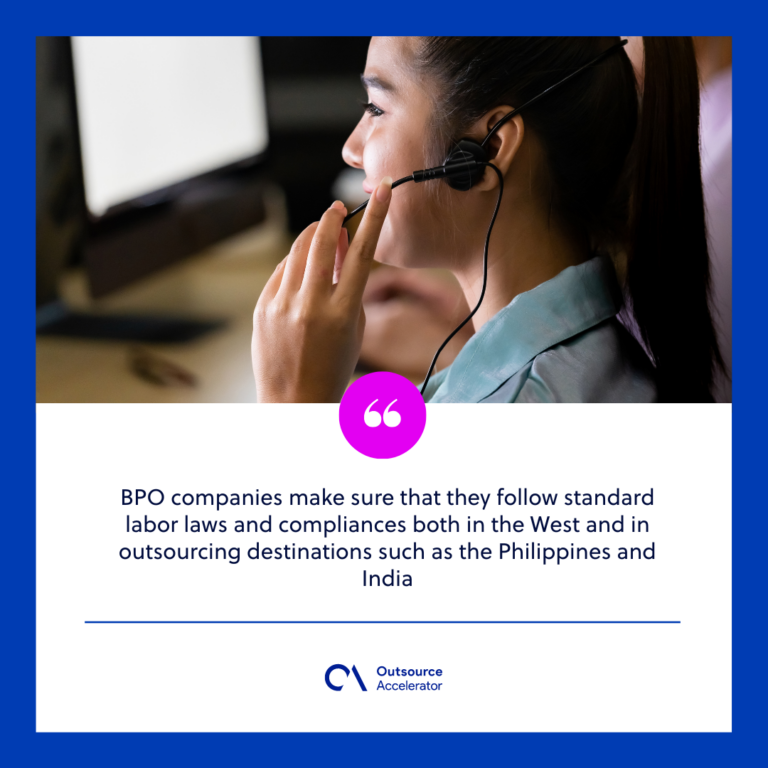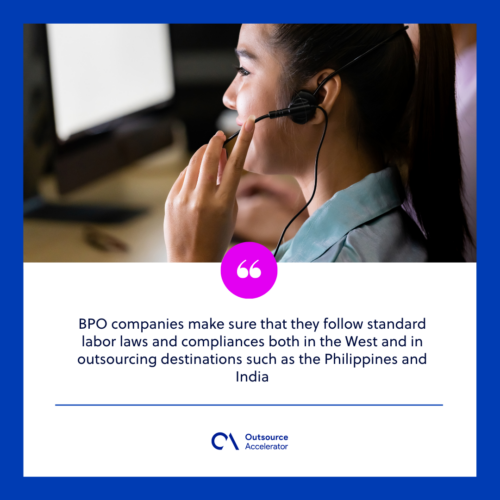 Focusing purely on call centers
These days, outsourcing does not just involve customer support and telemarketing services. In fact, a wide range of professional and administrative services are also offered by firms and boutique companies that specialize in them.
Back-office tasks should stay in-house
Remote working in the time of COVID has proved that a company does not always need an office to work. BPO companies have been offering back-office services more than ever to help their clients run a better and more efficient operation to support their client-facing teams.
How companies can start outsourcing
First-timers in delegating their tasks – especially entrepreneurs who are used to multitasking – usually feel hesitant in jumping right into outsourcing or don't know where to start. This leads them to think that outsourcing might be complicated and won't fit for them.
On the bright side, starting to outsource should not be as hard as everyone thinks with these tips:
Have a proper outsourcing plan
A proper outsourcing plan should be built in the first place. Companies should include their purpose, objectives, basic processes, and metrics. Though in some cases, BPOs can assist them in creating one when building their team.
Start with a small team
Carmen recommends starting with a small team in a certain period. Starting with a team of fewer than five people can help them see if their clients would like the services a company can give.
Assure transparency
Even with a fully managed team, companies should still look into the transparency of their trial operations. Communicate when it comes to progress reports and performance overview of each team, and get involved in every positive and negative performance.
Share successes with the team
Lastly, the B&P CEO believes that their clients' successes are also their successes, no matter how small. This shows that outsourced teams are also a valuable part of their client's company.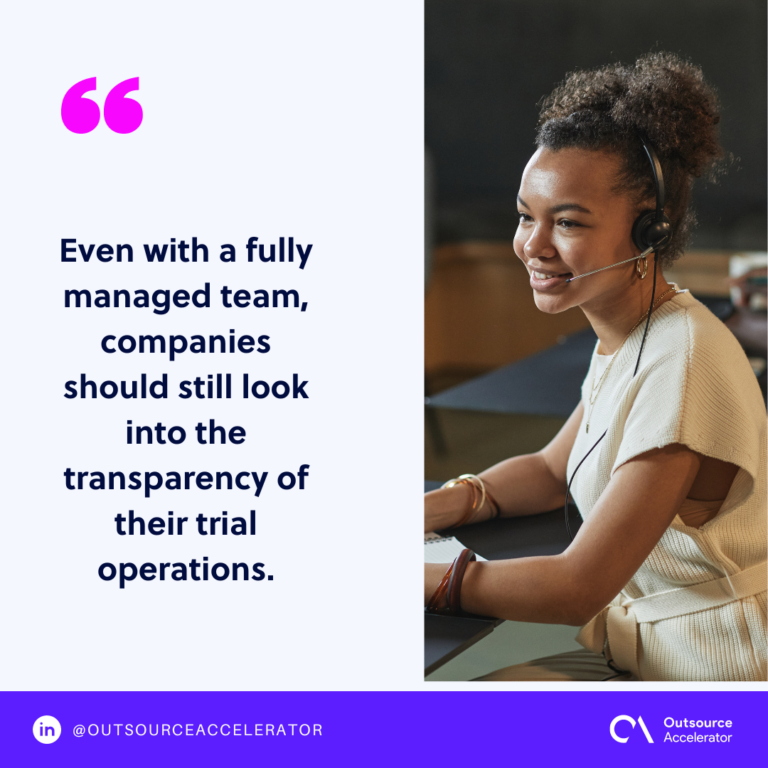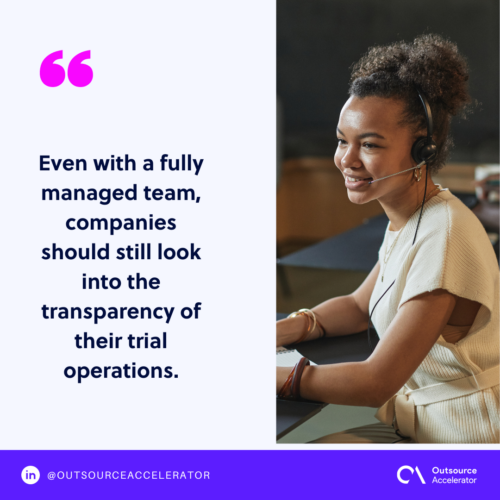 Flexibility in outsourcing
Being a former client who looked for outsourced customer support in the Philippines, Carmen and her business partner Jamie Booth established Booth and Partners to provide flexible BPO and KPO services. 
Their teams are trained to mimic their clients' culture and clients treat them as an extension of their company. Booth and Partners help a lot of companies to outsource successfully and maintain the quality of their work, regardless of their size and industry.
Learn more about their services through their website and check out the OA podcast's latest episode here.