Top 10 features of EMR software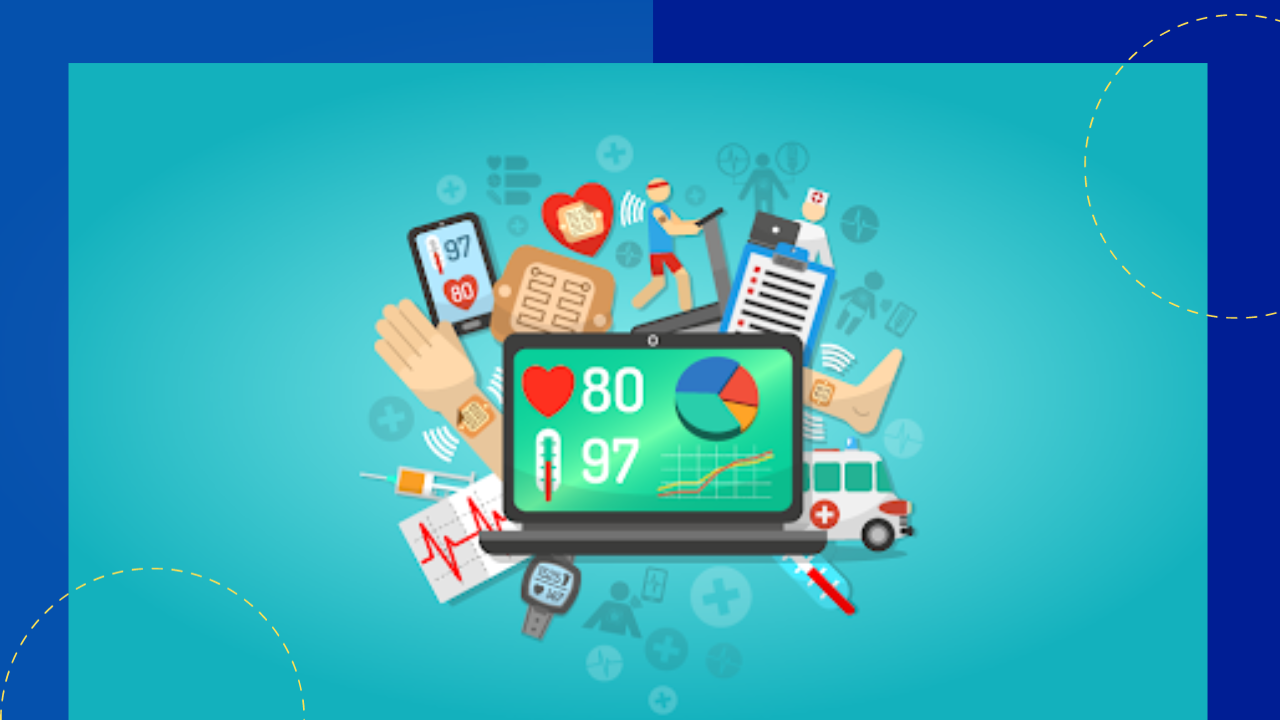 This article is a submission by Healthray. Healthray is a leading software development company based in India.
An electronic medical record or EMR is a digital version available to doctors instead of paper charts. 
It is a major consideration for hospitals as it allows doctors to save all patient records. The best part is it helps create and store all patient details so that, whenever required, doctors can access them. 
This article explores the top 10 features of EMR software that healthcare practitioners and hospitals must be aware of. 
Top 10 features of EMR software
In this section, we will help you to know the ten must-have features of EMR software. This will also be helpful for you to know the advantages of using an electronic medical record:
1. Patient scheduling
The primary feature that must be integrated into EMR software is patient scheduling. This includes all the patients' details and their purpose for visiting the hospital. 
In some instances, patients may not be sure of a doctor's specialty, but the details available can help them choose the one that is best for them. 
Along with it, there are options available through which patients can receive automatic reminders about their visit. If the doctor is unavailable on a particular date, they can reschedule their meeting.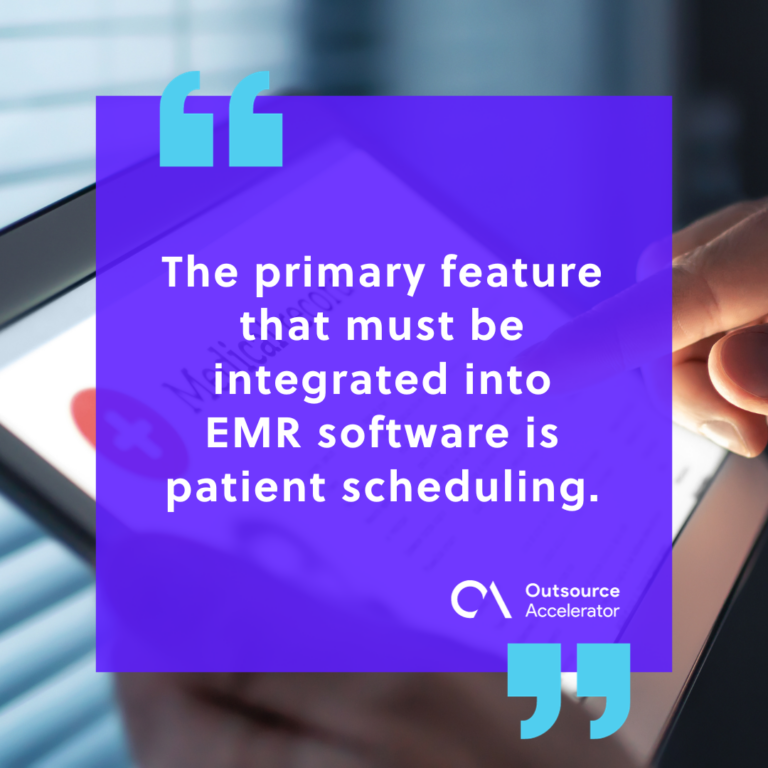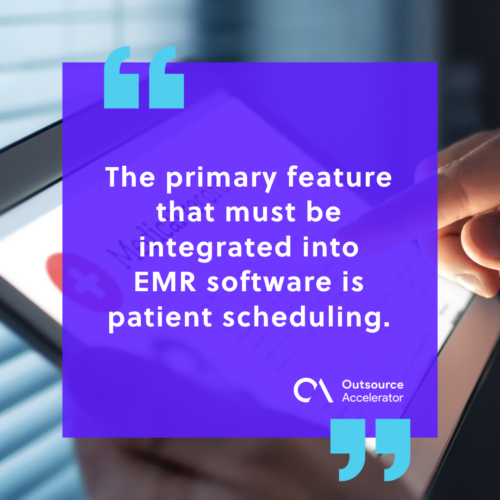 2. Patient portals
The patient portal is a must feature of an electronic medical records system. This will be helpful for patients and doctors to access the reports that other departments inside the hospital have generated. 
Other functionalities like insurance reimbursement integrated inside hospital management software also favor doctors and patients. 
On top of that, patients gain access to crucial details without wasting time in manual processes. 
3. Patient history recording
EMR software must have an available feature to save patient history. Yes, you heard it right. With every patient, there is a particular health record available. 
If the software is sufficiently storing the data, it will be easier for doctors to diagnose the condition and provide treatment accordingly. 
Sometimes, patients tend to skip doctor visits for a very long time, and they might have missed the prescriptions that were generated in the past. But when all the records are available inside the electronic medical records software, it will be easier to access the details. 
There would be no need for doctors to proceed with any assumption based on just the patient's symptoms. If there is any particular report available, they can access it and provide the treatment accordingly.
4. Medical billing
Medical billing is something that cannot be overlooked. It's crucial to consider numerous compliance requirements when generating a bill. 
Manually keeping all the compliance into concentration is not possible. But, electronic medical records can easily generate accurate and error-free bills. 
Certain taxes are applicable over particular conditions only. But this is not true for every condition. Hence, the EMR software you choose must have the billing software integrated into it. 
The best EMR software has an autofill function that allows the medical staff to generate the bill within less time.
5. E-prescribing
E-prescribing enables doctors to prescribe medications to patients electronically, and they can take the printouts as well. 
This feature also includes automatic notifications regarding allergies to a particular drug that can happen. It can assist doctors in prescribing the appropriate medication as they become fully aware of the patient's health condition.
6. Order entry
When you are analyzing the characteristics of the EMR system, we suggest you check out the order entry feature. 
This feature is also known as computerized physician order. It allows the medical service provider to keep up with all the patient's details along with the reports and prescriptions that have been generated. 
It is also helpful in checking whether there are errors or transfers of all electronic orders.
7. Lab integration
There are multispeciality hospitals where many lab facilities are accessible to all the patients. Visiting every department again and again can be time-consuming. 
Ensure your EMI software has this feature integrated to monitor lab results. With the help of this particular system, doctors will be able to track the delivery and results of the samples that have been collected. 
Additionally, they can also access the explanatory information and other details that are recorded during the time of sample collection and analysis.
8. Document management
The EMR system you choose must be well organized and can manage the documents sufficiently. 
Data can be organized according to the conditions patients' are going through. It must also keep track of all the medications suggested to the patients and allergies if they have any. 
All these details will be needed by doctors in customizing the treatment.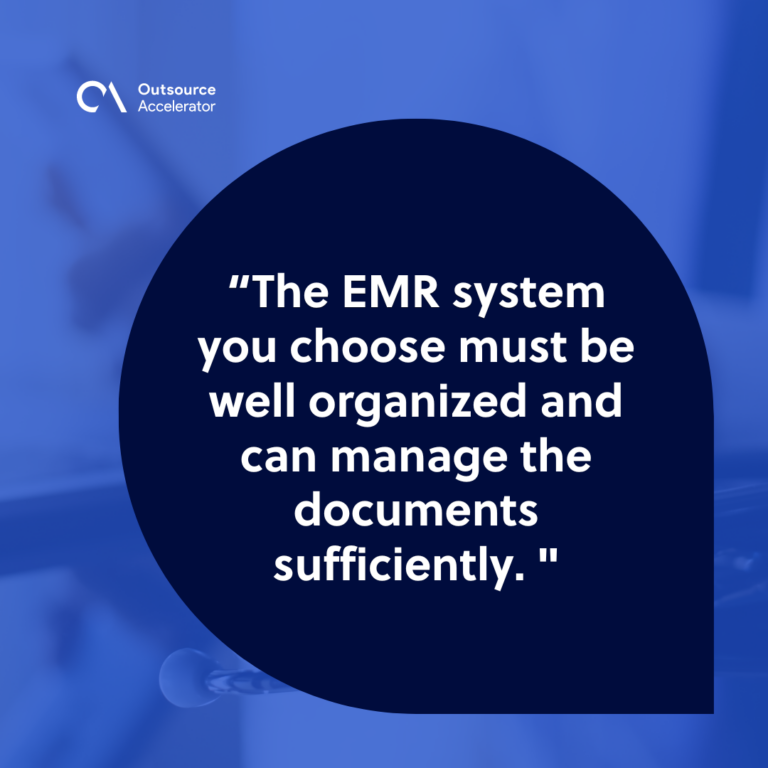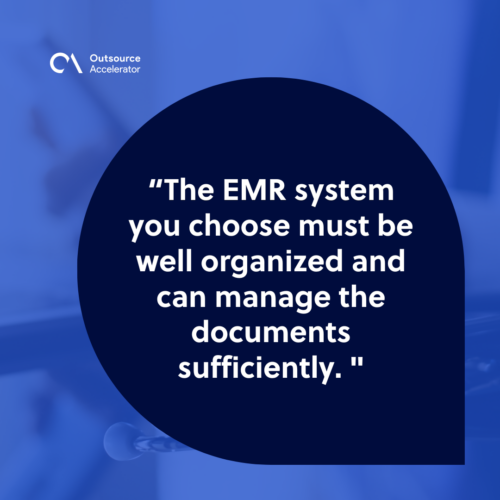 9. Centralized communication
The EMR system you choose must act as a centralized system for communication. This will help improve the communication between patients, doctors, and other departments inside the hospital premises. 
Make sure your EMR software has a particular feature available that allows doctors and patients to communicate with each other.
10. Mobile functionality
Last but not least, mobile functionality is also something that you cannot ignore. Be sure that the EMR software you choose is accessible over mobile and desktop. 
Some providers offer EMR software that is accessible to desktops and laptops only. We suggest you choose the one accessible over mobiles so it's possible to analyze patient details whenever and wherever. 
These EMR software features can help greatly improve hospitals' daily operations and functions. 
Choosing the right EMR software
An EMR software has many advanced features that help streamline hospital processes. 
It is essential to understand that the EMR software you choose must have all the mentioned features integrated into it. Ensure you check the software thoroughly and that it can easily be integrated into your systems.
Your EMR software provider must also be aware of your requirements. You can discuss the training and development part to learn about the use cases of the EMR software easily. 
If you need additional functionalities, you must inform your software provider. A reliable software partner has software experts who can meet your requirements and provide answers as needed.