Beating the (sometimes) inevitable: Your quick checklist to employee offboarding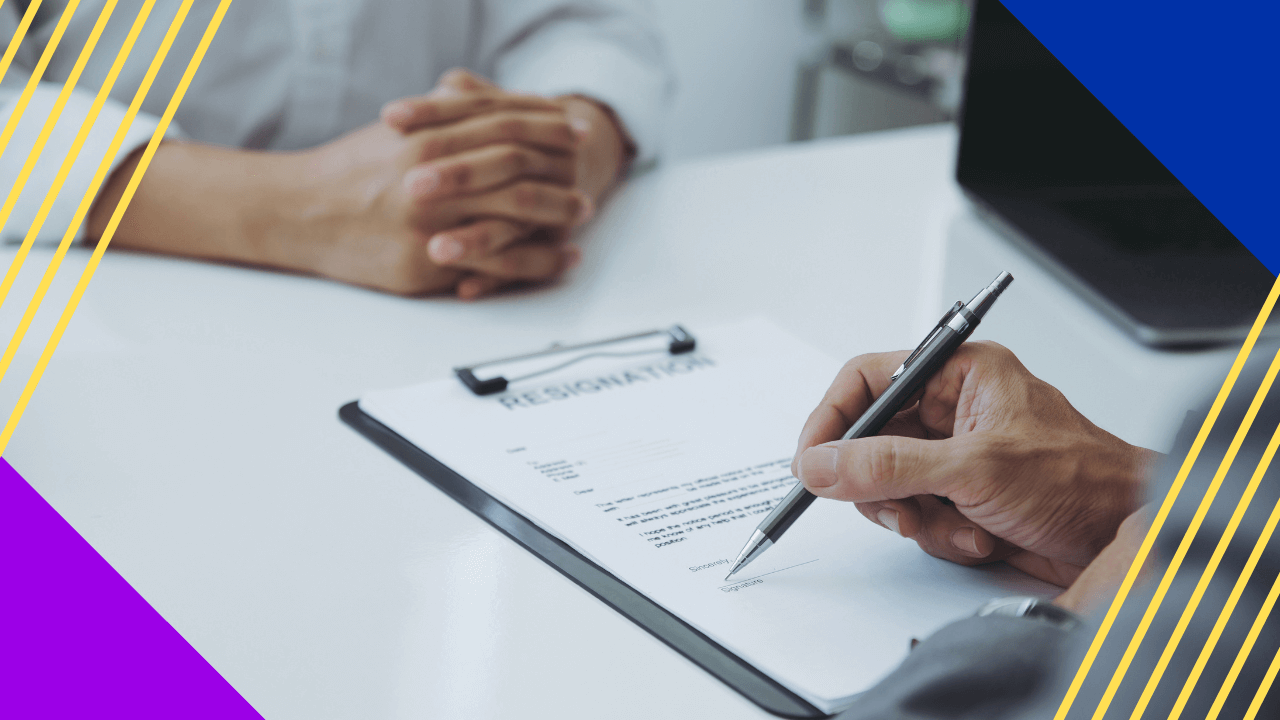 Turnovers are sometimes inevitable. Whether through resignation or termination, certain reasons constitute why employees leave a company temporarily or for good.
2021 and 2022 were even marked as the years for the "great resignation," where quit levels were as high as over four million.
Employee onboarding sets the tone for a positive work experience. On the other hand, employee offboarding ensures a smooth and respectful transition from your former staff to their replacement.
You can do your offloading process the right way to leave a great impression on your departing employee. Booth & Partners will present you with a checklist for a compliant employee offboarding and how to prevent constant turnovers.
Why employee offboarding is necessary
Employee offboarding refers to the departing staff's transition to separating from the organization,
It involves turnover of the staff's existing access to the company's assets and systems, benefits, and other related aspects.
Employee offboarding is more than just a formal procedure. It is an opportunity to leave a lasting impression on departing employees and maintain a positive employer brand.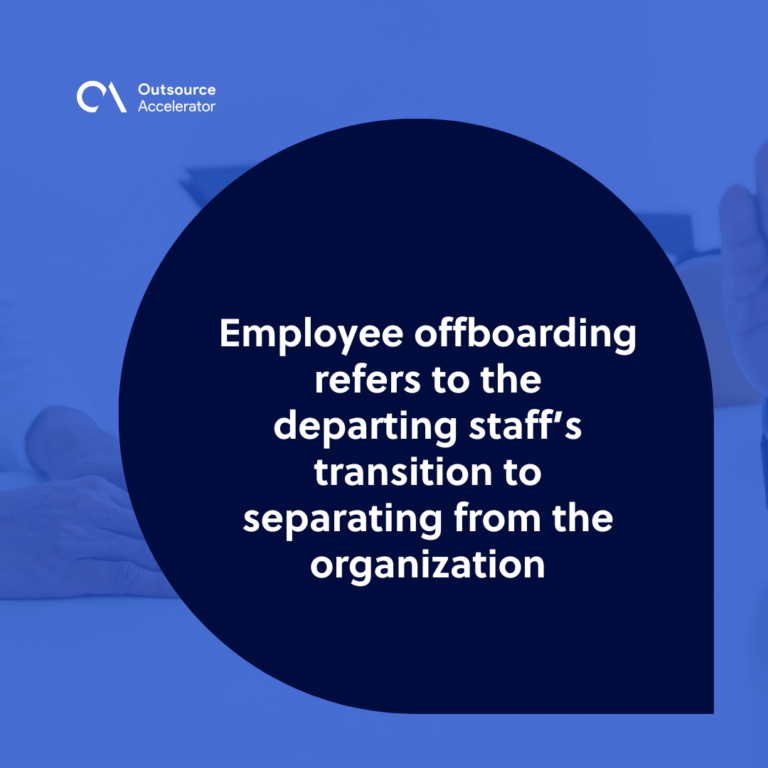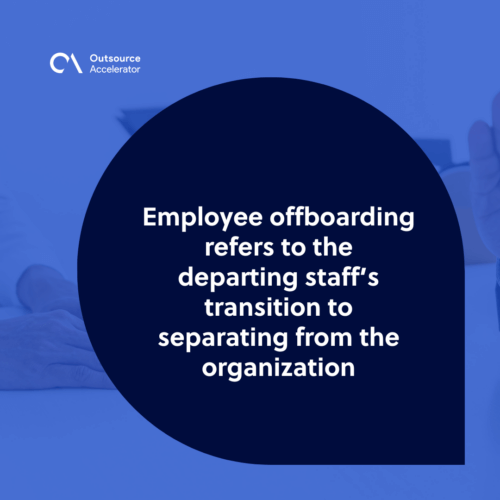 By conducting a well-structured offboarding process, organizations can achieve the following:
Preserve relationships

. Offboarding offers a chance to part ways amicably and maintain a positive relationship with the departing employee. This also helps you prevent any remaining

employee conflict

, clearing the air with their former teammates.

Protect company assets

. Ensuring the return of company property, revoking system access, and safeguarding sensitive information are crucial steps to protect your organization's assets and maintain data security.

Facilitate knowledge transfer

. Offboarding allows departing employees to share their knowledge, expertise, and insights with their successors or colleagues. This knowledge transfer minimizes the impact of losing valuable institutional knowledge.

Comply with certain regulations

. Especially when hiring offshore staff, you and your service provider must comply with employment regulations that cover resignations and terminations.
Your checklist for employee offboarding
When it comes to employee offboarding, a well-defined checklist can streamline the process and ensure that crucial steps are not overlooked.
Here are the key components to include in your employee offboarding checklist.
1. Thank your employee
Take the time to express gratitude to the departing employee for their contributions. A heartfelt appreciation acknowledges their efforts and creates a positive impression.
2. Conduct an exit interview
An exit interview allows departing employees to provide valuable feedback on their experiences within the organization.
This feedback can uncover insights and help identify areas for improvement.
3. Ensure knowledge transfer
Encourage departing employees to document their projects, processes, and important contacts. This knowledge transfer ensures a smooth transition for their successors and minimizes productivity gaps.
4. Recover company property
Collect company-owned assets from the departing employee, such as laptops, access cards, or other equipment. Communicate the process and deadlines for returning these items.
Employees may sometimes forget or cease to return some company belongings for certain reasons. You may issue a notice for the return of company property, stating you might not clear them for their actions. 
5. Revoke systems access
Terminate the departing employee's access to company systems and networks promptly. This step ensures data security and protects sensitive information from unauthorized access.
6. Arrange final pay and benefits
Ensure that the departing employee receives their final paycheck, including any accrued benefits or reimbursements they are entitled to.
Compliance with labor laws and regulations is crucial during this process.
7. Keep in touch
Maintaining a positive relationship with departing employees can lead to potential referrals, partnerships, or future reemployment. Stay connected through professional networks or alumni programs.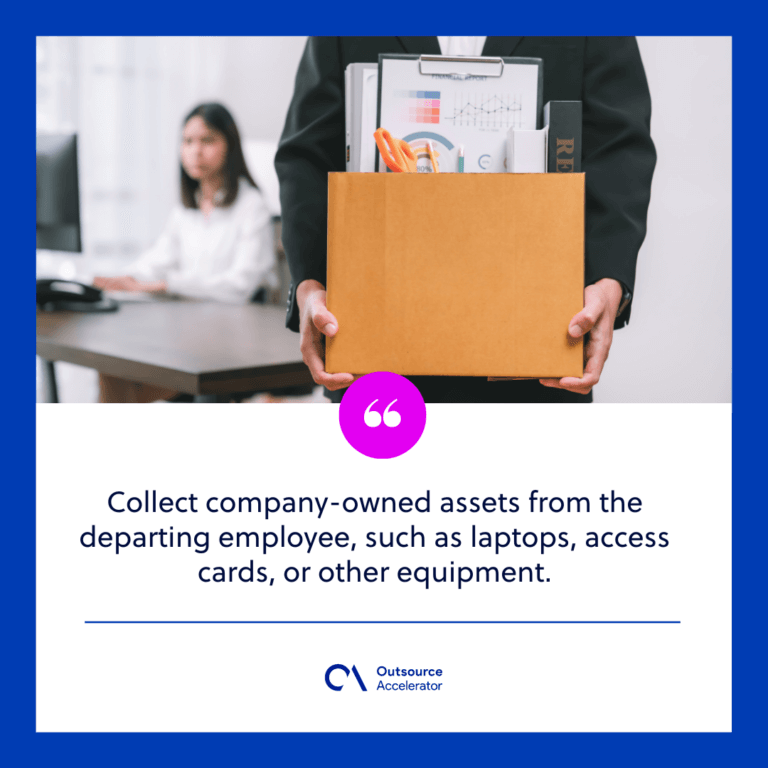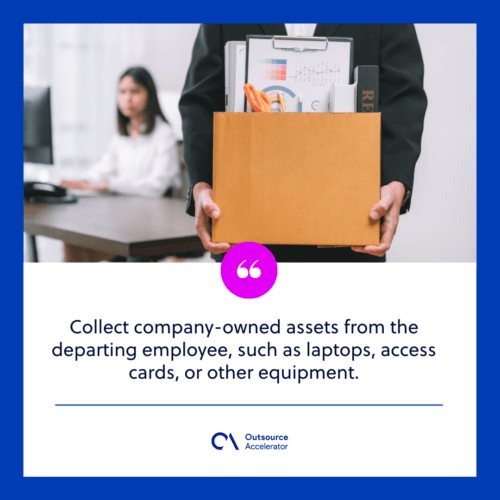 Avoid constant employee offboarding and turnover with Booth & Partners
Employee offboarding can be a challenging and time-consuming process. While a few employees in the offboarding process can happen, having constant turnovers indicate that some things need to change within the organization.
Work Institute's 2020 Retention Report revealed that first-year employee turnover could be costly for organizations. It delivers little to zero return on investment in hiring, even costing them another amount for their replacement.
A good way to prevent this is by cultivating a positive work environment with the help of a reliable service provider.
Booth & Partners, a leading HR consulting firm, specializes in providing tailored solutions to minimize turnover and optimize employee retention.
By leveraging their expertise, Booth & Partners can help your organization to:
Identify the root causes of turnover

Implement

effective retention strategies

Create a positive work environment that fosters employee engagement and loyalty
Visit Booth & Partners' website to learn how they can transform employee engagement and reduce turnover.