How an e-commerce multimedia specialist can boost your sales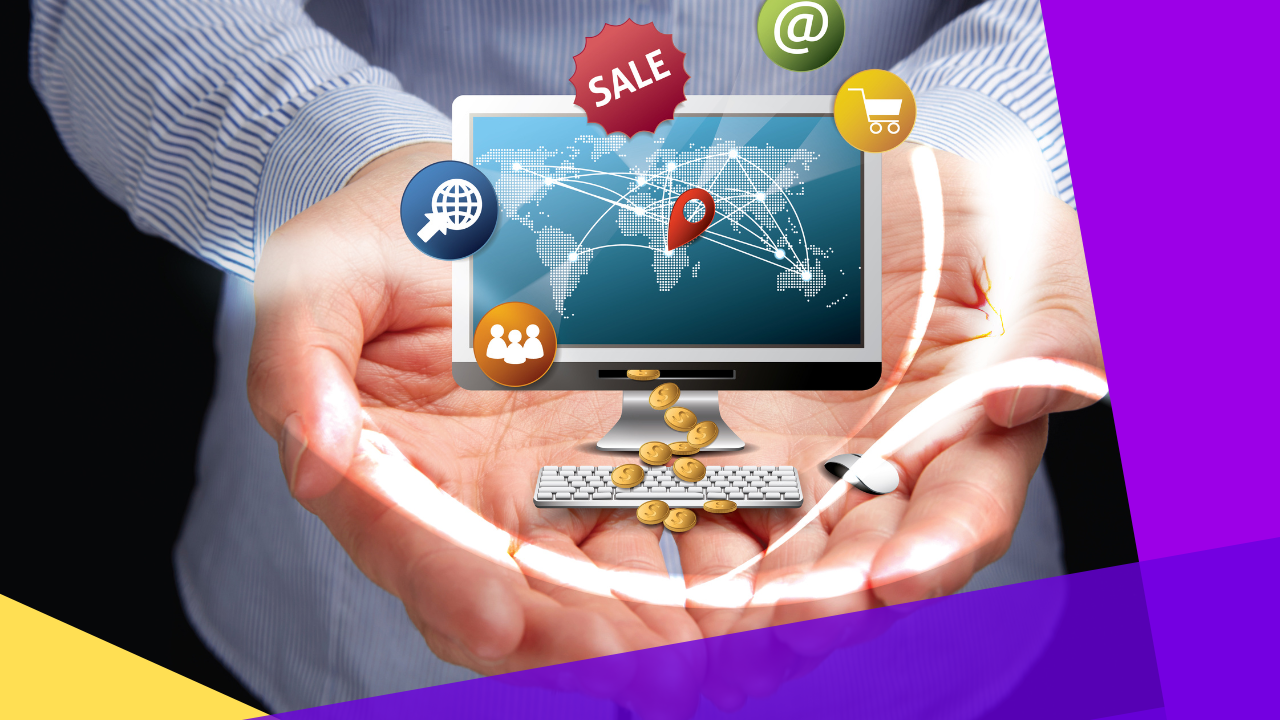 In the modern digital age, e-commerce has become essential to each business's success. 
With the upward thrust of online shopping, organizations are looking for ways to beautify their online presence and attract extra clients.
One way to obtain that is through hiring an e-commerce multimedia specialist.
This article will discuss how an e-commerce multimedia specialist can improve your income and help you stand out in the competitive e-commerce market.
Definition of e-commerce multimedia specialist
An e-commerce multimedia specialist is an expert who combines technical competencies with creative knowledge to boost multimedia content materials for e-commerce platforms. 
These specialists develop and enhance multimedia content like images, motion pictures, and audio files to sell services and products on e-commerce systems. 
They also ensure that the content material is optimized for search engines to drive traffic to the website.
An e-commerce multimedia specialist requires a variety of technical and creative skills, including:
Proficiency in multimedia software (e.g., Adobe Photoshop, Illustrator, and InDesign)

Knowledge of HTML and CSS

In-depth understanding of

web development and design

Strong communication skills

Ability to work under pressure and meet deadlines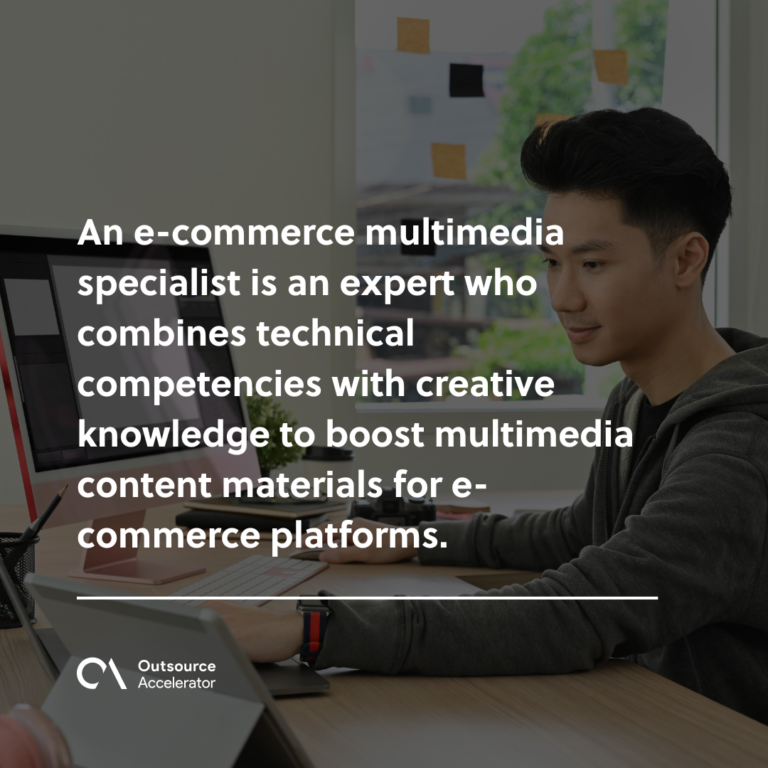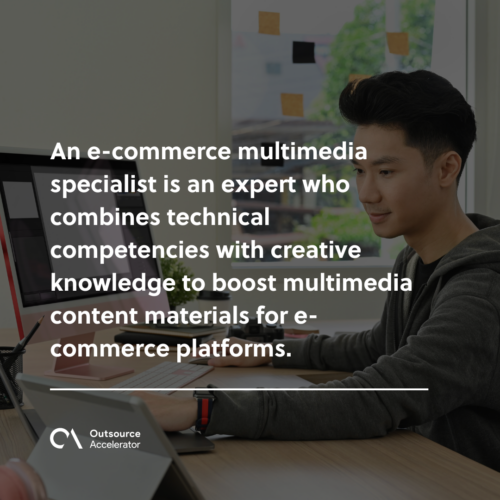 Types of e-commerce multimedia specialists
E-commerce multimedia specialists have their own expertise. All of them have their specific set of abilities and knowledge. 
Listed here are some of the common kinds of e-commerce multimedia specialists:
Graphic designer
A graphic designer focuses on creating visual content, which includes logos, icons, and product photos. They have a robust sense of aesthetics and can create stunning visuals that interest customers.
Video Editor
A video editor has experience developing and modifying movies for numerous platforms, such as social media, YouTube, and websites. 
Video editors are able to create promotional films, product demos, and other varieties of video content that engage and inform clients.
Animator
An animator creates animations and movement pictures that upload a dynamic and interactive element to your website or social media channels. 
Animators can create lively product demos, explainer videos, and different types of animated content material.
Photographer
Photographers captures snapshots of products and services for use on e-commerce platforms. They can create expert product snapshots that spotlight your merchandise's key features and benefits.
UX designer
A UX designer focuses on developing a user-friendly interface that makes it smooth for clients to navigate your internet site and discover what they may be searching for quickly. 
UX designers can create an intuitive format, optimize multimedia content, and expand a responsive layout that works on exceptional devices.
Copywriter
A copywriter focuses on creating persuasive and compelling written content that captures customers' attention and encourages them to do so. 
Copywriters could write product descriptions, website copy, and other content material that promote your services and products.
Employing an e-commerce multimedia specialist with distinctive abilities lets you create a multimedia revel that – engages and informs clients, builds logo loyalty, and in the end, drives sales.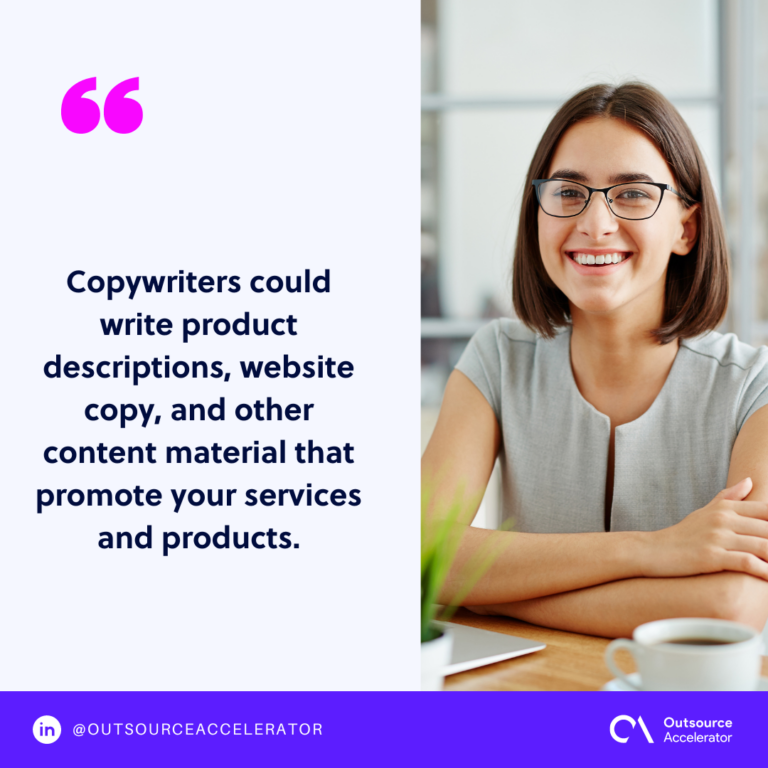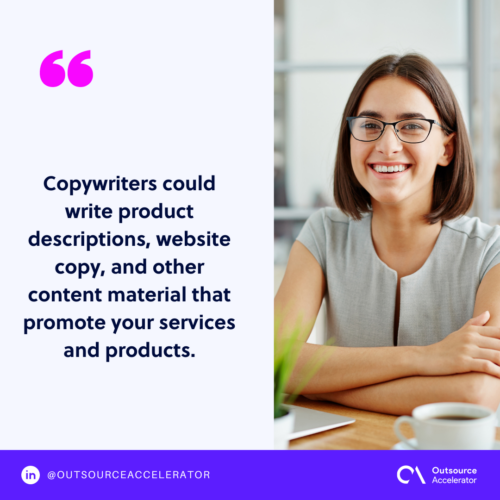 Benefits of e-commerce multimedia specialist
These professionals understand the unique challenges and opportunities of the e-commerce industry. They have the competencies and knowledge to leverage multimedia to meet the clients' business objectives.
Hiring an e-commerce multimedia specialist can bring several advantages to your business, such as: 
Improved customer engagement.
Multimedia content material should be more than just plain text. This type of content material should seize customers' attention, primarily to more extended surfing and elevated income. 
Seasoned e-commerce multimedia specialists can:
Create visually lovely product photographs and videos

Interactive 360-degree views

Augmented reality stories 
They have the capability to make clients feel more connected to your brand.
Improved website usability
Well-skilled e-commerce multimedia specialists can design a user-friendly interface that makes it easy for customers to navigate your site and quickly locate what they are seeking. 
They can also optimize multimedia content to load quickly and be more accessible to different devices, improving the overall consumer experience.
Better brand image
Multimedia content material permits you to stand out in a crowded online marketplace, particularly through a unique logo identification. 
An e-commerce multimedia specialist lets you have a consistent visible style that reflects your brand's identity and values. It allows your brand to create a memorable impression on your target customers.
Enhanced SEO
An e-commerce multimedia specialist can optimize your multimedia content for search engines like Google and Yahoo using suitable metadata, alt tags, and report names.
Thus, having the right multimedia content material can improve your search engine scores by:
Encouraging visitors to spend more time on your website 

Lowering leap rates

Increasing backlinks
Increased sales
Through creating engaging and informative multimedia content, a multimedia expert can drive extra visitors to your website, increase conversions, and ultimately raise sales. 
They can also broaden centered multimedia campaigns that reach specific consumer segments and drive repeat business.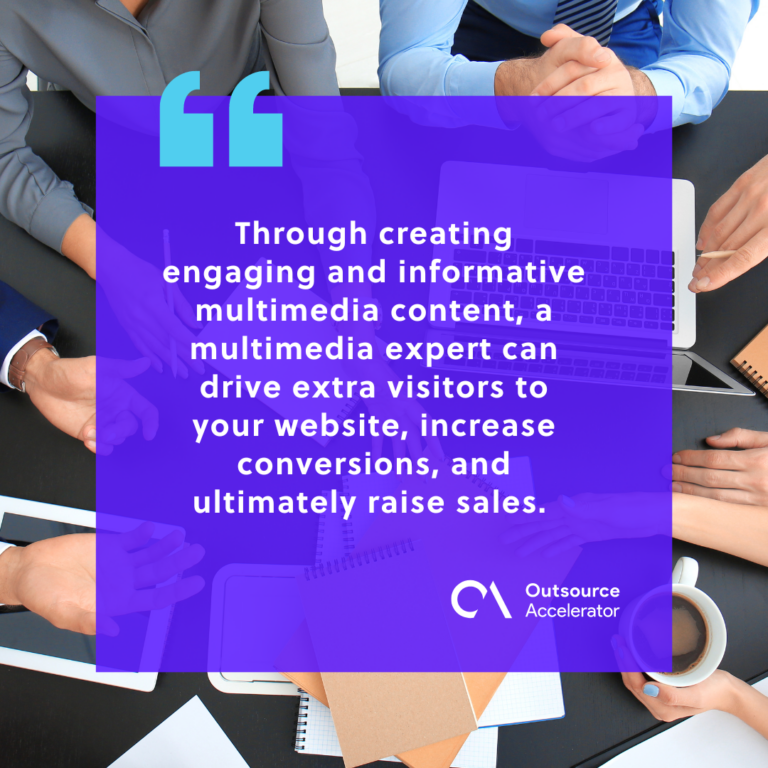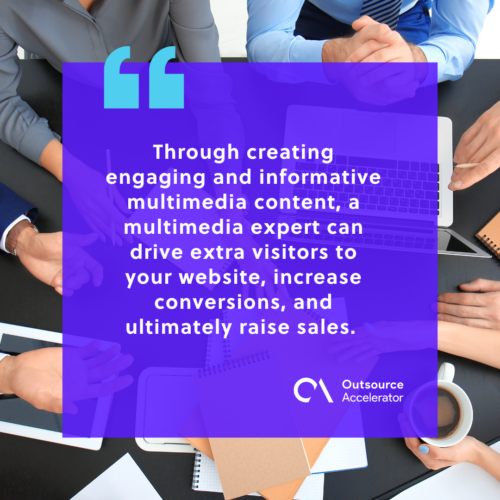 Outsourcing ecommerce multimedia specialist through Cloudstaff
Outsourcing an e-commerce multimedia specialist through Cloudstaff can be a strategic decision for your business. 
Cloudstaff is a leading outsourcing carrier that connects firms with professionals throughout various industries. 
Via leveraging Cloudstaff's expertise, you can access a pool of proficient e-commerce multimedia specialists. You won't have to hire full-time personnel or invest in steeply-priced infrastructure. 
You can pick out experts with specific abilities that align with your necessities, ensuring high-quality multimedia content material for your e-commerce platform.
Contact Cloudstaff today to get started!