DTMF phone: Applications, advantages, and limitations
The dual-tone multi-frequency (DTMF) phone system has revolutionized communication by making it more efficient and accessible. 
DTMF phones are essential to telecommunication systems, allowing users to dial numbers, access services, and interact with automated systems. Many call centers still use them with IVRs to let customers navigate their menus.
The DTMF phone's adaptability and interoperability have led to its durability and continuing significance. It is a great tool for promoting speedy and dependable communication.
Evolution of the DTMF phone
The DTMF phone system first appeared in the mid-1960s as a revolutionary alternative to old rotary dial phones. 
Before the introduction of DTMF technology, rotary dial phones had a mechanical dialing system in which users had to revolve a dial to enter digits. This procedure, however, was time-consuming and prone to mistakes.
The use of DTMF technology provided various benefits. It allowed for faster call setup, decreased dialing mistakes, and aided in developing automated systems.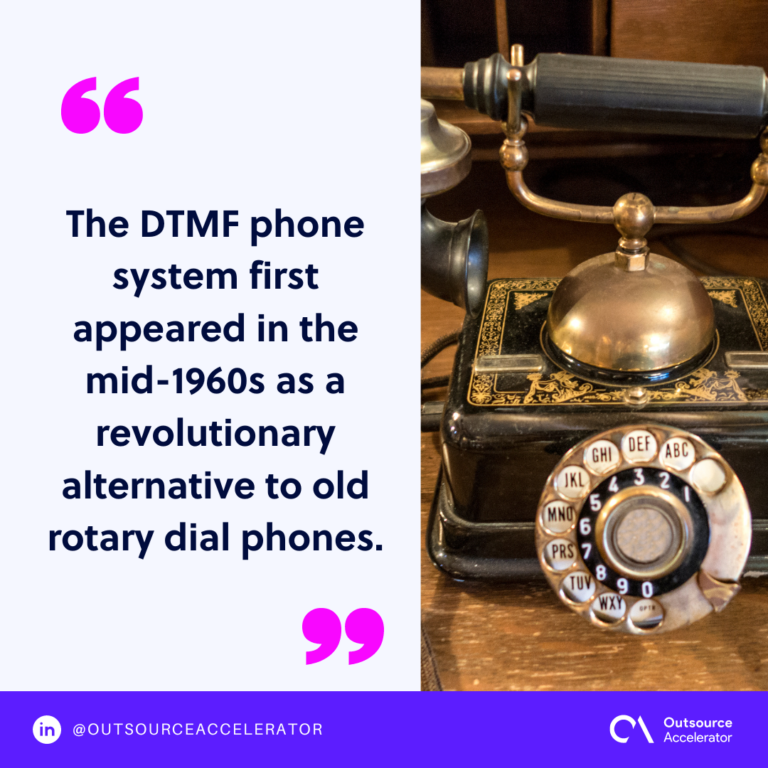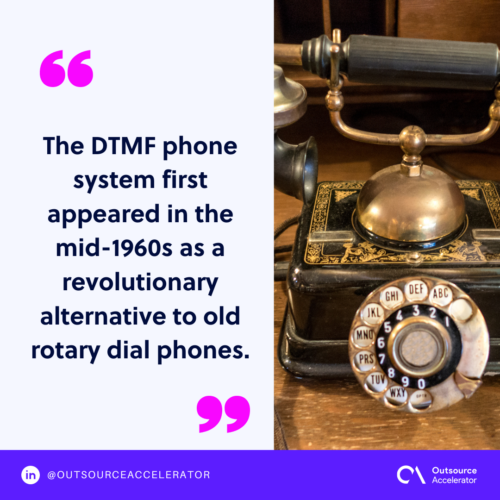 How a DTMF phone works
A DTMF phone generates specific tones using a keypad. The keypad consists of 12 buttons, including the numbers 0-9 and symbols (*, #). Each button is a unique combination of two distinct frequencies transmitted over the telephone network.
These frequencies fall within the audible range and can be detected by DTMF decoders at the receiving end, allowing for the interpretation of the dialed number or command.
Applications of DTMF phone
DTMF phones have various uses in different sectors, adding to their importance in modern communication.
The adaptability of DTMF phones enables smooth integration and effective operation in certain areas.
Here are the applications of the DTMF phone in different systems:
Telecommunication systems
The DTMF phone is widely used in telecommunication networks. It serves as the primary mechanism for customers to dial numbers and access various services. It also performs voice communication, call routing, and other critical contact center operations.
Automated systems and IVR
The DTMF phone is also used in automated systems and interactive voice response (IVR) solutions. Users can engage with pre-recorded audio prompts on their phones by inputting digits.
Security systems
Alarm panels and access control systems use DTMF phones as security systems. The DTMF phone allows users to disable security systems by entering codes or passwords, improving the overall safety and protection of sites.
Banking and financial services
DTMF phones provide safe and easy access to banking and financial services.
Customers may use the keypad to execute transactions, check balances, and verify themselves, guaranteeing speedy and user-friendly interactions.
Industrial automation and control
Industrial automation and control systems depend heavily on a DTMF phone, which facilitates remote equipment monitoring. This allows operators to execute commands and receive status updates via DTMF tones.
Remote equipment management
DTMF phones remotely administer equipment and devices in various industries, including utilities and telecommunications. 
For example, the utility industry uses the DTMF phone to control power distribution systems from afar. 
Utility companies can use DTMF tones to control switches, track how much power is being used, and troubleshoot equipment in substations.
This feature lets workers fix problems, change settings, and make sure the power grid runs smoothly from a distance.
Emergency services
DTMF phones are incorporated into emergency service networks, allowing individuals to swiftly dial emergency numbers and request assistance.
Advantages of using a DTMF phone
The DTMF phone offers several advantages, further explained below:
Speed and efficiency
DTMF phones excel in providing communication speed and efficiency. The keypad's design allows users to dial numbers quickly, allowing for instant contact with others. 
As previously mentioned, the DTMF phone's capability is especially useful in instances requiring immediate communication, such as emergency services or time-sensitive business operations.
Versatility and compatibility
The DTMF phone may function seamlessly on a classic landline or a contemporary Voice over IP (VoIP) network, maintaining constant communication capabilities.
This adaptability enables customers to use DTMF phones in various scenarios, from domestic and corporate settings to public locations. It also improves interoperability—increasing connectedness and cooperation.
Enhanced functionality
Combining interactive tools and automatic processes in DTMF phones makes the device more useful.
The DTMF phone can save time and money for both users and service providers because it automates tasks and offers a self-help feature.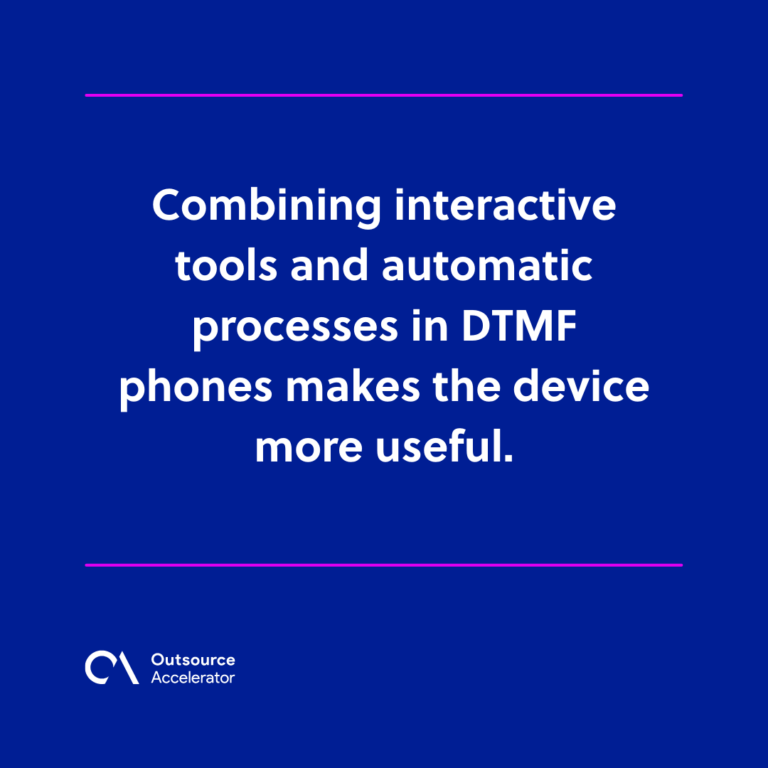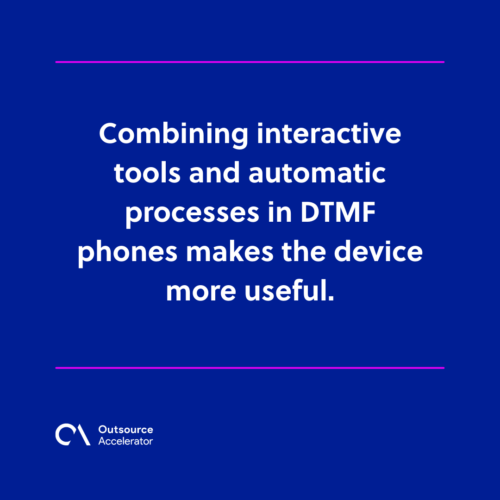 Limitations of a DTMF phone
While a DTMF phone offers numerous advantages, it also has limitations. Understanding these limitations helps provide a comprehensive perspective on DTMF technology's capabilities and potential drawbacks.
Limited input options
One of the limitations of a DTMF phone is that it needs a twelve-button keyboard to work. This restriction affects the number of data that is needed for an input.
It's good for calling numbers and looking at menu options, but entering more complex information or text might be hard.
That said, DTMF phones may be hard to use or cause problems for jobs requiring many alphanumeric entries or text messages.
Vulnerability to noise and interference
When sent over a telephone network, DTMF signals are sensitive to noise and interference. Background noise, cross-talk, and poor line quality can all impact the accuracy and dependability of DTMF transmission.
The detection and interpretation of DTMF tones might be degraded in loud surroundings or when network conditions are inadequate, resulting in unsuccessful transmission.
This noise and interference sensitivity is an inherent shortcoming of a DTMF phone that should be considered in critical or noise-sensitive applications.
Lack of multimedia integration
Unlike a smartphone with enhanced capabilities, a DTMF phone does not provide multimedia messaging, internet surfing, or video calling.
This constraint limits the capacity to transmit and receive multimedia material, which is necessary in some communication settings.
Because DTMF phones lack such capacity, they are unsuitable for applications that need smooth interchange (like softphone) for a real-time video communication.
Overall, as technology evolves, DTMF phones will further adapt and enhance their capabilities to meet the demands of modern communication despite their limitations today.