Why offshore drafting services is a powerful asset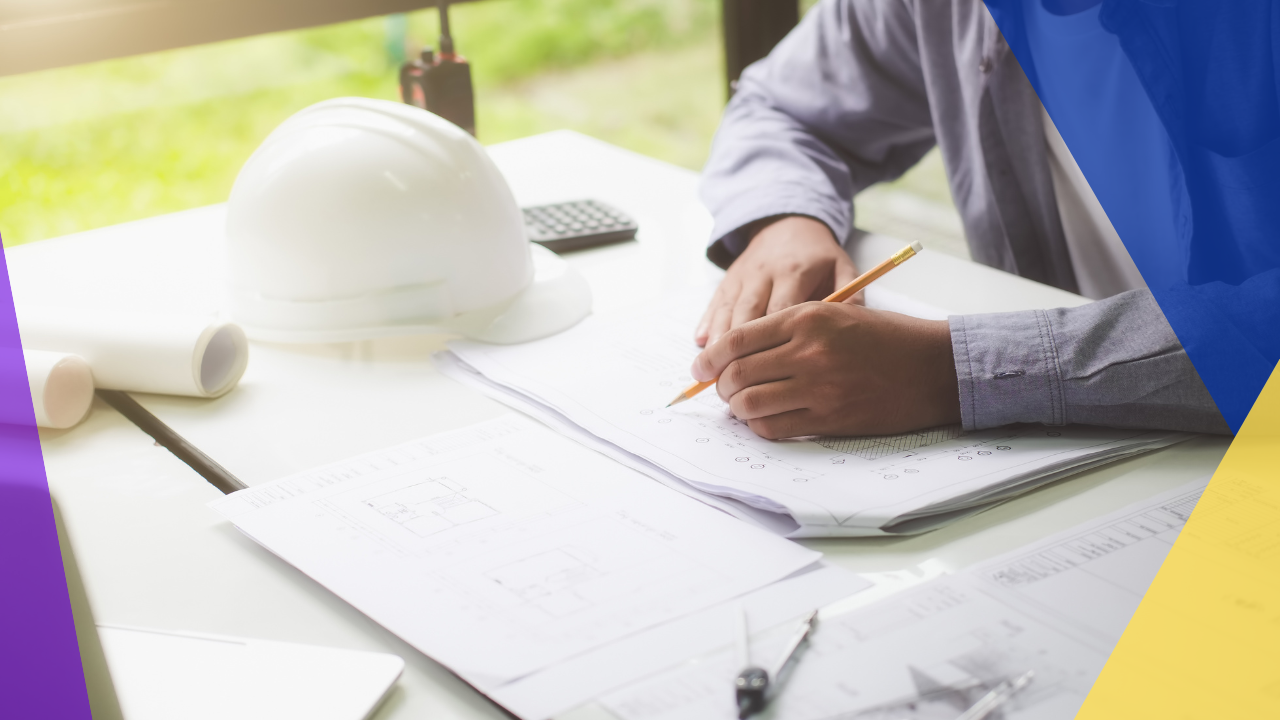 Drafting is the process of making accurate representations of buildings for architectural, engineering, and technical purposes. 
Companies require drafting services when they wish to build, remodel, or renovate. Outsourcing drafting services, especially architectural drafting, is a rapidly growing sector. 
Due to its many benefits, more industries are choosing to outsource architectural drafting services to designers and engineers in other nations. 
By utilizing the services of firms like MVP Asia Pacific, companies can get their drafting needs done by professional teams at substantial rates. 
The benefits of outsourcing drafting services 
By outsourcing drafting services, engineering and design teams can focus on more core aspects, strategies, and complex details of a project. 
Outsourcing drafting services can give you the following benefits:
Access to a professional team 
A large number of skilled and experienced engineers are available in the Philippines, India, China, and other countries. 
Instead of building your in-house team, you can hire a professional offshore team with years of experience in drafting services.
One great advantage of having a dedicated team is that there is less room for error since each member has been specifically trained for their role in a project.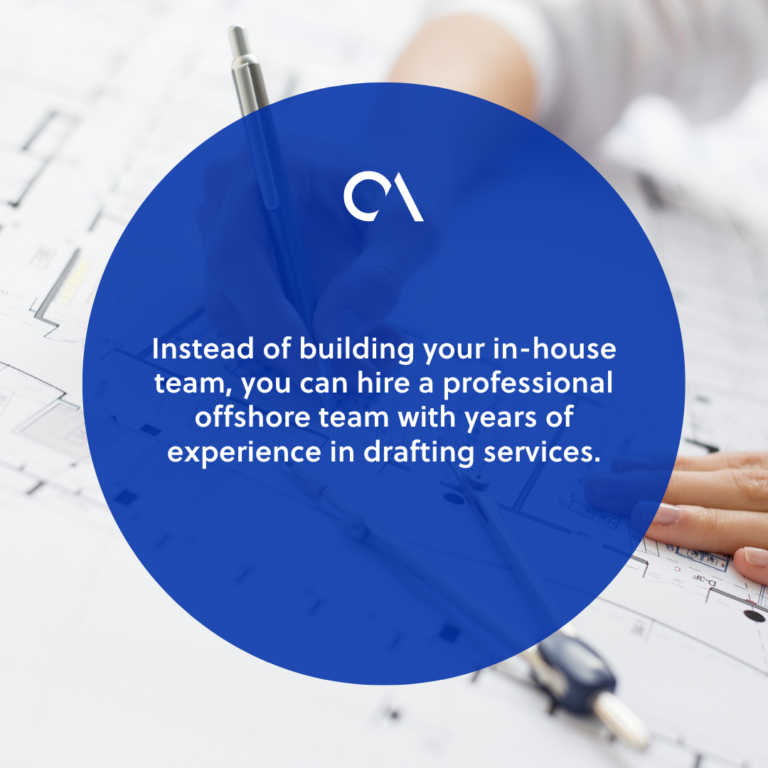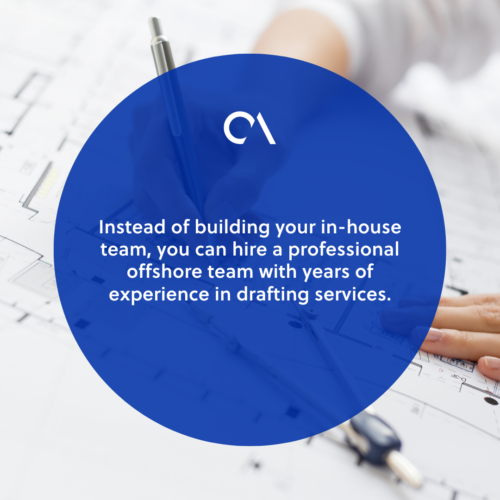 Flexible engagement models 
Flexibility is a consistent benefit of outsourcing. You can contract out to an offshore provider on a short-term or full-time basis, depending on your project's size and budget. 
If you have a large project but only needs a little help at any one time, you can hire someone who will come on board temporarily and then move on when the need is over.
Cost-efficient solutions 
Offshoring is a cost-efficient option for many businesses, especially for those not ready to invest in the latest drafting technologies and software required for local teams.
Offshore companies that offer drafting services usually have low labor costs, providing you with affordable solutions while maintaining high quality work. 
You can easily offshore from a company that specializes in this area, giving you access to their state-of-the-art technology and highly qualified staff at an affordable price.
Increased productivity 
You may find that hiring a team of professionals from abroad enables you to get more work done in less time than if you had hired local staff.
Hiring an in-house team of designers and engineers to work on your project means they won't be available 24/7. 
Instead, you can farm out drafting services to a professional team that works around the clock and has no conflicts of interest with other projects.
Compliance with local and international standards  
Offshoring drafting services to a country with a high-quality educational system means that you will have a solid technical team. They can work in compliance with local and international standards. 
Moreover, they will be able to adapt your product or service to comply with the specific requirements of your target market.
You don't have to worry about meeting compliance standards or dealing with legal issues when you outsource drafting services. 
These things are handled by the outsourcing firm's team of experts who have experience working with different types of clients across the globe.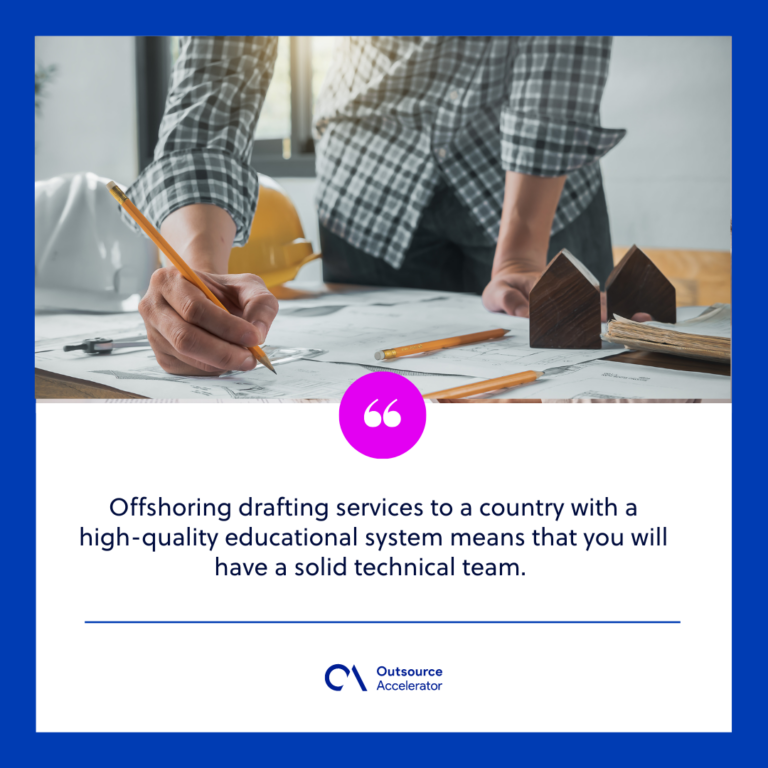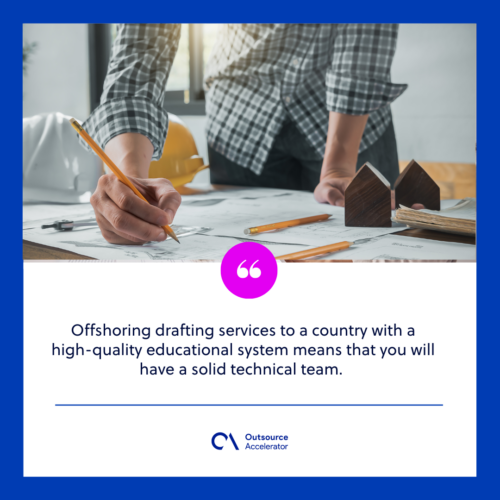 Offshore drafting services that MVP Asia Pacific can provide 
Choosing MVP Asia Pacific is the first step in taking your business to the next level with increased scalability and efficiency. 
MVP Asia Pacific offers drafting services in the areas of interior design, 3D modeling, and architectural floor plans. 
The MVP team can design layouts based on your requirements and ensure the project is executed successfully. 
Get in touch with MVP Asia Pacific now for first-rate drafting services.