What is domestic outsourcing/onshoring?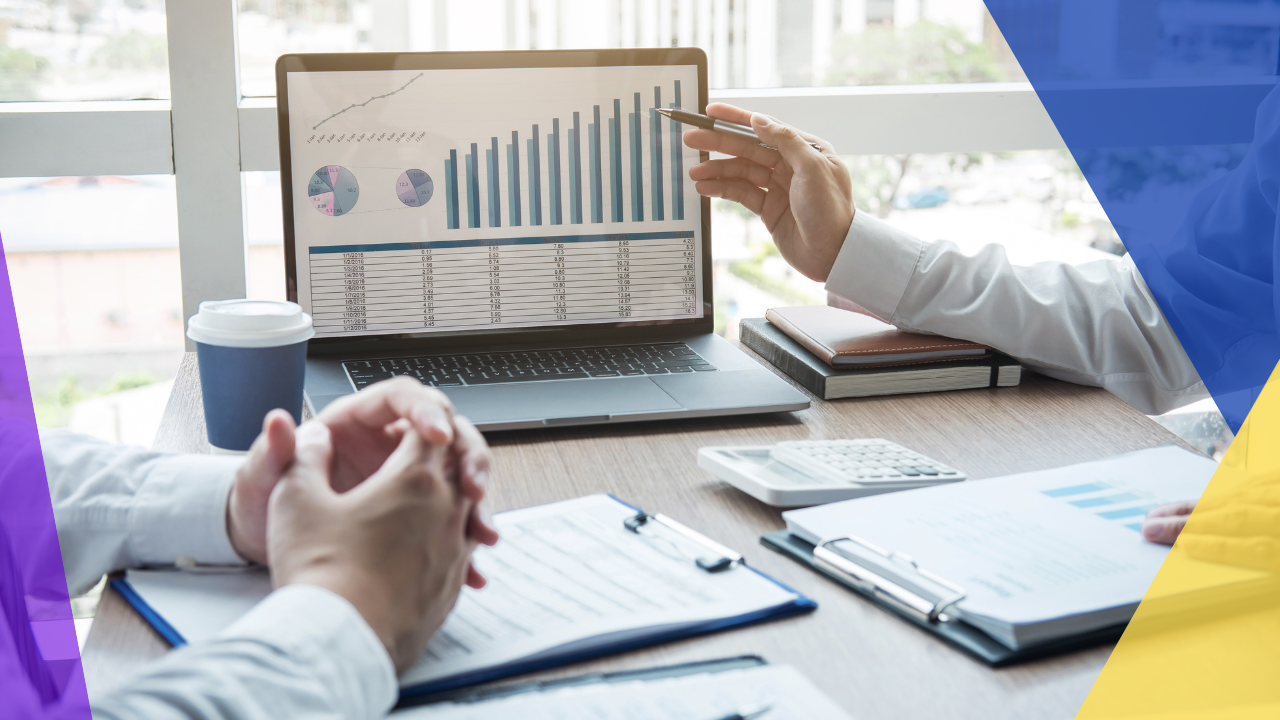 The COVID-19 pandemic forced businesses to digitize their operations and transition into remote work. Among the available outsourcing methods, most companies prefer domestic outsourcing.
Despite the towering costs, businesses chose to pull their services back to their home locations due to several challenges and regulations when offshoring a certain function or department. But will it help them grow and expand in the future?
Learn more about domestic outsourcing, its advantages, and the trends and statistics everyone should know
Defining domestic outsourcing
Also called onshore outsourcing, domestic outsourcing refers to an outsourcing strategy where companies outsource their services to a local firm or outsourcing company. 
Some businesses decide to pull their offshore services back to their home countries for several reasons. This includes tightened outsourcing regulations, security improvements, and better convenience. This opens the opportunity for local firms and BPOs to offer their services.
Domestic outsourcing retains the aim of delegating non-core and complex activities to third-party suppliers so clients won't have to do them in-house.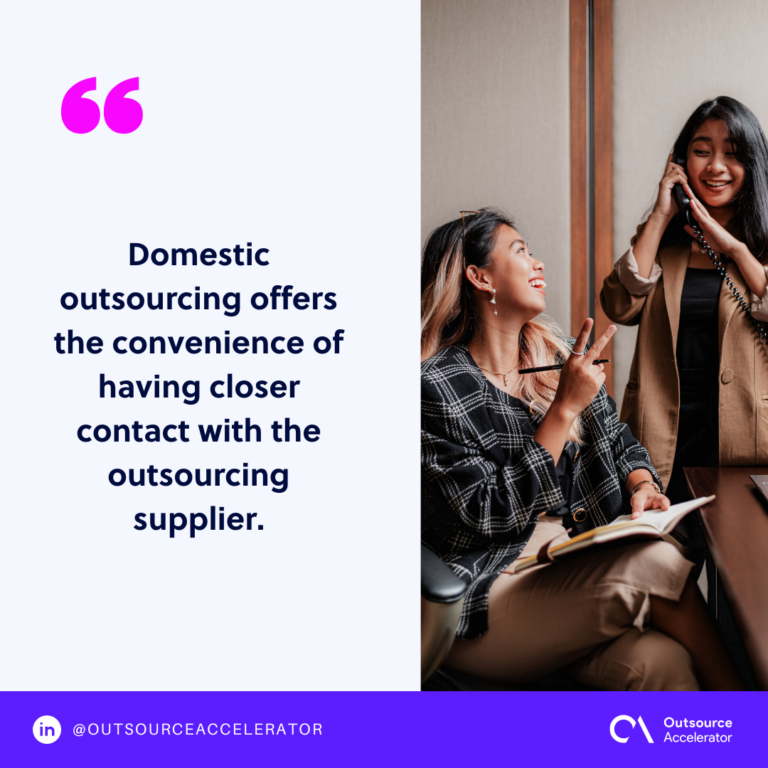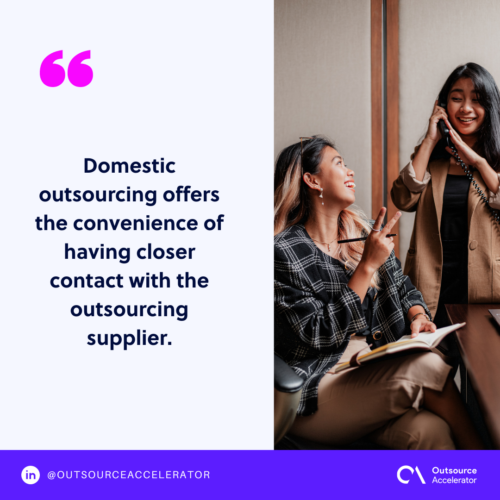 Compared to nearshore and offshore outsourcing
Domestic outsourcing offers the convenience of having closer contact with the outsourcing supplier.
Compared to offshore outsourcing, clients do not need to travel miles away to meet and work with their remote teams in person. They can take control of their operations more.
Clients also get their preferred quality output easier and without the fuss of additional regulations. However, they won't likely get as much savings as hiring an offshore team.
Compared to in-house hiring
On the bright side, domestic outsourcing can be way more convenient compared to in-house hiring. 
Clients still get savings on labor costs and equipment. As in usual outsourcing, their service provider will take care of everything from hiring and recruiting employees, providing training sessions, to taking care of their salaries and benefits.
Why companies choose to outsource onshore
Some companies that outsource onshore might have been offshoring before. They potentially chose to pull their business functions back for the following reasons.
Legal limitations
Some countries still have strict regulations when it comes to companies outsourcing their services. 
For instance, hired contractors might still undergo procurement and bidding processes. This requires tons of documentation for both the company and their outsourcing partner.
By hiring onshore BPOs, they cut the red tape of hiring contractors. This guarantees that they follow the same regulations and laws since they're located in the same region.
Intellectual property protection
Domestic outsourcing also protects them from possible intellectual property violations from their service providers. 
This reinforces companies to have the peace of mind that their concept and patent don't go elsewhere other than the business itself. The same applies with providers potentially copying from other businesses.
Outsourcing locally protects them from possible lawsuits from other companies that originally own the concept or patent of a product.
Political and economic stability
Political and economic conditions in offshore countries aren't always stable. Businesses risk losing their operation when an economic crisis hits an offshore country. They'll end up back to square one.
Businesses pull their work back to their home countries for security. Some companies find peace of mind in doing this knowing their home countries have better economic and political stability.
Geographical limitations
Some functions simply cannot be delegated offshore due to geographical limitations. This includes processes like government equipment manufacturing and infrastructure construction.
Organizations turn to domestic outsourcing to delegate these services. Thereby saving them resources and finances instead of doing them in-house.
Pros and cons of domestic outsourcing
Companies outsource domestically despite costs and growth limitations. Here are some pros and cons companies weigh in terms of domestic outsourcing. 
Pros 
Fewer communication worries
Companies have fewer communication woes when outsourcing their services domestically.
For one, language and accent barriers are lessened — if not erased — since they deal with local staff. They simplify communication processes and strategies with their service providers.
Additionally, they can talk over the phone at lower costs and can even be visited in person any time.
Better ways to collaborate
With domestic outsourcing, work collaborations aren't limited to online interactions and virtual meetings.
Clients can now set in-person meetings for project collaboration whenever they need it. This also helps in building connections between in-house and outsourced teams.
Tap into local skillsets
Domestic outsourcing involves hiring local talents with expertise and focused capabilities for specialized functions. 
Companies can take advantage of the skill sets available within the region. They can easily hire available talents since they have a service provider who will take care of it.
Maintain the 'local' identity of the product
Domestic outsourcing helps companies preserve their 'local' identity. This is particularly true given that customers are now increasingly supportive of businesses with locally-made products and services.
Clients tap local suppliers to manufacture their products and provide services to their consumers. They choose local service providers because they are aware of the unsafe and unjust labor practices involved in cheap labor.
Long-term affordability
Domestic outsourcing can help a business save costs in the long run. Comparatively, it bears higher rates than its offshore counterparts. 
One of the main reasons companies outsource offshore is to cut costs and save on resources. Yet, personally collaborating with them can be difficult and expensive considering the time and travel expenses.
Domestic outsourcing affords businesses economical and accessible solutions for communication, travel, and overhead.
Cons
Limited available talents
Despite the availability of local talents, recruitment choices for domestic outsourcing may be limited. Companies might find it challenging to hire dedicated talent for the roles they need.
When state, region, or country lines restrict a company's workforce, their teams could suffer from a lack of diversity as a result.
Service limitations
Services offered may be hindered when limited talents are willing to do outsourced work. It can hold back a company from opportunities to continually expand and grow.
For instance, people expect businesses to be responsive 24/7, but employees from the same region can't render round-the-clock services. Therefore, services are only offered within their business hours in their home country.
In this sense, domestic outsourcing hinders a business' scalability and plans for expansion to other regions.
Higher costs compared to offshore services
Domestic outsourcing asserts higher overhead fees and related costs. Therefore, companies can't save as much as when they hire offshore.
Countries known for higher basic salaries have an equally high cost of living. So even when companies save on equipment, facilities, and other requirements, they would still need to spend on reasonable wages for their local workforce.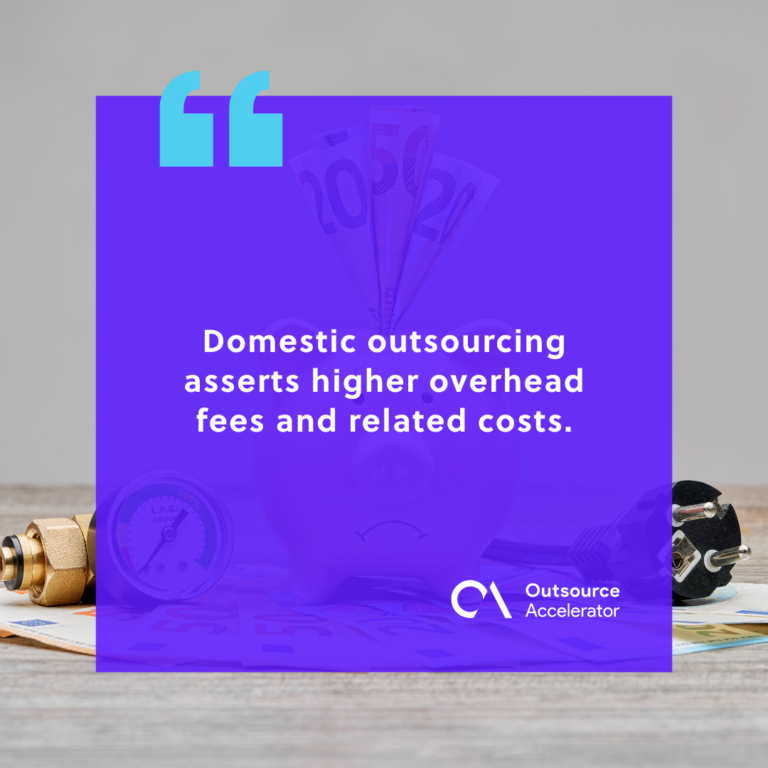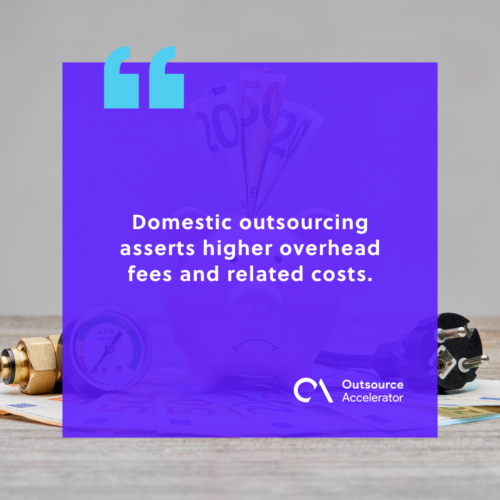 Latest domestic outsourcing statistics
This year poses a bright future for outsourced services around the world.
A recent Clutch study finds that more than 80% of businesses plan to outsource their services to save time, grow their business, and work with experts. Among these companies, 56% decided to try onshoring. While around one in five plan to try nearshoring and offshoring.
According to experts, organizations hire onshore mostly if the function relates exclusively to their local users. Information technology (IT) and customer support services are the most popular functions for domestic outsourcing.
Since 2018, companies have started to pull their IT services back to their countries due to the current and future complications in offshoring this function. Domestic outsourcing gives businesses the advantage of tapping local professionals more.
A  2019 report claims that companies prefer onshoring development work since their providers only hire local senior developers.
Domestic outsourcing companies
There is an increasing customer demand for local support representatives to serve and talk to them. And global businesses have tons of options for BPO companies that offer these onshore solutions.
In the United States,the industry consists of a diverse set of BPOs catering to businesses of all sizes and sectors. Canada and Europe have also opened their countries to service providers starting their onshore services.
All in all, domestic outsourcing can be a good start for foreign companies who want to try outsourcing without the offshore challenges. They only have to reach out to their preferred outsourcing companies to learn how they can help in improving their operations.