Revolutionizing diversity strategies in outsourcing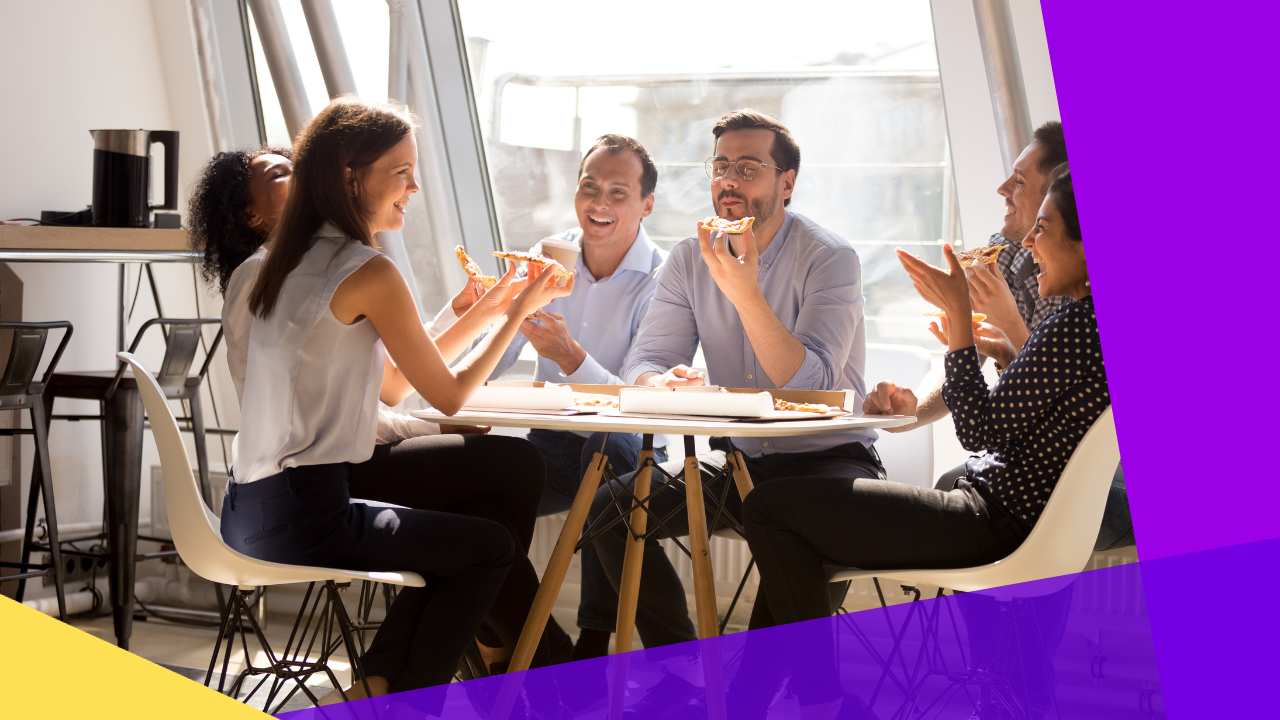 Diversity is a powerhouse that can transform the outsourcing landscape. 
In an era where inclusivity matters more than ever, businesses are redefining their strategies to embrace the strength found in differences.
In the 465th episode of the Outsource Accelerator podcast, Spencer Cannon, the Vice President of Growth and Partnerships at Buwelo, discussed global diversity strategies regarding compensation.
What are diversity strategies?
Diversity strategies are the secret sauce that turns a group of employees into a powerhouse of creativity and innovation. 
It's the intentional act of bringing people with different backgrounds and experiences together to create a diverse and enriching environment that goes beyond the usual.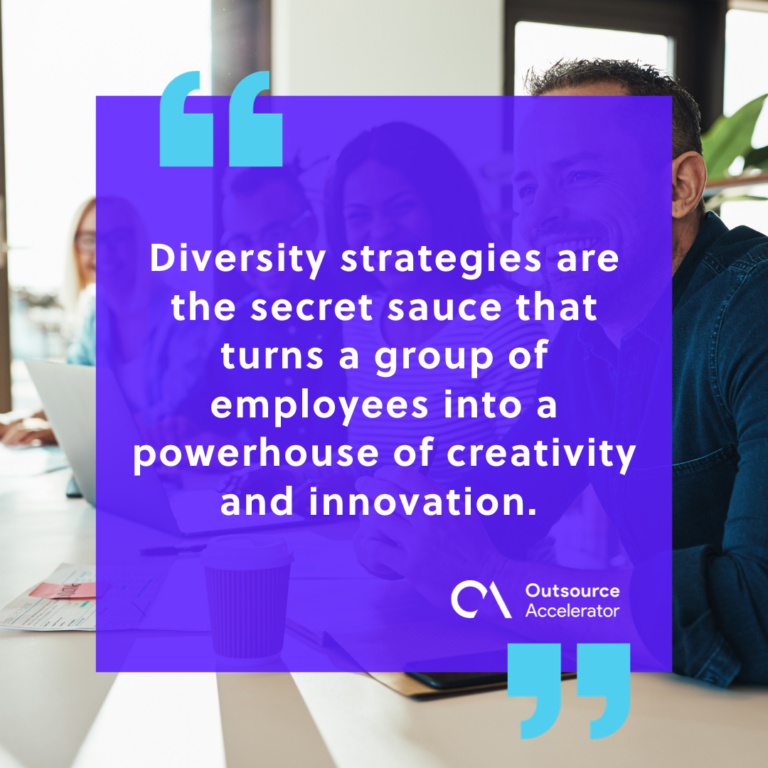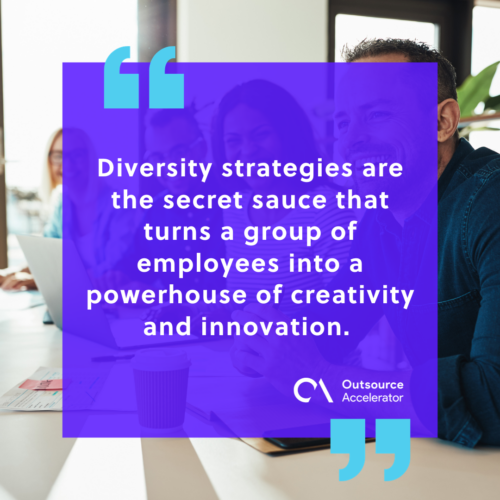 Benefits of diversity strategies in outsourcing
Diversity strategies in outsourcing can benefit the outsourcing companies and the global workforce. Here are some key advantages:
Enhanced creativity and innovation
Diversity sparks creativity. Ideas mix and merge in a team with varied perspectives, leading to innovative solutions. 
It's an accelerated brainstorming session where each person contributes a unique piece to create an innovative masterpiece.
Improved problem solving
Diverse teams are inherently better problem solvers. They approach challenges from different angles, dissecting issues with various strategies.
Imagine a situation where a group is addressing a complicated problem. Drawing from their unique background, one member suggests a solution that others might not have considered. 
That's the beauty of diversity in problem-solving – it's not a one-size-fits-all approach but a tailored, adaptable strategy.
Increased global competitiveness
Global competitiveness is the name of the game. Diversity strategies give businesses an edge by aligning them with an international market's varied needs and preferences. 
It's not just about language. It's about cultural nuances, understanding diverse consumer behaviors, and catering to a broad spectrum of tastes.
Talent attraction and retention
Highly skilled professionals actively seek workplaces that embrace diversity. 
When your outsourcing approach involves building a team with diverse skills and backgrounds, you naturally become a magnet for top talent.
Buwelo's global diversity strategies regarding compensation
Below are Buwelo's global diversity strategies in terms of compensation
Tailored employee benefits across the globe
In the podcast, Spencer shared insights into the cultural aspects of building a successful operation in the Philippines. 
He highlighted their pride in establishing a legendary name in their region and creating an excellent workplace.
The guest emphasized the uniqueness of the culture they had cultivated in the Philippines, acknowledging that the techniques and practices that worked there might not necessarily translate universally. 
"In Colombia, Africa, or Portugal, they might have different needs."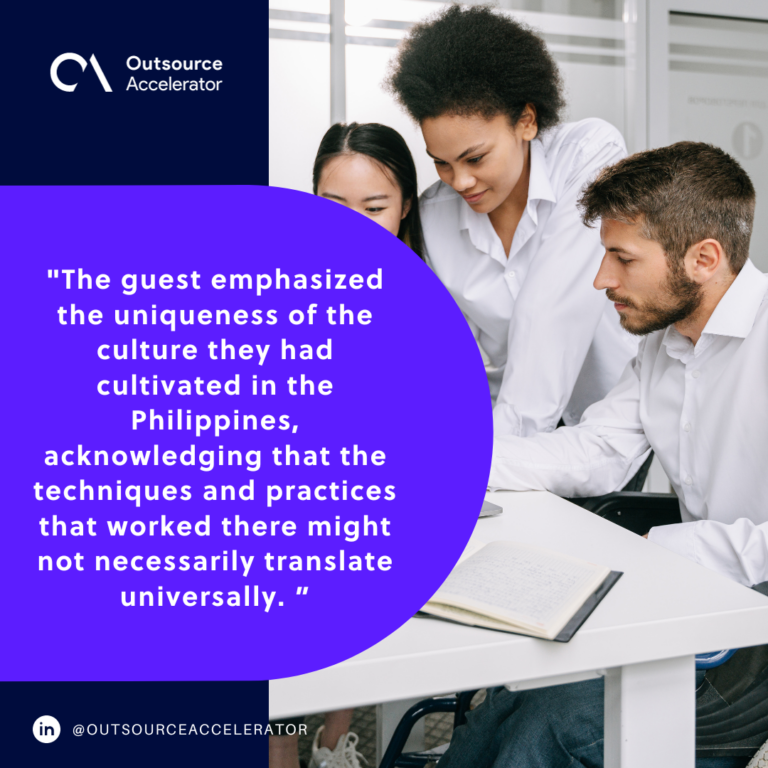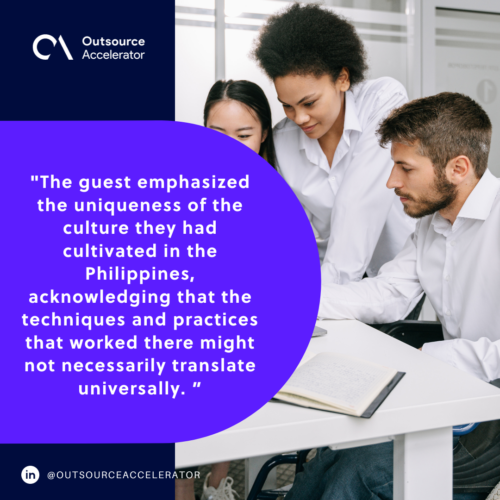 Despite the variations in cultural dynamics, Spencer revealed that certain principles remained consistent across all their operations. 
He stated, "However, all of our agents, there's profit sharing plans, there's healthcare, there's all the great benefits that should be in a contact center environment." 
This approach demonstrated a commitment to providing essential benefits and fostering a positive working environment for employees across diverse locations.
Financial freedom and competitive wages
Spencer discussed the operational strengths of Buwelo as of 2023. 
He proudly highlighted the company's financial independence: "One of the great things about Buwelo is that we're a debt-free company." 
Buwelo's unique position, free from the domestic infrastructure and financial obligations that some BPOs face, enabled them to provide higher wages and attractive bonuses to their agents. 
He added, "We can offer our agents a higher and competitive wage, and sign-on bonuses and bonuses after 90 days and six months and a year."
Pay for performance model
Spencer emphasized that their agents' bonuses and pay were intricately linked to individual performance and the overall success of each client.
He explained, "All of our agents have bonuses, and their pay is directly tied to their performance and the performance of each of our clients. 
So if our clients have certain SLAs they want us to hit, we will custom their compensation structure directly aligned with our clients."
Per Spencer, "We ensure those agents are hyper-focused on ensuring that the client is taken care of. If they're hitting their numbers, their paychecks start to increase. 
The non-performers will self-attrite, and the high performers stick around." 
This performance-based compensation structure motivated employees and naturally filtered out non-performers, contributing to a high-performance culture.
Family-centric workplace culture
Spencer delved into the idea that pay and benefits don't solely influence employee retention. 
"It's not the pay keeping you around. It's not so much the benefits." Instead, he pointed out the significance of interpersonal relationships in the workplace. 
Spencer referenced studies indicating that having just one friend at work significantly reduces the chance of attrition. 
He noted, "We've made it a big part of our company to make sure everyone feels like they're part of the family, that everyone's being watched over."
The guest detailed the effort to foster community within the company, ensuring no one feels overlooked. 
"Everyone's part of a friend group, and it truly feels like this is my family away from home, and I love being here." 
Spencer acknowledged the cultural preference for being together, especially among Filipinos.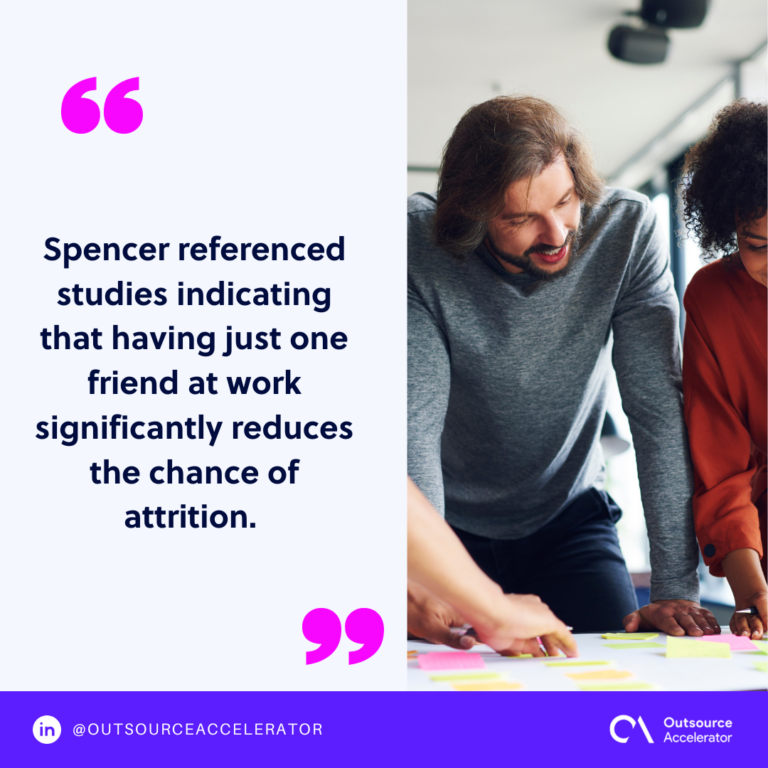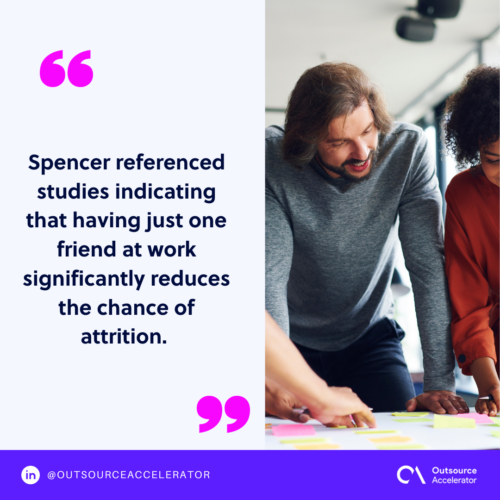 Explore diversity strategies in outsourcing for business success
Embracing diversity strategies in outsourcing is crucial for long-term success. 
Companies prioritizing diversity are better positioned for excellence, innovation, and global market success. 
Diversity in outsourcing is a catalyst for innovation, efficiency, and business success. 
So, as you navigate outsourcing, remember: that diversity is not a checkbox; it's the key to unlocking unparalleled success. 
Embrace, nurture, and watch your business thrive on the wings of inclusion.