10 pointers for creating a robust digital recruitment strategy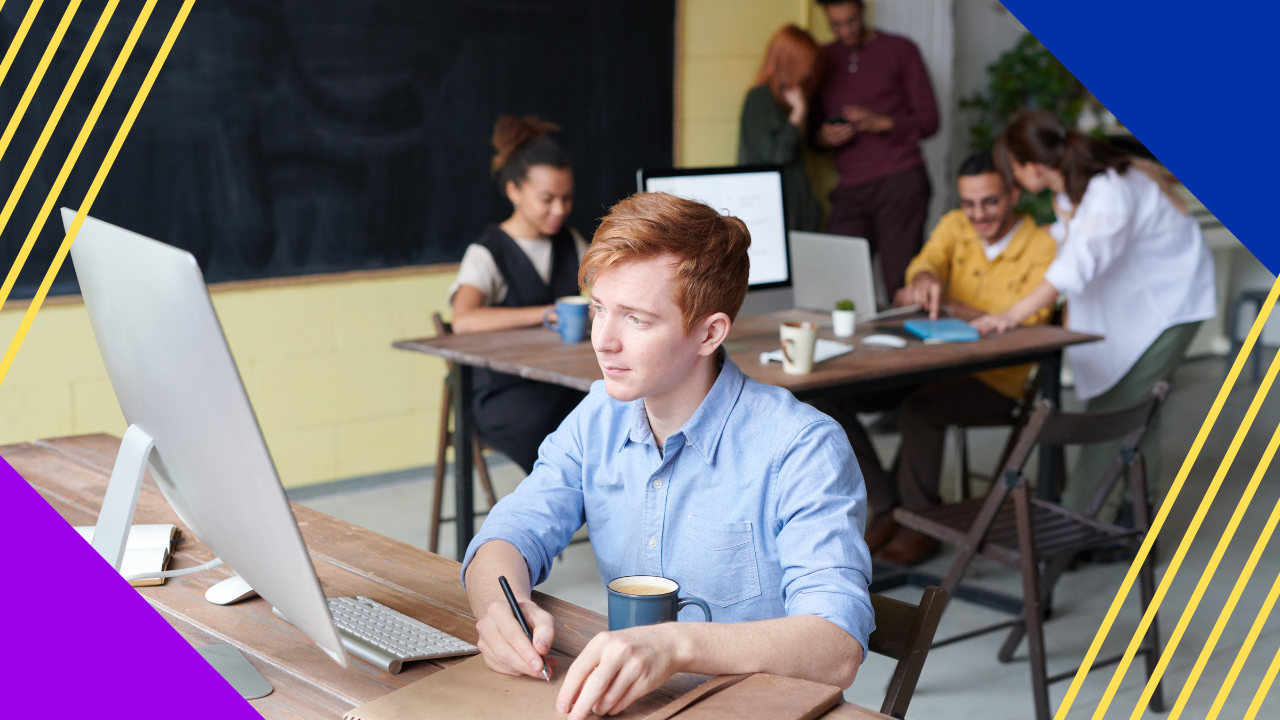 Running a successful business in the 21st century means taking full advantage of digital technologies. 
Undergoing digital transformation lets you leverage today's innovations to improve different areas of your business. This also includes your human resource department, particularly your recruitment processes.  
Yes, utilizing digital technology helps you look for the best candidates. However, you need a solid digital recruitment strategy to help you stand out from other recruiters. 
Recruitment is not just about posting your job vacancies on various career websites. You need to have a comprehensive digital recruitment strategy and effective implementation of your methods.
Below, we'll walk you through the essentials of digital recruitment and how your company can benefit from an excellent digital recruitment strategy. Most importantly, we'll give you 10 tips to help you get started. 
Digital recruitment strategy: What is digital recruitment?
Digital recruitment is also known as online recruitment or social recruitment. This happens when you use digital technology and the internet to attract, gather, filter out, and hire the right people for specific roles. 
Some of the leading job-posting platforms today are JobStreet, Indeed, and Glassdoor. You can also utilize different social media platforms such as Facebook, LinkedIn, and Twitter for your recruitment processes. 
And as we have mentioned, you need an effective digital recruitment strategy to acquire the best talents that suit your business needs. 
A powerful digital recruitment strategy encompasses all steps from planning job vacancies and assessing candidates to onboarding. It should also involve your online public relations (PR), digital branding, and different social media strategies.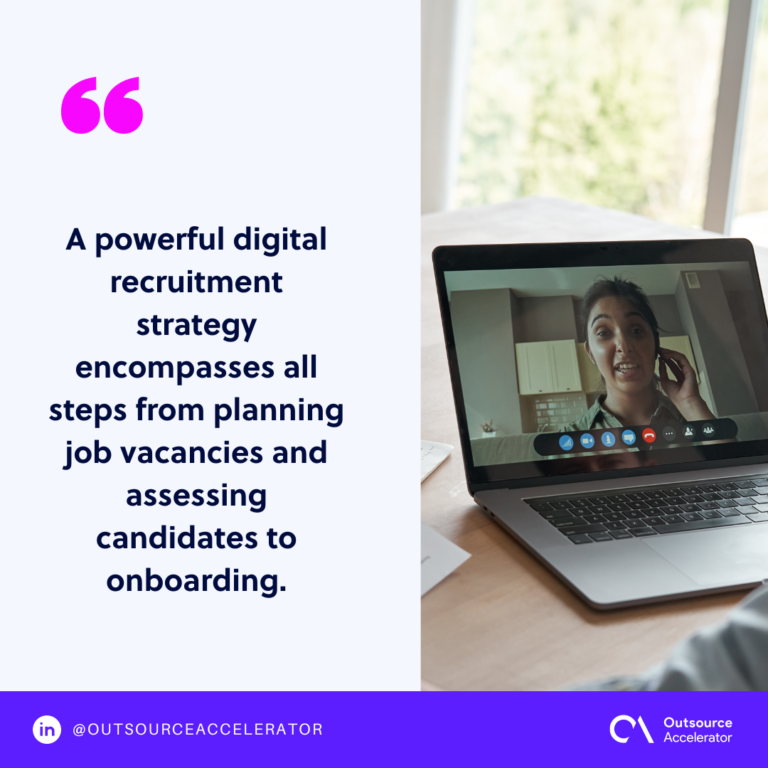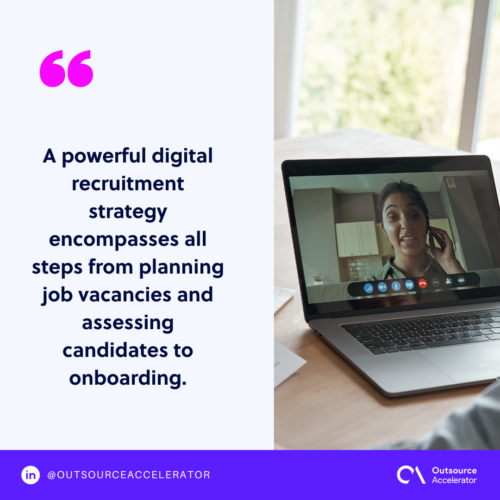 Digital recruitment strategy: How can your business benefit from it?
Being able to successfully implement your digital recruitment strategy will greatly help your organization, especially with the following: 
Greater ROI
An effective digital recruitment strategy allows you to get hold of high-quality talents in a short period. Although digital recruitment also requires you to invest in the right tools, the return of investment (ROI) is higher than the traditional recruitment process. 
Enhanced efficiency
Digital recruitment tools make it easier for you to gather, assess, and select suitable candidates. Software programs can automatically filter out applicants based on your job criteria. They can also help you immediately communicate with applicants and manage their responses accordingly.
Extensive reach
One of the main advantages of digital recruitment is that it lets you reach a wider audience, especially since companies are now embracing remote work and hiring remote employees offshore. It gives you access to a pool of global talents that you can't otherwise reach through traditional means.
Highly-skilled candidates
Having a more extensive reach gives you a greater opportunity to look for the best candidates to qualify for your job openings. What's more, it does not limit your search to one particular area. 
Improved candidate experience 
Digital recruitment is also advantageous for applicants as it is more convenient and efficient. It makes it easier for them to reach out to your organization and proceed with the recruitment process smoothly. 
A robust digital recruitment strategy also enables you to get application feedback immediately. In turn, you can use all your gathered feedback to enhance your digital recruitment process.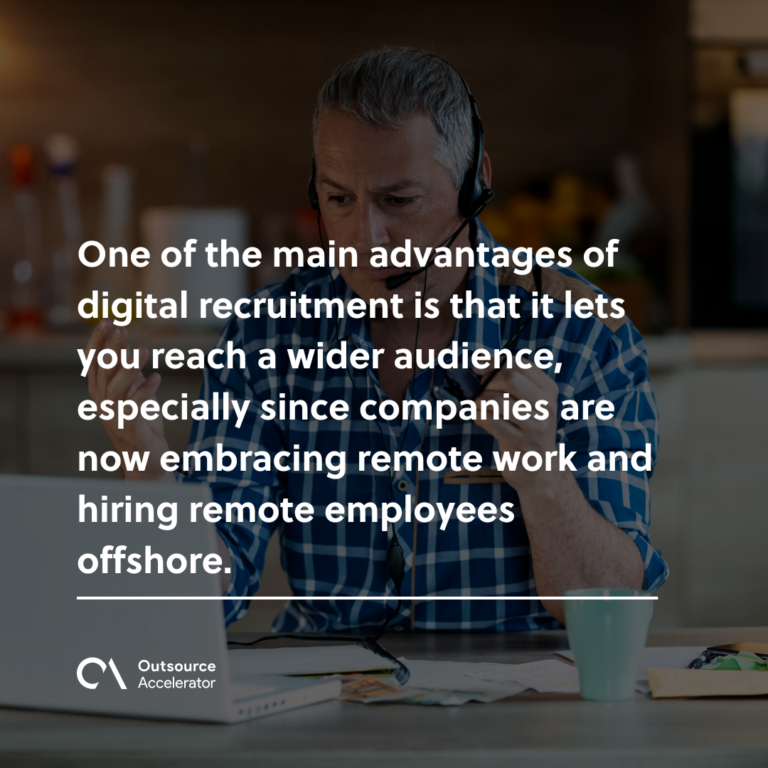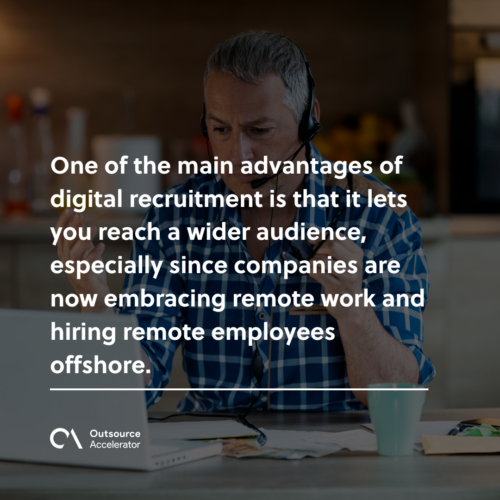 10 tips for a winning digital recruitment strategy
Here's how you can set up and implement an excellent digital recruitment strategy that will lead to positive results: 
1. Stick to your company branding 
According to Link Humans, 78% of applicants check a company's background and reputation before applying for any job post. 
Ensure that your recruitment team fully understands your brand and your business as a whole. Ensuring a consistent brand message helps you attract not only skilled workers but also the perfect fit for your company and work culture. 
2. Produce relevant and attention-grabbing content
What makes your company an ideal working environment for job seekers? Make sure to create the kind of content that will showcase your company's abilities. 
Picture yourself as an applicant. What type of content will make you want to work in your team? 
Know your target audience's interests and make it a reference in devising your digital recruitment strategy. Research about their interests, online behaviors, lifestyle, and average expected income. 
Examples of content you can use are relevant news and articles, industry salary reports, or simply your employees' testimonials.  
3. Leverage the use of social media
Know which social media platforms to use when filling in a particular job role. For example, younger professionals are more likely to be engaged on Instagram or Facebook. Meanwhile, older and more experienced professionals are usually active on Twitter or LinkedIn. 
These social media platforms are also a good avenue for you to engage and interact with future hires and other industry leaders. It allows you to expand your network in the business sector. 
4. Focus on your candidate experience 
Considering your candidate's experience, you also need to represent your company culture in your digital recruitment process. This gives applicants a taste of what it's like to work in your organization as you evaluate whether they are well-suited for the job role. 
Establish a good rapport with your applicants, so they will be encouraged to push through the entire recruitment process. 
Another important thing to consider is to optimize your job promotions, career pages, and applications for mobile devices. Many job seekers at present make use of their smartphones in searching for jobs online.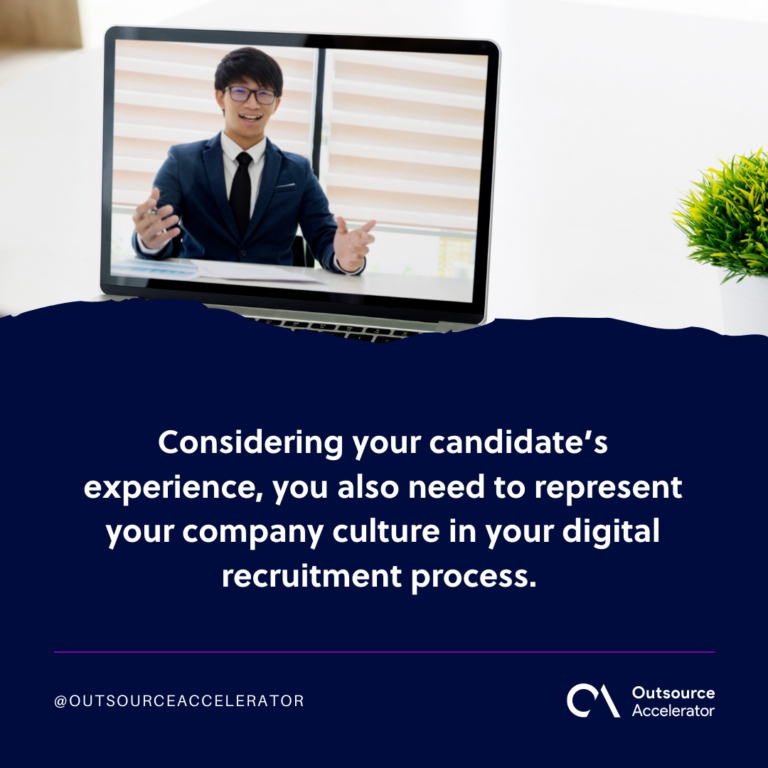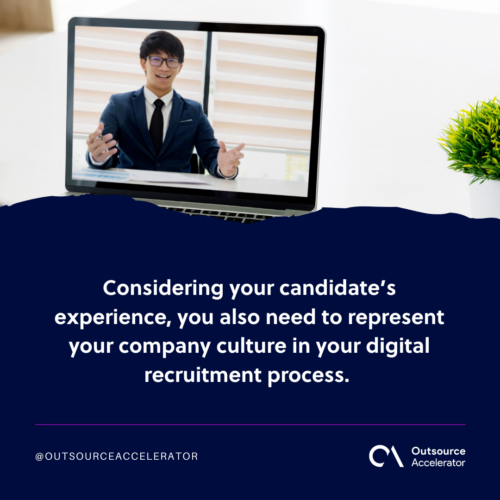 5. Choose the right hiring tools
An effective digital recruitment strategy will also depend on the tools you use.
Before you spend on the tools, the first thing you need to do is to identify your hiring requirements. What recruitment software will help you attain the outcome? Which pre-employment assessment tools will work best for your recruitment team? 
Recruiters usually have more than one recruitment tool. That said, make sure that the tools you choose can be integrated with another. 
6. Strengthen the candidate selection process
Create a digital recruitment process that can be easily navigated not just by your applicants but also by your recruitment team. Ensure transparency with your job applicants on each step of your recruitment process. 
Base your candidate selection process on how you prefer to evaluate your candidates, the steps on your application process, and your candidate experience. 
7. Use recruitment metrics
Utilize recruitment metrics, and do not forget to track and measure your performance. This way, you can determine which areas in your digital recruitment strategy you need to change or improve. 
8. Be open to applicants' feedback
Just like any area of your business, you always need to look for ways to continuously improve. You should be open to all forms of feedback, including those from your applicants. 
Choose a recruitment tool that has a feedback feature. This allows you to get comments directly from applicants during the recruitment process. Another option is survey tools, which you can ask your candidates to fill out at the end of every hiring process or interview. 
9. Train your recruitment team 
Having an in-depth understanding of your organization and your brand is not enough to have an efficient recruitment team. Let's face it, not all your employees are techy, so you should also train them on how they can effectively utilize your recruitment tools. 
10. Ensure consistency in your recruitment funnel
Make sure that all your applicants have the same candidate experience. This lets you earn your future hire's trust right from the start of their application process. More importantly, it also allows you to obtain respect from your prospective applicants. 
Boosting your digital recruitment strategy
A robust digital recruitment strategy should benefit both your recruitment team and job seekers. Whichever social media channel or recruitment platform you use, ensure a strategy that lets you stand out from your competitors. 
Do not forget to provide an excellent candidate experience for your job applicant. More importantly, embrace each candidate's feedback and always track your recruitment metrics. 
Use the tips above as your reference in shaping your digital recruitment strategy to help you gain more positive results!