Enhancing supply chain efficiency through demand sensing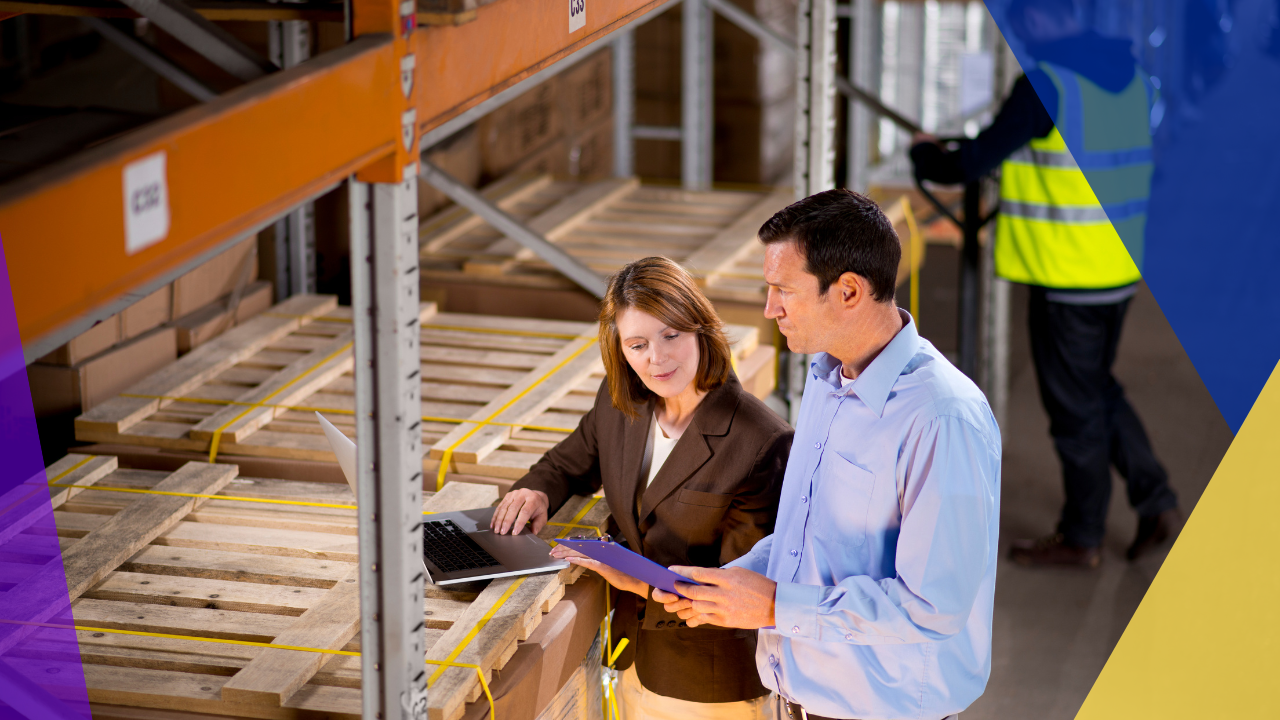 Companies before used to implement conventional demand planning methods based on historical data and statistical models. These techniques might not offer the required flexibility and responsiveness in today's market. 
At present, businesses use demand sensing to analyze customer needs and align their supply with demand. This article explains demand sensing, how it works, and its benefits in supply chain efficiency.
What is demand sensing?
Demand sensing introduces a means for companies to swiftly adapt production and inventory levels in response to market changes and customer preferences. 
They achieve this through various procedures, such as:
Surveys

Sales data analysis

Social media monitoring

Point-of-sale tracking
Demand sensing helps companies lower costs by avoiding overproduction and enhancing customer satisfaction.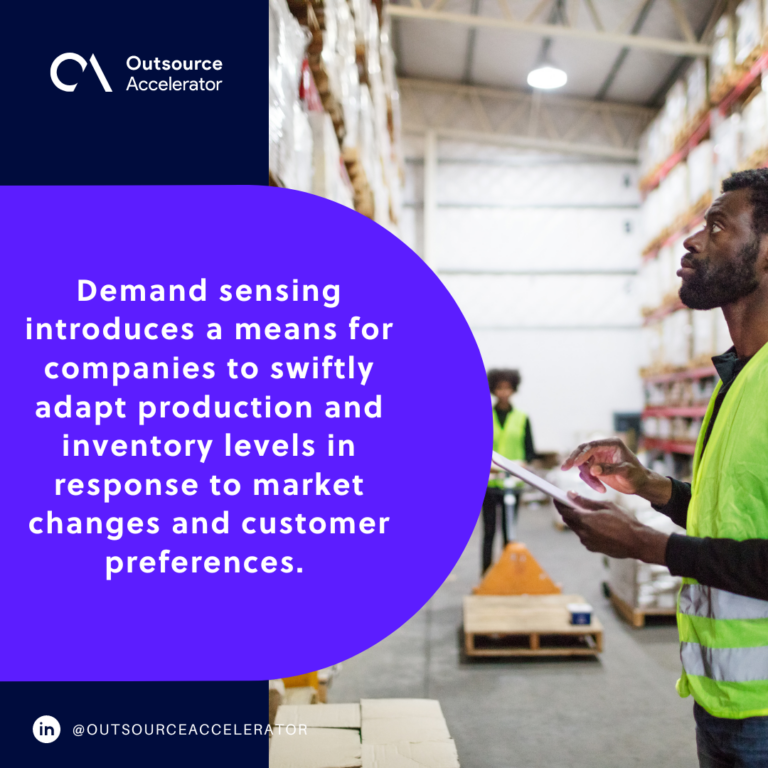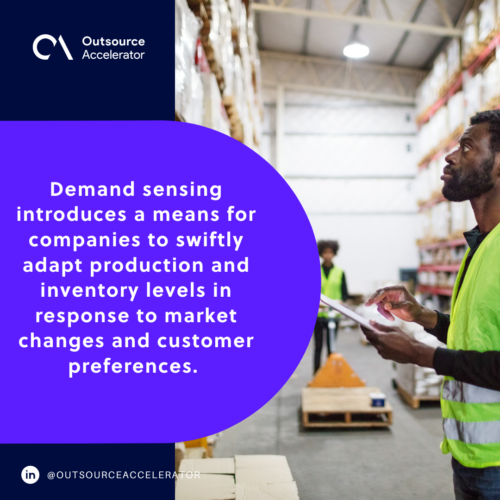 How demand sensing works
There are five steps in demand sensing. Understanding and effectively following these steps can boost businesses' response time and profits:

Step 1: Data gathering
In demand sensing, the initial step is gathering data. 
Companies must collect product or service information, such as sales history, inventory, and customer behavior. 
Step 2: Data integration
After collecting the data, companies must insert it into a single database for analysis. This process is called extract, transform, and load (ETL).
Step 3: Data analysis
Companies can utilize various forms of data analysis like statistical and machine-learning techniques. Using these methods allows them to analyze and spot patterns in consumer demand once the data is integrated.
Step 4: Data modeling
Using the analysis, companies can create models to predict future demand for the product or service. 
Data modeling typically involves the use of diagrams like entity-relationship diagrams (ERDs). The goal is to visually represent the entities (objects) in a system, their attributes, and the relationships between them.
Step 5: Data optimization
Companies can optimize their supply chain and production processes by utilizing demand sensing models. They need to ensure they meet demand while reducing excess inventory or stockouts.
Technologies and techniques for demand sensing
Demand sensing uses different technologies and techniques to forecast and understand future demand, these include:
Statistical forecasting methods
In demand sensing, statistical forecasting techniques help predict demand patterns. These methods analyze historical data and apply statistical algorithms.

Time series analysis
Time series analysis in demand sensing is a specialized approach for analyzing and forecasting demand patterns over time. Use these insights to predict future fluctuations.
Regression analysis
Regression analysis in demand sensing uses statistical models to investigate and forecast the relationships between product or service demand and independent variables.
It involves analyzing historical sales data and other relevant variables to establish a mathematical relationship between the demand and the influencing factors, such as:
Seasonality

Promotions

Economic conditions

Customer behavior
Machine learning algorithms for demand sensing
This demand sensing involves using machine learning techniques to forecast and predict demand patterns. 
These algorithms analyze historical data, market trends, and other relevant factors.
Artificial neural networks
Artificial neural networks (ANNs) are computational models inspired by the human brain. ANNs can analyze intricate nonlinear relationships between variables in demand sensing and make precise predictions.
Demand sensing benefits in businesses
Demand sensing provides numerous benefits for businesses that can impact their success and growth. 
Let's explore some of its key advantages:
Improved forecast accuracy
Demand sensing uses real-time data and advanced analytics techniques to improve forecast accuracy.
Businesses can make more accurate demand predictions and adjust their operations accordingly using:
Current market trends

Consumer behavior

Other demand signals
Optimized inventory management
Businesses can optimize inventory levels by reducing excess inventory or stockouts, improving demand visibility. Demand sensing aligns supply with actual demand, minimizes costs, and ensures product availability when customers need them. 
Enhanced customer satisfaction
Demand sensing enables businesses to respond swiftly and effectively to changing customer preferences and market conditions. Having the right products available at the right time and place improves customer satisfaction and loyalty.
Reduced costs 
Accurate demand forecasts help businesses minimize supply chain inefficiencies and waste. Matching supply with demand avoids overproduction, reduces transportation costs, and minimizes stock holding costs.
Improved operational efficiency
Demand sensing helps businesses optimize their supply chain operations, production planning, and resource allocation. By understanding real-time demand patterns and trends, businesses can make informed decisions about production schedules, replenishment, and distribution.
Better collaboration and alignment
Demand sensing promotes collaboration between departments like sales, marketing, and supply chain. By sharing insights and aligning strategies based on demand signals, businesses can improve coordination and decision-making, leading to better business outcomes.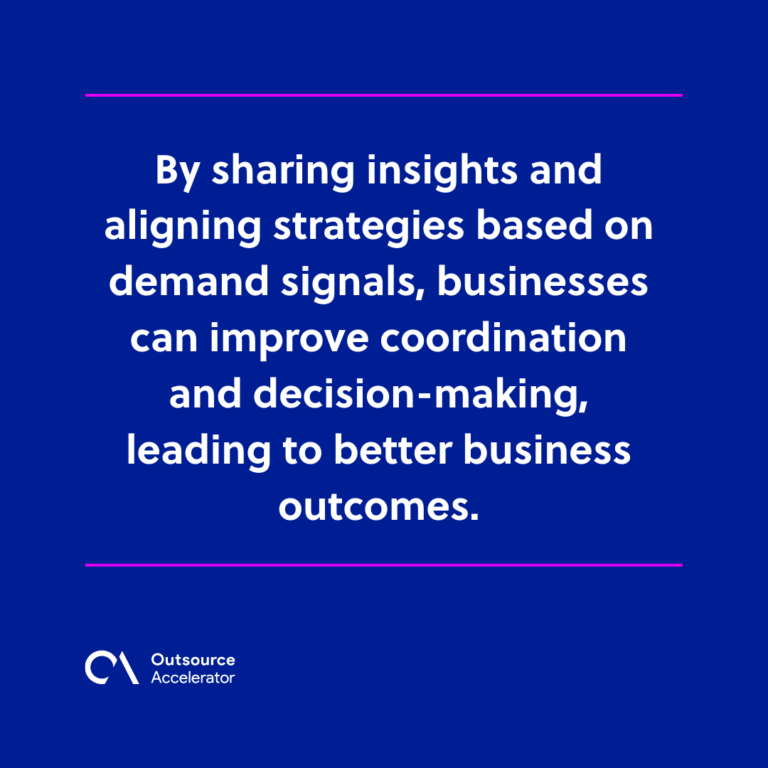 Adopting demand sensing for sustainable success
Demand sensing is vital for achieving sustainable success in supply chain management. 
Organizations can gain valuable insights into consumer behavior and market dynamics using advanced analytics, machine learning techniques, and strong data infrastructure.
Successful implementation of demand sensing requires a structured approach, starting with detailed historical data. Businesses should also incorporate best practices like reducing data latency and using advanced forecasting methodologies to ensure effectiveness.
By adopting demand sensing, organizations can make informed decisions, align supply chain strategies with customer demand, and stay ahead of the competition. 
It empowers supply chain managers to proactively respond to market fluctuations, enhance operational efficiency, and achieve sustainable success. 
Demand sensing creates a competitive advantage through continuous innovation and improvement. It drives long-term business growth in today's dynamic marketplace.