Maximizing profits through data monetization: A comprehensive guide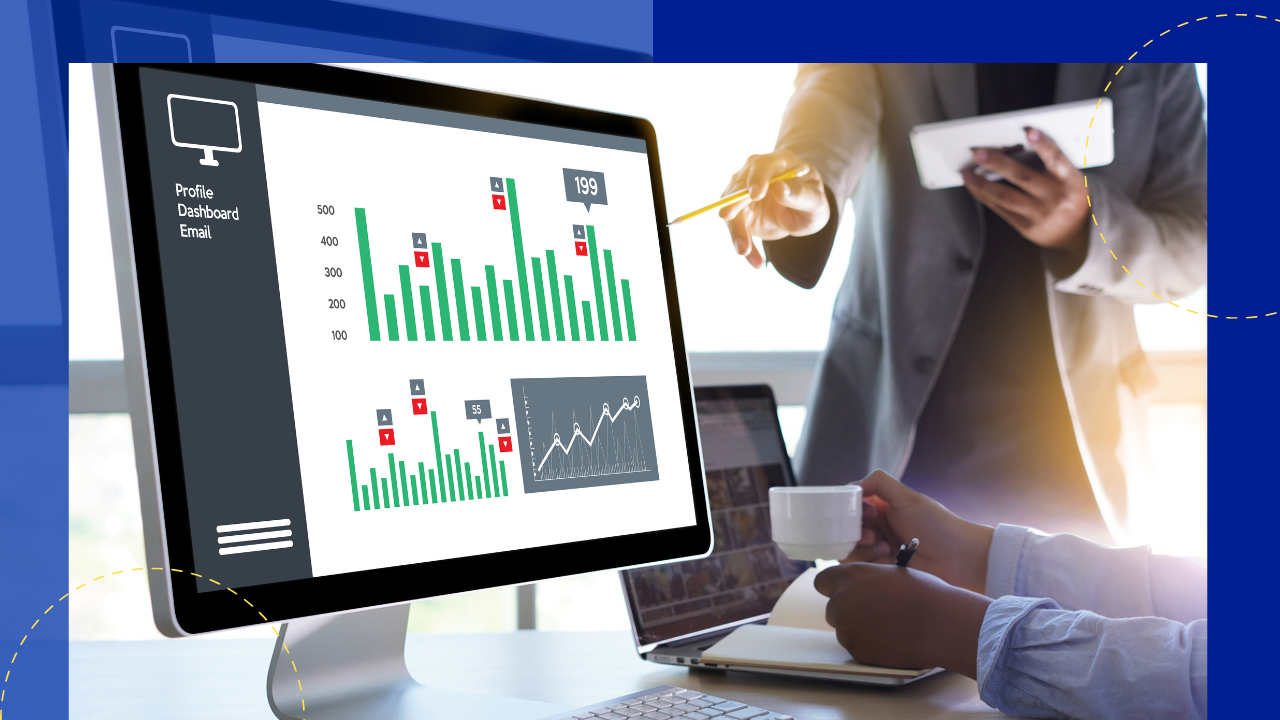 Most experts now believe "data is the new oil."
It is, at least, valid for the digital economy. Companies collect volumes of data every moment, from consumer behavior to product sales.
Big data has guided organizations worldwide in terms of decision-making, planning, and strategizing. However, most firms still struggle to turn their data into more profitable means and insights.
This is where data monetization comes in.
Let's look at different methods of monetizing data and the key implementation considerations to be aware of in this article.
What is data monetization?
Data monetization refers to the process where a firm uses data for economic benefits, particularly as a revenue stream. 
It involves analyzing and transforming data into valuable insights to sell or repurpose to improve business operations directly.
Through data monetization, organizations can take advantage of reduced costs, streamlined processes, and other opportunities for data-related services.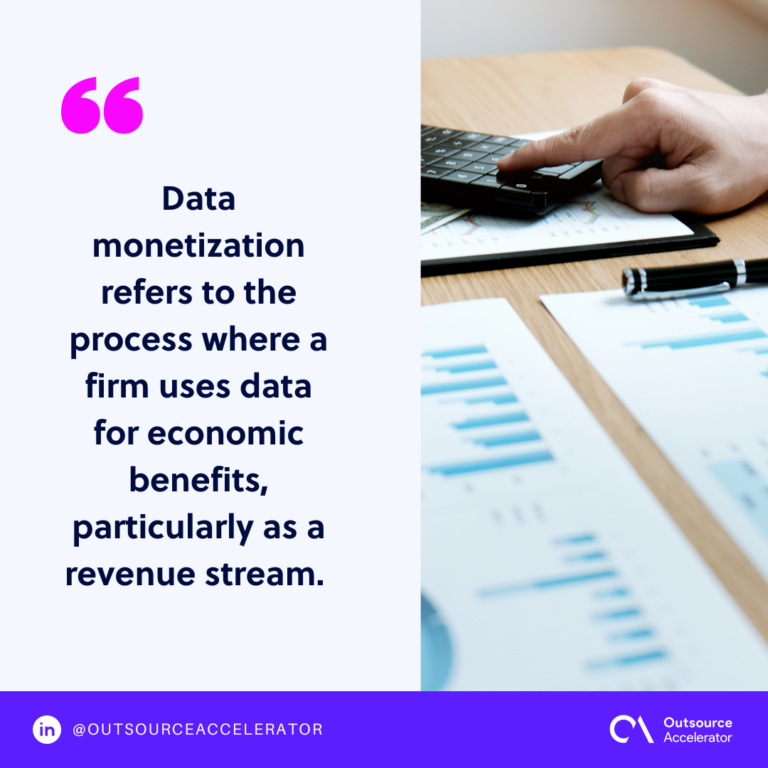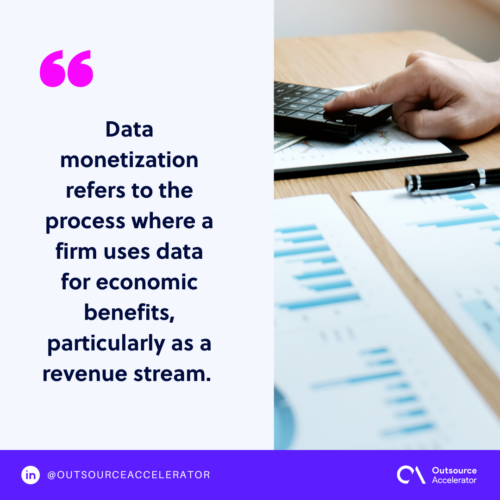 Types of data monetization
There are two main types of data monetization: 
Direct data monetization
Direct data monetization involves selling data directly to third-party companies or customers. It is further divided into two types:
Non-personal data monetization

. This involves selling data not containing personal information, such as product sales data, website traffic data, or weather data.

Personal data monetization

, on the other hand, involves selling data that contains personal information such as name, email address, or phone number.
Indirect data monetization
Indirect data monetization, meanwhile, involves using data to drive revenue in ways other than selling it. Firms widely use this to improve customer experience, optimize business operations, or develop new products or services.
For example, businesses can use customer data to identify buying patterns, preferences, and trends to create personalized marketing campaigns or improve product offerings.
Data monetization methods
Organizations use several ways to monetize their data, including the following:
Third-party selling
Selling data to third-party companies is a straightforward way to monetize data. They can offer brokers or other firms customer data and industry insights for market research, advertising, and other purposes.
For example, a retailer could sell customer data to a marketing agency for targeted advertising campaigns.
Personalized advertising
Meanwhile, companies can use their data for their lead generation efforts by creating targeted advertisements.
Businesses gain insights into their preferences, purchasing behavior, and interests, making it easier to form promotions suitable for their target audiences. Once done correctly, they can further expand their funnel and get more customers qualified.
For instance, an e-commerce business could use customer data to create personalized product recommendations or email marketing campaigns.

Subscription-based access
Subscription-based services are most common in news institutions and statistics websites, giving users access to news analytics, editorials, and the latest industry data.
They can create dashboards or other tools that allow access to real-time data insights, trends, and analytics for a fixed or monthly fee. Websites such as Substack also enable firms to put up subscription fees for their data.
This method has become increasingly popular since companies implementing subscription services experience five times growth compared to traditional shops.
Creating new products or services
Finally, companies use data insights to develop new products or services that add value to their customers. Depending on how they see fit, they can sell these products on a fixed or subscription basis.
For example, a fitness app could use data to develop personalized workout plans or offer nutrition advice.
Considerations in implementing data monetization
While data monetization offers significant opportunities for revenue growth, businesses must also consider several key factors to ensure that they implement it ethically and legally. These include:
Respecting user privacy
Lack of transparency and control is a main concern for customers giving out their data. Around 79% of Americans feel they don't have full control of the data collected by the companies they interact with.
User privacy should be a company's priority when it comes to monetizing its data. They must be transparent about collecting, storing, and using customer data and which purpose it will be used.
Aside from getting explicit consent from users, firms must ensure that the data they collect is secure and safe from unauthorized parties.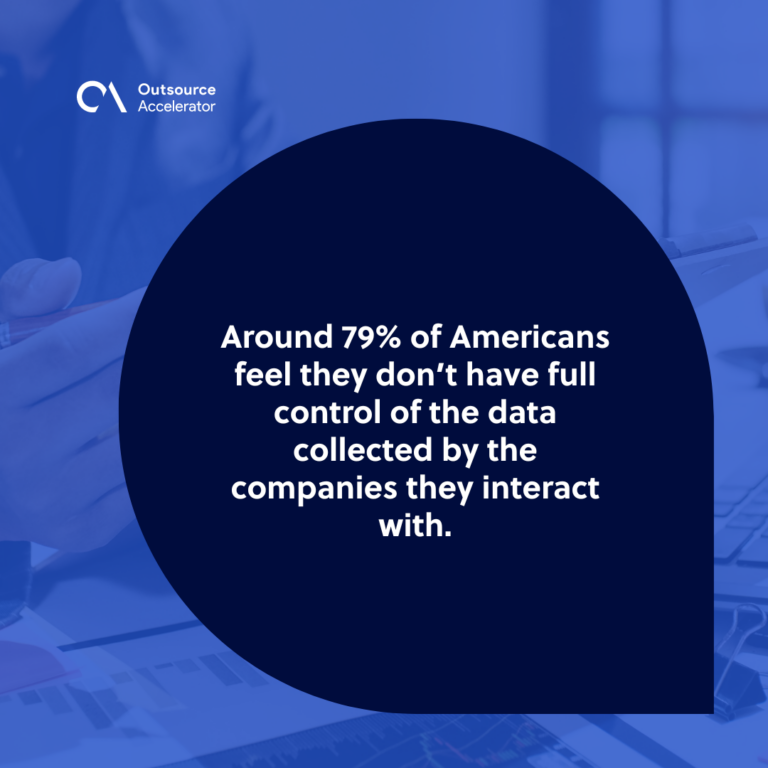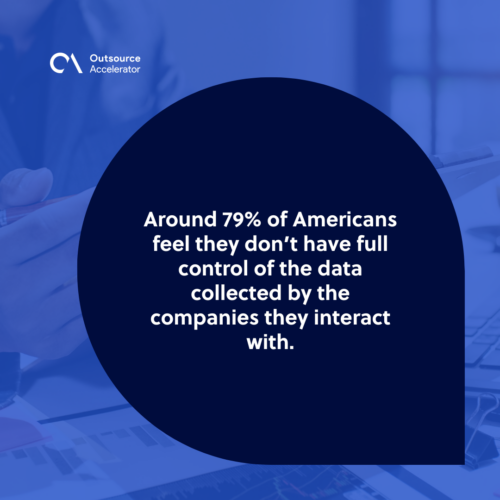 Data privacy regulations
Businesses must comply with data privacy regulations such as the General Data Protection Regulation (GDPR) and the California Consumer Privacy Act (CCPA).
These regulations require businesses to obtain explicit consent from users before collecting their personal information, give users the right to access, correct, or delete their data, and provide transparency about how data is collected and used.
Failure to comply with these regulations can result in damages to a company's reputation.
Data collection and usage
Data collection and usage must be ethical and transparent. Companies must be clear about collecting and using customer data and ensure that it is not used for purposes the user has not consented to.
They must also ensure that data should not discriminate against individuals or groups based on race, gender, or other protected characteristics.