9 best data migration tools in 2023
Moving data can take much time and effort. But by equipping the right data migration tools, it doesn't have to be.
A data migration tool is a software program that transfers data from one source to another. It ensures that the data transported is accurate and aids in moving data from an outdated system to a new one.
Data migration tools also help to manage and secure your data. They extract, prepare, transform, clean, and load the data to make it appropriate for its new storage place.
These automated tools can streamline different data migration workflows and provide your team with user-friendly interfaces. They may also offer additional features that make the data migration process more seamless.
This article lists the key factors to consider when choosing a data migration tool for your business and the nine best data migration tools in 2023.
9 best data migration tools in 2023
What is data migration?
Data migration is the process of transferring data, folders, and directories from a system source to the destination storage. 
This procedure involves data extraction, loading into the new system, and verification to ensure accuracy.
Data migration can be done locally or remotely. Local data migration is where data is transferred from one location to another within the same computer.
Meanwhile, remote data migration transfers data between computers via cloud storage or a network.
Data migration has different types and functions. Here are some of them:
Storage migration

: Data is transferred from one physical storage place to another. Many businesses do this for better platforms, performance, and features.

Cloud migration

: One of the most beneficial and fastest-growing data migration methods involves transferring on-premise data or apps to a cloud environment. 

Application migration

: Every application uses a different data model. Application migration is necessary when a company switches suppliers or software packages.

Business process migration

: This type is often done during a business's restructuring, merger, or acquisition.

Database migration

: Switching to a new database is usually required to address updated business requirements.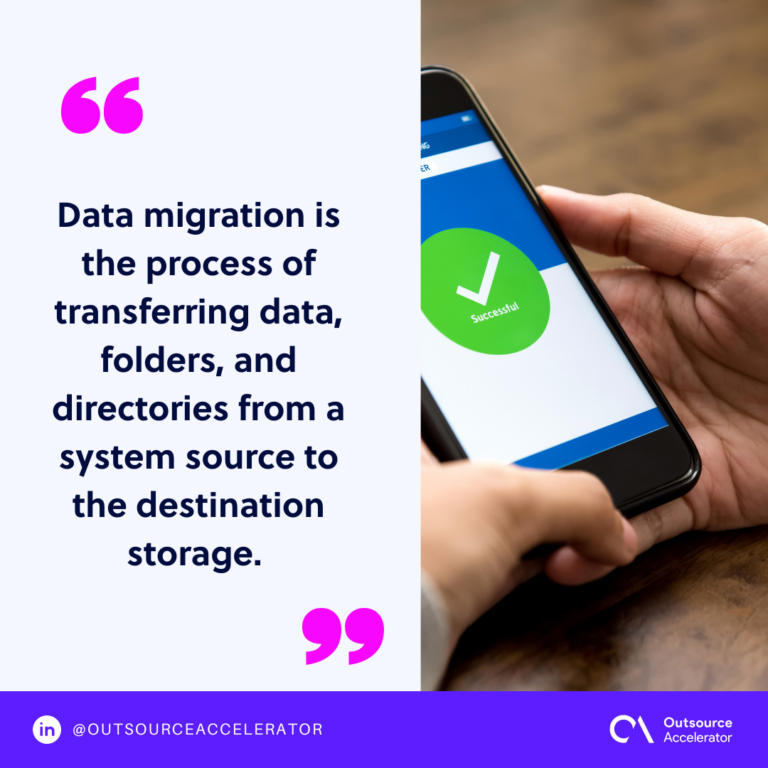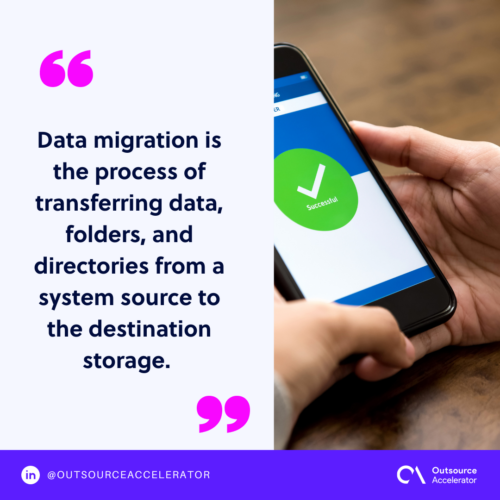 10 key factors to consider in choosing a data migration tool
There are several key factors to consider when choosing a data migration tool to utilize in your business. They are as follows:
Security
Security is always the top priority when looking for new products and services. 
When choosing a data migration tool, ensure it meets certain compliance and security requirements.
Consider whether sensitive data can be securely transferred between sources and destinations. Look for authentication methods such as multi-factor authentication and encryption techniques. 
Flexibility
To meet changing or expanding business needs, companies should choose a scalable data migration tool.
Otherwise, constant upgrading of services would become necessary, which is both expensive and time-consuming. 
Another feature of flexible data migration tools allows simultaneous transfer from multiple sources and destinations. This saves time when setting up new users and connections.
Pricing
Data migration tools have a wide range of pricing models.
These can be affected based on various factors, including the quantity of data, service level, and the number and types of data sources.
Before choosing a data migration tool, take note of these characteristics specific to the data you want to move. 
Some data migration solutions offer a free trial. Use this to your advantage by trying different tools at zero price and seeing which gives the most bang for your buck.
Compatibility with legacy systems
Legacy systems use schema and unique formats that don't always translate well to new destination formats.
This makes it vital to have a simple method for converting outdated data formats into what new systems require.
The best data migration tools offer plug-ins or modules that quickly accomplish this process while maintaining access and security of the original files. 
Auto-detection of missing items
Auto-detection in data migration tools saves users much time when working with a large database or repository. This feature will quickly identify the error and stop the operation if something goes wrong.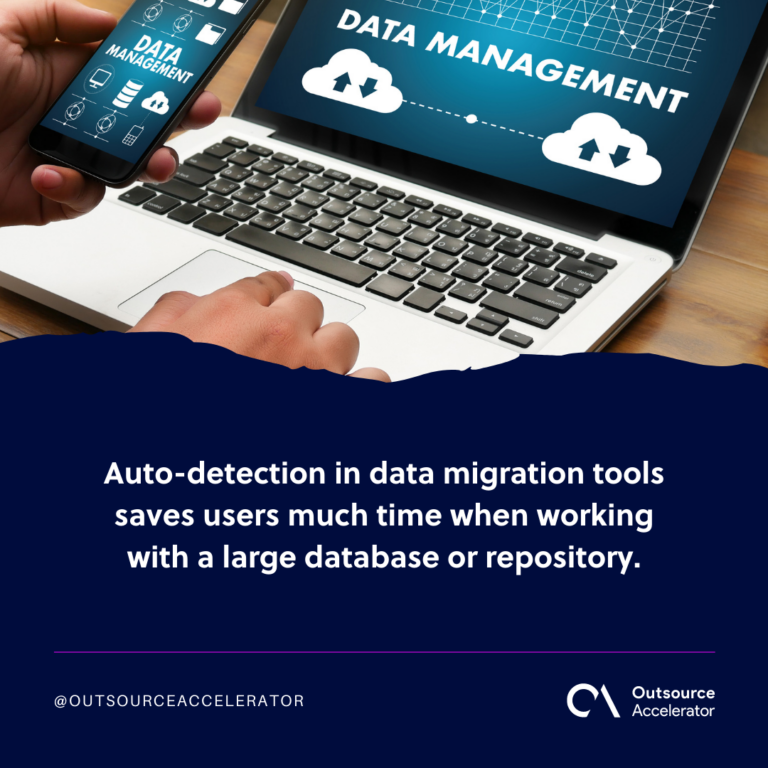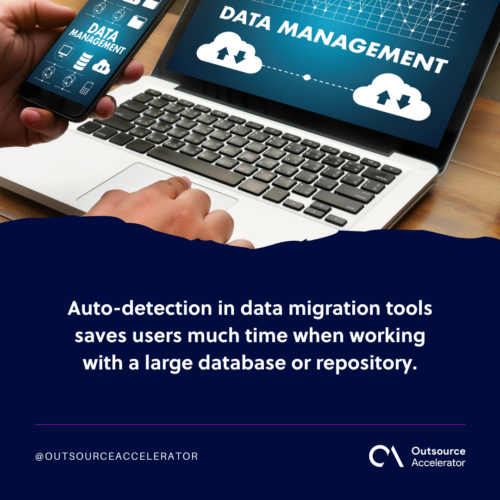 Enhanced connectivity
Data migration tools should be able to connect with data structures, such as XML, JSON, and EDI, without any issues.
If your firm needs to connect to business databases (such as IBM DB2, Teradata, or Microsoft Dynamics CRM) or third-party platforms (such as Salesforce or Microsoft Dynamics CRM), find a tool with built-in connectors for these programs.
Automated workflows
Large-scale data migration often involves complicated operations and relocating a lot of data.
A tool that provides an automated workflow can maximize the efficiency of these processes.
This streamlines data processing, eliminates manual labor, and enables faster data transmission.
Comprehensive documentation and training
A self-help manual that explains how to use a certain tool will save time and effort. This is especially true when using complicated features such as scripting language and application program interfaces (API).
You should also note providers offering video tutorials, workshops, and 24/7 support depending on the complexity of your data migration project. 
Easy data mapping:
Data must be accurately mapped from the source to the destination. It's best to choose a solution that gives a code-free, drag-and-drop, graphic user interface to allow non-tech-savvy workers and data specialists to have effortless yet successful data operations. 
Self-service deployments
Many data migration tools have a waitlist you must join before your data gets migrated. 
You and your employees can set up tasks and workflows with self-service features. You can do this by downloading the application and following several steps.
This may not be a good fit for more complex data migrations. However, it's still important to find a provider that offers the right amount of flexibility and access for your team.
9 Best data migration tools in 2023
Here are the nine best data migration tools as of 2023, their key feature, and pricing details and options:
AWS Database Migration Service (AWS DMS) is a data replication and migration service. It helps move your database and analytics workloads to AWS quickly, securely, and with minimal downtime and zero data loss.
AWS DMS allows you to set up a DMS task for a one-time migration or ongoing replication. An ongoing replication task keeps your source and destination databases in sync.
At the same time, it enables the consolidation of multiple source databases into a single target database. This eliminates the need to install any drivers or applications and changes to the source database. 
AWS DMS offers a free tier that includes up to 750 hours of Single-AZ DMS.t2.micro instance usage each month for one year. The cost of AWS DMS differs depending on the size of the data being migrated.
Fivetran is an automated data migration platform. You can use it for moving data into, out of, and across cloud data platforms. Fivetran has automated the most time-consuming parts of the ELT process so data engineers can focus on higher-impact projects. 
Fivetran captures deletes whenever they're detected. It allows users to run analyses on data even if they no longer exist in your source system.
At the same time, the platform anonymizes sensitive data in your destination without sacrificing its analytical value.
Fivetran offers a 14-day free trial to starter, standard, and enterprise packages. It also has a free option for individuals with small volumes of data.
Integrate.io is a zero-code data pipeline platform. You can use it for your entire data journey, not just for data migration. 
Basically, Integrate.io makes ETL and ELT processes simpler by offering a drag-and-drop user interface and over a dozen transformations. It features a REST API connector allowing users to connect to and extract data from any Rest API quickly.
The platform also features over 120 integrations to and from different sources to support the widest range of sources and destinations for your data. 
Integrate's ETL and Reverse ETL service has three packages: Starter, professional, and enterprise. You can try the starter and professional packages for free.
Matillion is a productivity platform for data teams. It increases data work efficiency by empowering coders and non-coders to move, transform, and orchestrate data pipelines faster. 
Matillion features a user-friendly interface for getting information from all API-enabled systems. It allows you to store values or list them as variables for other components or operations. 
The platform offers 30-day free access to all features and 500 free credits. After your trial, you are only charged for what you use. 
Azure Cosmos DB by Microsoft is a data migration tool that allows fast, distributed NoSQL and relational databases at any scale. 
Azure Cosmos DB features a globally distributed database system. This entails that all resources are partitioned horizontally in every region of the world and replicated across different geographical areas. 
Moreover, the tool features five consistency levels: bounded staleness, strong, session, eventually, and consistent prefix.
Azure Cosmos DB's pricing is based on the amount of storage used, starting at 25 cents per gigabyte used monthly. It offers a 12-month free trial. 
IBM Informix is an embeddable, high-performance database for integrating SQL, NoSQL, JSON, time series, and spatial data. 
IBM Informix helps you power transactional workloads easily in a wide range of environments for real-time analytics. It has high availability data replication (HADR) and shared-disk secondary servers to support mission-critical environments.
The small cloud IBM package costs US$1,310 per instance and requires a minimum charge of 30 days of usage.
Hevo Data is a zero-maintenance data pipeline platform. 
Hevo Data allows clients to create multiple workspaces with the same domain name. It fetches data from your different sources and loads it to a database or data warehouse using ELT Pipelines.
It also offers flexible data replication options to sync data between sources and targets. This feature allows you to replicate entire databases, specific tables, or even individual columns. This allows you to focus only on the relevant data.
Hevo Data has three packages: Free, starter, and business.
The free plan includes unlimited free sources and one million events per month but no live chat support. With paid plans, the events usage is free for 14 days for every new source used to create a pipeline.
IRI NextForm is a data migration and reformatting software that helps convert and reuse the data stored in legacy and modern databases.
IRI NextForm facilitates right-sizing initiatives, reduces data synchronization requirements, and saves time and money over custom coding or legacy platforms.
At the same time, it integrates and exposes information from multiple sources in custom displays suitable for billing and analytics.
The tool features different pricing options depending on the user's operating system.
Stitch is a developer-focused, cloud-first data migration platform. Talend acquired it in November 2018 and operates as an independent business unit.
Stitch helps you replicate data into cloud data warehouses. This allows you to access analytics and make better, faster decisions quickly.
It also has pre-built connectors to over 100 data sources, making Stitch a fully managed, scalable service that gets you ready to query new data in minutes.
The platform is best built for critical analytics applications, with security features and product and support SLAs.
The importance of data migration in a business
Data migration ensures that data is successfully and securely transferred to another application, storage system, or cloud. It prevents corruption or loss through incompatible devices or poor data execution. 
Transferring data from one platform to another can be risky and expensive. But it provides a company with upgraded applications and services, productivity boost, and reduced storage costs.
Data migration is essential when a business needs to move its data in any way.
It is necessary in the following example scenarios: 
Transferring data to a cloud computing environment

A legacy system needing to be replaced by a tool more aligned with business needs

Adopting new technologies.