Data aggregation services: Definition and outsourcing benefits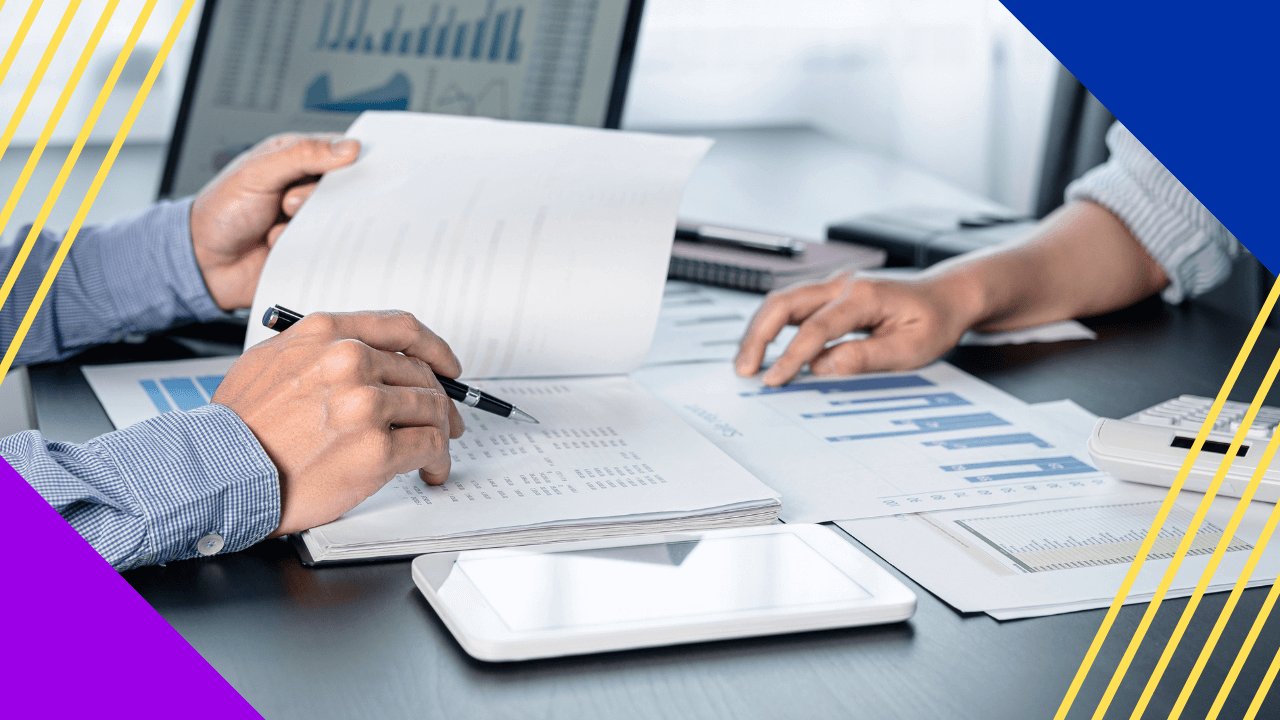 Data is among the top commodities of the modern world – the "new oil," as the British mathematician Clive Humby proclaimed.
Like the precious commodity, data becomes even more valuable when refined and turned into other products. In other words, data aggregation makes data more valuable to individuals and organizations.
Although people have been practicing data collection and analysis since the conception of "Big Data" – with the first recorded use of statistics for data analysis going as far back as the Bubonic plague era – the rate of data creation, transmission, and collection have seen an unprecedented surge with the advent of the technological revolution.
The unforeseen increase in data production and transfer made data aggregation processes even more crucial as analysts struggle to turn data into useful industry information.
Despite its increasing importance, not every business organization is outfitted with the proper tools and human resources for this process.
This problem is easily solved by turning to business process outsourcing (BPO) companies, such as OP360, to fill the gap.
Before delving into this part, however, it's essential to understand what data aggregation is.
What is data aggregation?
Data aggregation is the process of collecting data from multiple sources and then compiling and organizing them into a summarized form.
Once summarized, businesses can use these aggregated data for statistical analyses.
Industry analysts can utilize data aggregation processes at any scale – from small data samples like sales reports to complex, large-scale data lakes.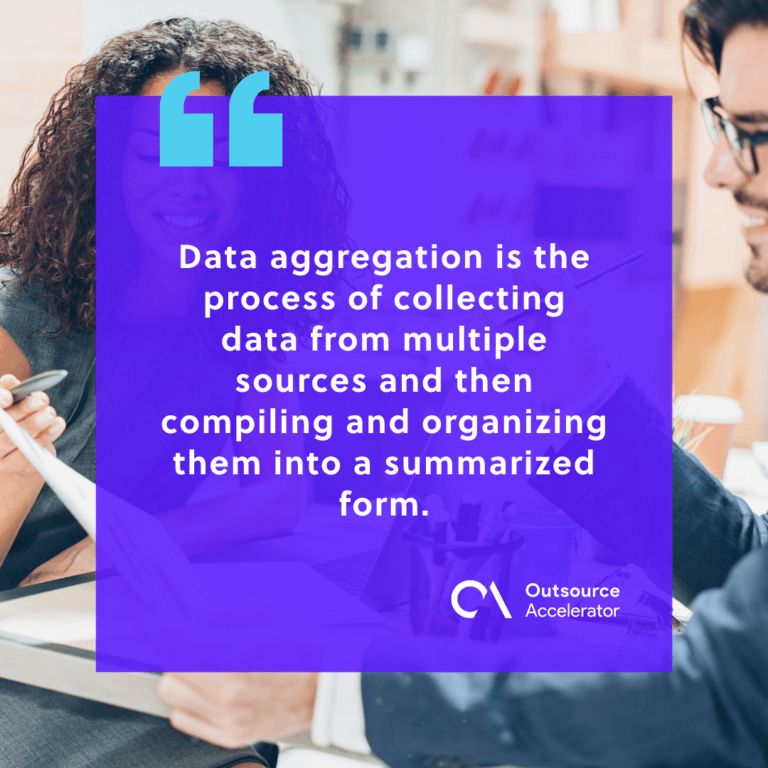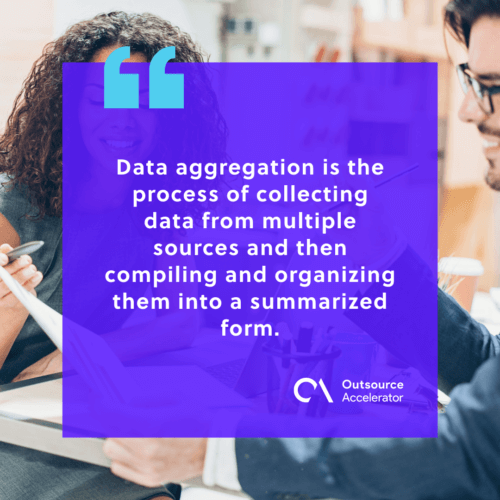 Data aggregation processes comb through information from many sources, and the data they collect and collate are just as varied.
These data can include anything from age and profession to a particular company's data and social media analytics.
Types of data aggregation
There are two primary types of data aggregation approaches, manual and automated.
Manual data aggregation
In the manual approach, employees manually aggregate data.
Although these employees utilize data aggregation tools in exporting data from multiple sources, the imported data are still manually categorized using Excel sheets.
Because manual data aggregation can be inefficient, many businesses opt for the second approach.
Automated data aggregation
In contrast to the above approach, automated data aggregation takes full advantage of automation tools for more efficient data processing.
These automation tools, or middleware, gather data from various platforms and expand data in regions of interest.
These software solutions normalize data using harmonizing techniques. They also remove duplicates, align distinct indicators, and eliminate discrepancies in the data.
Which industries use data aggregation?
The process of data aggregation is industry-agnostic, that is, businesses in any industry can use this process to their advantage.
However, companies in heavily data-reliant industries are naturally more inclined to use data aggregation as this process significantly increases their business's performance.
Businesses in the financial and banking, healthcare, retail, and marketing industries are some of the most data-dependent and frequent users of data aggregation.
Even some company services that don't seem like they use data aggregation, such as Uber's ride-hailing services, rely on this process.
Benefits of outsourcing data aggregation services
Outsourcing data aggregation services brings plenty of advantages, especially for business startups just beginning to expand.
Below are a few of the benefits of outsourcing data aggregation services.
Cost reduction
Outsourcing data aggregation services from a third-party provider is significantly cheaper than building and outfitting your own team from scratch.
Aside from drastically lower labor costs, you'll also be saving on expenses for the premium software used for this process.
Easily scalable
With an outsourcing partner, you can easily scale your data aggregation operations up or down, depending on the volume of data traffic.
Outsourcing will also spare you the expensive and time-consuming hassle of recruitment and training.
Professional services
Access to data professionals is possibly one of the best benefits you can gain from outsourcing data aggregation services.
By entrusting your data aggregation process to outsourced professionals, you can focus on other business aspects assured that more capable experts are handling your data.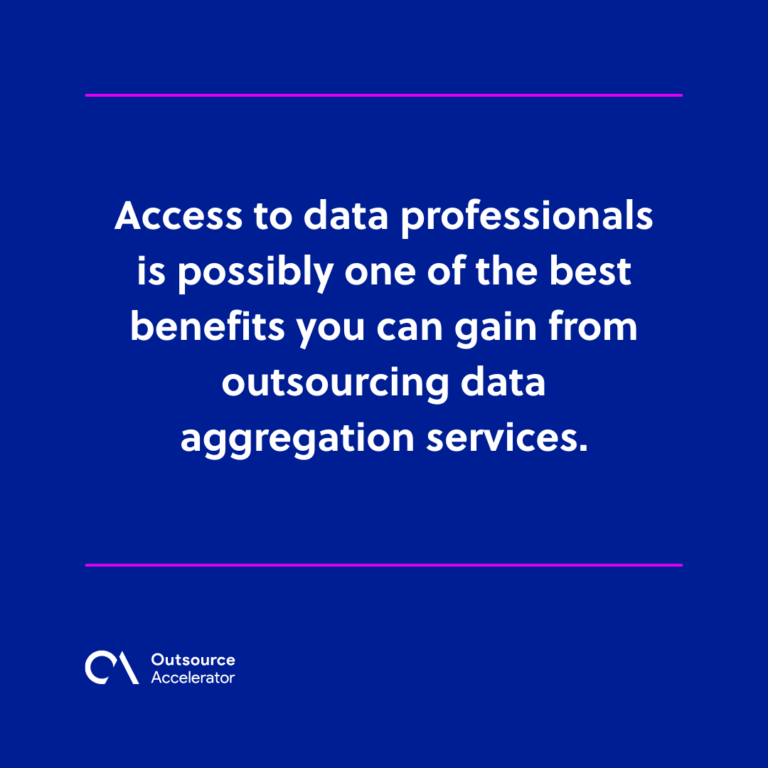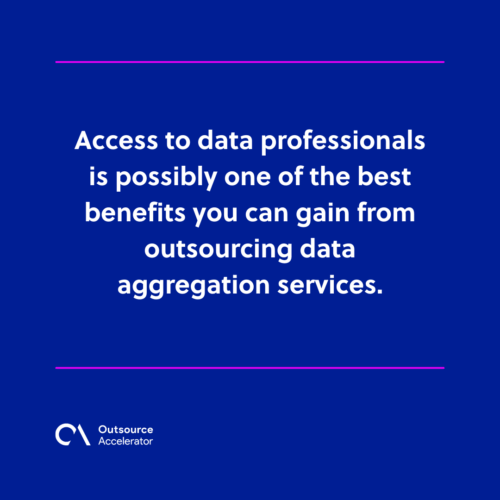 Why OP360 is the smart choice for outsourcing data aggregation services
Partnering with OP360 for your data aggregation needs is an excellent way to ensure you'll be getting high-quality services at a highly competitive rate.
Drawing from its diverse and experienced talent pools, OP360 ensures that it provides its clients with only the top agents with an average of six years of industry experience.
These top-tier staff are equipped with the latest industry technologies to ensure a quick turnaround time and quality output.
No matter the size of your company, OP360 is a good choice for expanding your operations and delegating business functions.
With 16 years of industry experience under its belt, this outsourcing stalwart guarantees stellar services for its clients, whether small to medium-sized businesses or Fortune 500 companies.