Top 7 customer service outsourcing trends for 2024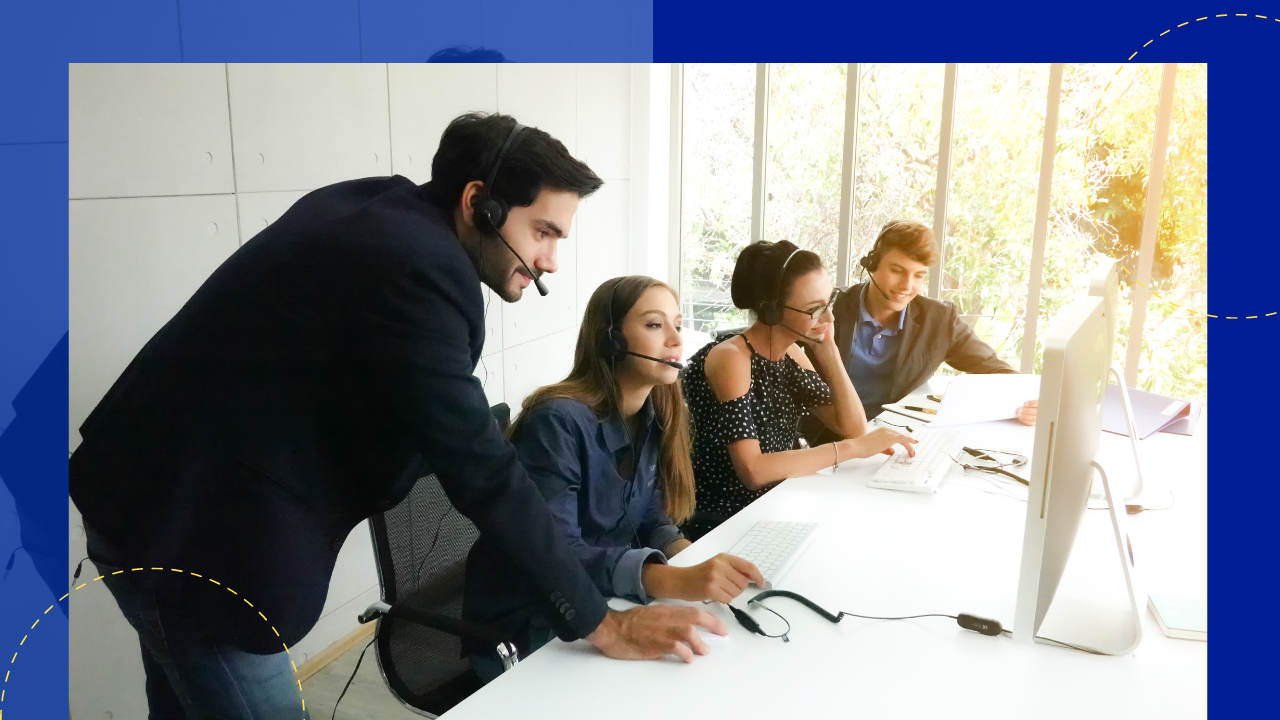 Top 7 customer service outsourcing trends for 2023
This article is a submission by Baphira Wahlang Shylla of Knowmax. Knowmax is a SaaS company that provides knowledge management solutions for various industries that are seeking to improve their customer service metrics.
The pandemic has fundamentally altered business practices across industries. Organizations have strengthened their online presence to reach customers and provide quality products and services. 
As a result, they increasingly rely on digital presence to meet the needs and expectations of their customers. Many brands outsource customer service to bridge the gap between customer wants and providing the best possible customer experience (CX).
Customer service outsourcing is when a company contracts day-to-day customer interactions and communications to a third-party service.
Trends have significantly changed as businesses focus on implementing internet-powered customer support strategies to improve customer experience. 
Since customer service trends evolve yearly, companies must adapt to stay ahead of their CX game.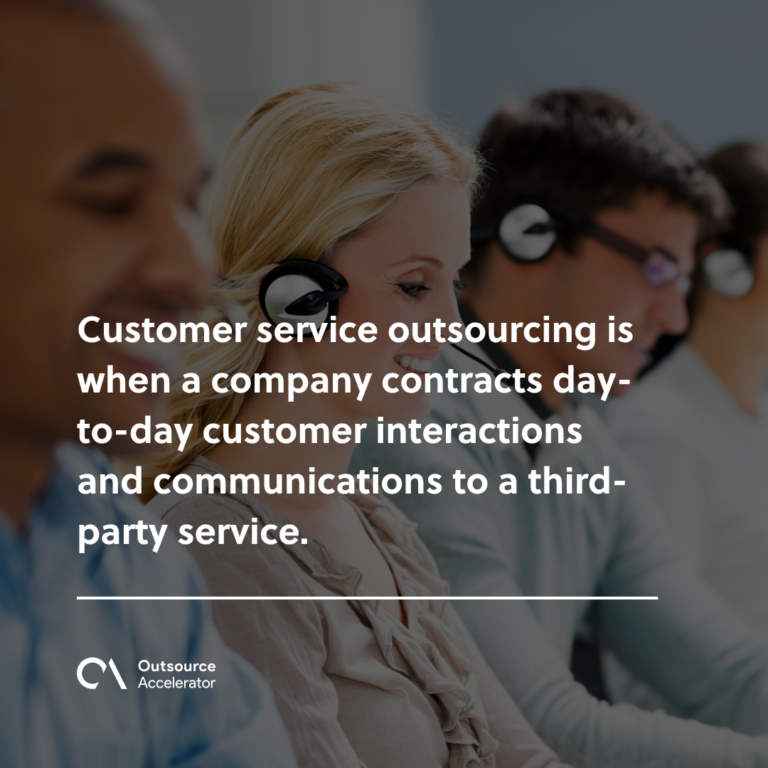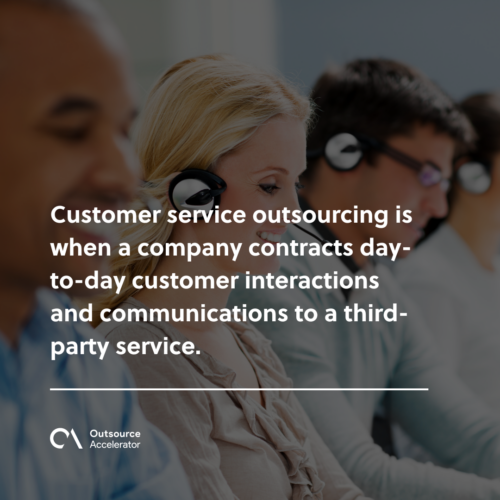 7 Must-follow customer service outsourcing trends for 2024
Below, we have outlined seven customer service outsourcing trends businesses should incorporate this year:
1. Omnichannel customer service
Every customer service strategy aims to improve the customer experience. Omnichannel support is one of the top customer service trends that will undoubtedly increase customer base and satisfaction. 
Consumers expect a more personalized interaction and consistent brand experience across touchpoints in their user journey. Customers receive consistent support regardless of the communication channel.
With omnichannel support, brands can offer a seamless and unified customer experience across all communication channels, making customers happy. 
At the same time, retrieving all customer interactions allows customer service agents to provide more relevant answers to customer queries faster. 
Companies that successfully integrate omnichannel support can also respond to their customers via their preferred communication channel.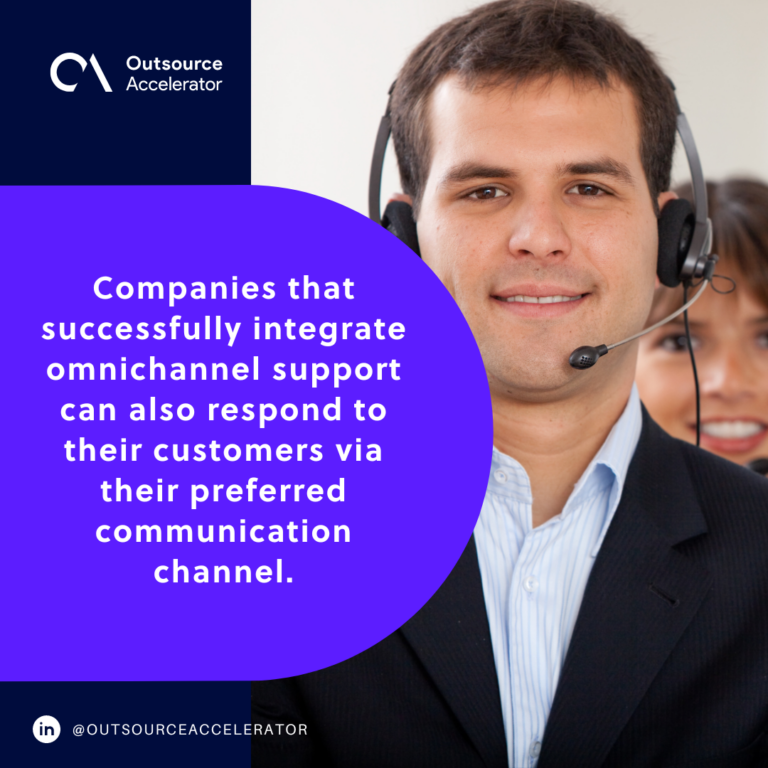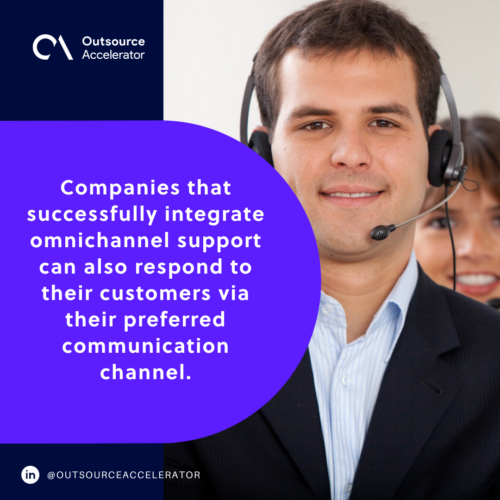 2. Prioritise personalizing customer experiences
Personalization is all about knowing your customers. Personalizing the customer journey allows you to build a stronger bond with your customers and foster brand loyalty. 
In fact, over 80% of customers prefer to shop from sites that offer personalized experiences. 
Personalization can also show your customers that you value them as individuals and are willing to go above and beyond to meet their specific requirements. As a result, every customer interaction should be personalized to meet the customer's needs.
While self-service and automated customer service replace many human interactions, customers still prefer communicating with agents. It lets them build trust and familiarity when contacting their preferred brands. 
Tailoring your CX strategy to deliver personalized customer experiences across channels lets you foster strong relationships with your customers and encourage brand loyalty.
3. Easier access to customer self-service
Studies show that over 80% of customers prefer to self-serve before contacting a support rep. Customers now prefer self-service as it empowers them with choice, flexibility, and convenience that improves their digital experience with the business. 
With customer self-service becoming increasingly prominent, customers opt for brands that offer a robust digital experience. 
To avoid the rush and long incoming call queues, brands are now implementing self-service options on their websites. With the benefits of instant, round-the-clock support, self-service integration is one of the 2024 customer service trends that are here to stay. 
Outsourcing customer service allows your internal team to focus on the most critical aspects of the business. 
This reduces your workload, which is especially beneficial if your company has limited resources. It frees up some of your availability for critical components of your growth strategy. 
4. Data-driven customer service
Previously, companies used metrics to focus solely on marketing and sales efforts. However, this data can also be used in your CX strategy to:
Identify the most frequently asked questions

Tag support tickets

Create macros for customer responses
These metrics are used to assess the efficiency of the customer service team to set a benchmark and healthy customer service goals. 
Customer experience can only be enhanced if you know your customers and tailor CX to their needs. Consistent positive customer experience leads to improved brand loyalty. 
5. Leverage technology and AI
Organizations have improved their customer service through digital transformation. It has also accelerated the application of artificial intelligence (AI) solutions. 
As a result, companies are tracking consumer-related data with the help of artificial intelligence, machine learning, and other digital tools. 
These innovations assist brands in adding data-intelligence features that will enhance the entire customer service process. 
Machine learning analyses all customer data and recommends the best actions for your contact agents, resulting in a better customer experience. 
AI is the ultimate customer service trend that has helped businesses increase the productivity of their agents. 
It can develop always-on support solutions for tasks and problems after business hours. For example, a customer may require assistance locating a support document or tutorial, and the chatbot can direct them accordingly. 
CX outsourcing allows you to leverage the latest technology to transform your CX strategy. It enables you to build self-service chatbots and intelligent assistants for your customers or store crucial data in an integrated platform with high data security. 
You could even work with outsourcing brands on integrating various CX technology in your business to a more comprehensive end-to-end view of the client journey.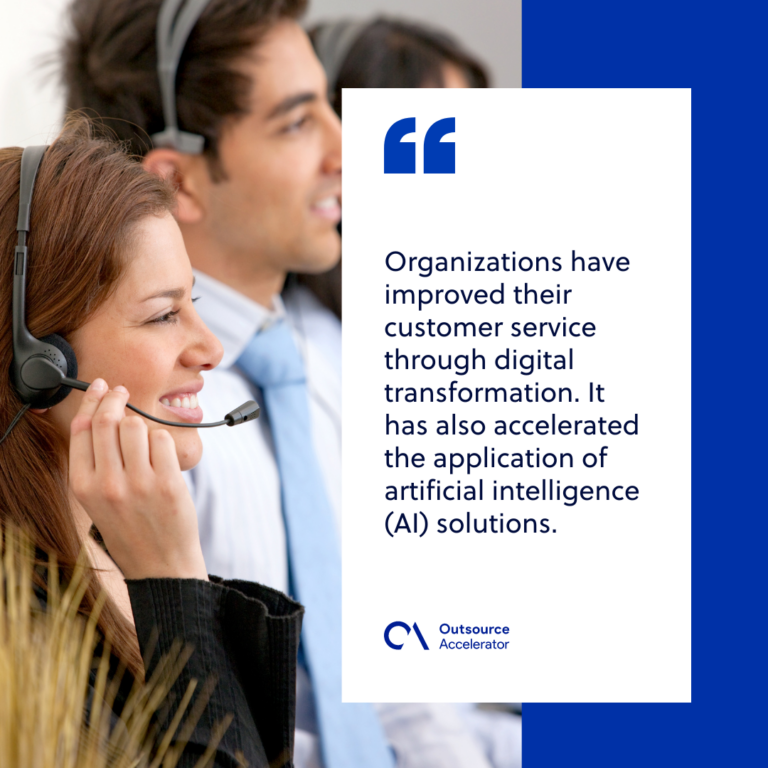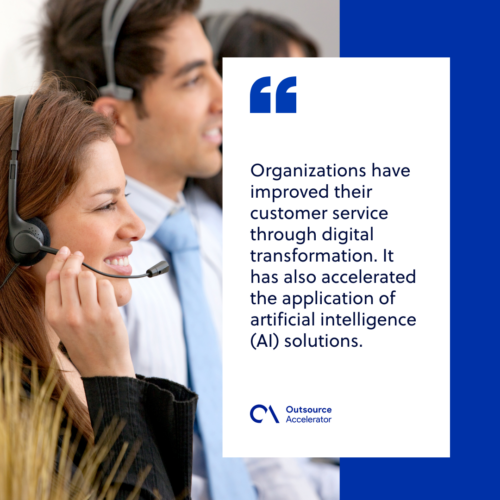 6. Cost-effective and efficient workflows
Increased effective communication from the company always aids in the development of customer relationships. 
Automated workflows powered by sophisticated technology guarantee faster customer responses, increasing customer satisfaction. 
Automating tedious and repetitive tasks enables customer service representatives to spend more time on complex queries than responding to minor issues. 
Efficient workflows ensure that agents have the correct contact center tools, which help them deliver better, faster, and more accurate solutions to customer problems. 
The most apparent benefit of outsourcing is significant cost savings. Although you've outsourced certain portions of your customer support, its processes are still integral to the overall operational success of your business. 
However, you will no longer need to spend actively on internal labor, infrastructure, and other needed resources as your outsourcing partner will take care of them. 
Overall, the operational costs will be reduced with efficient outsourcing strategies.
7. Keeping customer service at the center of business growth 
Outsourcing services where you do not specialize allows you to focus more on your core activities while providing superior output to your customers. This reduces the time and cost of training new employees and offers more efficiency. 
By outsourcing, you can prioritize and focus efforts on your strengths to become a more well-rounded organization than if you try to do everything in-house. 
Allowing experts or more experienced employees to handle the customer support workload also improves the quality of support you provide your customers. This can lead to increased profits and more opportunities for the company to grow.
Some perks of outsourced customer experience are:
24-hour customer support to your customers

Specialized skill sets to deliver genuinely seamless CX

Manpower to handle large volumes of support queries
High-quality CX outsourcing can help your company build trust, avoid negative reviews, and increase sales. Whether you work in healthcare, retail, manufacturing, or any field, it will increase customer satisfaction and revenue. 
In 2024, customer experience will be an essential brand differentiator, and it will continue to give businesses a competitive advantage in the coming years.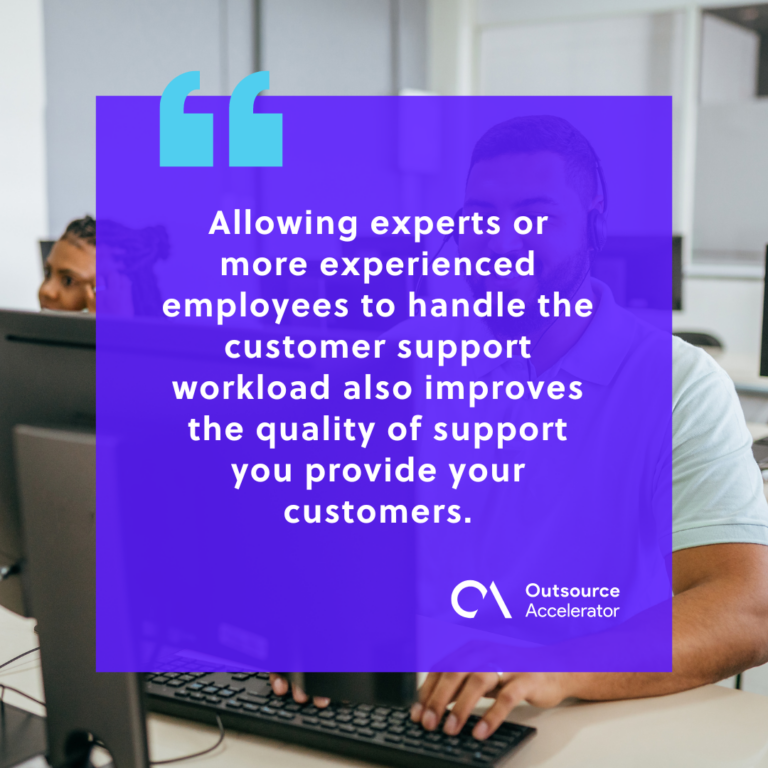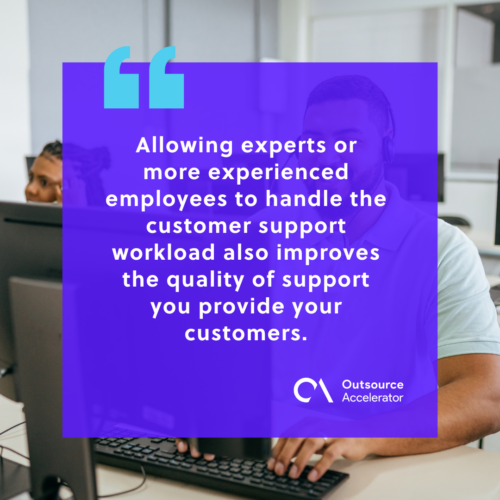 Customer service outsourcing trends: In conclusion
Following the pandemic, several progressive trends in outsourcing have emerged. 
Outsourcing options tailored to your budget and business objectives lets you have an unrivaled customer service strategy that will delight your customers. 
You will make a difference in 2024 by having a customer-first approach in your customer service efforts. CX outsourcing services are becoming more common as working from home becomes a common part of everyday life. 
Employees and customers now prefer remote work, and hybrid companies continue to emerge worldwide. 
Companies are becoming more at ease with delegating various tasks to BPO firms if it means happier, more satisfied customers.