Customer collaboration: Definition and examples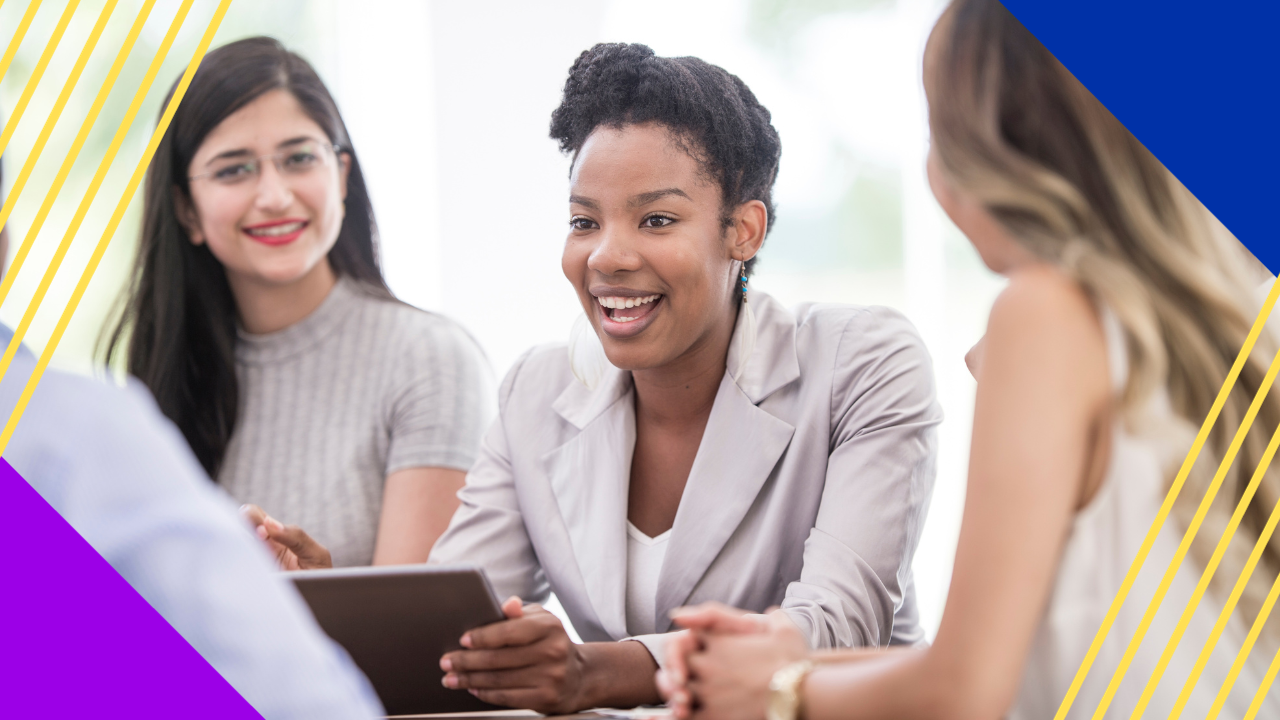 "Customer collaboration" has become increasingly important in today's business market. This article will guide you through its definition, examples, advantages, challenges, and successful approaches while discussing its future in modern business.
What is customer collaboration?
Customer collaboration is more than just a trendy term – it's a fundamental driver of success in modern business.
It involves businesses and customers working closely to establish mutually beneficial relationships. This collaboration is a two-way partnership where ideas, feedback, and insights are exchanged freely.
Imagine it as a dialogue between a chef and a food critic. While the chef crafts exceptional dishes, the critic's feedback assists in refining and perfecting the recipe.
In business, customer collaboration functions similarly, with customers taking on the role of critics who aid businesses in enhancing their offerings.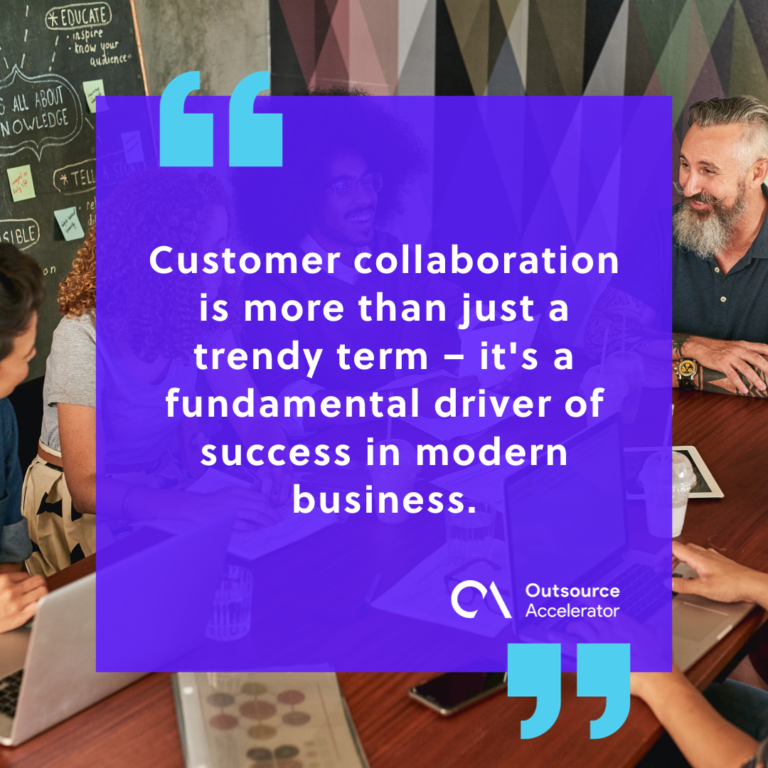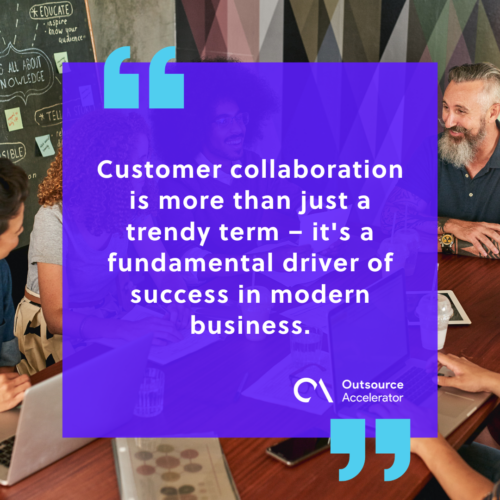 Examples of customer collaboration
Customer collaboration can take various forms, depending on the industry and the business's goals. 
Here are some examples of customer collaboration across different sectors:
Lego's building blocks of collaboration
Lego Ideas is a prime example of how customer collaboration can lead to remarkable outcomes. 
It's a platform where Lego enthusiasts can submit their designs for sets. 
The Lego community then votes on these designs, and if a design garners enough support, Lego manufactures and sells it. This collaborative approach provides Lego with fresh, innovative ideas and fosters a passionate community around its products. 
It's a win-win, with customers actively contributing to Lego's success.
My Starbucks idea
Starbucks, the coffee giant, realized the power of customer collaboration through its "My Starbucks Idea" platform. 
Customers can share their suggestions and ideas for improving the Starbucks experience. This feedback mechanism has led to:
Menu changes

New product introductions

Store design enhancements
Starbucks demonstrates that a company can strengthen its brand and enhance customer loyalty by actively engaging customers in decision-making.
P&G connect + develop
Procter & Gamble (P&G) has embraced customer collaboration through its "Connect + Develop" initiative. P&G actively seeks external innovations and collaborates with inventors, entrepreneurs, and customers to bring new products to market.
This approach has accelerated product development and allowed P&G to tap into a global network of innovators. It's a shining example of how customer collaboration can drive innovation.
Benefits of customer collaboration
Customer collaboration can bring several significant advantages to businesses across various industries. 
Enhanced product development
One of the most significant advantages of customer collaboration is enhanced product development. 
Customers who are involved in the creative process provide invaluable insights and suggestions. This results in products that better meet their needs and expectations.

Increased customer loyalty
Collaborating with customers builds trust and loyalty. When customers see that their opinions matter and are implemented, they are more likely to stick with a brand for the long term.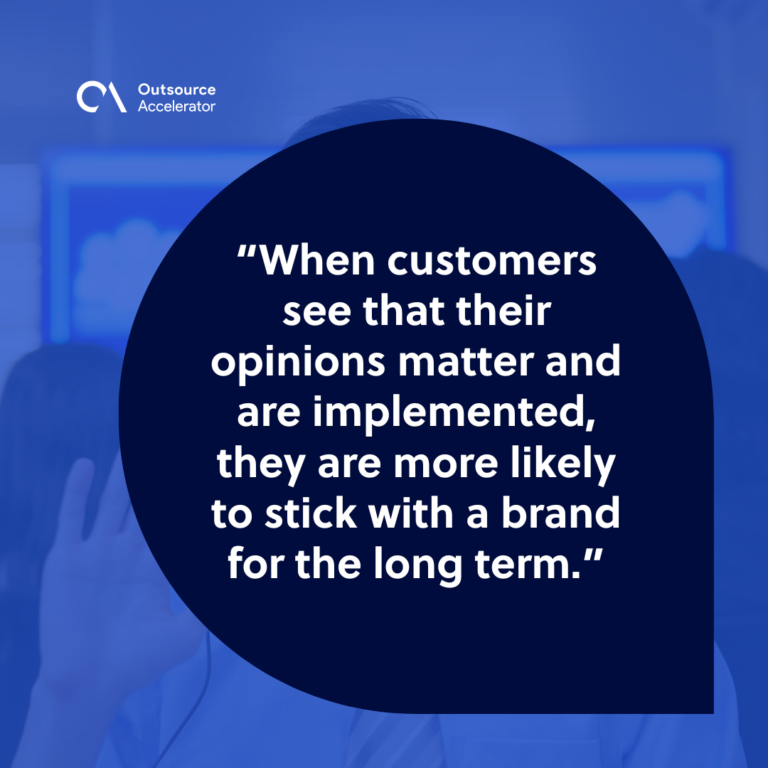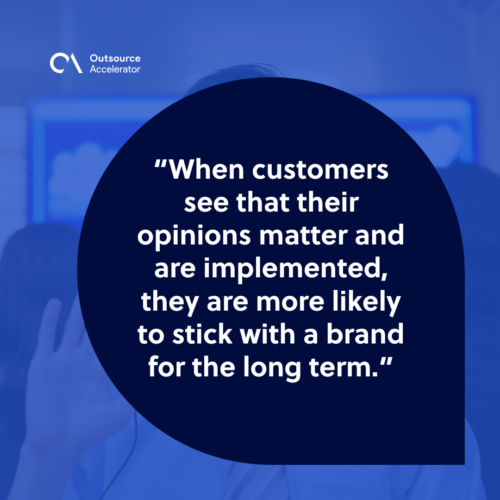 Innovation catalyst
Customer collaboration is a catalyst for innovation. It brings fresh perspectives, encourages out-of-the-box thinking, and helps businesses stay ahead of the competition.
Efficient problem solving
By collaborating with customers, businesses can identify and solve problems more efficiently. Customers often provide real-world insights that internal teams may overlook.
Challenges of customer collaboration
While customer collaboration offers numerous benefits, it also comes with its share of challenges that businesses must address. 
Some of the common challenges of customer collaboration include:
Data privacy concerns
One challenge in customer collaboration is handling sensitive customer data. Businesses must navigate the fine line between gathering insights and respecting privacy.
Managing expectations
Meeting customer expectations can be challenging. Sometimes, consumers may have unrealistic demands, and businesses must manage these while delivering value.
Resistance to change
Not all employees and stakeholders may be open to customer collaboration. Resistance to change can hinder the adoption of collaborative strategies.
Lack of resources
Effective customer collaboration requires resources, including time and technology. Smaller businesses may struggle to allocate these resources.
Strategies for effective customer collaboration
Businesses can implement the following strategies and best practices to ensure effective customer collaboration:
Establish clear goals
Define clear objectives for customer collaboration efforts. Having specific goals helps align efforts and measure success.
Build a collaborative culture
Create a company culture that values customer input. Encourage employees at all levels to actively engage with customers and seek their feedback.
Leverage technology
Utilize technology to facilitate collaboration. Social media, customer relationship management (CRM) software, and online forums are powerful tools for connecting with customers.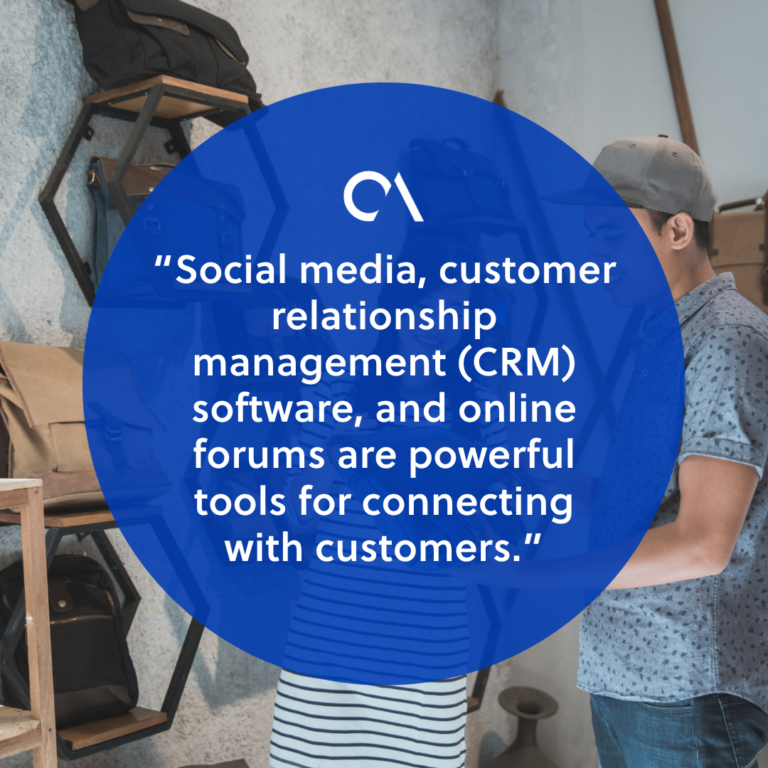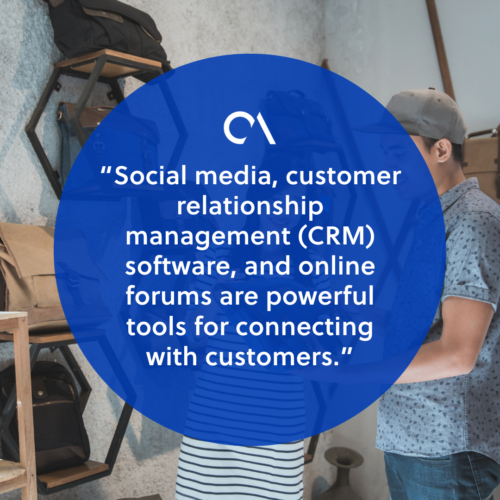 Educate and train employees
Train employees to engage with customers effectively. Customer-facing teams should be skilled in gathering feedback and translating it into actionable insights.
Future of customer collaboration in business
The outlook for customer collaboration appears bright. As technology evolves, businesses will find increasing chances to interact with their customers.
Artificial intelligence and data analytics will be crucial in comprehending customer desires and inclinations. Customer collaboration isn't merely a fad but a critical strategy for businesses to flourish in today's fiercely competitive environment. 
Companies must:
Actively engaging customers in product development

Cultivating loyalty

Embracing innovation
These elements help establish stronger connections with their customer base, leading to success.